NFL 'right where we need to be' in crackdown on taunting penalties
The NFL's crackdown on unsportsmanlike penalties is working the way the league intended.
Officials threw 11 flags for taunting in the first two weeks of this season – the same number called in the entire 2020 season for the same foul – but only three over the next three weeks.
"We're right where we need to be and we're now seeing the correction we were looking for," NFL executive Troy Vincent told The Associated Press. "We saw the spike the first three weeks and now we're seeing the decline. The coaches and the NFL Competition Committee are pleased. Coaches have told us their players are adjusting, they're thinking about what they're going to do, knowing it may cost the team. These are game-changing penalties for a selfish act."
Week 6 kicked off with a taunting penalty occurring in an important moment during a prime-time game, adding to the widespread scrutiny over the rule. Players, media and fans have been critical. But the league has no plans to tell officials to back off because the goal is to eliminate foul actions that result from gesturing and in-your-face trash-talking.
After the Philadelphia Eagles rallied from a 21-point deficit against the defending Super Bowl champion Buccaneers to cut the score to 28-22 with 3:05 left in the fourth quarter Thursday night, the defense needed to stop Tom Brady and Tampa Bay's offense to give the ball back to Jalen Hurts and a rejuvenated offense.
On first down from the Buccaneers 25, Leonard Fournette gained only 2 yards but linebacker Genard Avery stared at him and went face to face with the running back as he stood up, drawing a flag for taunting. The 15-yard penalty gave the Buccaneers a first down and they eventually ran out the clock.
Avery's transgression seemed mild, so the NFL drew even more criticism for making taunting calls a point of emphasis this season.
The league's decision to emphasize these calls came directly from the NFL Competition Committee and the Coaches' Subcommittee. Members from both groups include team owners, presidents, general managers and coaches, including Mike Tomlin, Ron Rivera and Andy Reid.
"The coaches felt over the last few years it had gotten out of control. We cannot move away from sportsmanship being the core of our game," said Vincent, a six-time Pro Bowl cornerback who now serves as the league's executive vice president of football operations. "Sportsmanship has always been the core. The rules are very clear. Don't do it toward the opponent's sideline or at the opponent. That doesn't mean you can't celebrate, you can't have fun, you can't have spontaneous actions. You can jump, flip, celebrate. You just can't do it at an opponent. It leads to bad outcomes like players spitting at each other's face, players throwing punches and fighting, players kicking and stomping one other. Make a play like a professional and get back in the huddle. You can have fun, but you cannot get in another player's face. It leads to bad outcomes."
Even though Avery's actions weren't over the top, the penalty was called according to the rule.
Eagles coach Nick Sirianni had no problem with the officials.
"Again, that was unacceptable and that falls on me first," he said. "I have to do a better job getting everybody doing the right things out there and keeping our composure out there."
Fournette knew he couldn't retaliate against Avery because officials are looking for unsportsmanlike behavior more than ever.
"Imagine if I would've said something back, (the penalty) could've went both ways and my team would've been looking at me crazy and the loss would've been on me," he said.
Fournette acknowledged he may have engaged Avery if the Buccaneers were winning big but added: "In a critical moment like that, knowing we need this game, no."
How Mike Tomlin's consistency helped guide the Steelers into the postseason – Pittsburgh Steelers Blog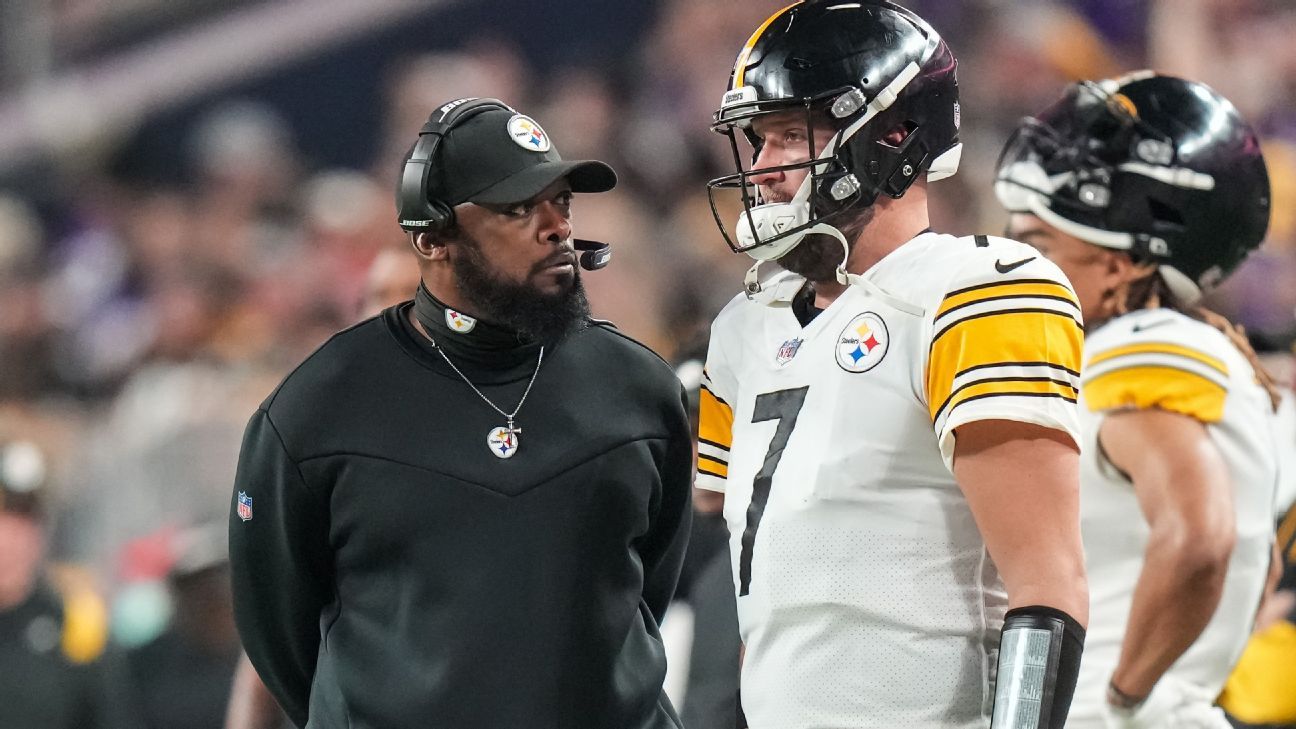 PITTSBURGH — Each morning at 8:30, coach Mike Tomlin sets the tone for the Pittsburgh Steelers.
With a booming voice, he greets his team.
"The way he says good morning, it just wakes you up," second-year linebacker Alex Highsmith said earlier this season. "It just brings a lot of attention."
This week, his voice is even louder with the big team meetings moved to the UPMC Rooney Sports Complex's indoor practice field. Folding chairs are scattered around the cavernous structure, all turned to face the hanging video board and the coach, usually wearing black-and-gray sweats, standing under it.
• Full bracket, schedule and format »
• Previewing the NFL playoff field »
• Busting myths for the 14 teams »
• See more playoff content »
Then, Tomlin goes through a rundown of the day's objectives and how the men assembled are going to accomplish them.
"Mike Tomlin sets the stage for us every morning," inside linebacker Robert Spillane said. "… He does a great job of getting all 53 people on the same page and doing it in a quick and concise manner, where you have an understanding of what the game plan is going to look like for the day, but also our mentality for the practice and any important information going forward."
It's the kind of routine that has been established through years of consistency — one of Tomlin's greatest calling cards through 15 non-losing seasons as the Steelers head coach. It's also been one of his most important traits this season as his steady leadership helped his team navigate a roller-coaster 1-3 start and a three-game midseason winless streak to reach an improbable playoff matchup against the No. 2 seed Kansas City Chiefs (12-5) in the wild-card round Sunday (8:15 p.m. ET, NBC).
"The one thing I salute Coach Tomlin, win, lose, up or down, it's always the same attitude," wide receiver Ray-Ray McCloud said. "That's hard to find. You never change your ways. You've just got to find a way to win.
"For him, every meeting is different, but they all go back to the culture he's trying to build, having that fight, having that finish. That's something that we stand on every game: Vikings game down at halftime, Chargers game down early. Just having that finish and that fight, I think will help us in the long run."
Tomlin's fiery halftime speeches have been necessary this season, fueling some of those notable fourth-quarter comebacks. But it's what he does on a daily basis that endears him to his players even more.
Defensive captain Cam Heyward said Tomlin's presence has made the Steelers' (9-7-1) season less tumultuous, less of a roller coaster and more like a different metaphor.
"We're basically canoeing out there," Heyward said Thursday. "We're out there, just staying level. He doesn't get out of character. He doesn't have to do anything different. He preaches the same goals. Whether it's stopping the run, understanding situational football. Being in our face about it. Being honest with us.
"When you understand your goals, it allows you to expect that with yourself and not allow anything less."
Heyward said Tomlin is the force that keeps the canoe from tipping over — even if Tomlin downplays the qualities that make him an exceptional leader.
"I don't want to make a big deal out of that," said Tomlin, who became the second-winningest Steelers coach after passing Bill Cowher with 150 wins in Week 9. "That is my job.
"Football is an emotional game played by high-energy men who are really emotional. They need to hear a steady voice. They need to hear consistency in messaging in belief, and so it's my job to exemplify that."
The 49-year-old, who is the NFL's only current Black head coach, is also not afraid to let it loose. Publicly, Tomlin is often reserved, only speaking in his no-nonsense Tomlinisms. But twice this season he's blown kisses to the sideline camera after a win, and following the Week 18 win against the Baltimore Ravens, Tomlin even danced with some of his players in an Instagram Live video of the locker room celebration.
"We always see that side of Coach T," cornerback Joe Haden said. "He shows that with us all the time on the inside, so it's for everyone else to finally get that side of him. It's a little different side. We see that Coach T all the time, being very personable, being very relatable to all of the players, having a blast. It's funny when everyone else gets to see it."
After beating the Ravens in the regular-season finale to help secure a playoff berth, Tomlin praised quarterback Ben Roethlisberger's poise and said he keeps the team calm in tense situations.
"He's the same when everybody else gets funny," Tomlin said. "Everybody else gets a little tight, he's the same guy."
But the same thing is true about the head coach.
"Really nothing outside his normal self," cornerback Cam Sutton said of what Tomlin's done for the team this year. "He's always been that inspirational leader, just that overall figure to us. It goes beyond football. That relationship carries throughout many adversities, whether it's football related, life related. He's always dependable. Always reliable. Always a guy willing to sacrifice and willing to be the front and the head of all of that.
"We're just appreciative of being behind a guy like that, who comes to work each and every day as the front-runner, leave it all on the line for us. Who doesn't want to follow that?"
New England Patriots left tackle Isaiah Wynn to miss AFC wild-card game vs. Buffalo Bills due to injury
ORCHARD PARK, N.Y. — The New England Patriots will be without starting left tackle Isaiah Wynn for Saturday's AFC wild-card game against the Buffalo Bills (CBS, 8:15 p.m. ET), as the team ruled him out with ankle and hip injuries.
Wynn, the blindside protector of rookie quarterback Mac Jones, had not practiced all week after leaving Sunday's regular-season finale after just nine plays. The 2018 first-round pick from Georgia has battled multiple injuries over his NFL career, but this season has been his most consistent in terms of availability.
Wynn started 15 games and played 82% of the offensive snaps. He was one of 13 Patriots players listed as questionable for the game, a group that included starting safety Kyle Dugger (hand), disruptive rookie defensive tackle Christian Barmore (right knee), starting defensive tackle Lawrence Guy (shoulder) and starting linebacker Dont'a Hightower (knee), among others.
In addition, starting cornerback Jalen Mills remains on the reserve/COVID list, as does one of his backups, Shaun Wade.
The Bills, in contrast, didn't list any players on their final injury report. As for how the Patriots replace Wynn, the team has multiple options. Last week, the Patriots put 2020 sixth-round pick Justin Herron (Wake Forest) at left tackle. Herron started six games as a rookie and has started four games this season, playing 35% of the offensive snaps overall.
Coach Bill Belichick said Herron, like many of New England's second-year players, has experienced "big growth" this season. The Patriots also have the option of flipping eight-year veteran Trent Brown from right tackle to left tackle, and then elevating 2020 sixth-round pick Mike Onwenu (Michigan) at right tackle.
Philadelphia Eagles RB Miles Sanders to play Sunday, three weeks after hand surgery
PHILADELPHIA — Philadelphia Eagles running back Miles Sanders will play in Sunday's wild-card playoff game against the Tampa Bay Buccaneers despite having had hand surgery less than three weeks ago.
Sanders suffered a fracture in his right hand against the New York Giants on Dec. 26 and had surgery the next day. He missed the final two games of the regular season but is expected to play a significant role against the Bucs, coach Nick Sirianni suggested.
"No limitations for Miles," he said. "He'll be our guy."
Starting defensive end Josh Sweat, meanwhile, is questionable with an illness. He has been dealing with abdominal pain this week, per Sirianni, and missed practice Wednesday and Thursday, but was back at the practice facility Friday. Sweat is tied for first on the team with 7.5 sacks.
Sanders did not have any protective gear on his injured right hand when entering the NovaCare practice bubble earlier this week. Asked whether he would be wearing anything on the hand Sunday, he responded "nothing really too noticeable." Sanders said he tested the hand out this week in part by going through ball security drills where assistant coaches punch at the ball and by catching passes out of the backfield.
"I'm just going to try and protect it as much as I can, but I'm not going to be out there hesitant or timid," Sanders said. "It's good enough to play. That's all I know. It's definitely good enough to play."
The Eagles finished the regular season as the top-ranked rushing offense in the NFL, averaging 159.7 yards per game. Sanders was second on the team in rushing yards (754) behind quarterback Jalen Hurts (784) and added 26 catches for 158 yards.
Philadelphia, the No. 7 seed in the NFC, enters as an 8½-point underdog to the defending champion Bucs, but Sanders cautioned people not to sleep on the Eagles (9-8), who won four straight before resting most of their starters in the regular-season finale against the Dallas Cowboys.
"I think everybody should be careful about what they say about us. … I think we're a very dangerous team," he said.