Indianapolis Colts WR T.Y. Hilton activated from IR, to make season debut Sunday vs. Houston Texans
INDIANAPOLIS — Colts receiver T.Y. Hilton will make his season debut Sunday against the Houston Texans after the team activated him from the injured reserve list Saturday.
Hilton had been out since suffering a disk injury during practice late in training camp.
The injury was severe enough that Hilton contemplated retirement. He had a conversation with former teammate Andrew Luck, who retired in 2019.
"The first two days out of surgery, I didn't think I'd be back man to be honest with you," Hilton said this week. "It was just painful, it was very painful. I hope nobody has to go through that at all. It sucks, especially not being able to play the game that I love after being in training camp so long with my team grinding and being so happy. God is good."
Durability had always been a strong suit of Hilton's since the Colts selected him 2012. He had only missed 10 games in the first nine seasons in the league.
"Woke up Week 1 and I was there mentally, but physically I wasn't," Hilton said. "I just woke up crying – just nothing physically I could do to be out there. As an athlete, just playing this game, it's just something your body feels like on gameday. Only athletes will understand what I'm saying, but it's just crazy. It hurt me, it hurt me a lot not being able to be out there, especially for these five weeks that I missed."
Hilton, who has five seasons with at least 1,000 receiving yards, gives quarterback Carson Wentz another weapon in the offense for the Colts (1-4).
The Texans are the perfect opponent for Hilton to return against because of his success against them in his career.
He has seven games of at least 100 yards, including one of more than 200 yards, in his career against the Texans.
"Rumor has been he's been pretty good in this rivalry over the years," Wentz joked.
The Colts also elevated kicker Michael Badgley to the active roster from the practice since kicker Rodrigo Blankenship is out due to a hip injury suffered during warmups on their Week 5 overtime loss at Baltimore.
Rams' Cooper Kupp, Packers' Davante Adams among unanimous choices for AP NFL All-Pro Team
NEW YORK — Five players, including dynamic pass-catchers Cooper Kupp and Davante Adams, are unanimous choices for the Associated Press 2021 NFL All-Pro Team.
Joining the Los Angeles Rams' Kupp and the Green Bay Packers' Adams in receiving votes Friday from all 50 members of a nationwide panel of media members who regularly cover the league are Colts running back Jonathan Taylor, Steelers edge rusher T.J. Watt, and Rams defensive tackle Aaron Donald.
While Donald is a perennial pick — the three-time Defensive Player of the Year makes the team for the seventh time in his eight pro seasons — Watt is on it for a third time. He tied the NFL record for sacks with 22 1/2. Adams makes it for the second time, and the other two are newcomers as All-Pros. Kupp led the NFL in receptions (145), yards receiving (1,947) and TD catches (16). Taylor was the top rusher by a landslide with 1,811 yards and scored 18 touchdowns on the ground, along with two as a receiver.
"Obviously, it's an honor to be recognized, and it wouldn't be possible without my coaches and incredible teammates, but the awards and accolades aren't what drives me," said Watt, whose Steelers play at Kansas City on Sunday. "It's competing with and for them, this franchise, and this city, that drives me. My coaches and teammates are the people that put me in a position to make splash, help us win, and this recognition honestly doesn't come without them."
Like Donald, although not nearly as often as the offense-wrecking DT, several players are making another appearance on the All-Pro team. Green Bay quarterback Aaron Rodgers is on for the fourth time, as is Philadelphia center Jason Kelce — one more than his brother, Chiefs' star tight end Travis Kelce. One better than them: Dallas right guard Zack Martin and Baltimore placekicker Justin Tucker at five.
The three-time All-Pros this year are Colts linebacker Darius Leonard, Rams cornerback Jalen Ramsey, and Steelers defensive tackle Cam Heyward. The two-time All-Pros are Browns edge rusher Myles Garrett and Titans safety Kevin Byard.
The other 14 2021 All-Pros are making their debuts. On offense, 49ers left tackle Trent Williams is a newcomer in his 11th NFL season, joined by Ravens tight end Mark Andrews, Buccaneers right tackle Tristan Wirfs, Browns left guard Joel Bitonio, and 49ers wide receiver Deebo Samuel. On defense, it's linebackers Micah Parsons of Dallas, the only rookie on the squad, and De'Vondre Campbell of Green Bay; Cowboys cornerback Trevon Diggs; Bills safety Jordan Poyer; and five special teamers: Las Vegas punter A.J. Cole, Jets kick returner Braxton Berrios, Ravens punt returner Devin Duvernay, Saints special teams ace J.T. Gray, and Colts long snapper Luke Rhodes.
Perhaps the most thrilled player is Williams, who has been a stellar blocker for a decade with Washington and now San Francisco, but never got an All-Pro nod.
"I do feel more comfortable than I've ever felt," he said. "I do feel like I'm as strong as I've ever been. I do feel my football IQ is probably better than it's ever been. As a football player, as a competitor, every year you want to be better than the last year. That's my goal and always has been my goal. So if this year is better than last year, I hope so. That's the plan."
Almost as unusual as sweeping the votes is having a rookie on the team. Parsons has been so outstanding that he's also considered a strong contender for the Defensive Player of the Year award.
"I think it's an extraordinary honor," he said of being an All-Pro. "It speaks to the work and the position the Cowboys put me in. I think it's just a true blessing. It just makes you want to go harder.
"I think when you achieve things early, you've got to learn how to sustain it. People always say when you get there, it gets easier. But I think when you get there, it gets harder. Once you get it, you've got it. But it's hard to sustain it than it is just to get there. I've got to just keep working and keep getting better and find a way to beat this season next year, which is the harder part."
Byard was an All-Pro in 2017, and now he's back on the roster after what he felt was a down 2020 season.
"It means a lot to me, honestly," he acknowledged. "I put a lot of work in every single offseason by myself, not necessarily with the team in training camp, but just try to come into the next season to try to play the best I can be for my team.
"I've talked about it a lot. Just not felt like I played my best last year. So to be able to bounce back and see the kind of the work that I put in mentally and physically kind of pay off."
The Packers, Colts, Ravens, Rams and Cowboys each have three All-Pros. There's an even breakdown by conference of 14 apiece.
Brothers Stefon and Trevon Diggs push each other to greater heights
Stephanie Diggs thought she had seen it all from her son Stefon.
"I've never seen Stefon that excited," Stephanie said. "[He was like], 'Mom, Mom, Can you believe it?'"
Not only did the Buffalo Bills wide receiver make his second consecutive Pro Bowl, but his younger brother — Dallas Cowboys cornerback Trevon Diggs — made his first in his second season in the league. After the announcement, about 15 family and friends from around the country gathered on FaceTime to celebrate.
For the Diggs' family, the selections validated a season of success beyond what they could have dreamed.
"[Both of us making the Pro Bowl is] probably one of my favorite moments of this year, for real, because that's my brother," Trevon said. "I love him to death and just being able to go up there with him, that's fire."
While Stefon's success and star power has been on display for the last few years, Trevon's emergence has just begun, finishing the season as the league's leader in interceptions (11). Stefon's support through the years helped him get there.
"I was just more proud than anything," Stefon said. "I was more happy for when I heard about him [making the Pro Bowl], because I knew he was going, but I still wanted to see it. I saw his picture and I saw his face, I saw him in the Cowboys [jersey], I'm like, yeah, that's my little brother."
But the brothers have postseason games first. Their teams are the No. 3 seeds in the AFC and NFC. Trevon is in for the first time in his career with the Cowboys hosting the San Francisco 49ers on Sunday (4:30 p.m. ET, CBS), while Stefon helped the Bills win a second straight AFC East title, and a matchup against the New England Patriots awaits Saturday (8:15 p.m. ET, CBS).
The Diggs brothers have yet to play each other in the NFL. That could come in this year's Pro Bowl. Another option would be if both the Bills and Cowboys found their way to the Super Bowl.
"That'll be cooler," Trevon said.
A family affair
A smile spreads across Stefon's face when his youngest brother comes up. The receiver, who is expressive and often winks knowingly during news conferences, can't hide his love for Trevon, 24.
"I feel like that's probably my son. He's my little brother, but I feel like I raised him," Stefon, 28, told ESPN. "We kind of like grew up together and that's somebody that, like my mom, I hold so close to my heart."
Their father, Aron Diggs, died of congestive heart failure in January 2008 when Trevon was just 10 years old. In between Stefon and Trevon is their brother Mar'Sean, 26, who played cornerback at UAB. They also have an older brother, Aron Jr., and older sister, Porsche. With Stephanie having so much on her plate to put her children in the best position possible after Aron's death, Stefon took on a father-figure type role to Trevon.
"When my husband passed away, literally you know how people at a funeral say, 'You're the man of the house. You got to watch your brothers,'" Stephanie said. "So [Stefon] kind of took that literally."
Both boys excelled at football. Stefon was ESPN's No. 13-ranked recruit in the 2012 class. He chose to go to nearby Maryland to play football even with offers from Ohio State, Florida and other major programs because he wanted to stay a short drive from his family in Gaithersburg.
Trevon took a different path in 2016, signing with Alabama — despite an interest in going to art school, something Stefon said could wait until later. While at Alabama, Nick Saban convinced him to switch positions from wide receiver to cornerback.
Stefon was a fifth-round pick of the Minnesota Vikings in 2015 and found success before getting traded to the Bills just before his brother was selected in the second round by the Cowboys in 2020.
Trevon Diggs, younger brother of Bills' WR Stefon Diggs gets drafted by the Dallas Cowboys.
The two have always had different personalities, with Stefon being more extroverted, often taking over a whole room. Trevon kept to himself.
"Tre was a little younger, so he was a little bit quieter when I was around him," said Bills cornerback Levi Wallace, who was teammates with Trevon at Alabama. "Stef is just outgoing."
But the stark differences in personality have lessened over time. Trevon is talking trash for the first time in his life and coming into his own.
"Now it's like, [Trevon] has his voice, he has things to say, he has things to add," Stephanie said. "Stefon really values his opinion now."
They talk on the phone daily about everything from football to family, and Stefon makes a point of watching Cowboys games or checking his phone for live updates whenever he can. Their father was a Cowboys fan, so Stefon also was as a kid.
"My little brother plays for the Dallas Cowboys, so one day a week, only one day, I say, 'How about them Cowboys?'" Stefon said. "But other than that, 'Let's go, Buffalo.'"
As much as 2021 has been Trevon's breakout season, his 5-year-old son Aaiden has become a star. It started on HBO's "Hard Knocks" when he confused quarterbacks Dak Prescott and Patrick Mahomes, and continued with him appearing on several networks while also taking pictures with Cowboys fans before, during and after games.
All his father did was end up leading the NFL in interceptions.
"No. 1, we know that there's some definite stars with Tre and with Stef, but there's another star in that house," said Cowboys defensive coordinator Dan Quinn, who tried to recruit Stefon to the University of Florida. "[Aaiden] may not have his time for a few more years, but seeing that kind of enthusiasm and love, it's really cool to see. When he gets so excited, it's just a really cool thing."
Trevon gave Aaiden a lot to be excited about. But the preparation began way before the games started.
Relishing the offseason work
Brandon Marshall played 13 seasons in the NFL, catching 970 passes for 12,351 yards and 83 touchdowns. He was selected to five Pro Bowls and was named All-Pro once. He knows what an NFL player looks like.
Marshall now owns House of Athlete in Weston, Florida, where Stefon and Trevon Diggs train in the offseason.
"Stefon Diggs is special in a lot of ways but where he's one of the best in the world in any sport, male or female, is his approach to the work," Marshall said. "There's only a few guys I was around in my career where I said, 'Oh, this is why they're successful.' Stefon Diggs is willing to do whatever it takes to be the best version of himself. The tenacity, the work ethic, the attitude. Some guys like to work hard and some guys like hard work."
Stefon loves the hard work, which means Trevon had to learn to love it as well.
"My first year, I was just trying to figure things out, the momentum of things, how to maintain and go at a pace and learn everything," Trevon said. "It was like a little trial run. My second year, I know when I go to camp, where I've got to be and I could plan accordingly and take in things to cater to me and my training."
There might have been an older brother shove in that direction.
"Stef is definitely the role model, the big brother/father figure type," said Troy Jones, House of Athlete's director of Education & Science, Pro Strength Training. "Early on with Trevon, I think it was, 'OK, I'm going to show you the way,' especially the first year. The second year he was like, 'OK, I'm going to show you the way and now you've got to take it on your own, like, 'I can show you, but you've got to do it by yourself.' I think that clicked."
Last February, Trevon followed the lead. At least five days a week under the hot Florida sun, they trained together. Most days started at 9 a.m. and the workouts lasted about five hours. They would follow that with more position specific work on their own.
Marshall remembers Stefon and Trevon being among the last to leave the facility.
"Stefon was challenging him and Trevon was meeting that," Marshall said.
To Trevon, the most difficult was the speed work on the treadmill. If Stefon went fast, Trevon wanted to go faster and vice versa.
"You've got to hold your speed," Trevon said. "And we do it at the end (of the day) so it's intense."
Wherever the Diggs are, they make sure they work opposite of one another.
"It's replicated to how he plays offense and I play defense," Trevon said. "When he's in the receiver drills, I'm matching it. We're still going to compete and try to beat each other. When we go, it's intense."
Maybe not close to fisticuffs, but enough to get under each other's skin.
"People just don't know how hard they train and what they do to take care of their body," their mom, Stephanie said. "They don't see all the stuff that goes on behind the scenes, and your mental and spiritual can get lost and you're so busy. Just try to keep them grounded."
When they vacation together, they work out almost daily, including a trip to Cabo last offseason.
"No matter where we go, we always bring our cleats with us," Trevon said. "Our cleats is a must have … Our friends are used to it. We'll wake up, go train real quick. It's just what we do. Maybe someone on the outside looking in, they maybe think we're a little nuts."
Their seasons could end this weekend or in a month, but they know where they'll be starting next offseason. Cleats in tow.
"At this point, he doesn't have to say anything to me," Trevon said. "It's already understood. I can read his mind by following him and following his actions and the things he's done. This is how I'm supposed to go. He gave me enough game."
Trevon puts his 11-interception season on the hard work Stefon has led him through. There's no reason to change anything now.
"Trevon had to learn that; Stefon had that," Marshall said. "Now they both have it."
The hard work pays off
Trevon opened the season with an interception of Tom Brady and would go on to have at least one interception in each of the first six games, tying an NFL record.
While nobody could have predicted 11 picks at the start of the season, the Cowboys thought Trevon would have this kind of impact. Coach Mike McCarthy goes back to the final training camp practice of Trevon's rookie season when he had at least four interceptions.
"Like I told the whole team that day," McCarthy said, "I've never seen a rookie in all my years have a practice like that, particularly in the two biggest competitive periods of the day. I think it was definitely a prelude to what was ahead. I hope he keeps going because he's a special player."
In 2020, Trevon led the Cowboys with three interceptions, but by his count he should have had at least seven because of drops.
Last summer, in the first real practice of training camp in Oxnard, California, Diggs intercepted Prescott, perhaps setting the tone. He became the first defender in 40 years to reach 11 in a season since Everson Walls of the Cowboys, and was named to the Pro Bowl.
Stefon knew his brother was ready for a second-year jump.
"We had that conversation many times," Stefon said. "He showed a lot of potential last year. He went against every good receiver in the league. I was just like, 'Man, you've seen everybody. You've played against everybody,' as far as building that confidence and being able to play with anybody. He had some success, too, as a young player, so I was like, 'Just carry that over and go in with the right mindset.' He did it to the maximum."
Yet Trevon admits he is "still 100% not comfortable," playing cornerback. He moved there in his second season at Alabama. He wanted to remain at receiver until a talk with Stefon convinced him it was the right thing to do.
Once again, listening to Stefon paid off.
"I'm still learning honestly," Trevon said. "And I still got a lot of work to do but for the most part, I'm just working. … I really don't know how [long] it's going to take but I'm looking forward to it because it took me all my life to master wide receiver."
Stefon has mastered the receiver spot. After his trade from the Vikings, he led the NFL in receptions (127) and yards (1,535) in 2020. He followed that up with 103 catches for 1,225 yards and 10 touchdowns this season and his second straight Pro Bowl selection. The Bills know his value as a leader, naming him a captain this year.
"I want to try to throw it to him as much as much as possible because with the ball in his hands, you never know what's gonna happen," Bills quarterback Josh Allen said.
On Saturday against the Patriots, Stefon will play in his ninth playoff game. Trevon was in the stands when Stefon's touchdown produced the Minneapolis Miracle in the Vikings' playoff win against the New Orleans Saints. Last January, he was in the stands at Arrowhead Stadium when the Bills lost to the Kansas City Chiefs in the AFC Championship Game.
"It was so cold," he said.
No one around him that day but family knew he was the Cowboys' cornerback, but he looked at the field with one thought:
"We got to get here," he said. "We got to get here."
On Sunday, Trevon will play in his first postseason game with the Cowboys.
"It's time to turn up more than I did during the season," he said.
And maybe in a month at SoFi Stadium at Super Bowl LVI the Diggs brothers will have a chance to play against each other for the confetti.
"We have spoke about it," Trevon said. "We just think that would be really dope, really competitive and something that would be exciting. Hopefully it happens."
What would Stephanie do if her son's played against one another? Split jersey perhaps?
Stefon said he wants her to wear his, though there are some in the works through Trevon. But if a matchup happens, Stephanie isn't shying away from having a rooting interest.
"Since Stefon talks so much trash, I want the little brother to take the big brother," Stephanie said.
NFL playoff predictions – Forecasting the postseason, including Super Bowl contenders, upset picks and impact players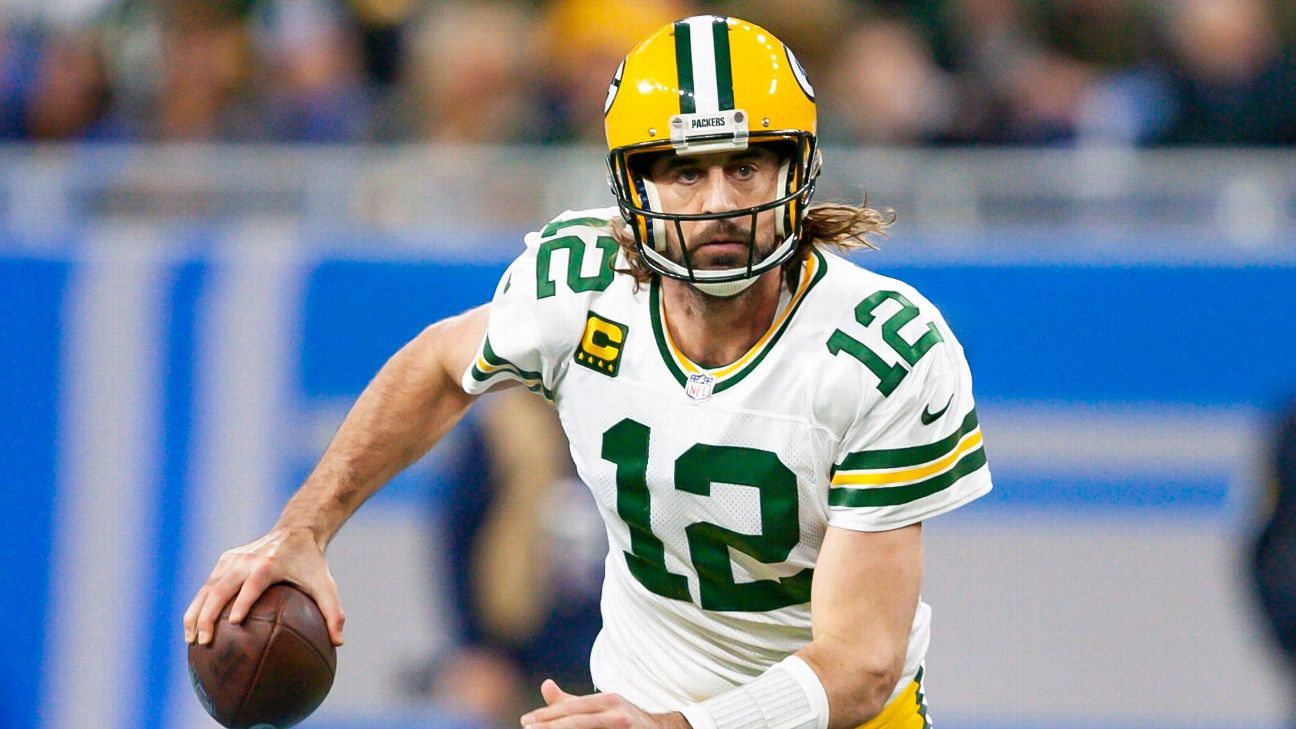 It's playoff time in the NFL, and 14 teams all have a chance to win Super Bowl LVI. It begins this weekend with six wild-card games, before the winners join the Packers and Titans in the divisional round next weekend. Anything can happen in the NFL playoffs. Just ask the Buccaneers, who won the Super Bowl a year ago out of the NFC's No. 5 seed, winning three road games en route to their title. So how will the next few weeks play out? Will favorites live up to their expectations, or will underdogs pull off some unlikely upsets?
We asked 15 of our NFL analysts for their best prediction for the postseason as a whole and what will happen in the games leading up to the Super Bowl. Which team is best set up to win it all, and who will help them get there? Will it be Tom Brady, Aaron Rodgers or someone else leading the way in the NFC? And will the Titans hold off plenty of talented AFC teams? Let's predict this season's playoffs, starting with how far the AFC's top-seeded team can go.

Are the Titans the top AFC contender?
Sam Acho, NFL analyst: I'm doubling down on my midseason pick. After three wins to end the regular season and a 12-5 record, Tennessee will reach the Super Bowl. And it won't be the only No. 1 seed. I got the Packers and Aaron Rodgers meeting the Titans in the biggest game of the year.
Stephania Bell, NFL fantasy analyst: The Titans will win the AFC Championship with a run-heavy offense behind the return of Derrick Henry. For those who might scoff at the notion of a modern offense that ranks near the bottom of the league in pass-play percentage going all the way to the Super Bowl, may I present to you the 2018 Patriots? Yes, they had this guy named Tom Brady, but they also ran the ball 43.1% of the time, fifth in the league that year. The 2021 Titans rushed on a league-high 46.1% of plays, and they did it without Henry for half their games after he suffered a significant foot injury. The return of Henry adds power to their run game and a massive red zone threat on the ground (10 TDs prior to his injury), which will prove to be too much for the Titans' AFC opponents.
Jeremy Fowler, NFL writer/reporter: Henry will pick up right where he left off and lead the playoffs in rushing. Rarely does a star player have two months to rest his legs before the postseason, especially a 247-pound back with a 2,000-yard season on his résumé. The No. 1 seed Titans battled through injuries and are ready for January football, which means Henry will be touching the ball 20 or more times. I'm not sure I'm ready to put Ryan Tannehill in the Super Bowl, but this team has the ingredients to get there behind Henry, receiver A.J. Brown and an opportunistic defense.

Can the Bills or the Chiefs get back to the AFC Championship Game?
Dan Graziano, NFL writer/reporter: The Bills will play in the Super Bowl. This is a team that has been together for a while now, and they still sting from last year's AFC Championship Game loss in Kansas City and crave an opportunity to avenge it. The Dec. 26 game in Foxborough, Massachusetts, was a turning point for their season. Running back Devin Singletary told me, "We knew we have what it takes to get where we want to go, but that game just gave us even more confidence and made us more hungry." The Bills' run game is in a much better place than it was this time last season, which should help offensive coordinator Brian Daboll avoid the trap of being too one-dimensional. And I don't think people really appreciate how good their defense is under Leslie Frazier. I know it was the Jets and their season was over (Week 18), but holding another professional football team to 53 total yards of offense in a game is really something. This team is well coached, believes in itself, has the league's most weather-proof quarterback and has been building toward this for a few years now. I say they cash it in.
Jason Reid, senior writer at The Undefeated: Kansas City will advance to its third consecutive Super Bowl by defeating Tennessee in the AFC Championship Game at Tennessee. A 34-31 road loss to Cincinnati in Week 17 cost Kansas City the conference's No. 1 seeding and a chance to host the AFC title game for an unprecedented fourth straight season. But there's still plenty to like about the Chiefs, starting with quarterback Patrick Mahomes. The superstar learned to operate more patiently this season while teams were content to play Cover 2 and rarely blitz him, hoping to avoid giving up the big plays that have defined the historic start to his career. But the Chiefs' biggest turnaround occurred on defense. Often overmatched during the team's 3-4 start, Kansas City's defense provided the foundation to its eight-game winning streak. During that span, the Chiefs allowed the fewest points per game (12.9) and had the most takeaways (21) in the NFL.
Marcus Spears lauds Andy Reid for the job he's done coaching the Chiefs this season.
Seth Walder, analytics writer: The winner of the Bills-Chiefs divisional-round matchup will win the Super Bowl. Per ESPN's Football Power Index (FPI), they're the second- and third-best teams in the league, respectively. The Bills boast the best point differential in the league and the Chiefs have Patrick Mahomes at quarterback — either is a great sign for a deep playoff run. And while I'm still a believer in Tampa Bay, and it is FPI's No. 1 team, the model doesn't know that of the trio of great wide receivers the Bucs began the season with, only Mike Evans is still healthy and on the roster.


What can we expect out of the Cowboys and Bengals?
Matt Bowen, NFL analyst: Cowboys safety Jayron Kearse will be a difference-maker in the playoffs. Dallas has playmakers at all three levels of Dan Quinn's defense in Demarcus Lawrence, Micah Parsons and Trevon Diggs. But don't forget about Kearse. He's a long, rangy safety with versatile traits, and in Quinn's man-heavy system, Kearse is the tight end matchup player. First up for Kearse: the 49ers' George Kittle.
Mike Clay, NFL analyst: The Cowboys and Bengals will each win multiple playoff games and are legit contenders to represent their conference in the Super Bowl. Dallas is No. 1 in the league in Football Outsiders' DVOA, fifth in offensive scores and sixth in touchdowns allowed. The Cowboys have one of the league's deepest and most talented offenses, along with a breakout defense. And the Bengals are playing their best ball of the season, and if they beat the Raiders and things break right, their path to the title game could include a trip to Tennessee in the divisional round and a rematch with a Chiefs squad they defeated while piling up 34 points just two weeks ago. With a solid defense and quarterback Joe Burrow playing at a high level, Cincinnati would have a shot to win all three games.
Eric Moody, fantasy/sports betting writer: The Bengals will reach the Super Bowl. During Weeks 16 and 17, Burrow passed for 971 yards and eight touchdowns, helping Cincinnati to the AFC North title. With positive momentum, a QB who excels under pressure to overcome mediocre offensive line play, an offense that utilizes a trio of talented receivers (Ja'Marr Chase, Tee Higgins and Tyler Boyd) to threaten opposing defenses vertically and a defense that can apply consistent pressure with only four linemen, the Bengals have all of the elements needed to contend for the Super Bowl.
Mike Tannenbaum, NFL analyst: Dallas will go on a run and win at least two — and maybe three — games. The Cowboys are built for the playoffs and have three elite pass-rushers in Lawrence, Parsons and Randy Gregory. If their offensive line is healthy (most notably Tyron Smith), they'll be good on offense and elite on defense.
Will the Packers live up to the hype?
Doug Kezirian, sports betting analyst: The Packers are the betting favorite for good reason. The NFC once looked like a gauntlet, but the warts have surfaced with inconsistency and injuries. And the AFC is full of questionable contenders. I expect Green Bay to hoist the Lombardi Trophy, as quarterback Aaron Rodgers is still playing the position flawlessly.
Field Yates, NFL analyst: The Packers will hold serve at home this time around, advancing to a Super Bowl championship. This isn't exactly going out on a limb, but this team feels different from last year's iteration that marched into the playoffs with grand expectations. With Green Bay's balanced offense and a defense that could return multiple key starters (including pass-rusher Za'Darius Smith and cornerback Jaire Alexander), count me among those expecting the Pack to play in SoFi stadium in mid-February.
Seth Wickersham, NFL writer/reporter: This is just a hunch, but I'm predicting that this will be the last playoff run for three future Hall of Fame quarterbacks with their current teams. We know that the Steelers' Ben Roethlisberger will retire. But I think Tom Brady will, too. And finally, Aaron Rodgers will leave Green Bay after another season without reaching the Super Bowl.
Domonique Foxworth outlines why he could see Aaron Rodgers retiring soon and then deciding to come back later down the road.
Tom Brady's Bucs back in the Super Bowl?
Anita Marks, fantasy/sports betting analyst: It will be Bill Belichick vs. Tom Brady in the Super Bowl. The only two wild-card games that I have conviction in are the Bengals over the Raiders and the Chiefs over the Steelers. The remaining matchups are tossups to me, so to steal a phrase from Jalen Rose: Let's give the people what they want. I think the Patriots are a complete team. They can pound the rock in the fourth quarter on Saturday night against Buffalo, and then they would match up well against the Titans and Chiefs en route to the Super Bowl. And in the NFC, Brady and the Buccaneers could see the Eagles, Rams and Packers in their path to the Super Bowl — and they have the roster to upset Green Bay in the NFC Championship Game.
Jordan Reid, NFL draft analyst: Brady will help the Buccaneers become the first back-to-back Super Bowl champions since the Patriots in 2004 and 2005 — who also had Brady at the helm. At 44 years old, he just had arguably one of the best seasons of his career with a league-high 5,316 passing yards and 43 touchdowns. Tampa Bay is riding a three-game winning streak entering the playoffs, and despite not earning the No. 1 seed, Brady has the necessary experience — even in the elements should they see the Packers at Lambeau Field.