Thursday night's NFL and MLB endings cost bettors big money
The endings of Thursday's primetime NFL and MLB games were intriguing — and costly for the betting public.
The Tampa Bay Buccaneers, who were consensus 7-point favorites, held off the Philadelphia Eagles in a 28-22 win. The majority of bettors – as high as 88% at DraftKings – took the Buccaneers and laid the points at U.S. sportsbooks, only to be thwarted by a successful two-point conversion by the Eagles midway through the fourth quarter that cut the final margin of victory to six.
Jason Scott, vice president of trading for BetMGM, estimated the Buccaneers winning by six instead of seven produced a multi-million-dollar swing in favor of the house.
"The two-point conversion certainly worked in our favor, probably a $3 million difference for the Bucs not to cover," Scott told ESPN on Friday. "We see a lot parlay business with people taking the Thursday night game into the Sunday games. And there was a lot of that with Bucs minus-7.
"We got back about half what the Ravens cost us [on Monday night]," Scott added.
Bookmakers caught another break in the ninth inning in Game 5 of the National League Championship Series, when the Los Angeles Dodgers benefitted from a questionable strike-three call on a check-swing for the final out of a 2-1 win over the San Francisco Giants.
The betting action on Game 5 was relatively balanced between the Giants and Dodgers, but sportsbooks had significant liability on San Francisco in their odds to win the World Series. The Giants, who were 100-1 long shots to start the season, were the worst-case scenario for multiple bookmakers in their World Series futures market.
"We're happy to see the Giants out," Scott acknowledged. "The Dodgers are now the worst result, but the Giants were much worse, so it was a good result for us."
The Buccaneers-Eagles attracted nearly four times as much money than was bet on Dodgers-Giants at sportsbook PointsBet. However, many of the larger bets on the night were on the baseball game. At Caesars Sportsbook, the average size of bet on the baseball game was more than 50% greater than the average size of bet on the football game.
Washington's Logan Thomas feared to have suffered torn ACL, MCL in win over Las Vegas Raiders, sources say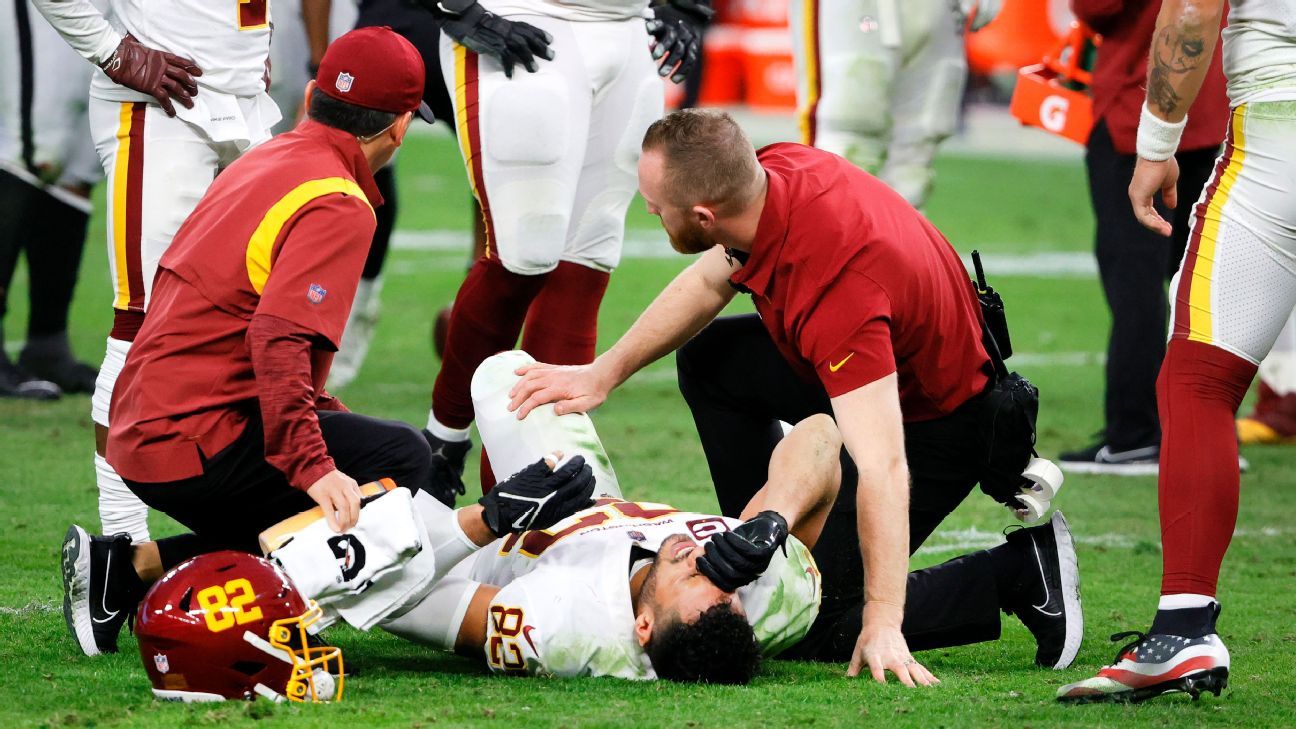 LAS VEGAS — The Washington Football Team's four-game win streak was muted by more bad injury news: tight end Logan Thomas' season could be over.
Sources told ESPN's Adam Schefter on Sunday night that the team fears that Thomas suffered a torn ACL and MCL late in its 17-15 win over the Las Vegas Raiders.
Thomas will undergo more tests Monday after Washington returns home.
Losing Thomas would be a big blow to Washington, which is now 6-6 and two games behind first-place Dallas in the NFC East. The WFT currently holds the sixth playoff spot in the NFC with five games remaining.
Thomas was hurt with 10 minutes remaining in the game when he pulled to the left side and was hit low in the left knee by Las Vegas defensive end Yannick Ngakoue. Thomas left on his own power. Washington coach Ron Rivera said in his postgame news conference that he did not see the play.
Thomas was Washington's top red zone target and its most productive tight end in that area over the last two years. He entered Sunday leading all tight ends with 144 yards receiving in the red zone over the past two seasons — even with missing six games this season with a hamstring injury.
On Sunday, he showed his worth in that area when he made a leaping one-handed grab in the back of the end zone for a 7-yard touchdown catch. He caught three passes for 48 yards. In six games this season, Thomas caught 14 passes for 148 yards and two touchdowns.
Washington signed Thomas to a three-year contract extension worth up to $24.05 million in August. That came after his breakout 2020 season when he caught 72 passes for 670 yards and six touchdowns. He established himself as a pivotal piece to Washington's offense.
Without Thomas, Washington will have to rely on Ricky Seals-Jones, who has missed the past three games with a hip injury. But he was able to return to practice last week, albeit in a limited fashion. He was inactive Sunday because of the injury. The WFT also have rookie John Bates and Sammis Reyes.
In the five games Seals-Jones played after Thomas was hurt, he caught a combined 20 passes for 192 yards and a touchdown. For the season, he has 23 catches for 230 yards and two scores. Bates is primarily a blocker, but he's caught nine passes for 74 yards this season.
Washington has been banged up lately, yet continues to win. Sunday, it played without running back J.D. McKissic (concussion) and safety/linebacker Landon Collins (foot). Defensive end Chase Young is out for the year with a torn ACL and fellow end Montez Sweat has not played during the four-game streak because of a jaw injury. The team started its fourth center, Keith Ismael, on Sunday.
Houston Texans coach David Culley says Tyrod Taylor as starting QB to be evaluated
HOUSTON — After the Texans' 31-0 loss to the Indianapolis Colts, head coach David Culley said Tyrod Taylor isn't necessarily the team's starting quarterback when healthy.
"When you don't score any points during a game, you evaluate everything," Culley said.
Culley's admission is a departure from the stance he has taken all season, including less than a week ago when he said Taylor was the team's starter and rookie quarterback Davis Mills would only play "if something happens to Tyrod [Taylor]."
In the third quarter on Sunday, Taylor went to the blue medical tent. On the Texans' next offensive drive he was replaced by Mills. Mills finished the game, completing 6 of 14 passes for 49 yards.
After the game, Culley said Taylor hyperextended his wrist, but a team spokesperson said Taylor was healthy enough to return to the game. The Texans did not make an announcement with an injury update during the game, but trainers were seen looking at Taylor's left wrist.
"He probably could have came back into the game if we needed him to, but I don't know how effective he would have been in throwing the football," Culley said.
Before Taylor was replaced by Mills, he completed 5 of 13 passes for 45 yards. The Texans, who were shut out for the second time this season, fell to 2-10.
Taylor played the first 1 1/2 games of the season for the Texans before injuring his left hamstring against the Cleveland Browns. He was replaced by Mills, who went 0-6 in his six starts while Taylor was on injured reserve.
This season, Taylor has completed 60.7% of his passes for 966 yards, with five touchdowns and five interceptions.
Las Vegas Raiders running back Kenyan Drake's right ankle injury 'a little bit of an issue'
LAS VEGAS — Las Vegas Raiders running back Kenyan Drake was carted off the Allegiant Stadium field with a right ankle injury midway through the second quarter of a 17-15 loss Sunday to the Washington Football Team.
Drake, who joined the Raiders this offseason after signing a two-year contract worth up to $14.5 million with $11 million guaranteed, was tackled awkwardly as he was pulled down by Daniel Wise from behind while being hit from the front by Deshazor Everett and Jamin Davis.
The Raiders were down to two running backs in starter Josh Jacobs and Peyton Barber, as Jalen Richard was placed on the reserve/COVID-19 list earlier in the day. Drake was officially ruled out at halftime.
Raiders interim coach Rich Bisaccia said, after the loss, that Drake's injury is "a little bit of an issue" and would have an update on Monday. And Jacobs said Drake told him, "It's broke," before the trainers arrived on the field.
"I know he's had significant injuries in the past," said Jacobs, who was a bit choked up. "So, I'm just praying for him right now and praying for his family. His whole family was here at the game."
Drake, 27, has rushed for 254 yards and two touchdowns on 63 carries and caught 29 passes for 283 yards and a score as a change-of-pace back, often spelling Jacobs. He also has returned 10 kickoffs for 192 yards.
The Raiders' rushing attack clearly suffered without Drake. They ran for just 76 yards in the loss, on 16 carries, and even though it was a tight game throughout, Las Vegas relied on its passing attack.