Carolina Panthers rule RB Christian McCaffrey (hamstring) out Sunday vs. Minnesota Vikings
CHARLOTTE, N.C. – Running back Christian McCaffrey will miss his third straight game and 16th in 22 under coach Matt Rhule when the Carolina Panthers play the Minnesota Vikings on Sunday at Bank of America Stadium.
McCaffrey has been dealing with a hamstring injury since straining it in the second quarter of a September 23 win at Houston. Rhule was optimistic the Pro Bowl back would return this week after practicing last week on a limited basis.
But McCaffrey was limited again on Wednesday and didn't practice on Thursday or Friday, forcing the Panthers to again turn to rookie Chuba Hubbard as the starter.
Rhule wouldn't call McCaffrey not being ready this week a setback.
"It just hasn't been there yet," Rhule said on Friday. "He's doing everything he can. It's been three weeks. We hope to have him out there next week."
McCaffrey missed 13 games with three different injuries last season after the Panthers made him the highest-paid back in the league with a four-year, $64 million extension.
Rhule reiterated on Friday what he said on Wednesday, that the Panthers weren't going to rush McCaffrey or any player back.
"When doctors clear him and the player feels like they can play, we'll go with him," he said on Wednesday.
McCaffrey was optimistic last week he would be ready to face Philadelphia, but then on Friday was ruled doubtful. He admitted the past year has been frustrating, but he had no explanation for the all of his injuries, each different.
"I wish I had the answers, man," McCaffrey said. "If I had the answers, man . . . I tell you what, I wouldn't be standing here answering these questions."
McCaffrey's injury bug began after a 2019 season in which he became the third player in NFL history to have 1,000 yards rushing and receiving in the same season.
Offensive coordinator Joe Brady doesn't deny the Panthers (3-2) are better with McCaffrey. Analytics support that, particularly as it pertains to quarterback Sam Darnold getting pressure and sacks.
Darnold has been sacked eight times the past two games without McCaffrey. He was sacked only three times the first two games when McCaffrey played a majority of the sacks.
Minnesota with 17 sacks ranks second in the NFL.
But Brady is confident in Hubbard, who rushed for 101 yards last week on 24 carries.
"It's nothing like, 'Oh, man, we lost our whole offense because we have one guy [out],' " Brady said. "We have enough playmakers on this team. I have to do a better job of getting the ball in their hands and we have to execute at a higher level."
Is this the way it ends for Aaron Rodgers? Why what-ifs and a 'beautiful mystery' linger for Green Bay Packers
GREEN BAY, Wis. — The words "beautiful mystery" have hung over the Green Bay Packers for the past 12 months, ever since Aaron Rodgers used them to describe his future with the franchise. But there was nothing beautiful about what happened here Saturday night. And shoot, the next chapter in the mystery wasn't supposed to start for at least another week, preferably three.
The postgame scene showed a downcast Rodgers trudging off the field at Lambeau for what might be the last time, shaking a hand or two as he made his way through celebrating San Francisco 49ers while a light snow fell on a crowd of Packers fans who couldn't believe what had just happened. What do you mean, they lost? What do you mean, there's no game here next Sunday?
Is it really possible that this is the way it ends for Rodgers in Green Bay? Another failed playoff run? A fourth loss in four postseason tries against his boyhood team — the team that broke his heart on draft night and made him sit there listening as 23 names were called before his while cameras recorded his dejection for all the world to see and still see, years later, every time he has to face the Niners?
No, no, the Packers should have had this game in their pocket. Up 7-0 right away, up 10-3 with five minutes to go and the ball in Rodgers' hands. But a 49ers defense that had stood tall on every possession since the first one forced a punt. And a Packers special teams unit that had been dreadful all season had it blocked and returned for a touchdown. And then it was tied, and a few minutes later somehow the Niners were kicking a game-winning field goal. Final score: 13-10. The turnaround was … well, you had to be there to believe it. Even if you were there, you still kind of couldn't believe it.
"A little numb, for sure," Rodgers said when it was over. "I didn't think it was going to end like this."
How much, exactly, is ending? Rodgers was clearly talking about the Packers' promising 2021 season, but could he have also been talking about his Packers career? His career, period? He is 38 years old, after all. He admitted upon arriving in camp last summer that he'd considered retiring. That was during a news conference in which he unfurled a Festivus-caliber list of grievances against the only franchise for which he's ever played, making it clear that he didn't particularly love the way the Packers operated or the general manager's disinclination to consult his star quarterback on matters of direct concern to him. To get Rodgers to report to camp, the Packers had to adjust his contract in a way that, frankly, enables him to force his way out this offseason if he wants to. Whether he wants to, he wasn't saying Saturday night.
"I don't think it's fair to anybody, or myself, to really go down those paths at this point," said Rodgers, who also mentioned not wanting to be a part of a rebuild in Green Bay. "It's disappointing. So sad and fresh. I'll have conversations in the next week or so and, you know, start to contemplate after that."
Fair. This one just had to be brutally tough for Rodgers to swallow. The 49ers — again. With another clearly inferior quarterback taking the snaps from center. Jimmy Garoppolo, not Rodgers, will get to play the Rams or the Buccaneers next week for the right to go to the Super Bowl. Jimmy Garoppolo, who also saw his team trade up to draft his replacement but doesn't have the kind of résumé that gives him license to complain about it.
Garoppolo, wearing the uniform Rodgers once dreamed of wearing, has gone a combined 17-for-27 for 208 yards and no touchdown passes in his past two playoff games against Rodgers and has won them both. Man, if that doesn't sting.
Aaron Rodgers escapes pressure and lofts a deep pass to a wide-open Aaron Jones who makes the catch and treks into the red zone for a 75-yard reception.
So the world awaits, right? A fascinated public that has spent the past year watching Rodgers post Hawaii vacation photos while his team went through minicamp, wondering whether he'd come back, listening to him list his reasons he didn't want to, hearing him spout anti-COVID-19 vaccine rhetoric, seeing him wave his bare foot at a Zoom camera — that public waits now to find out what the next chapter in the ever-fascinating Rodgers drama will bring.
Will we see him in a different uniform? Will we see him try to host another game show? Will he retire and run for office? Land in the broadcast booth? Ride off into the sunset, Andrew Luck-style?
And whatever Rodgers does, what effect will it have on the way we remember him? He won a Super Bowl with the Packers 11 years ago but hasn't played in one since. He's a breathtaking performer — one of the very best ever to spin the football, to read a defense, to throw the Hail Mary, to get the other team to jump offside. He is a clinical quarterback, simultaneously scientist and artist with the ball in his hands. A three-time (and likely four-time) regular-season MVP. And yes, a Super Bowl champion.
But there's also this what-might-have-been factor to Rodgers. There are those who think the Packers have squandered him, not being aggressive enough in building top-shelf rosters around him. They look at the Rams and wonder why his team could never be the one to sign or trade for every big-name star that hits the market. They look at the Buccaneers and wonder why the Packers would never cater to his roster wishes the way Tampa Bay has for Tom Brady. There are many, many people who look over his career and believe it could have come to even more than it has so far. Rodgers, for all we know, might be one of those people.
The what-ifs will linger, no matter what happens from here on out. We'll tell our grandkids about Rodgers and what he was like to watch, and if they ask us why he only won one Super Bowl, we won't know exactly what to say. Maybe "It's a beautiful mystery," then chuckle to ourselves while they wonder what's so funny.
Maybe there's more to come. Maybe the Rodgers story has some glorious future chapter or chapters that will change everything about the way we remember him, that will land him the no-doubt-about-it spot on that quarterback Mount Rushmore that his once-in-a-generation talent deserves. Or maybe what we've already seen from him is the best we're going to get, and in time we'll realize it was a heck of a lot better than our in-the-moment nitpicking about playoff success made it seem.
Robbie Gould's 45-yard field goal sends the 49ers to a 13-10 win vs. the Packers and a trip to the NFC Championship Game.
Maybe Saturday was the last time we'll ever see Rodgers at Lambeau Field. If it was, it was actually kind of an appropriate ending, right? We all think we know what should have happened. We watched something else happen.
"Sometimes you think things are going to go a certain way and then you get a big course correction," Rodgers said. "But you've got to keep moving. Keep on moving forward, even when it doesn't feel like it's possible because of the sadness, the frustration, the enormity of the expectations, the disappointment of the results."
Fair or unfair, that's a big part of the story of Rodgers' career — moving on from disappointment. The question now is what's the next move?
Bites, coffee and tears: How Dan Campbell helped guide the Detroit Lions through a rocky season – Detroit Lions Blog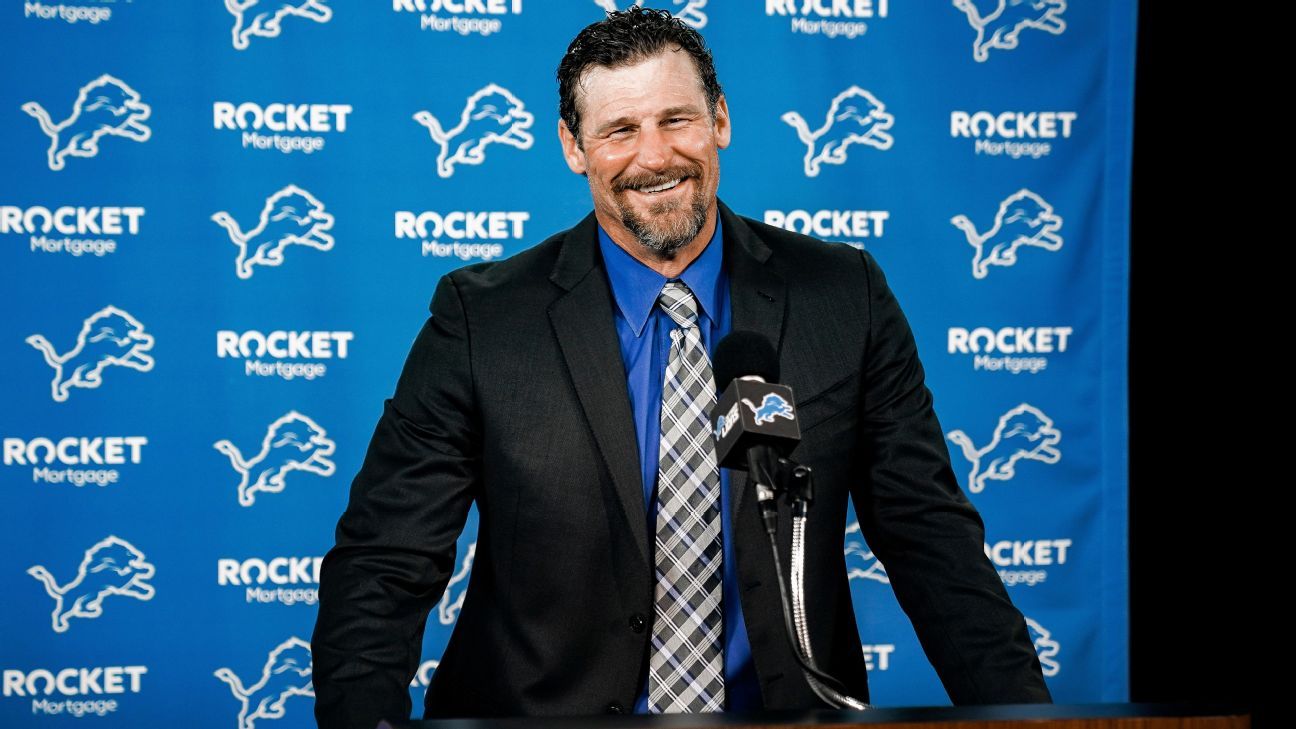 On Jan. 21, 2021, new Detroit Lions head coach Dan Campbell made headlines for a passionate, intense and sometimes funny hour-long introductory news conference in which he referenced biting off kneecaps and "The Big Lebowski."
Seven months later, he went viral after revealing his unusual, caffeine-filled morning coffee order – two 20-ounce coffees at Starbucks with an additional two espresso shots.
Then in October, Campbell, after seeing his team drop to 0-5, again displayed his emotion by shedding tears during a postgame media session following a heartbreaking last-second loss to the Minnesota Vikings.
"We're gonna kick you in the teeth, and when you punch us back, we're going to smile at you. And when you knock us down, we're gonna get up. And on the way up, we're going to bite a kneecap off."

New @Lions HC Dan Campbell had quite the introductory press conference 😳 pic.twitter.com/cWJTSFtJAQ

— SportsCenter (@SportsCenter) January 21, 2021
For those viewing the Lions coach from afar, it perhaps wouldn't be unreasonable to think the team was being led by a mercurial personality, whose temperament would rise and fall with each game's outcome.
But a year after that memorable opening news conference, it's clear Campbell earned the respect of the locker room for his steady leadership, even-keeled approach and optimism in the face of a difficult season.
From that 0-5 start to the 3-13-1 finish, players and coaches say they never saw his demeanor change.
"I think just his steadiness in the midst of how poorly it went early on, especially how steady he was daily and how he showed up as the same person every day and there was no wavering from him," said Lions quarterback Jared Goff, describing one of Campbell's most valuable attributes. "That bleeds into the rest of the coaching staff.
"Then, ultimately that bleeds into the players and the leaders on the team. We needed that this year. He was the same guy every day and said the right things, did the right things."
Before the Horn, we break down Dan Campbell's coffee order ☕

"This man drinks the equivalent of seven [original] Four Lokos to start his day." pic.twitter.com/du9G7gSY0x

— Around The Horn (@AroundtheHorn) August 4, 2021
The Lions' first victory of the season came in Week 13 against the Vikings, when rookie wide receiver Amon-Ra St. Brown caught the game-winning touchdown on the final play of the game. After throwing the TD pass, Goff ran straight to Campbell and celebrated with his coach on the sidelines. And after securing the catch, St. Brown said the first person he thought of was Campbell.
"Obviously, after that Vikings win, we were just so happy for him as a head coach to finally get that first win," St. Brown said. "So, I mean there were so many points in the season where we were like, 'We love this dude,' but probably that Vikings game to finally get his first win."
Lions defensive coordinator Aaron Glenn was on the New Orleans Saints coaching staff with Campbell for five seasons prior to joining him in Detroit, but developed a deeper bond with him this season while pushing through adversity.
"When he first hired me, I just recall me and him sitting up in our office. It could be 2 o'clock in the morning and we're talking, trying to put things together with this player, that player or this scheme, that scheme," Glenn said. "And, man, the one thing that I could say about him that has never, never wavered is his thought process, his belief system, the way that he goes about handling players, and that's pretty impressive because you don't see it a lot, especially when you have the ebb and flows of a season.
"One thing I can say about that man is that he's never wavered on who he is, what he's about and what he stands for, and that has taught me a lot about that and I think players, they really do respect that because now they don't have to come in and say, 'OK, what mood is he gonna be in today?' They know exactly where Dan's gonna be at and that's something that no doubt will be a part of who I am as a coach moving forward."
Campbell admitted the job of turning around a franchise that hasn't experienced a playoff win since 1992 hasn't been easy. But he has a clear vision for his team.
"I see it like this: I told [principal owner] Sheila [Ford Hamp] this … and really the team, but we've kind of been — we're in the Arctic Ocean, but we're headed to the Caribbean. You can see it, I can see it, it's not always easy to see," Campbell said before the Lions finished the regular season with a win over the Green Bay Packers. "There's a long way to go, but we're heading there, I do know that.
"That's what this year has been about, and we're going to — everything had to happen that's happened this year to an extent, it really has," he said. "You had to go through some of these growing pains and it's not been easy, but yet anything worth having or anything worth having success at, it takes a lot of work, hard work. It's not going to just happen. And, it's also what makes it that much sweeter, that's for sure."
J.C. Jackson faces uncertain future with Patriots after tough playoff outing – New England Patriots Blog
FOXBOROUGH, Mass. — Quick-hit thoughts and notes around the New England Patriots and NFL:
1. J.C.'s future: Coach Bill Belichick didn't diminish the importance of evaluating the Patriots' 47-17 playoff loss to the Bills, but also said it's important to take a longer view of things when making decisions for the future.
Perhaps no player highlights this balancing act more than cornerback J.C. Jackson.
On a night the defense turned in what might have been the worst performance in Belichick's 22 years as coach, Jackson had probably the worst game of his four-year career. His technique playing the ball in the air faltered. There were coverage breakdowns in Cover 3 zone calls. His interest in shedding blocks and tackling didn't seem high.
• Full bracket, schedule and format »
• First look at the divisional round »
• Wild-card weekend overreactions »
• See more playoff content »
And now comes the question: How much stock does Belichick put into the game when determining Jackson's future with the team?
Jackson, a second-team All-Pro selection after totaling eight interceptions during the regular season (now 25 for his career), is scheduled for unrestricted free agency.
"J.C. Jackson looked like he wanted to get the heck out of there healthy and go to free agency and try to make a bunch of money. Which he will," ESPN analyst Rob Ninkovich said on former teammate Chris Long's "Green Light" podcast.
There's always the possibility the Patriots and Jackson reach agreement on a contract extension before the start of free agency March 16. But once a player makes it through a season healthy, and there's a chance to test the open market and maximize earnings, it usually takes a sweet deal (or an overwhelming desire to stay put) for him to sign before then.
That's why it seldom happens that way in New England — or anywhere in the NFL.
A franchise tag for Jackson projects at $17.28 million on a one-year term. This reporter has been all over the map — a 15-yard flag for inconsistency is justified — on whether that might happen.
After Jackson's playoff performance, it now feels like a longer-odds scenario to me that he would be tagged.
2. One clear voice on D? How Belichick addresses the defense immediately became a top storyline following what longtime safety Devin McCourty described as an "embarrassing" playoff loss to the Bills. Ninkovich, on the "Green Light" podcast with Long, shared his opinion that the group would benefit from a clear-cut defensive coordinator.
"I think that's key. You can't have a jury of defensive coordinators and minds of how to play defense," he said. "You have to have the clear-cut general — 'This is how we're doing it, this is the type of scheme we're going to run, this is our game plan.' Then the players follow that and I think there's more confidence."
Belichick has always been heavily involved, as evidenced by the weekly TV shots of him on the sideline flipping through pictures. Then there's outside linebackers coach/playcaller Steve Belichick, inside linebackers coach Jerod Mayo and even special assistant Matt Patricia.
"I think that tears at the players a certain way and doesn't give them the confidence to go out there and play fast," Ninkovich said on the podcast.
3. Phillips' remarks: Of all the comments made by players in the aftermath of the playoff loss, safety Adrian Phillips' stood out to me. He acknowledged the season changed after the Dec. 12 bye week — he wasn't sure why — and then said of meeting the physical challenge against the Bills in the playoffs: "I think physically we were there. I think mentally we just weren't in the right space to go out there and make those plays … For us, we just dropped the ball on that part. I think that's what the difference was."
How were the Patriots not mentally in the right space for a playoff game?
Before Belichick can move forward to the 2022 season, and start building the team, this seems like the only place he should start. Without an answer to that question, not much else seems to matter.
4. Lining up the picks: ESPN senior analyst Mel Kiper Jr.'s first mock draft — which had the Patriots taking Alabama receiver Jameson Williams at No. 21 — served up a reminder to become more familiar with the team's entire haul of picks.
First round

Second round

Third round

Fourth round

Sixth round

Sixth round (from Rams)
The fifth-rounder went to the Raiders in exchange for offensive tackle Trent Brown, and the three seventh-round picks the Patriots once owned were traded as part of deals for receiver Isaiah Ford (Dolphins), offensive tackle Yasir Durant (Chiefs) and Shaun Wade (Ravens).
The team is not projected to receive any compensatory draft picks after its big-spending offseason in 2021.
Looking ahead, the Patriots get a fourth-rounder from the Rams in 2023 (as part of the Sony Michel deal) and a sixth-rounder from the Panthers in 2023 (as part of the Stephon Gilmore deal). They traded their 2023 fifth-rounder to the Ravens (as part of the deal for Wade).
5. Mac perspective: Kiper doesn't have a quarterback in the top 10 of his mock draft, which of course can always change as the draft nears. But the initial snapshot provides context on how this year's QB crop isn't considered close to last year's, when five went within the first 15 picks. It highlights how fortunate the Patriots were to land Mac Jones, as sitting at 21 this year and still looking for a QB would be a tough scenario.
6. Front-office depth: With director of player personnel Dave Ziegler (Raiders) and consultant Eliot Wolf (Bears/Vikings) interviewing for general manager jobs across the NFL, the Patriots could potentially lose two of their top front-office staffers. That would hurt given the positive direction things seem headed after a productive 2021 draft. It would test the depth of the personnel staff, with national scout Matt Groh and pro scouting director Steve Cargile top internal candidates to rise based on what Belichick said about them over the past year.
7. Salute to the wives: Veteran tight end Hunter Henry was asked what he learned about himself in his first season in New England, and his answer in an "exit interview" with reporters was heartfelt, highlighting the sacrifices his wife, Parker, made throughout a year "with a lot of life changes."
Parker was pregnant with the couple's first child (a son, Ace, born in December) as Henry himself spent the offseason training in New England. And then she packed up all their belongings and coordinated everything for a relocation from Los Angeles to New England, before managing a newborn mostly on her own during the homestretch of the season/playoffs.
"I think the biggest thing for me is her," Henry said. "She's the one who held everything together. I love her to death and am super thankful to have her in my life."
8. Jennings' lost year: Linebacker Anfernee Jennings, a 2020 third-round pick from Alabama, was a forgotten man this season after landing on injured reserve at the end of training camp and staying there all season. He falls into a similar category as Chase Winovich (2019 third round) and Josh Uche (2020 second round) as Day 2 picks on defense who should be part of the Patriots' core going forward, but whose futures with the team are instead more uncertain. Jennings didn't arrive for 2021 training camp in peak physical condition, so a good sign of a possible bounce-back in 2022 will be if he changes his offseason approach.
9. Meyers' tender: Receiver Jakobi Meyers is scheduled for restricted free agency, and because he entered the NFL as an undrafted free agent, the Patriots would risk losing him without receiving compensation by tendering him at the lowest level. That's why a second-round tender, of $3.9 million, seems like a no-brainer. In his final session with reporters after the playoff loss, Meyers expressed his desire to return and build on his play strength, which he said waned down the stretch.
10. Did you know? Belichick, his assistants and players conducted a total of 857 news conferences/video conferences from July 27 to Jan. 17. Belichick had 90 himself, while the players with the greatest number of news conferences/video conferences were Jones, linebacker Matthew Judon, McCourty, center David Andrews and Meyers.