Sean Taylor to become third player in Washington Football Team franchise history to have jersey number retired
ASHBURN, Va. — The Washington Football Team will retire late safety Sean Taylor's No. 21 jersey, making him only the third player in franchise history to receive such an honor.
Taylor's jersey number will be retired during a ceremony before Sunday's home game against the Kansas City Chiefs. The team also announced Thursday that a road leading to the stadium will be renamed "Sean Taylor Road."
Washington's players also will wear a No. 21 decal on their helmets Sunday.
"I came into the NFL the same year as Sean Taylor and immediately his athletic ability, resilience, grit, and relentless work ethic set him apart. I and many others looked to him as a role model," Washington president Jason Wright said in a statement. "The fact that he was tragically taken so early hurt our player community, but also our fans, coaches, and staff. We will continue to remember him and hold him up as an example of professionalism and excellence, and we will all strive to mirror his excellence in our own ways."
Taylor was shot on Nov. 27, 2007 during a robbery attempt at his Florida home and later died. He was in the midst of his best NFL season at the time of his death, despite being out with an injury at the time, according to teammates and coaches and was named as a second-team All-Pro in 2007.
Taylor will join Sammy Baugh (No. 33) and Bobby Mitchell (No. 49) as the only Washington players to have their jersey numbers retired. Other numbers such as Darrell Green's No. 28, Art Monk's No. 81 and John Riggins' No. 44 have not been worn since those players retired. All three are in the Hall of Fame.
Washington drafted Taylor with the fifth overall pick in 2004, though he wore No. 36 during his rookie season. He switched to No. 21 the following year.
Taylor's combination of size and athleticism made him a unique talent in Washington's secondary, and his popularity led to a number of safeties later wearing No. 21. Washington's current safety Landon Collins, who wore No. 21 when he was with the New York Giants, said he hoped Washington would draft him because that's where Taylor had played.
Joe Judge accepts blame for New York Giants' struggles, says 'the fish stinks from the head down'
EAST RUTHERFORD, N.J. — New York Giants coach Joe Judge isn't putting the blame elsewhere for his team's 1-5 start — he's looking right in the mirror.
"There's your answer. I'm the head coach. It's my responsibility, point blank," Judge said Thursday. "Every player on this field, every position group, the execution, it all comes down to me. The fish stinks from the head down.
"I've been taught that from great guys who I worked for, played for. There are no excuses, no exceptions. You demand it from your coaches to make sure that the player are playing the right way. You demand it of the players to know what to do and then go out there to do it.
"But it starts with me and ends with me."
The Giants have dropped their last two games and are coming off a 38-11 demolition last Sunday at the hands of the Los Angeles Rams. They've lost all three of their home games this season by a combined score of 82-38.
Judge, who is 7-15 since taking over as head coach, insists he's not feeling the pressure.
"To me, the only time you really feel any kind of pressure and nerves is when you're unprepared," he said. "If you're prepared and you go through the tasks and process at hand and you're consistent with it, then you go in with confidence.
"That is what we preach to our guys. We come out here and practice every week, prepare a certain way every week. We have to go out there better and execute better to have the results that we want."
Judge has vowed that the Giants, who spent big in free agency to upgrade the roster this offseason, will turn it around.
"This is definitely going to get better, so there you go," Judge said earlier this week. "I don't know what kind of guarantee [the fans] want, but I can assure everyone out there that's a Giants fan and they want to know when it's going to turn, I can tell them right now we're working tirelessly to make sure we get this thing turned around in the right direction, not just for short-term results, but for long-term success."
Turning around their season will not be easy for the banged-up Giants heading into their home matchup Sunday with the Carolina Panthers. Star running back Saquon Barkley (ankle) and wide receivers Kenny Golladay (knee) and Kadarius Toney (ankle) were not at practice again Thursday, while starting left tackle Andrew Thomas (foot/ankle) went on injured reserve earlier this week.
Judge said Barkley, Golladay and Toney "all made progress" on Wednesday, and the team would see if they can get on the field by Friday. It still seems highly unlikely any of Barkley, Golladay or Toney would play against the Panthers. Sources told ESPN earlier in the week it was "doubtful" that Barkley and Golladay, who both were out against the Rams, would be return this week.
Judge has refused to use the injuries as an excuse and has been adamant about focusing on the process and daily grind. It seems to have been well-received in the building.
"Joe's our leader. We all look to our leader for strength. He's done a hell of a job I think of keeping the team moving forward," special teams coordinator Thomas McGaughey said.
McGaughey later added: "Joe is a tough guy. Joe is mentally tough and he's doing a great job with our team as far as the leadership part of it. Keeps expressing to focus on the task at hand, and that is to win today. You don't have a chance on Sunday if you don't win today. So we're focusing on right now being where our feet are."
Cleveland Browns activate WR Jarvis Landry from IR ahead of game vs. Denver Broncos
CLEVELAND — The Cleveland Browns have activated Jarvis Landry off injured reserve, clearing the way for the Pro Bowl wide receiver to return for Thursday night's game against the Denver Broncos.
Landry missed the last three games with an MCL sprain in his left knee. He suffered the injury on Sept. 19 on the opening drive against the Houston Texans.
Landry, who has 80 yards receiving on six catches this season, should provide an immediate boost to a battered Cleveland offense.
Against the Broncos, the Browns will be without starting quarterback Baker Mayfield (non-throwing left shoulder) and running backs Nick Chubb (calf) and Kareem Hunt (calf) due to injuries. Wideout Odell Beckham Jr. (shoulder) is questionable to play, as well.
Philadelphia Eagles activate tight end Dallas Goedert from reserve/COVID-19 list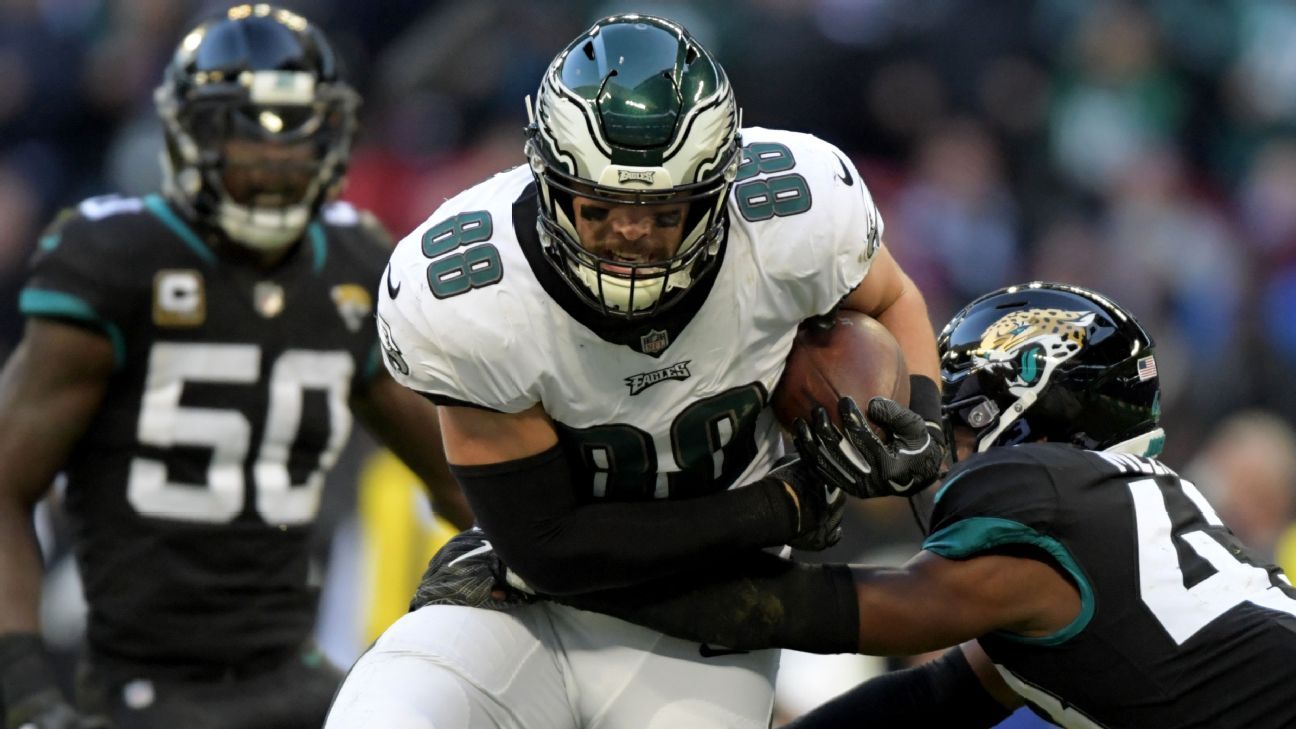 The Philadelphia Eagles activated tight Dallas Goedert from the reserve/COVID-19 list on Thursday.
The move allows Eagles' starting tight end to return to practice and bolsters the depth chart at the position after Philadelphia traded veteran tight end Zach Ertz to the Arizona Cardinals last Friday.
Goedert had been placed on the list Oct. 12 and missed last Thursday night's game against the Buccaneers. Ertz started with Goedert out and caught a touchdown pass in the Eagles' 28-22 loss.
The 26-year-old Goedert is third on the Eagles with 216 receiving yards and is tied with two others for the team lead with two touchdown receptions. He has 15 receptions.
Goedert, drafted in the second round of the 2018 draft, has 152 receptions for 1,681 yards and 14 touchdowns in his career with the Eagles.
The Eagles (2-4) play Sunday in Las Vegas against the Raiders (4-2).