Nathalie Maillet murder, Franz Dubois suicide, mistress
The boss of a Formula 1 circuit who was shot dead was reportedly killed by her husband after he found her in bed with her mistress.
Nathalie Maillet, 51, the CEO of the Spa-Francorchamps F1 circuit, was found dead at her home in Gouvy, Belgium on Sunday.
Police say Maillet was at home with her alleged mistress Ann Lawrence Durviaux, 53, when her husband Franz Dubois confronted the pair, who were in the bedroom.
Dubois then reportedly pulled out a gun and killed both the women before turning the gun on himself.
The public prosecutor said in a statement: "At 00:10, the bodies of two women and one man were discovered by the police in a house in Gouvy, all three presenting gunshot wounds.
"According to our information, the male individual voluntarily used his firearm to kill both women, including his wife, before killing himself."
Maillet became the general manager of Spa-Francorchamps in 2016 and oversaw the modernisation of the circuit which hosted its first Grand Prix in 1925.
Dubois was also a well-known figure in the world of motorsport both as a team owner and as the co-founder of the VW Fun Cup series.
Veronique Leonard, the mayor of Gouvy, said in a statement: "I was warned, around 2.30am, by the police, that a double murder, followed by a suicide, had been committed in the house."
Tributes flowed in for Maillet from the motorsport community.
Melchior Wathelet, Chairman of the Board of Directors of the Circuit de Spa-Francorchamps, said: " My thoughts are with Nathalie's family, her parents, her relatives but also her teams.
"I know how this news will upset her staff and I wish on behalf of the entire Board of Directors to offer my sincere condolences to the entire Circuit team."
"Today we are losing a very great lady, a motorsports lover and enthusiast, a true leader who will be sorely missed. Nathalie had become the face of the circuit, she embodied this passion for racing that we all share."
The FIA, F1's governing body, also expressed its condolences for Maillet's passing.
"The FIA has been saddened to learn of the tragic death of Nathalie Maillet.
"Nathalie was the Chief Executive Officer at Circuit of Spa-Francorchamps since 2016 during which time she oversaw major development of the iconic racetrack which hosts a number of FIA championships.
"On behalf of the entire motorsport community, we wish to extend our condolences to her family and friends."
The investigation is reportedly ongoing with forensics teams and ballistics experts examining the scene of the crime.
This story first appeared on The Sun and was reproduced with permission
Johnny Herbert suggests Daniel Ricciardo talent may have 'evaporated', McLaren, F1 news
Former Formula 1 driver turned analyst Johnny Herbert has questioned why Australian driver Daniel Ricciardo has struggled in the sport since his move to McLaren, theorising his talent has "evaporated".
Following an underwhelming two-year stint at Renault, Ricciardo joined McLaren ahead of the 2021 season, partnering with British young gun Lando Norris.
But Ricciardo's maiden season in orange has been anything by smooth sailing, with the Perth driver struggling to come to terms with the MCL35M's braking system.
Stream Every Practice, Qualifier & Race of the 2021 FIA Formula One World Championship™ Live & On-Demand on Kayo. New to Kayo? Start Your Free Trial >
The 32-year-old is currently sitting in eighth place on the F1 drivers' standings, 50 points behind Norris.
Ricciardo seemingly turned a corner at Monza last month, winning the Italian Grand Prix to help McLaren secure its first 1-2 finish in the sport since 2010.
But the triumph was a lone highlight in what has otherwise been a disappointing 2021 campaign for the Australian.
"Daniel has been a shocker," Herbert told Motorsport Magazine.
"We never expected him to struggle so much.
"I can empathise with him and it's terrible, especially when it's been so long and you still haven't found the answer.
"Still, we know how good he is and he knows it too.
"I've heard Daniel's problems are brake-related, but it's also down to aerodynamics," he added.
"If it's already causing us headaches, think what it's like for him.
"He's not too old, he hasn't had a bad crash. There have been plenty of drivers for whom it (their talent) just evaporated.
"I go back to Jean (Alesi). He was the 'next big thing' and yet he only won one Grand Prix. It didn't work for him, with all his natural talent.
"The problem is that if it doesn't get better, the rumours start, and once that starts and the tornado accelerates, you're just a passenger."
The F1 season resumes next weekend with the United States Grand Prix, which is scheduled for 6am AEDT on Monday, October 25.
F1 2022 calendar, schedule, 23 races, Australian Grand Prix date, Miami GP, Imola to return, China dumped
Formula One has released a record 23-race schedule for 2022 with Australia not returning to its traditional slot as the season opener, and China dumped.
It is the third successive year China has been dropped, while Australia is set to host its first race since March 2019.
"Due to ongoing pandemic conditions, China will not be included on the 2022 calendar. China will be restored to the calendar as soon as conditions allow," said a statement from governing body, the FIA.
Stream Every Practice, Qualifier & Race of the 2021 FIA Formula One World Championship™ Live & On-Demand on Kayo. New to Kayo? Start Your Free Trial >
The Chinese GP at Shanghai will be replaced by the Emilia Romagna Grand Prix at Imola on April 24.
The 2022 season will start in Bahrain on March 20 and finish back in the Gulf at Abu Dhabi on November 20.
Australia won't feature until round 3 on April 10.
Next year's schedule also continues a steady growth in the number of events as international sport emerges from the pandemic.
In 2020, there were 17 F1 races, which rose to 22 for this year's world championship.
Next season, Australia, Canada, Singapore and Japan are all set to return after being axed in 2020 and 2021 because of Covid-19 and subsequent health restrictions.
A new race in Miami has also been confirmed for May 8 as the United States hosts two events with Austin pencilled in on October 23.
Hamilton disappointed in F1 coverage | 00:52
"We are excited to announce the 2022 calendar as we prepare to enter a new era for the sport with brand new regulations and cars for next year that are designed to create closer racing," said Stefano Domenicali, the president of F1.
"This season has been incredible so far with great battles on the track, large audiences tuning in and fans returning to the races after the impact of the pandemic.
"We look forward to welcoming more fans back next season and hope 2022 feels more normal than the life we have all experienced in the past two years."
The 2022 season will finish three weeks earlier than the 2021 edition to avoid a clash with the football World Cup in Qatar which kicks off the day after the Abu Dhabi F1 finale.
There will be two triple-headers and seven back-to-back races next year, a tightly-packed schedule which could lead to criticism from teams over stress levels for staff.
It also remains to be seen whether or not the experiment with qualifying sprint races, introduced this year, returns in 2022.
A decision will be made after the third and final sprint race at the Brazilian GP from November 12 to 14, said the F1 Commission.
The 2022 season will also see the introduction of new cars with redesigned aerodynamics to allow drivers the chance to follow and overtake with greater ease in a sport criticised for its often processional nature.
2022 FORMULA ONE CALENDAR
March 20: Bahrain, Sakhir
March 27: Saudi Arabia, Jeddah
April 10: Australia, Melbourne
April 24: Emilia Romagna, Imola*
May 8: Miami, Miami**
May 22: Spain, Barcelona*
May 29: Monaco, Monaco
June 12: Azerbaijan, Baku
June 19: Canada, Montreal
July 3: Great Britain, Silverstone
July 10: Austria, Spielberg
July 24: France, Le Castellet
July 31: Hungary, Budapest
August 28: Belgium, Spa-Francorchamps
September 4: Netherlands, Zandvoort
September 11: Italy, Monza
September 25: Russia, Sochi
October 2: Singapore, Singapore*
October 9: Japan, Suzuka
October 23: United States, Austin*
October 30: Mexico, Mexico City
November 13: Brazil, Sao Paulo
November 20: Abu Dhabi, Yas Marina
* subject to contract ** subject to FIA circuit approval
F1 news 2021, 2022 grid, line up, Daniel Ricciardo, Oscar Piastri, Alfa Romeo, latest, F2 champion
Australia could have two drivers in Formula One as a result of some last-minute "shenanigans", according to former star Mark Webber.
20-year-old Oscar Piastri is one of the hottest prospects currently outside of F1, having won the F3 championship as a rookie in 2020 and is currently on course to win the F2 title this year.
It is a feat which has only been managed by current F1 stars George Russell and Charles Leclerc, who will be driving for Mercedes and Ferrari respectfully next season.
Piastri has a 36-point lead with just six races remaining but looks like he will be stuck in the category for another year, with just the one seat left unconfirmed in F1 for next season.
Stream Every Practice, Qualifier & Race of the 2021 FIA Formula One World Championship™ Live & On-Demand on Kayo. New to Kayo? Start Your Free Trial >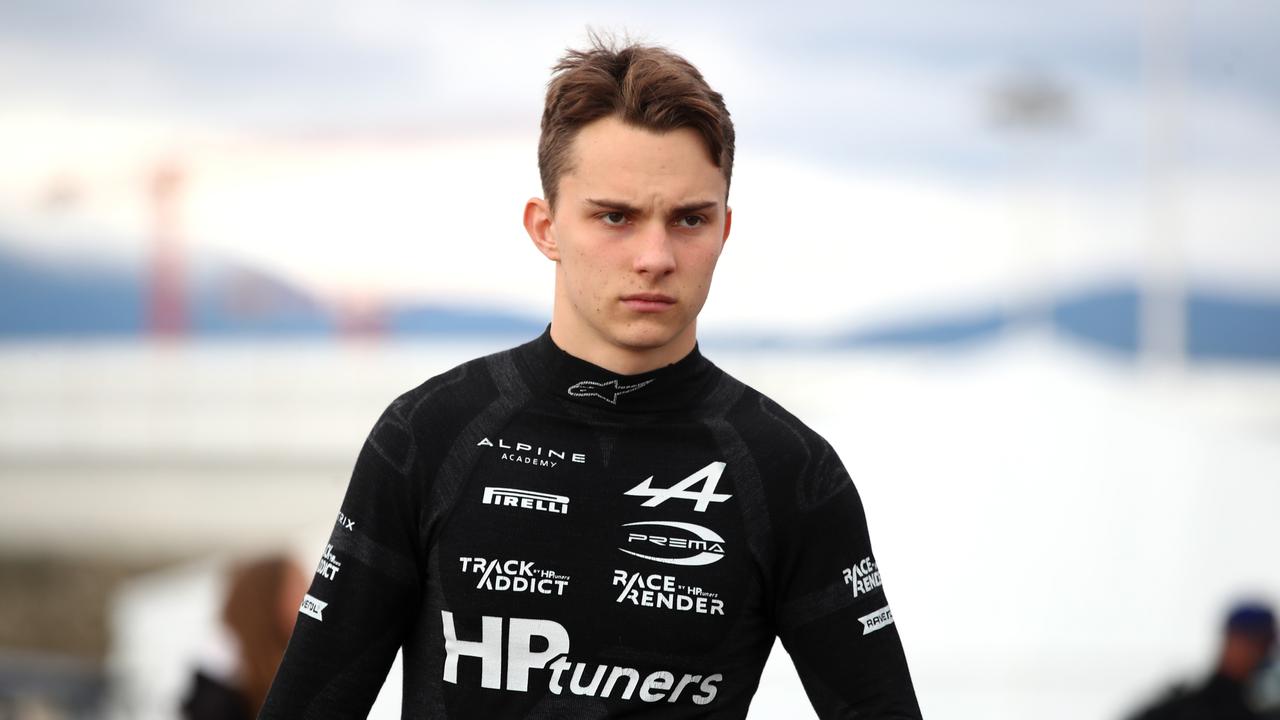 Alfa Romeo is the only team not to have confirmed both drivers for next year, with only Valtteri Bottas certain to be driving for them following his release from Mercedes.
Piastri, who is part of the Alpine academy, has previously stated he expects to stay in F2 and focus his energy on securing a role as Alpine's test and reserve driver, with a view to replacing Fernando Alonso in 2023.
However, Webber, who manages Piastri, has hinted his compatriot may not need to wait that long and a late twist could see him in F1 sooner than expected.
"Well, mate, let's see," he told the F1 Nation podcast.
"It's going to be an interesting few months, nothing is totally sorted yet, there's still a little bit of shenanigans to be sorted out, and that could fall in his favour.
"The Alfa seat is moving round, we see now Andretti floating around in terms of maybe investment – so, wow.
"It's an interesting last seat, mate, in terms of dynamic, but does he [Piastri] deserve to be in F1? Absolutely. We all know that.
"It's not a question of if but when.
"Alpine are very, very keen on him, Alpine do not want him to slip through their fingers to say the least, they're sort of looking to try to re-engage and commit to the future.
"It's not done yet but they're trying very, very hard to keep Oscar happy for the future, and that's something that we're going through as we speak."