Lewis Hamilton snubbed for Max Verstappen, Daniel Ricciardo, contract news
The F1 mid-season break is finally over with racing set to resume at the Belgian Grand Prix from Friday.
There's up to 11 races remaining in the season, and plenty is still on the line, with Lewis Hamilton and Max Verstappen heading for one of the all-time championship showdowns.
Meanwhile, Daniel Ricciardo desperately needs to find his feat at McLaren, while Valtteri Bottas could finally be heading into his final races at Mercedes, unless he turns things around now.
Here's how every driver has rated in the 2021 F1 season so far.
Stream Every Practice, Qualifier & Race of the 2021 FIA Formula One World Championship™ Live & On-Demand on Kayo. New to Kayo? Try 14-Days Free Now >
LEWIS HAMILTON — A-
First — 195 points
Race wins — four
Podiums — eight
Poles — four
We're used to Hamilton talking down Mercedes before the start of the season while talking up Red Bull as a much-improved team. It's just not normally true. This time, however, Red Bull is the real deal and Hamilton has a genuine fight on his hands for the first time in years. That he still walked away with three wins in the first four races was massive for his campaign. They were races where Max Verstappen was arguably stronger, particularly in Spain, but failed to take full advantage. Any suggestion that Hamilton is simply the driver of the fastest car and wouldn't look as impressive elsewhere simply isn't true, and this year proves it — if it needed to be proven in the first place. He loses marks, however, for scrappy races in Monaco and Azerbaijan where he qualified in seventh and made a sloppy error at a restart respectively. Yet another British Grand Prix win, and a recovery drive to second in Hungary saw him reclaim the championship lead and set up a tantalising battle with Verstappen for the series remainder.
VALTTERI BOTTAS — D
Fourth — 108 points
Podiums — six
Poles — one
There have been no surprises from Valtteri Bottas this season. He's been miles away from his teammate Hamilton and, in truth, has done little to ruffle the feathers of Verstappen either. The Mercedes garage would wish the Finn could take more points off the Dutchman to help Hamilton's campaign. Not that that is what Bottas is there for, but it would certainly help his case to stay. But Bottas is even being outdriven by Lando Norris in a slower McLaren. Bottas, winless this season so far, will need a massive improvement if he's to hold off the seemingly inevitable promotion of George Russell at Mercedes next season.
MAX VERSTAPPEN — A
Second — 187 points
Race wins — five
Podiums — eight
Poles — four
By the barest of margins, we've made Verstappen the driver-of-the-season so far ahead of Hamilton. It was a close call but Hamilton's sloppiness at the street circuits proved to be the deciding factor in what is shaping as one of F1's all-time battles. Verstappen has made errors of his own, notably passing Hamilton on the outside of the track in Bahrain and breaching track limits again in Portugal to lose pole. Some believe he was at fault for the crash with Hamilton at Silverstone too, although that's certainly up for debate. Either way, he's narrowly looked the better driver in 2021 and would still be leading the championship if it wasn't for a tyre blowout in Baku. The break came at the perfect time for Verstappen who had lost some momentum in the past two races.
SERGIO PEREZ — C
Fifth — 104 points
Race wins — one
Podiums — two
Poles — two
The Mexican hasn't exactly taken to Red Bull like a duck to water, but he's certainly had his moments. A race win in Azerbaijan, albeit at the misfortune of Verstappen, would have been a massive boost to the confidence of Perez, who's never been at an F1 powerhouse. He backed it up with a podium in France while those two results were sandwiched by fourth-place finishes, which feels about a par result for him. All-in-all, it's been a respectable first half of the season, although there's no doubt he loses marks for a horrorshow in Austria where he copped two five-second penalties for racing incidents. He also had a costly spin at Imola where he finished outside of the points having been in fourth.
CHARLES LECLERC — B+
Seventh — 80 points
Podiums — one
In many ways it was a shame that Ferrari was so far off the pace last year. It rendered one of the field's brightest talents utterly toothless. But now that Ferrari has made a massive leap forward, Leclerc's quality is once again starting to show. Back-to-back pole position laps in Monaco and Baku was an absolute dream. Sadly for the Monegasque, the first pole was followed by a crash in qualifying which ultimately ruled him out of the race. Nonetheless, there's no denying that he's rapid when the stars align for Ferrari, while he's consistent even when they don't. He's only twice missed out on the points and has two podiums this year — an impressive result when driving for only the third or fourth best team. He's already locked in on a long-term contract and so there's little pressure on the 23-year-old heading into the back-end of the season.
CARLOS SAINZ JNR — B
Sixth — 83 points
Podiums — two
Sainz hasn't enjoyed the highs of a pole position, but otherwise he's matched Leclerc every step of the way and even holds a narrow three-point championship lead over his teammate. For a driver in his first season in Ferrari colours, that's impressive. Signing for Ferrari brings a pressure like no where else but Sainz has risen to the challenge and has so far vindicated the team's decision to bring him over from McLaren. Nonetheless, his qualifying record so far leaves something to be desired having only gone quicker than Leclerc three times. That said, his average deficit to Leclerc is only 0.117 seconds. Not a bad way to start at a new team at all.
LANDO NORRIS — A
Third — 113 points
Podiums — three
What a season from the McLaren young gun. It was thought pressure would come his way in 2021 with the arrival of big-name signing Daniel Ricciardo. Instead, it's the Australian who's feeling the heat, because he's been thoroughly dominated by his junior teammate. Norris is driving like someone who's confident and completely aligned with his garage — and the McLaren hierarchy. He's built on an impressive 2020 with three more podiums this year, while he's been remarkably consistent with nine top-five finishes in 11 races. He's also outqualified Ricciardo eight times. Norris sits inside the top three in the title race, edging out Bottas and Perez, which is mightily impressive. His goal for the remainder of the season should be to maintain his advantage over Ricciardo, who will surely improve the longer it runs. Should he do that, then Norris is well set up in F1 for many years to come.
DANIEL RICCIARDO — D+
Ninth — 50 points
Well, it wasn't supposed to go like this. Having made the bold move to jump from Renault to McLaren, Ricciardo has been blindsided by a quirky car that needs to be driven on a knife's edge to be quick. Ricciardo has rarely found that sweet spot so far. He had respectable Grands Prix in Spain, France and Silverstone where he was inside the top six, but has too regularly missed Q3 and has finished outside of the points three times. In truth, when you hear Ricciardo speak about just how uncomfortable he is in the car — he likened it to foxsports.com.au like kicking with his wrong foot — his speed has actually been remarkable. To outqualify Norris even three times is a good result considering. Nonetheless, to have Norris doing so well only builds pressure on Ricciardo. He has a track record of coming good after a while, having taken some time before being competitive at Renault. The difference this time, however, is that the clock is ticking, thanks to Norris. Should Ricciardo not take a big step forward by the end of the season, McLaren's patience will run thin.
FERNANDO ALONSO — B
11th — 38 points
The two-time world champion turned 40 this year. 40. Just let that sink in. Sure, Kimi Raikkonen is 41, but he hasn't left the sport for years. To come back into motorsport's most cutthroat category at the ripe old age of 40 and to seemingly be straight up to speed is astonishing. That said, Alonso is no ordinary driver — so should we really be surprised? He's just one point behind his teammate Esteban Ocon, who profited from a fortuitous series of events that saw him remarkably win the Hungarian Grand Prix. Without that win, Alonso would be on top. Meanwhile, Alonso is narrowly ahead of the qualifying battle with Ocon — who is more than 15 years his junior — 6-5.
ESTEBAN OCON — B-
10th — 39 points
Race wins — one
Podiums — one
Add 'Esteban Ocon a Grand Prix winner' to the things you wouldn't have expected from the 2021 season. Sure, just about a third of the field was wiped out in wet conditions and Hamilton's garage made a big tyre blunder, but winning a race is nothing to scoff at. Many come and go without achieving a single race win. Furthermore, he was due some luck after retirements in Azerbaijan and Austria that weren't his fault. Nonetheless, he's been somewhat inconsistent having had back-to-back 14th place finishes between his two retirements, and before his race win. He'll need to show he can more consistently challenge Alonso for the rest of the season.
ALPHATAURI
Pierre Gasly — B+
Eighth — 50 points
Podiums — one
Yuki Tsunoda — D+
13th — 18 points
Gasly has built on a strong 2020 with a run of impressive performances for AlphaTauri. He's claimed seven points finishes, including a podium, which have made his costly mistake at the season-opener in Bahrain a thing of the past. His teammate, Tsunoda hasn't finished higher than sixth — and that result came with many DNFs in the field — while he hasn't outqualified Gasly once. It's his debut season and he's only 21, but he'd still like to improve.
ASTON MARTIN
Sebastian Vettel — B-
12th — 30 points
Lance Stroll — D+
14th — 18 points
This wasn't the season owner Lawrence Stroll had in mind when his Racing Point joined forces with Aston Martin, and made the big-name recruit of Sebastian Vettel. You have to wonder if that's where the money went because this is a team sliding back through the field. Vettel has had the strangest of seasons, with a number of lower order finishes, somehow paired with a second-place in Azerbaijan and second in Hungary before his car was disqualified from the latter for not having enough fuel left for the stewards to test. Stroll has arguably been more consistent, but hasn't matched the lofty heights Vettel has occasionally been able to reach. Stroll hasn't finished a race higher than eighth and was at fault for causing a nasty crash in Hungary, while he's losing 7-4 in the qualifying battle with Vettel.
WILLIAMS
George Russell — B
16th — four points
Nicholas Latifi — D
15th — six points
All eyes will be on George Russell in the second half of the year as he potentially takes his final steps towards a Mercedes drive. A decision is expected to be made soon on whether Mercedes will promote Russell over Bottas as he comes to the end of his three-year contract with Williams. He's done all he can to secure the promotion, once again dominating the garage over Latifi, while he's only been knocked out in Q1 once. He's outdriven him in all but two races in which both drivers finished, and claimed a clean sweep in qualifying.
ALFA ROMEO
Kimi Raikkonen — C
17th — two points
Antonio Giovinazzi — C-
18th — one point
It's once again a long slog for Raikkonen and Giovinazzi at Alfa Romeo where any championship points are a godsend. Raikkonen has two 10th place finishes to his name, while Giovinazzi has one. Little separates the pair, although Raikkonen once again has the edge on race days, even if he's trailing Giovinazzi 3-8 in qualifying. Raikkonen is coming towards the end of his career, while Giovinazzi will need to start converting his qualifying laps into better results on race day.
HAAS
Mick Schumacher — B
19th — zero points
Nikita Mazepin — D
20th — zero points
Mick Schumacher's job this season was to outclass teammate Nikita Mazepin. He's done that with ease, beating him 9-2 in qualifying and outdriving him in all but two races. While it's hard to get too excited about Schumacher when he's driving for the slowest team, his F1 progression is firmly on track. Meanwhile, Mazepin desperately needs to challenge Schumacher more often if he's to stay long-term.
Toyota wins fourth straight Le Mans | 00:55
Emilia-Romagna Grand Prix preview, Fabio Quartararo MotoGP title chances, Valentino Rossi says goodbye
Fabio Quartararo is within touching distance of his first MotoGP world title at Sunday's Emilia-Romagna Grand Prix which will host Valentino Rossi's final farewell to his adoring Italian fans.
Yamaha rider Quartararo, 22, is 52 points ahead of Ducati's Francesco Bagnaia who sits second in the championship standings with three races left in the 2021 season heading into the race at Misano on Italy's Adriatic coast.
With 25 points the maximum available Quartararo will become the first ever French MotoGP winner if he finishes ahead of home hope Bagnaia, who is hunting his own debut triumph at the age of 24.
Stream Every Practice, Qualifier & Race of the 2021 Moto GP Championship Live & On-Demand on Kayo. New to Kayo? Start Your Free Trial >
Quartararo should be in confident mood after his impressive second place behind Marc Marquez at the Grand Prix of the Americas in Texas last time out, which set up his bid to claim the title this weekend.
He also finished second at Misano in the San Marino MotoGP last month.
"For this final part of the competition my mindset has changed a little. The last time we were in Misano, I was racing for the win and not thinking about the championship at all," said Quartararo.
"Of course I will still do my best as always to get the best result possible this weekend, because that's what I enjoy most, but I will try to be smart about it."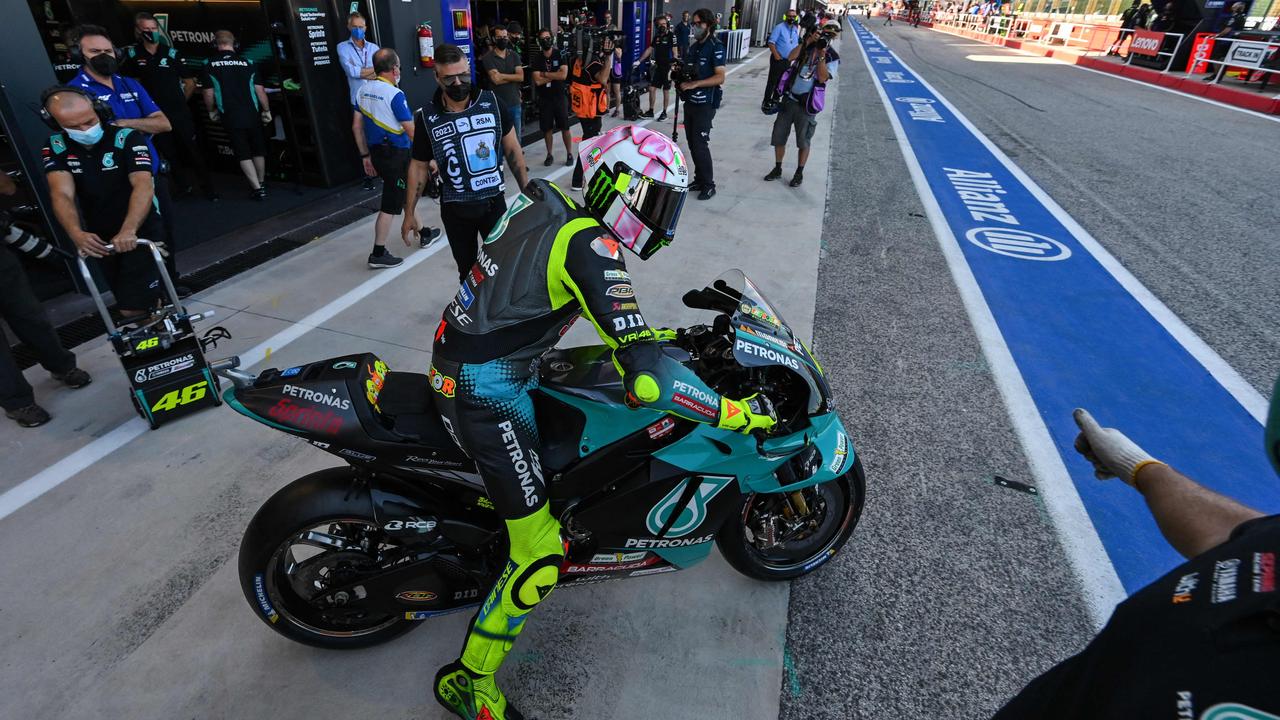 Bagnaia has good reason to think he can extend the title race for at least one more GP as he held off Quartararo from pole position to win at Misano in September, having recorded a track record time in qualifying.
The former Rossi protege will be keen for another success in front of an emotional home crowd who will be there mostly to say goodbye to a motorcycling legend.
Seven-time MotoGP champion Rossi, 42, grew up riding at Misano and still only lives a short drive away from the track, with his own motorcycling team VR46 based a few miles down the road in his home town of Tavullia.
Up to 35,000 fans are expected at the track on Sunday for Rossi's final MotoGP race on Italian soil, hoping for one last flourish in front of a yellow wall of supporters.
Rossi has failed to set the track alight during his slow march towards retirement at the end of the season and sits 21st in the overall standings after only making the top 10 twice all season.
He finished a lowly 17th at Misano in September, which was also an occasion for fans to hail one of Italy's sporting icons.
"The previous race in Misano was already a really emotional moment for me," said Rossi.
"This one will be a special race at home and I really hope the Italian fans can enjoy it."
Australian Grand Prix, New South Wales plan to steal race from Melbourne, Sydney Harbour F1 race
Sydney is weighing up a bold plot to steal the Australian Formula 1 Grand Prix from Melbourne, reports Seven News.
The New South Wales state government is said to be interested in bidding for the race rights when the current contract with Albert Park expires after 2025.
While crossing the Harbour Bridge has already been ruled out due to obvious safety concerns, the bid would be centred on a Monaco-like street circuit around Sydney Harbour.
Stream Every Practice, Qualifier & Race of the 2021 FIA Formula One World Championship™ Live & On-Demand on Kayo. New to Kayo? Start Your Free Trial >
Sydney has tried and failed to steal the race at least twice before.
In 2010, then-NSW premier Kristina Keneally announced a plot which would've seen the race run at Homebush, potentially at night. Then just ahead of the 2015 state election, then-NSW premier Mike Baird reportedly set aside $180 million to host the race from 2021 onwards.
The annual cost of the Grand Prix in Melbourne has never been officially confirmed but in 2013, taxpayers paid $34 million, and the cost has only risen since.
The first F1 Australian Grand Prix was held in 1985 in Adelaide, typically ending the season. The title was decided there in 1986 (Alain Prost over Nigel Mansell) and 1994 (Michael Schumacher over Damon Hill).
Melbourne then poached the race and it has been run around Albert Park Lake since 1996.
The race did not run in 2020 or 2021 due to the coronavirus pandemic, with the 2020 event cancelled just two hours before the first Friday practice session was to be held.
David Cauchi joins Kelly Grove Racing, Triple Eight, Shane van Gisbergen
Kelly Grove Racing has confirmed David Cauchi will join the team in 2022 as Team Principal.
Cauchi will join the team next season following a long stint with Triple Eight Race Engineering.
The decorated race engineer will replace Todd Kelly, who has been Team Principal since he retired from full-time driving.
He is currently Shane van Gisbergen's race engineer, having skippered Jamie Whincup's efforts between 2014 and 2020.
Cauchi has worked in Supercars for 14 years, and has helped Triple Eight to eight drivers' titles.
Stream Every Practice, Qualifier & Race of the 2021 Repco Supercars Championship Live & On-Demand on Kayo. New to Kayo? Start Your Free Trial >
That could become nine in 2021, with van Gisbergen leading the championship by 276 points.
The experienced engineer will lead the Braeside squad into its new solely Grove-owned era, but will also bring engineering and winning nous with him.
"I'm very excited and grateful to Brenton & Steph for the opportunity to join Grove Racing in 2022," Cauchi said.
"It's a new role and a thrilling opportunity in a team with a deep and long history in the sport.
"I am looking forward to being a part of this new chapter in their story."
Team co-owner Stephen Grove was delighted to secure the services of the experienced and decorated engineer.
"Once we went through the ownership changes, it was essential that we found the best possible person we could to help take on some of Todd's critical roles, and we believe we have found that person in Cauchi.
"He has vast experience and know that he will fit well into the family culture of the team.
"We look forward to him starting with us in 2022."
Whincup reflects on 2014 Bathurst 1000 | 07:35
The move means Triple Eight Race Engineering will field an all-new race engineering line-up for the 2022 Repco Supercars Championship..
Wes McDougall, who has been engineering Jamie Whincup in 2021, will also depart the team at season's end.
Veteran McDougall joined the team this year from Matt Stone Racing.
It comes after Grant McPherson left the team at the end of 2020 to join Walkinshaw Andretti United.
McPherson was previously van Gisbergen's race engineer between 2016 and 2020.
He notably helped van Gisbergen to the championship in 2016, and Bathurst victory last year.
Cauchi is a long-term member of the Triple Eight family, having joined the team in 2007 as a data engineer.
He took over from Mark Dutton on Whincup's car in 2014 and helped him to the 2014 and 2017 drivers' titles.
Dutton, himself a decorated race engineer, is Triple Eight's Team Manager.
The team will also feature a new-look driver line-up in 2022, with van Gisbergen to be joined by Broc Feeney.
Feeney will replace Whincup, who himself will replace Roland Dane as Managing Director and Team Principal.
With McPherson and Cauchi both on the way out, van Gisbergen will have his third race engineer in as many years in 2022.
The 2021 Repco Supercars Championship will continue at next weekend's Bunnings Trade Sydney SuperNight. Tickets for all four upcoming Sydney events are on sale now.
The event will be broadcast live on Foxtel and will be streamed on Kayo.