In wake of Jon Gruden's resignation over offensive emails, Raiders QB Derek Carr says 'open up everything' in NFL teams' correspondence
HENDERSON, Nev. — An emotional Derek Carr, who had forged a unique friendship with Jon Gruden over the past three-plus years, had an idea in the wake of the Las Vegas Raiders coach's resignation after leaked emails showed he had used racist, misogynistic and anti-gay language over a seven-year period: "Open up everything."
"If we just started opening up everybody's private emails and texts, people would start sweating a little bit. … Hopefully not too many. But maybe that's what they should do for all coaches and GMs and owners from now on, is open up," the Raiders' quarterback said Wednesday. "You've got to open up everything. See what happens."
Of his former coach, Carr said: "I love the man, [but] you hate the sin. No one's perfect."
Less than 48 hours after Gruden's resignation, Raiders owner Mark Davis, general manager Mike Mayock and interim head coach Rich Bisaccia addressed a team shaken emotionally to its core at a Wednesday morning meeting. The three delivered a simple message: Interim coaching situations usually happen late in a lost season.
"All of our goals are ahead of us," Mayock said. "[We're] 3-2, one game out of the AFC [West] lead. The focus has got to be on Denver."
The Raiders, who play at the Denver Broncos on Sunday, are riding a two-game losing streak.
Speaking to reporters Wednesday, Mayock said Bisaccia was the right choice while intimating that the rest of the season would be an audition for all involved.
"He's got as much respect in the locker room, in our locker room, as any coach I've ever seen in my life," Mayock said of Bisaccia, who will retain his special teams coordinator duties.
"Is he a great coach? Hell yeah," Mayock continued. "But he's an even better man, and what I've always told people when I endorse him is that he's the most natural leader of men that I have ever been around."
Mayock now has the final say on personnel decisions over Bisaccia, a designation Gruden previously held over Mayock.
Bisaccia, 61, has been an NFL assistant for 20 seasons, 11 of those under Gruden, with stops in Tampa Bay, San Diego, Dallas and with the Raiders. But he has never been a head coach at any level since his career began in 1983.
He read a prepared statement at the beginning of his media availability.
"Coach Gruden gave me a chance to coach in the National Football League, and I'll always be appreciative of that," Bisaccia said, his voice cracking. "That being said, we all have a responsibility here and have to be accountable to our words and our actions. No one person is bigger than the Raiders shield. The Raiders have always stood for diversity, inclusion, social justice. It's important to live those ideals and carry them into the future. We cannot change the past, but we can do more to maybe make tomorrow better."
Bisaccia also echoed Mayock's message.
"The thing that's unique to us is, we have a good team," he said. "We have 12 games [remaining], we feel we have a lot of time, we feel like all our goals are still in front of us.
"We were 3-0 at one time, we've lost two games. There's a bump in the road, it's not the end of the road. We're just going to put our heads together and put the players in the best position they can to win the game, and we'll see what happens Sunday. … I've got a 7-year-old granddaughter that can put a bunch of X's and O's on the board, but I tell the players all the time, they are the ones that make the X's and O's come to life."
Gruden had been the playcaller on offense. That responsibility will now belong to offensive coordinator Greg Olson, who was the Raiders' OC and playcaller when Carr was a rookie in 2014.
Carr said hearing Olson's voice during practice was familiar, but jarring, considering how long he had heard Gruden.
The practice field was a respite from the emotional groundswell the Raiders had been feeling.
"What I said to the players this morning is that there's a spectrum of opinions out there about Jon Gruden, from total condemnation to full empathy and everything in between," Mayock said. "And what I said to the players, basically, is that you're entitled to your position. You're entitled to your opinion on that. But ultimately … the team has got to come first at some point, after family and your religion.
"I've talked to several of the Black players. We've reached out to a bunch of players, Black and white. Everybody has emotions and feelings. I've talked to some of the people in my department that are Black. My director of pro scouting [Dwayne Joseph], I just said, 'DJ, I can't put myself in your shoes, help me.'"
Defensive end Carl Nassib, the first active NFL player to announce he is gay, requested and was granted a personal day.
"We've spent a pretty good amount of time trying to help these guys and talk with these guys, and not talk at them but talk with them," Mayock said. "The other thing I would say is just for Carl [Nassib], let's be honest, he's a community of one that's openly gay.
"We do have a large community of African American players. We're trying to do everything that we can for that community as well, obviously. It started there. Nobody's forgetting that. I'm trying to work with everyone and we're going to continue to do that."
Asked who he was thinking about on his first day as interim coach, Bisaccia said he was thinking of his parents.
"My dad [acted like he] was the head football coach of the New York Giants," he said. "He just never told anybody, you know? I've got five sisters, four kids, five grandkids. To have an opportunity to coach the Las Vegas Raiders. Wow, right? So, I guess, really, that's the only thing I'm going to get choked up about."
Philadelphia Eagles activate tight end Dallas Goedert from reserve/COVID-19 list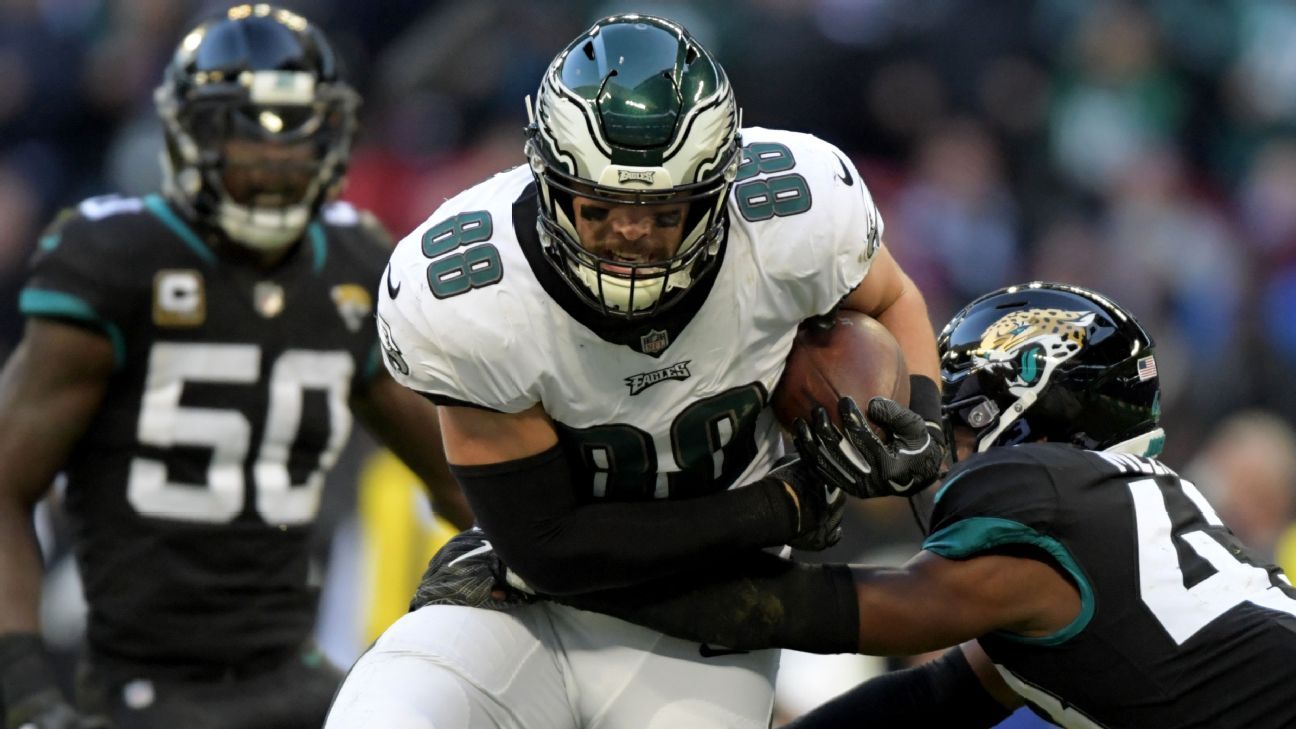 The Philadelphia Eagles activated tight Dallas Goedert from the reserve/COVID-19 list on Thursday.
The move allows Eagles' starting tight end to return to practice and bolsters the depth chart at the position after Philadelphia traded veteran tight end Zach Ertz to the Arizona Cardinals last Friday.
Goedert had been placed on the list Oct. 12 and missed last Thursday night's game against the Buccaneers. Ertz started with Goedert out and caught a touchdown pass in the Eagles' 28-22 loss.
The 26-year-old Goedert is third on the Eagles with 216 receiving yards and is tied with two others for the team lead with two touchdown receptions. He has 15 receptions.
Goedert, drafted in the second round of the 2018 draft, has 152 receptions for 1,681 yards and 14 touchdowns in his career with the Eagles.
The Eagles (2-4) play Sunday in Las Vegas against the Raiders (4-2).
NFL, college football betting market watch
Here is our weekly look at how the NFL and college football betting markets are shaping up leading into the weekend.
For consistency, lines, totals and betting percentages are from Caesars Sportsbook, unless otherwise noted. The betting percentages are not specific to the current line or total and are designed to provide a snapshot of the early action. The look-ahead lines were offered in advance of the previous week's games. Most numbers were re-opened Sunday night.
---
NFL market watch


Last week's look-ahead line: Browns -6, 44.5
Sunday opener: Browns -5, 44
Wednesday: Browns -2, 41
Spread action: 57% of the bets are on the Browns, but 93% of the money wagered is on the Broncos.
Total action: 61% of the bets are on the over, but 71% of the money wagered is on the under.
Note: Cleveland QB Baker Mayfield (shoulder) was ruled out Wednesday. Backup Case Keenum will get the start for the Broncos. The line dropped from -3.5 to -2 after the Mayfield news. If the line holds with Cleveland as the favorite, this will be first time this season that Denver will be an underdog. Caesars Sportsbook reported a $500,000 bet on the Broncos +4, leading to the lopsided betting splits.


Last week's look-ahead line: Panthers -3, 44.5
Sunday opener: Panthers -2.5, 44
Wednesday: Panthers -3 (even), 43
Spread action: 87% of the bets and 88% of the money wagered is on Panthers.
Total action: 56% of the bets are on the over, but 97% of the money wagered is on the under.


Last week's look-ahead line: Dolphins -2.5, 47.5
Sunday opener: Pick 'em, 48
Wednesday: Falcons -2.5, 48
Spread action: 56% of the bets and 76% of the money wagered is on the Falcons.
Total action: 58% of the bets are on the under, but 76% of the money wagered is on the over.


Last week's look-ahead line: Patriots -7, 43.5
Sunday opener: Patriots -6.5, 43
Wednesday: Patriots -7, 42.5
Spread action: 92% of the bets and 97% of the money wagered is on the Patriots.
Total action: 56% of the bets is on the over, but 57% of the money wagered is on the under.
Note: The Patriots are shaping up as a major liability for sportsbooks this week. At BetRivers sportsbooks, more bets have been placed on New England minus the points than have been placed on any other team. The action is similarly lopsided at DraftKings.

Last week's look-ahead line: Packers -7.5, 50
Sunday opener: Packers -10, 49
Wednesday: Packers -9, 49
Spread action: 74% of the bets and 61% of the money wagered is on the Packers.
Total action: 50% of the bets and 55% of the money wagered in on the over.
Note: Bettors were laying the big money line price on the Packers (-420) at BetRivers sportsbooks, where Green Bay had attracted more money line bets than any other team.

Last week's look-ahead line: Ravens -6, 48.5
Sunday opener: Ravens -6.5, 47.5
Wednesday: Ravens -6, 47
Spread action: 71% of the bets are on the Ravens, but 52% of the money wagered is on the Bengals.
Total action: 88% of bets and 90% of money wagered is on the over.

Last week's look-ahead line: Chiefs -3, 56.5
Sunday opener: Chiefs -4.5, 56.5
Wednesday: Chiefs -5.5, 57
Spread action: 55% of the bets and 74% of the money wagered is on the Chiefs.
Total action: 71% of the bets and 87% of the money wagered is on the over.
Note: The Chiefs and Buccaneers are the only two teams that have been favored in every game


Last week's look-ahead line: Rams -13.5, 49.5
Sunday opener: Rams -15.5, 50
Wednesday: Rams -15, 50
Spread action: 75% of the bets and 50% of the money wagered is on the Rams.
Total action: 55% of the bets are on the under, but 53% is on the over.

Last week's look-ahead line: Raiders -2.5, 48
Sunday opener: Raiders -3, 48
Wednesday: Raiders -3, 49
Spread action: 74% of the bets and 94% of the money wagered is on the Raiders.
Total action: 68% of the bets and 98% of the money wagered is on the over.


Last week's look-ahead line: Cardinals -14, 49.5
Sunday opener: Cardinals -17, 48
Wednesday: Cardinals -18.5, 47.5
Spread action: 68% of the bets and 99% of the money wagered is on the Cardinals.
Total action: 69% of the bets are on the over, but 61% of the money wagered is on the under.
Note: Caesars Sportsbook reported taking a $520,000 bet on the Cardinals -17, factoring into the lopsided money splits.


Last week's look-ahead line: Buccaneers -10, 48.5
Sunday opener: Buccaneers -12.5, 48
Wednesday: Buccaneers -12, 47
Spread action: 61% of the bets are on the Buccaneers, but 97% of the money wagered is on the Bears.
Total action: 61% of the bets are on the over, and 91% of the money is on the under.
Note: Caesars Sportsbook reported taking a $520,000 bet on the Bears +13, leading to the lopsided money on the Bears.


Last week's look-ahead line: 49ers -5, 44.5
Sunday opener: 49ers -4, 44.5
Wednesday: 49ers -4, 44
Spread action: 68% of the bets are on the Colts, but 57% of the money wagered is on the 49ers.
Total action: 70% of the bets are on the over, but 97% of the money wagered is on the under.


Last week's look-ahead line: Saints -3, 43.5
Sunday opener: Saints -3.5, 44
Wednesday: Saints -5, 42.5
Spread action: 56% of the bets and 91% of the money wagered is on the Saints.
Total action: 54% of the bets are on the over, but 98% of the money is on the under.
---
A bookmaker's approach to college football lines
Circa Sports is responsible for the first college football lines to hit the betting market each week. The book posts its opening lines at 11 a.m. PT on Sundays and offers $3,000 betting limits to all comers, including professional bettors. Within the industry, Circa Sports is what's considered a "sharp book." Their limits grow rapidly through the week and, by the time kickoff approaches, will be among the largest in the betting market.
Matt Metcalf, sportsbook director for Circa Sports in Las Vegas, is sharing his bookmaking approach with ESPN this football season.
Illinois-Penn State line movement
Metcalf says his opening line of Penn State -17 reflected, in his opinion, Nittany Lions QB Sean Clifford playing this week against Illinois. Clifford's status remained uncertain early in the week with an undisclosed injury that knocked him out of Penn State's loss to Illinois. Bettors disagreed with the number and backed Penn State all the way up to -24 in the hours after Metcalf posted the opening line on Sunday.
"I think we just underestimated how much [bettors] are anti-Illinois," Metcalf said.
'The game I don't understand is NC State-Miami'
Metcalf believed he had NC State properly rated when he opened the Wolfpack as 2-point road underdogs at Miami. However, limit bets came in on NC State, moving the Wolfpack to a 4-point favorite.
"Obviously, the market does not like Miami," Metcalf said. "That was a weird game because the total also moved like eight points (61.5 down to 51.5 as of Wednesday), so we thought we missed an injury to Miami's quarterback or something. We were way off on the side and total on that game, which doesn't happen like that very often, without us missing an injury. I'm still surprised how that's moved."
Alabama-Georgia potential
Metcalf would currently have Georgia as a 1-point favorite against Alabama.
As Dallas Cowboys succeed, where's coach Mike McCarthy's credit? – Dallas Cowboys Blog
FRISCO, Texas — With a 5-1 record, there are many reasons for the Dallas Cowboys' success.
Quarterback Dak Prescott's return from injury and MVP-level play

Offensive coordinator Kellen Moore's stellar game plans

Defensive coordinator Dan Quinn's ability to reshape a unit that was battered and bruised in 2020

Running back Ezekiel Elliott's return to form as one of the NFL's best running backs

The offensive line's play, behind Pro Bowlers Tyron Smith and Zack Martin

Cornerback Trevon Diggs' otherworldly start with seven interceptions

Rookie linebacker/defensive end Micah Parsons' field-wide playmaking

The front office's drafting and economical free-agent signings
It seems credit goes to just about everybody but the coach, Mike McCarthy.
"That's a lack of understanding of how teams work," owner and general manager Jerry Jones said. "Those guys aren't there but for at the behest of Mike. I can assure you he was there with both (Moore and Quinn) hard and with commitment. So that should tell you Mike's coaching them is a great asset.
"At the end of the day you hear about complementing each other on offense and defense and that is also the head coach's job, the bringing together, the complementing, plus being the lead person in setting the tone of the team relative to body language, relative to the kinds of things you're trying to tell the players as a team. He's your leader and doing an outstanding job."
Coming off a disastrous 6-10 season in 2020 that can be explained away by so many things — the pandemic, Prescott's ankle injury that cost him 11 games, the defensive collapse (allowed 29.6 points per game, ranking 28th), the death of strength and conditioning coach Markus Paul — McCarthy entered 2021 with questions.
Since he is not calling plays and doesn't have a defensive background, some wonder what it is McCarthy actually does.
It's the same wondering former coach Jason Garrett had to deal with after he gave up playcalling in 2013. Garrett did not get credit for the 12-4 season the Cowboys had in 2014 — that was given to quarterback Tony Romo, running back DeMarco Murray, receiver Dez Bryant and offensive coordinator Scott Linehan. He didn't in 2016 (13-3), either — that was Elliott and Linehan smartly employing a rookie Prescott with an opportunistic defense, though Garrett was named Coach of the Year. Same thing in 2018 (10-6) — with the trade for receiver Amari Cooper.
Ultimately Garrett was credited for his consistency of approach. As repetitive as it seemed publicly, the players bought in even if he could not achieve postseason success.
McCarthy's steadiness has been a calming influence for a team that is constantly in the spotlight.
"It's definitely needed in a position of leadership," McCarthy said. "I think it's like all of us, you learn things not only about the game, the preparation part of it, the performance part of it, but you definitely have to learn about yourself. I'm a big believer in listening to your own language. I think you're coaching a different generation today than when I got into the league in the early '90s. I think that's part of the learning process. Again, if you want consistency, you have to have consistency from the leadership position."
In preparing his team physically, McCarthy takes almost a scientific approach. He has meetings with strength and conditioning coach Harold Nash and director of rehabilitation Britt Brown every day, studying after practice the GPS numbers that track activity of each player.
Instead of a traditional practice on Fridays, the Cowboys go through a regeneration day designed for them to be at their peak mentally and physically by kickoff. After the Monday night win against the Philadelphia Eagles, McCarthy did not practice the players in pads the following week.
"We're all a product of our own experiences," Cooper said. "I remember him saying one time he's run a team into the ground before. He said that, so he'll tell you that. And I guess it wasn't a good thing and he learned from that experience. So yeah, now he goes about things a little bit differently. He's really conscious of how we might feel throughout the week coming off a games on Sunday."
McCarthy gives his assistants freedom. Moore is the biggest beneficiary. Upon arriving in Dallas, McCarthy surprisingly said he would keep Moore as the playcaller. When he was with the Green Bay Packers, McCarthy briefly gave up playcalling in 2015 before resuming those duties and saying he would never give them up again.
Moore is currently directing the No. 1 offense in both yards per game (460.8) and points per game (34.2).
"[McCarthy] is an awesome resource for me as I go through each and every week just to talk through conversations, 'Hey, what do you think about this situation? What do you think if we maybe did X, Y and Z?'" Moore said. "And we're able to bounce those ideas off together. And I think as this is going into our second year together I think we're so well aligned as far as our approach and our system and the routine that we take each and every week, that we're in a really, really good place."
Quinn said one of McCarthy's "superpowers is he's a really consistent person."
"He doesn't ride the wave, so I think he can see [where] others are and say, 'Hey man, let's keep this thing right in the middle.' But he has a good connection with the players. He's direct in his communication. I think as a ballplayer and as coach that's what you want. Give it to us straight at what we need and how we're going to go about winning."
Winning is what matters most. Winning is why Jones hired McCarthy. He went to the playoffs in nine of his 13 years with the Packers and had a record of 125-77-2 (.618). He went to four NFC Championship Games. He won a Super Bowl.
"We're so well aligned as far as our approach and our system and the routine that we take each and every week, that we're in a really, really good place."

offensive coordinator Kellen Moore on Mike McCarthy
After the season-opening loss to the Tampa Bay Buccaneers, McCarthy had a 17-27-1 record since his last playoff season with the Packers in 2016. For comparison's sake, Matt Patricia had a 13-29-1 record in 43 games as the Detroit Lions coach from 2018-20.
The Cowboys have not lost since but there are some who believe the Cowboys are winning in spite of McCarthy, not because of him, pointing to fourth-down decisions and clock management.
In the Week 2 win against the Los Angeles Chargers, McCarthy was criticized for settling for a 56-yard field goal, saying the clock he was watching inside SoFi Stadium went out. In the Week 3 win against the Eagles, he passed on calling a timeout at the end of the half, drawing Peyton Manning's ire on the Monday Night Football broadcast.
In last Sunday's win against the New England Patriots, he made some eyebrow-raising decisions with a replay challenge and going for it — or not — on a few fourth-down plays. On the first series of the game, he opted to go for it at the Dallas 34 and was stopped, leading to a challenge that was denied.
"It's obvious I have great confidence in our offense," McCarthy said, "and rightfully so."
In the fourth quarter, trailing by a point with 2:47 to play, he opted for a 51-yard field goal attempt by Greg Zuerlein and the kick hooked left.
On the game-tying drive, there was some confusion as to the down after a 24-yard completion to receiver CeeDee Lamb after two penalties on guard Connor Williams. The broadcast feed had it as second-and-25; the down markers on the field had it as third down.
McCarthy called timeout with 24 seconds left and sent Zuerlein in for a 49-yard field goal attempt to tie the game, leaving time on the clock for New England.
ESPN's win probability model favored both field goal attempts. On the first, the win probability was 51.1% to kick and 45.5% to go for it. On the second, it was 34.2% kick, 23.7% to go for it.
While there has been second-guessing on those decisions, the Cowboys won and have continued to win. They have a 97.1% chance to make the playoffs, according to ESPN's Football Power Index.
"The one thing you can't know is how does an individual act when he's under pressure, how does he go about the task at hand and just what happens when you're in the foxhole," Jones said. "And he absolutely was outstanding with our disappointing first year and responded in a way that you'd want a coach to respond in a game or for a period of time during a season or over a season.
"We got to have some early trials and I've had that happen a couple of times before. Jimmy Johnson and I, we lost early under a heavy-handed aura of criticism and so I saw how that worked out. With Mike, he deserves all A's there."