How's Eagles rookie DeVonta Smith similar to HOF receiver Randy Moss? – Philadelphia Eagles Blog
PHILADELPHIA — Rookie receiver DeVonta Smith's NFL career is off to a fast start.
The No. 10 overall pick in the 2021 draft leads the Philadelphia Eagles in receptions (25) and receiving yards (314), ranking second among rookies in both categories behind former teammate Jaylen Waddle (27 catches) with the Miami Dolphins and the Cincinnati Bengals' Ja'Marr Chase (456 yards).
Smith will be under the national spotlight Thursday night when the Eagles host quarterback Tom Brady and the Tampa Bay Buccaneers (8:20 p.m. ET, Fox/NFL Network).
Smith didn't exactly sneak up on anyone. The Eagles traded up in April's draft to select him following a Heisman Trophy campaign in which he led the NCAA in receptions (117), receiving yards (1,856) and receiving touchdowns (23) for Alabama.
There were some concerns, however, about how he would transition to the NFL given his 6-foot, 170-pound frame. The previous seven receivers selected in the top 10 of the NFL draft measured two inches taller and about 40 pounds heavier (6-foot-2, 212 pounds on average), per ESPN Stats & Information. The last wideout selected that high weighing less than 180 pounds was Tavon Austin, who hasn't started a game over the past three seasons and hasn't surpassed five touchdown catches in a single season.
But those who spent time around Smith during his pre-combine and draft preparation work at Yo Murphy Performance in Tampa, Florida, were far from worried — a distinguished group that included Pro Football Hall of Fame receiver Randy Moss and linebacker Derrick Brooks, as well as Indianapolis Colts Pro Bowl linebacker Darius Leonard. From the way Smith trained to the way he moved to his deep understanding of the game, it was evident Smith was unique.
"When you're young, you play off emotion and energy," Moss said. "Rarely do you get a guy that wants to be a student of the game at an early age. And I think that's what he wants to be."
Making an impression on Moss
Smith's explosiveness and ability to separate from defenders jump off the tape, but it was his strong desire to learn and improve despite his accomplishments at the college level that really struck Moss, who's part of Yo Murphy's draft prep program. When he arrived in Tampa in January, Smith was coming off surgery to repair a dislocated finger suffered in the national title game. He wasn't cleared to catch passes and couldn't even practice his 40-yard dash at first because his injured finger was on his stance hand.
"He couldn't run routes," Moss said, "so he was like, 'Is it OK if I just come and stand around and just listen?' That impressed me more because you're down there in the heat for an hour and a half to two hours and he's just sitting there, just soaking it all in."
One interaction in particular between Moss and Smith spoke volumes to Murphy, a former NFL wide receiver who runs the program. Moss had gathered a group of skill players together that included Smith, Dee Eskridge (drafted by the Seattle Seahawks), Anthony Schwartz (Cleveland Browns), Demetric Felton (Browns) and Dez Fitzpatrick (Tennessee Titans). Moss asked them an open question about how to decipher defensive coverages. The normally quiet Smith "kind of took over the conversation as if he was Moss," Murphy said.
"Not in a disrespectful way. But just really sure of himself … You've got one of the best receivers in history and a lot of very talented other receivers that we had in our group. And the commanding presence he had in that situation, it was very apparent he was different."
'Maniac' versus the 'Slim Reaper'
Leonard, nicknamed "Maniac" for the energy he brings to the game, found a kindred spirit in Smith, aka the "Slim Reaper."
Smith is an early riser and would get to the training facility at 6 a.m. to work out. The only other person who would be in there at that hour was Leonard, who works out at Yo Murphy Performance in the offseason.
"He had that same mentality, that he wanted to work," Leonard said this spring. "He has that winner mindset, and it was good to see some young talent come in there and push me: 'OK, this is the young talent coming in.'"
Whoever draft Devonta Smith is going to get a special player man!

— Darius Leonard (@dsleon45) January 12, 2021
Added Smith: "I built a relationship with [Leonard] coming in that time. I knew if I was going to be up there, he was going to be up there. Being with him every morning, seeing the way he trains, a guy like that in the NFL, you see it worked out for him — he just got paid [Leonard signed a five-year, $99 million contract extension in August] — so seeing the work he put in got him to where he wanted to be. Being around a guy like him, it just helped me out so much during the process."
Murphy, who played receiver for over a decade in the NFL, CFL, XFL and NFL Europe before getting into high-performance training, called Smith "one of the most mature and locked in athletes I've ever had."
His favorite story about Smith came toward the end of their pre-draft training, as the athletes were getting ready for their pro days.
"We hadn't really pushed our distance, and so I had the guys doing some sprints," Murphy said. "They had five sprints, and I wanted them to do the first three at about 65-75% and then for the last two, I wanted them to get up and go. And so I said, 'Smitty, have you done your full speed sprints yet? And he goes, 'Coach, I always go full speed.' Not in an arrogant way, but just matter of fact.
"I just sat down and thought about it. How he said it, it wasn't him being cocky or anything, it was just like if I asked him if the sky was blue. To him, it was like, 'What are you talking about?'"
That Moss mentality
There are physiological explanations for why Smith is able to do what he does on the football field.
"He's got such a mind-body awareness and a mind-body connection," Murphy said. "The impulses from his central nervous system are so in tune with the function of his muscle. The fluidity is ridiculous. He's a guy that you're very rarely going to be able to catch off balance. He understands his center of mass so well, and his body just kind of gets back to where he is structurally strong at. It's a very unique thing even in the highest level of athletes."
Even Smith's ability to absorb physical punishment despite his small frame can be attributed to being "structurally strong," Murphy explained, from his bone mass to the way "he has his rib cage directly over his hip."
Much of it, though, is about mentality. That's what Moss focused on with Smith: the right mindset to have as a receiver. The way you carry yourself. The way you attack a defensive back. At 6-foot-4, 210 pounds, Moss faced some of the same questions about durability coming out of Marshall, making it easy to see parts of himself in Smith.
"That was my mentality of [fighting against] the things they said I couldn't do — not going across the middle, I wasn't tough enough, wait until I take that first shot going across the middle — all the little things the naysayers said. I definitely see the similarities, and I'm glad he does, too," Moss said.
For all the teachings Smith received, his greatest takeaway came from sizing Moss up.
"Both of us being long, skinny guys, just our frame and the way we get open. That was the thing that stuck with me the most," Smith said. "A guy like him, he was a little bit bigger than me, but the frame that he had, if he can do it, I can do it."
Moss sees common traits in himself and Smith, from "how slippery he is at the line of scrimmage" to how he is able to gain separation to the way he is "able to take that little lean, nimble body and be able to maneuver it and be able to stay away from that hard contact."
Moss plans to continue to work with Smith, with a focus on getting him stronger physically while hammering out weaknesses in his game.
"For me, just being around this young DeVonta, it's just more keeping him hungry and thirsty for more knowledge, and keep him hungry and thirsty to get better each year," Moss said.
'They want to beat us bad': Chiefs address weekly burden of being in the 'crosshairs' – Kansas City Chiefs Blog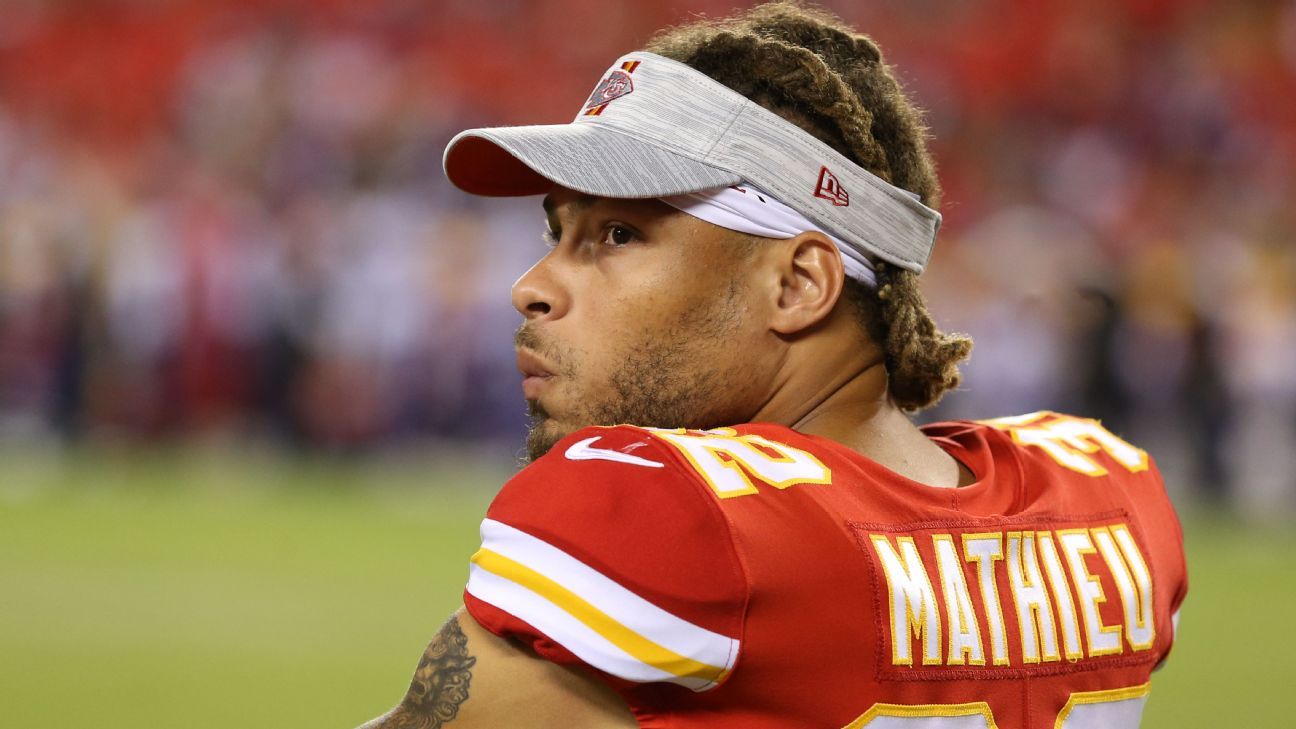 KANSAS CITY, Mo. — As the two-time defending AFC champions with dynamic talent Patrick Mahomes at quarterback, it's natural the Kansas City Chiefs take every opponent's best shot.
Defensive back Tyrann Mathieu suggested the Chiefs are wearing down under that burden.
"We've just got to find a way to dig deep," Mathieu said Sunday night after a 38-20 loss to the Buffalo Bills. "Every team we play wants to beat us. They want to beat us bad. … We go to Washington [this] week and they're going to want to beat us.
"Guys stay up late [in preparation to play against the Chiefs], coaches stay up late. These guys come into our stadium and all they want to do is win. I say that to say it's a certain urgency you have to have when you play for the Kansas City Chiefs. Everybody in this league, they want what we have: the Mahomes and the Hills and just all the success we've had, teams are chasing that, that glory."
The Chiefs, who started each of the previous four seasons by winning at least four games, are 2-3 and in an unusual spot — last place in the AFC West. They've played a difficult schedule — four of their five opponents look like they will make the playoffs — but uncharacteristically haven't handled it well.
• How Trevon Diggs is growing quickly
• Kingsbury has right players for offense
• Seattle needs more from Jamal Adams
• Wentz wants Colts to grow 'killer instinct'
• How De'Vondre became Packers star
Much of the problem rests with a defense that is last in the league, allowing almost 33 points per game. That can be traced to many factors, but there seems to be little doubt one of them is that opponents — as Mathieu said — are putting in extra time to prepare for them.
Washington coach Ron Rivera will be the latest to try to beat the Chiefs on Sunday (1 p.m. ET, CBS). He's familiar with being a particular focus of an opponent's preparation, having once played for a Super Bowl championship team with the Chicago Bears in 1985 and later coaching the Carolina Panthers to a 15-1 regular season and a Super Bowl berth in 2015.
"It's very hard," Rivera said. "[Chiefs coach Andy Reid] won his [Super Bowl] and the next season everybody took shots at him and now everybody takes shots at him another time.
"Having lost [the Super Bowl last season] and just the trauma of trying to get it started again, that's difficult. It really is. It takes a lot out of you. [Reid] has gone through it two years in a row, I can only imagine how much of a strain that is on an individual. It's a lot of work. You are always in people's crosshairs. Nothing comes easy at that point. … You're in a situation where you're the measuring stick for a while."
Rivera said the players felt a similar burden as the coach.
"When I was a player for the Bears, I always felt that way from that point on, from 1985 on, that we were going to get everybody's best shot," he said.
Nobody is feeling sorry for the Chiefs. Wearing the bull's eye is a problem any team would like to have, and Reid suggested doing so is a privilege and not a burden.
"I wouldn't want to be in any different position than that, as are the guys that have been here before," Reid said. "And now you've got an influx of new guys, so they weren't here the last year or two.
"Everybody, we just all need to rise our game up and have that same urgency to get things done."
Mahomes said: "I wouldn't want it any other way. I want to be as prepared as possible to play in the playoffs to try to make it to the Super Bowl. If that means we're going to get the best shot from every single team, then I'm ready for the challenge."
The trouble for the Chiefs is they haven't been ready this season. Opponents have consistently tried a defensive strategy — two deep safeties and not blitzing — that has at times frustrated Mahomes and the Chiefs' offense and forced them into turnovers.
On defense, little has worked. They're allowing a staggering 7.1 yards per play, which is last in the NFL and well over the league average of 5.7. The NFL record for a full season is 6.6.
That can explain why the Chiefs, at least on defense, are feeling the strain.
"We've just got to find a way to stop the bleeding," Mathieu said.
Sean Taylor to become third player in Washington Football Team franchise history to have jersey number retired
ASHBURN, Va. — The Washington Football Team will retire late safety Sean Taylor's No. 21 jersey, making him only the third player in franchise history to receive such an honor.
Taylor's jersey number will be retired during a ceremony before Sunday's home game against the Kansas City Chiefs. The team also announced Thursday that a road leading to the stadium will be renamed "Sean Taylor Road."
Washington's players also will wear a No. 21 decal on their helmets Sunday.
"I came into the NFL the same year as Sean Taylor and immediately his athletic ability, resilience, grit, and relentless work ethic set him apart. I and many others looked to him as a role model," Washington president Jason Wright said in a statement. "The fact that he was tragically taken so early hurt our player community, but also our fans, coaches, and staff. We will continue to remember him and hold him up as an example of professionalism and excellence, and we will all strive to mirror his excellence in our own ways."
Taylor was shot on Nov. 27, 2007 during a robbery attempt at his Florida home and later died. He was in the midst of his best NFL season at the time of his death, despite being out with an injury at the time, according to teammates and coaches and was named as a second-team All-Pro in 2007.
Taylor will join Sammy Baugh (No. 33) and Bobby Mitchell (No. 49) as the only Washington players to have their jersey numbers retired. Other numbers such as Darrell Green's No. 28, Art Monk's No. 81 and John Riggins' No. 44 have not been worn since those players retired. All three are in the Hall of Fame.
Washington drafted Taylor with the fifth overall pick in 2004, though he wore No. 36 during his rookie season. He switched to No. 21 the following year.
Taylor's combination of size and athleticism made him a unique talent in Washington's secondary, and his popularity led to a number of safeties later wearing No. 21. Washington's current safety Landon Collins, who wore No. 21 when he was with the New York Giants, said he hoped Washington would draft him because that's where Taylor had played.
Line movement, early action and bookmaker insights
Here is our weekly look at how the NFL and college football betting markets are shaping up leading into the weekend.
For consistency, lines, totals and betting percentages are from Caesars Sportsbook, unless otherwise noted. The betting percentages are not specific to the current line or total and are designed to provide a snapshot of the early action. The look-ahead lines were offered in advance of the previous week's games. Most numbers were re-opened Sunday night.
---
NFL market watch


Last week's look-ahead line: Bucs -6.5, 52.5
Sunday line: Bucs -7, 53
Wednesday line: Bucs -7, 52.4
Spread action: 87% of the bets and 78% of the money wagered is on the Buccaneers.
Total action: 70% of the bets and 51% of the money wagered is on the over.
Notes: Buccaneers QB Tom Brady said Tuesday that his sore thumb on his throwing hand is not seriously injured and he expects any discomfort to dissipate before Thursday's game.


Last week's look-ahead line: Dolphins -3, 43.5
Sunday line: Dolphins -3, 45
Wednesday line: Dolphins -3.5 (-105), 47
Spread action: 54% of the bets were on the Jaguars, but 72% of the money wagered was on the Dolphins.
Total action: 52% of the bets and 80% of the money wagered was on the over.
Last week's look-ahead line: Chiefs -6, 54
Sunday line: Chiefs -6.5, 55.5
Wednesday line: Chiefs -7, 55.5
Spread action: 95% of the bets and 95% of the money wagered was on the Chiefs.
Total action: 70% of the bets and 75% of the money wagered was on the over.
Last week's look-ahead line: Ravens -3, 48
Sunday line: Ravens -3, 51.5
Wednesday line: Ravens -3 (-105), 52
Spread action: 91% of the bets and 96% of the money wagered was on the Chargers.
Total action: 93% of the bets and 99% of the money wagered was on the over.
Notes: The betting public sided with the underdog Chargers early in the week at BetRivers' sportsbooks, where Los Angeles had attracted 91% of the money wagered on the point spread. "The Chargers will be a public underdog this week; they've got quality wins," Craig Mucklow, vice president of trading for Caesars Sportsbook, said in a company release. "The Ravens were lucky to beat the Lions and Colts, and lost to the Raiders. I'm not convinced Baltimore is everything they're made out to be right now."


Last week's look-ahead line: Packers -4.5, 46
Sunday line: Packers -4, 46
Wednesday line: Packers -4.5, 45
Spread action: 85% of the bets and 80% of the money wagered was on the Packers.
Total action: 71% of the bets were on the over, but 95% of the money wagered was on the under.


Last week's look-ahead line: Colts -7.5, 43.5
Sunday line: Colts -10, 43.5
Wednesday line: Colts -9.5, 42.5
Spread action: 58% of the bets and 51% of the money wagered was on the Texans.
Total action: 82% of the bets were on the over, but 81% of the money wagered was on the under.


Last week's look-ahead line: Rams -6.5, 50
Sunday line: Rams -10, 48
Wednesday line: Rams -9.5, 49
Spread action: 94% of the bets and 94% of the money wagered was on the Rams.
Total action: 56% of the bets were on the over, but 76% of the money wagered was on the Giants.


Last week's look-ahead line: Panthers -1, 47
Sunday line: Pick 'em, 47
Wednesday line: Vikings -1, 46
Spread action: 52% of the bets and 56% of the money wagered was on the Vikings.
Total action: 65% of the bets were on the over, but 85% of the money wagered was on the under.
Notes: The early action on the game at Caesars Sportsbook included a $500,000 money-line bet on the Vikings at even money.


Last week's look-ahead line: Bengals -3, 49
Sunday line: Bengals -3.5, 48.5
Wednesday line: Bengals -3.5, 47.5
Spread action: 78% of the bets and 95% of the money wagered was on the Bengals.
Total action: 56% of the bets were on the over, but 95% of the money wagered was on the under.
Notes: The lopsided action on the Bengals at Caesars Sportsbook included a $500,000 bet on Cincinnati -3.


Last week's look-ahead line: Browns -3, 52.5
Sunday line: Browns -3, 54
Wednesday line: Browns -3 (-105,) 49.5
Spread action: 71% of the bets were on the Cardinals, but 58% of the money wagered was on the Browns.
Total action: 83% of the bets were on the over, but 67% of the money wagered was on the under.
Notes: Early weather forecasts in Cleveland were calling for heavy winds, ranging from 17-19 mph during Sunday's game.


Last week's look-ahead line: Cowboys -1, 48
Sunday line: Cowboys -3, 48
Wednesday line: Cowboys -3.5, 51
Spread action: 93% of the bets and 79% of the money wagered was on the Cowboys.
Total action: 62% of the bets and 99% of the money was on the over.
Notes: Books are going to need the home underdog Patriots, potentially for a big decision. As of Wednesday at BetRivers sportsbooks, more money had bet on Cowboys minus the points than had been bet on any other market on the board.

Last week's look-ahead line: Broncos -2.5, 44
Sunday line: Broncos -3, 44.5
Wednesday line: Broncos -3.5, 44
Spread action: 60% of the bets and 85% of the money wagered was on the Broncos.
Total action: 65% of the bets were on the over, but 71% of the money wagered was on the under.
Notes: Books took different approaches to ex-Raider coach Jon Gruden's resignation this week. Some sportsbooks halted betting on the game; other books, including Caesars, kept the game on the board and tweaked the line slightly. Caesars moved the Broncos from -3 to -3.5 on the news of Gruden's resignation. "Bill Belichick is the only coach where the spread would move significantly if he wasn't on the sidelines," Mucklow said. "In this instance, you have a Super Bowl-winning coach being replaced by someone who's never been a head coach. With how the Raiders have looked recently and all the distractions that are going on, it's not a surprise that this number moved off 3. We'll see how the players respond to the new coach, but obviously this is a different case compared to coaches that get fired midseason for poor records."


Last week's look-ahead line: Seahawks -2.5, 48
Sunday line: Steelers -4, 43
Wednesday line: -5, 42.5
Spread action: 69% of the bets and 75% of the money wagered was on the Steelers.
Total action: 68% of the bets were on the over, but 88% of the money wagered was on the under.
Notes: The line flipped from Seattle -2.5 to Steelers -3 after Seahawks quarterback Russell Wilson suffered an injured finger in a loss to the Rams last Thursday. The total dropped from 48 to 42.5 on the news of Wilson's injury, which is expected to keep him out several weeks, although not specific timetable has been given for his return.


Last week's look-ahead line: Bills -3, 52.5
Sunday line: Bills -4.5, 53.5
Wednesday line: Bills -5.5, 54
Spread action: 94% of the bets and 96% of the money wagered was on the Bills.
Total action: 81% of the bets and 73% of the money was on the over.
---
A bookmaker's approach to college football lines
Circa Sports is responsible for the first college football lines to hit the betting market each week. The book posts its opening lines at 11 a.m. PT on Sundays and offers $3,000 betting limits to all comers, including professional bettors. Within the industry, Circa Sports is what's considered a "sharp book." Their limits grow rapidly through the week and, by the time kickoff approaches, will be among the largest in the betting market.
Matt Metcalf, sportsbook director for Circa Sports in Las Vegas, is sharing his bookmaking approach with ESPN this football season.
Handicapping the Sooners' QB situation
Metcalf moved Oklahoma up three points in his power ratings based on the offense he saw against Texas in the second half. The Sooners inserted freshman quarterback Caleb Williams in place of starter Spencer Rattler against Texas and rallied from 18 points down in the second half to knock off the Longhorns 55-48.
"I'm assuming they'll do what it takes to have that offense. If that involves not playing Rattler, I think they'll go that route," Metcalf said. Oklahoma coach Lincoln Riley has declined to name a starting quarterback for Saturday's game against TCU.
The Sooners opened as 12-point favorites over TCU at Circa. Metcalf initially wanted to use Oklahoma -14, but, without knowing for sure whether Williams or Rattler will start, elected to go with the lower number.
"I didn't want to commit all the way to getting that Oklahoma team that we saw in the second half," Metcalf said. "If they did play Rattler, I think the number still works."
The line had grown to Oklahoma -14 by Wednesday
Reading ahead of the market on Clemson-Syracuse
Learning information on injuries can force Circa Sports oddsmakers into a guessing game of trying to figure out whether bettors have read the same information. This week, it happened when Metcalf and his team were formulating the point spread on the Clemson-Syracuse game. Metcalf had read that key Syracuse starting offensive linemen missed last week's game against Wake Forest with injuries and thought that Clemson's defensive front would have the advantage. Plus, with Clemson coming off a bye week, he felt like this was a good spot for the Tigers.
The consensus line among Circa's oddsmakers was Clemson -15, but they ended up opening the Tigers as 17-point favorites.
"The thought was that Clemson, with a bigger, stronger defensive front, would give [Syracuse] a lot of trouble, so we kind of tacked on some points there," Metcalf said.
The early money came in on Syracuse, driving the number to as low as Clemson -13.5, and the guessing game began. "I don't know whether people are telling us that they don't agree with it or they just didn't read it yet," Metcalf said. "Sometimes, if we read ahead of the market on injuries, it doesn't really pay in a sense because we'll sit there and take a lot of bets"
Metcalf couldn't stomach leaving the point spread at any less than Clemson -14, where it has sat for the first half of the week.
"I think Clemson is the side I would look to need as a bookie," Metcalf added, "because it feels like a good spot for them."
Cursing the early action on Navy-Memphis
Metcalf opened Memphis as 9-point favorites over Navy but was cursing himself three hours after putting the number on the board; not because he was wrong, but because he was right.
The first limit bets were on Navy. Metcalf moved the number aggressively toward the underdog, through the key number of 7 and down to 6.5. "I don't really like Memphis," he said, "and I struggle with if Navy has improved."
At that point, the next several max bets were on Memphis and the lower number, pushing the number back to around the opening line of Tigers -9.
"I kind of doubted my number too much, and I was wrong, and they bet it back up," Metcalf said. "So, I'm sitting on my opener but have two limits bets high on Memphis. I trusted the market over my number in the beginning. And our number was better than I thought it was."
Memphis was a 10.5-point favorite as of Wednesday afternoon.
Public, sharps agree on Cincinnati
Metcalf believes Cincinnati is probably a two-touchdown underdog to the elite teams like Georgia and Alabama, and around 10 points to Ohio State.
"But it's obvious that everyone is behind that team," Metcalf said. "We took a ton of action on them last week against Temple. The public and the sharp guys definitely like them."
Metcalf opened Cincinnati as 16-point favorites over UCF this week and attracted immediate action on the Bearcats. The line had settled at Cincinnati -21 as of Wednesday.