How Tampa Bay Bucs veteran Richard Sherman has lifted DB group – Tampa Bay Buccaneers Blog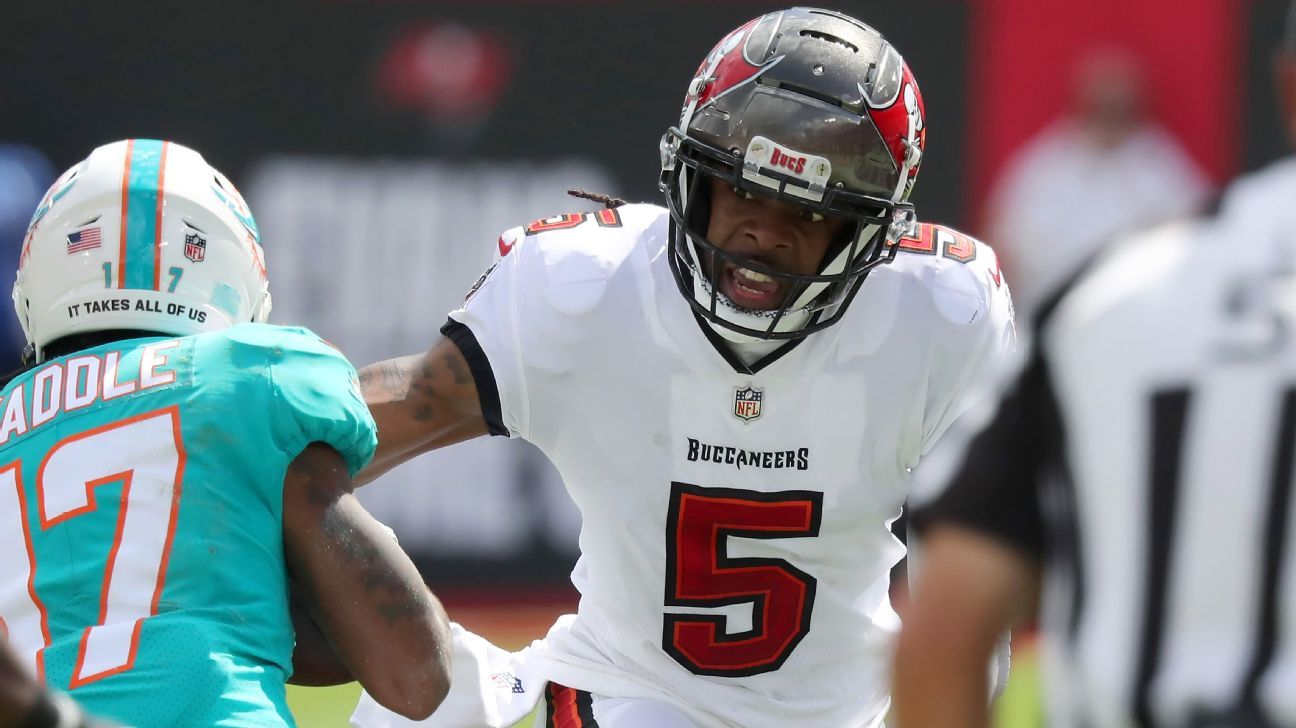 TAMPA, Fla. – Tampa Bay Buccaneers cornerback Richard Sherman jumped on a flight — a Boeing 738 to be exact — and flew 2,520 miles from Seattle to Tampa on Sept. 28, practiced for two days, and, at the age of 33, having not played in the NFL in 288 days, lined up for all but one of 54 defensive snaps against the New England Patriots five days later.
Sherman learned he'd play Friday or Saturday, but it wasn't until Saturday night, when starter Jamel Dean was still unable to push off his injured knee, that Sherman found out he would start in a complicated Todd Bowles' defense. He also had barely scratched the surface of learning it at that point.
"In the middle of the game, I realized there wasn't gonna be a rotation, once [Carlton Davis] went out," Sherman said. "Once that happened, the plan kind of got thrown out the window."
His help was supposed to be cornerback Pierre Desir, who was elevated from the practice squad one day earlier. But late in the second quarter, Desir was forced to step in for Davis, who at that point was their lone original starter. By the game's final two drives, the Bucs had one of five original starting defensive backs — Jordan Whitehead — because safety Antoine Winfield Jr. (concussion) left the game.
"I started to get into 'energy conservation mode' throughout the game," Sherman said. "You hate to say you saved some for the swim back, but it's like, you don't have a choice at that point. Because I don't know exactly what I have for the rest of the game. … And even still, in the fourth quarter, my legs were like Jell-O, but you've just gotta soldier through and do what you can to help the team."
• How Trevon Diggs is growing quickly
• Kingsbury has right players for offense
• Seattle needs more from Jamal Adams
• Wentz wants Colts to grow 'killer instinct'
• How De'Vondre became Packers star
A week later, in the Bucs' 47-15 win over the Miami Dolphins, and Sherman's first time playing in a 1 p.m. ET game in Tampa, where it was 84 degrees, the Bucs' offense scored three times in a span of six minutes in the fourth quarter.
"Yeah, I kept checking with him today because, you know, he didn't play in this heat in a while," Bucs coach Bruce Arians said. "He said 'No, I'm going to get oxygen, and I'll be back.' "
Sherman won't get much of a rest, as the Bucs travel to the Philadelphia Eagles (2-3) on Thursday night (8:20 p.m. ET, FOX) — his third game in 12 days.
However, he's not the only one having to adjust.
"I've never been in this situation before," cornerbacks coach Kevin Ross said. "I've never been in this situation here, before. No, uh-uh. I've had a guy or two go down. … This is a unique thing. You've got three or four guys down."
How exactly did we get here, with the defending Super Bowl champions forced to 'plug and play' players in one of the most volatile position groups in the NFL?
Whitehead missed a large chunk of training camp and the first week of the regular season because of a hamstring injury. They then lost starting cornerback Sean Murphy-Bunting, who also serves as their nickelback, to injured reserve with an elbow dislocation in Week 1.
They lost Dean for the majority of Week 3 and all of Week 4 with the knee injury, though he was able to return for Week 5. Davis is also now on IR, with Arians saying it does not appear he'll need surgery, but also admitting, "I have no clue how long this is gonna be," while Winfield has yet to clear concussion protocol.
To make matters worse, longtime defensive captain, and their best linebacker in coverage, Lavonte David, will be out this week after suffering an ankle sprain against the Dolphins.
For Sherman, there's been no time to blink. The same for Desir, who was in a similar predicament last season, when he was cut by the New York Jets and called up from the Baltimore Ravens practice squad to the active roster.
It's meant living in a hotel, out of a suitcase in an unfamiliar city, studying 3-4 hours nightly, trying to cram for a weekly exam, let alone getting to a place where his body and brain are working together as one.
"It took lot of hours of just going back and forth. A lot of questions that may have been dumb for other guys to ask, but I didn't know," Sherman said. "Even throughout the process of the week, there would be checks. It's just human nature to assume [we all knew what's going on] because we're in the season. It's not like you're doing installs anymore. They'd be like, 'Oh yeah, we just make this check, this check and this check.' I'd be like, 'Hey, uh, what does that mean exactly? So, I've got him? OK, perfect. Sorry.'"
He's been in this position before though, when he was with the San Francisco 49ers.
"It was like that every year," Sherman said. "Each year, we lost two, three guys. My first year we were there, I want to say we lost three guys in a game one time. … That's one thing about the pros — everybody is capable of getting the job done.
"You're only as strong as your weakest link. You have to make sure everybody is prepared. You have to treat everybody as important."
For Sherman, phone calls to his wife and children, who were at the game Sunday, have kept him level-headed and provided perspective. For Desir, it's the reminder that he's been through much worse. He emigrated to the U.S. from Haiti when he was four and fathered his first child at 16.
"Football is easy. When it comes to what I've been through, growing up in poverty, growing up and having to sacrifice and scratch [and claw], and being a teen father — I've been through a lot," Desir said. "When it comes to football and having those types of adversities, I draw back on those experiences and then I'm like, 'You know what? This is just football. You've handled a lot worse.'"
Once the NFL's youngest defensive backfield, with an average age of 23 in Super Bowl LV, the group has grown up quickly, in more ways than one.
"If the group had remained young, and we were replacing young guys with young guys, I would say we could not do [this]," Ross said. "When you've got guys like Sherman, when you've got guys like Rashard [Robinson], when you've got guys like Pierre — these are veterans. They've been through some battles before. They understand how to play and what to do."
Sherman has played in 156 career games — more than Davis, Murphy-Bunting, Dean and Winfield combined.
"He came in, and we told him, 'We're all young, we kind of need that leader,'" Whitehead said. "From the [first] walk-through, he was already teaching, asking us questions and giving us hints."
Dean added, "I always looked up to him as a kid, and I always tried to mimic my game after him. Now, being able to watch him live, it is really helping a lot because I am more of a visual learner."
Desir has played in 75 career games with 44 starts on seven different teams. He's seen a lot too. Robinson has played in 45 games with 18 starts.
"I mean, it is good having vets there, so they can give us, like, tips and pointers, like what to expect and how to watch film," Dean said. "It is just showing us the ways. We didn't have that going into our rookie year. So, now that we are getting it, we have something to build from."
Arians expounded on what that means for the team.
"They see how he prepares and what he's looking for and how to study film," he said. "Young players — the big things is, you can watch film, but you have to learn what you're looking for and what you're looking at, and I think [Sherman] can help them in that regard."
Tampa Bay held the Patriots and Dolphins to 17 points apiece the past two weeks, helping the Bucs (4-1) take sole possession of first place in the NFC South.
"The whole room is different," Ross said. "The practice squad is different. The backups are different. But the standard's not different. That's the key to this whole thing.
"When you get a guy like Sherman to replace some of these guys we've lost, you don't feel like, 'Oh my God, it's over. We can't do this. We can't do that.' You feel like, guess what? It's gonna pick up even more now. And when those guys get healthy and come back, we'll be better than we were. We'll be smarter. We'll be tougher."
Marcus Maye doesn't want to be traded, says New York Jets 'know I want to be here'
FLORHAM PARK, N.J. — Despite a recent tweet by his agent that suggested he's open to a trade, New York Jets safety Marcus Maye said Thursday that he wants to remain with the team — a sentiment he shared with Jets officials.
"They know I want to be here," Maye said. "They know I'm 100% with my guys."
The NFL trading deadline is Nov. 2, and Maye's name is floating in the rumor mill. The Jets (1-4) are on the verge of falling out of contention, and there's some question as to whether they want to sign him to a long-term contract extension. Maye, 28, is playing on a $10.6 million franchise tag.
A few days after a Week 3 ankle injury, Maye's agent, Erik Burkhardt, tweeted it would be a three- to four-week injury, adding that Maye would be healthy by the trading deadline. That fueled the speculation.
Maye, speaking to reporters for the first time since then, said he has no control over what his agent tweets, adding that it was just an injury update.
He said he has not — and will not — request a trade. He wants to remain with the Jets, the team that drafted him in the second round in 2017.
"Yeah, of course, I'm here," said Maye, who wanted a contract last offseason that would've made him one of the league's highest-paid safeties. "Every time I'm in this building, I'm 100%. Every time I'm on the field, I'm 100%. I'm going to be with my guys no matter what."
Maye, who has missed two games with his injury, is poised to return to the lineup Sunday against the New England Patriots (2-4) at Gillette Stadium.
His long-term future could be impacted by pending DUI charges, stemming from a Feb. 22 arrest in Broward County, Florida. Defying league rules, Maye didn't report the incident to the Jets. They didn't find out until Oct. 4, when it was first reported by ESPN.
Asked whether coach Robert Saleh was blindsided by the arrest, Maye said, "They all were, but we talked and we moved on."
Maye said he's "not allowed" to comment on the case. He also refused to comment on why he hid it from the organization for seven months, which could factor into whether he's disciplined by the NFL. The league office is reviewing the matter and could decide to suspend him. Maye doesn't believe it has fractured his relationship with the organization.
"They know me," he said. "Once I'm in the building, I'm all go. I don't think there's a trust issue from my end and stuff like that. They know I'm 100% with these guys every time I step on the field and walk in the building."
Saleh said the organization supports Maye, who initiated a meeting with his coach because it was "the adult thing to do, just owning up to my situation." That, of course, was after it was reported by media outlets. Maye was charged with three misdemeanors — driving under the influence, DUI/damage to property and person, and leaving the scene of a crash. There were no injuries, but he's being sued by a woman who alleges that Maye crashed into her car and caused damage to the vehicle.
Maye said he's remorseful.
"Oh, yeah, definitely," he said. "The situation happened. I definitely feel sorry for it. I learned from it. … You have to keep going."
Arizona Cardinals' J.J. Watt says he's won't be facing same Texans 'I remember' on Sunday
TEMPE, Ariz. — When Arizona Cardinals defensive lineman J.J. Watt looks across the line of scrimmage this Sunday and sees the Houston Texans' uniforms and helmets, he'll be reminded of the memories made during 10 seasons with his former team, the playoff games won and AFC South division banners hanging inside NRG Stadium.
But that's where the emotion of facing the only team he played for until this season will end.
"There's obviously something more to it," Watt said Thursday. "I don't think that it's what people may think it is because, I mean, you look at the roster and you look at the guys that are there, I mean it's been so massively turned over that there's only a handful of guys that are even there from last year that I played with.
"So, it's not like, I'm like, 'Oh, I want to go and beat my old team' or 'Oh, I can't wait to face this guy,' because it's not the same team. It's not the same organization that I remember and that I was a part of."
That's a large part of why Watt asked for his release from Houston back in February, he told the Houston media during a conference call Thursday morning. Watt said he expected Houston's roster to be turned over like it has as well as the lack of success that's resulted from it.
He barely recognizes the roster anymore, he said.
"There's so many guys I don't know," Watt said.
After 10 seasons, four division championships, helping the franchise win its first playoff game all while winning three Defensive Player of the Year awards and being named the 2017 NFL Walter Payton Man of the Year, it pains Watt to see the Texans in this current state of disrepair.
"That's why it hurts me to see where it is now, because I believe those fans deserve to be living those high times and to be experiencing those great moments and it hurts to know that they're not, and to know that they're struggling," Watt said. "So, I hope that they get back there at some point and I hope that they get to do that because I know firsthand it's an unbelievable place to play when you're rolling."
Watt said once the game starts Sunday, it'll be just like any other game as the Cardinals look to improve on their 6-0 record with a short week coming up before hosting the Green Bay Packers on "Thursday Night Football."
Watt hasn't parted ways with all his "thousands of pieces" of Texans gear, and it sounds like he probably won't. However, he estimated, with a smile, that about half of Pewaukee, Wisconsin, his hometown, may be dressed in Texans clothing. That's starting to change to Cardinals red, he added.
"I mean there's 10 years of my life and there's 10 years of relationships," Watt said, "so it's not like I just chucked all my Houston stuff."
And, yes, Watt said he has "a couple of big friends" who fit into his clothes.
Seeing the Texans' blue, white and red uniform across from him Sunday at State Farm Stadium will be different, Watt said — just like studying film all week has been.
"When I turn on the film this week and I watch the games and you're looking at NRG Stadium, for 10 years, I've looked at that film and I've been watching the team in blue and white," Watt said. "And now I'm watching it from the other perspective and I'm studying those guys, so it is, it's definitely different. "But I don't think I'm going to forget which guy I'm supposed to tackle, if that's what you're asking."
ESPN Texans reporter Sarah Barshop contributed to this report.
Joe Judge accepts blame for New York Giants' struggles, says 'the fish stinks from the head down'
EAST RUTHERFORD, N.J. — New York Giants coach Joe Judge isn't putting the blame elsewhere for his team's 1-5 start — he's looking right in the mirror.
"There's your answer. I'm the head coach. It's my responsibility, point blank," Judge said Thursday. "Every player on this field, every position group, the execution, it all comes down to me. The fish stinks from the head down.
"I've been taught that from great guys who I worked for, played for. There are no excuses, no exceptions. You demand it from your coaches to make sure that the player are playing the right way. You demand it of the players to know what to do and then go out there to do it.
"But it starts with me and ends with me."
The Giants have dropped their last two games and are coming off a 38-11 demolition last Sunday at the hands of the Los Angeles Rams. They've lost all three of their home games this season by a combined score of 82-38.
Judge, who is 7-15 since taking over as head coach, insists he's not feeling the pressure.
"To me, the only time you really feel any kind of pressure and nerves is when you're unprepared," he said. "If you're prepared and you go through the tasks and process at hand and you're consistent with it, then you go in with confidence.
"That is what we preach to our guys. We come out here and practice every week, prepare a certain way every week. We have to go out there better and execute better to have the results that we want."
Judge has vowed that the Giants, who spent big in free agency to upgrade the roster this offseason, will turn it around.
"This is definitely going to get better, so there you go," Judge said earlier this week. "I don't know what kind of guarantee [the fans] want, but I can assure everyone out there that's a Giants fan and they want to know when it's going to turn, I can tell them right now we're working tirelessly to make sure we get this thing turned around in the right direction, not just for short-term results, but for long-term success."
Turning around their season will not be easy for the banged-up Giants heading into their home matchup Sunday with the Carolina Panthers. Star running back Saquon Barkley (ankle) and wide receivers Kenny Golladay (knee) and Kadarius Toney (ankle) were not at practice again Thursday, while starting left tackle Andrew Thomas (foot/ankle) went on injured reserve earlier this week.
Judge said Barkley, Golladay and Toney "all made progress" on Wednesday, and the team would see if they can get on the field by Friday. It still seems highly unlikely any of Barkley, Golladay or Toney would play against the Panthers. Sources told ESPN earlier in the week it was "doubtful" that Barkley and Golladay, who both were out against the Rams, would be return this week.
Judge has refused to use the injuries as an excuse and has been adamant about focusing on the process and daily grind. It seems to have been well-received in the building.
"Joe's our leader. We all look to our leader for strength. He's done a hell of a job I think of keeping the team moving forward," special teams coordinator Thomas McGaughey said.
McGaughey later added: "Joe is a tough guy. Joe is mentally tough and he's doing a great job with our team as far as the leadership part of it. Keeps expressing to focus on the task at hand, and that is to win today. You don't have a chance on Sunday if you don't win today. So we're focusing on right now being where our feet are."