Andrea Stella solves Aussie mystery
The answer is as complex as it gets, but it does exist.
McLaren racing director Andrea Stella has solved the mystery surrounding Daniel Ricciardo's performance-slump since joining the team this year.
The Australian's struggle to adapt to his team's temperamental MCL35M has been the story of the 32-year-old's season.
He admitted recently it has been his toughest season in Formula 1 while his team, including team principal Zak Brown, has bounced up and down from overwhelming support to thinly veiled public statements lighting a fire under Ricciardo's backside.
Stream Every Practice, Qualifier & Race of the 2021 FIA Formula One World Championship™ Live & On-Demand on Kayo. New to Kayo? Try 14-Days Free Now >
Information has gradually leaked out about Ricciardo's admitted issues with his braking system.
He has simply been unable to find the driving style needed to tame the unforgiving specifics of the 2021 McLaren car and has had to watch on as teammate Lando Norris has pushed his way to third in the championship standings.
Now, Stella has provided the clearest and most detailed explanation to solve the problem at the core of Ricciardo's headaches.
The former Ferrari technician has legitimised Ricciardo's struggles, revealing further details about the perfect storm that has made life so difficult for the former Renault and Red Bull racer.
He admits the team's performance strategy of focusing on downforce and aerodynamic gains is a completely different world to his former Renault garage – and it is forcing Ricciardo to make drastic changes to his own style to suit his new car.
A combination of testing hours being slashed, Friday practice sessions hours being reduced, new downforce pieces, the team's move to a Mercedes power unit, changes in technical regulations for 2021 and the FIA's freeze on mechanical development has created a nightmare for Ricciardo.
Stella admits the team has been unable to make any moves to tailor the car towards Ricciardo and has put it all on the Aussie to make the adjustments to his new wheels.
He says the mixture of keeping large parts of the 2020 car, while making significant changes for aerodynamic purposes makes the MCL35M "relatively special to drive".
"And which in a way we see with the experience that Daniel is going through," Stella said in an interview with motorsport.com.
He said the team's aerodynamics shift means it has swung significantly away from straight line speed towards being strong in each corner — and admits the extreme imbalance between the two is something no other team is dealing with.
"What is McLaren specific is that our car clearly is on one side of this typical split of characteristics that you can achieve," Stella said.
"He (Ricciardo) came from the opposite end in terms of how you would like to drive an F1 car.
"Our car requires some special adaptation, let's say.
"I think it's no secret that our car is good in high-speed corners for example. It may not be the best car when you have to roll speed in the corner, as another example.
"So while we are trying to adjust some of the characteristics to make it a little bit more natural to drive, at the same time, the most important thing is to deliver aerodynamic efficiency.
"He is a driver who likes to roll the speed in the corner, not necessarily attack the braking, as much as our car requires.
"And I think we understood very quickly, what the issue was in terms of exploiting all the speed."
Most importantly, Stella says Ricciardo's growth mindset means the team has full confidence he will find the solution.
"We do see progress step-by-step and we also see the race craft of Daniel, which is very complete. So if anything, the key bit we need to add at the moment is that little bit of speed," he said.
"But the starts, understanding of the racing, the way he's been so precise in keeping some bigger cars behind him, like if we think about (Silverstone) with Carlos (Sainz), this race craft is very strong.
"And then there is the attitude, the attitude is very positive, exactly what we see and what you know about Daniel, which means even when we are not achieving the speed that we would like, the spirit is strong, the motivation is very high.
"And somehow we keep enjoying the journey. Not necessarily in my experience, a driver who cannot find the final one tenth of a second, keeps being an enjoyable driver to work with for the whole team, let's say.
"But this is the case with Daniel. So I'm very optimistic for the future."
Emilia-Romagna Grand Prix preview, Fabio Quartararo MotoGP title chances, Valentino Rossi says goodbye
Fabio Quartararo is within touching distance of his first MotoGP world title at Sunday's Emilia-Romagna Grand Prix which will host Valentino Rossi's final farewell to his adoring Italian fans.
Yamaha rider Quartararo, 22, is 52 points ahead of Ducati's Francesco Bagnaia who sits second in the championship standings with three races left in the 2021 season heading into the race at Misano on Italy's Adriatic coast.
With 25 points the maximum available Quartararo will become the first ever French MotoGP winner if he finishes ahead of home hope Bagnaia, who is hunting his own debut triumph at the age of 24.
Stream Every Practice, Qualifier & Race of the 2021 Moto GP Championship Live & On-Demand on Kayo. New to Kayo? Start Your Free Trial >
Quartararo should be in confident mood after his impressive second place behind Marc Marquez at the Grand Prix of the Americas in Texas last time out, which set up his bid to claim the title this weekend.
He also finished second at Misano in the San Marino MotoGP last month.
"For this final part of the competition my mindset has changed a little. The last time we were in Misano, I was racing for the win and not thinking about the championship at all," said Quartararo.
"Of course I will still do my best as always to get the best result possible this weekend, because that's what I enjoy most, but I will try to be smart about it."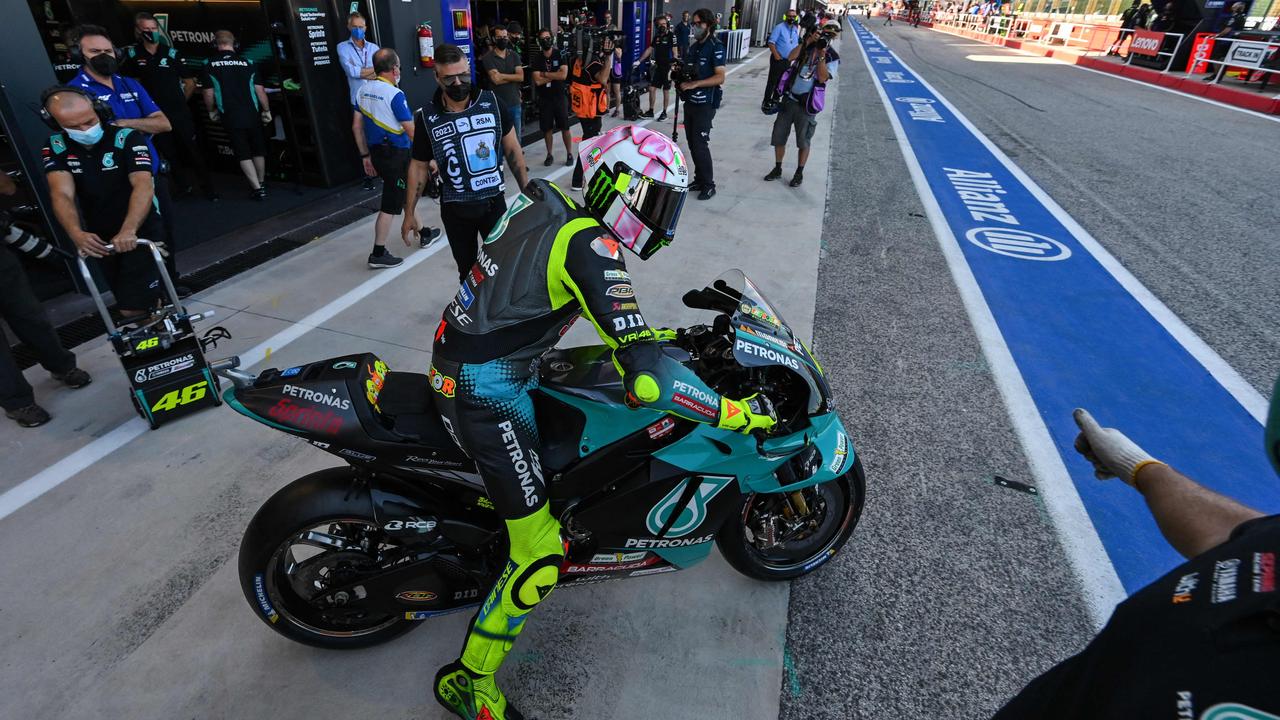 Bagnaia has good reason to think he can extend the title race for at least one more GP as he held off Quartararo from pole position to win at Misano in September, having recorded a track record time in qualifying.
The former Rossi protege will be keen for another success in front of an emotional home crowd who will be there mostly to say goodbye to a motorcycling legend.
Seven-time MotoGP champion Rossi, 42, grew up riding at Misano and still only lives a short drive away from the track, with his own motorcycling team VR46 based a few miles down the road in his home town of Tavullia.
Up to 35,000 fans are expected at the track on Sunday for Rossi's final MotoGP race on Italian soil, hoping for one last flourish in front of a yellow wall of supporters.
Rossi has failed to set the track alight during his slow march towards retirement at the end of the season and sits 21st in the overall standings after only making the top 10 twice all season.
He finished a lowly 17th at Misano in September, which was also an occasion for fans to hail one of Italy's sporting icons.
"The previous race in Misano was already a really emotional moment for me," said Rossi.
"This one will be a special race at home and I really hope the Italian fans can enjoy it."
Australian Grand Prix, New South Wales plan to steal race from Melbourne, Sydney Harbour F1 race
Sydney is weighing up a bold plot to steal the Australian Formula 1 Grand Prix from Melbourne, reports Seven News.
The New South Wales state government is said to be interested in bidding for the race rights when the current contract with Albert Park expires after 2025.
While crossing the Harbour Bridge has already been ruled out due to obvious safety concerns, the bid would be centred on a Monaco-like street circuit around Sydney Harbour.
Stream Every Practice, Qualifier & Race of the 2021 FIA Formula One World Championship™ Live & On-Demand on Kayo. New to Kayo? Start Your Free Trial >
Sydney has tried and failed to steal the race at least twice before.
In 2010, then-NSW premier Kristina Keneally announced a plot which would've seen the race run at Homebush, potentially at night. Then just ahead of the 2015 state election, then-NSW premier Mike Baird reportedly set aside $180 million to host the race from 2021 onwards.
The annual cost of the Grand Prix in Melbourne has never been officially confirmed but in 2013, taxpayers paid $34 million, and the cost has only risen since.
The first F1 Australian Grand Prix was held in 1985 in Adelaide, typically ending the season. The title was decided there in 1986 (Alain Prost over Nigel Mansell) and 1994 (Michael Schumacher over Damon Hill).
Melbourne then poached the race and it has been run around Albert Park Lake since 1996.
The race did not run in 2020 or 2021 due to the coronavirus pandemic, with the 2020 event cancelled just two hours before the first Friday practice session was to be held.
David Cauchi joins Kelly Grove Racing, Triple Eight, Shane van Gisbergen
Kelly Grove Racing has confirmed David Cauchi will join the team in 2022 as Team Principal.
Cauchi will join the team next season following a long stint with Triple Eight Race Engineering.
The decorated race engineer will replace Todd Kelly, who has been Team Principal since he retired from full-time driving.
He is currently Shane van Gisbergen's race engineer, having skippered Jamie Whincup's efforts between 2014 and 2020.
Cauchi has worked in Supercars for 14 years, and has helped Triple Eight to eight drivers' titles.
Stream Every Practice, Qualifier & Race of the 2021 Repco Supercars Championship Live & On-Demand on Kayo. New to Kayo? Start Your Free Trial >
That could become nine in 2021, with van Gisbergen leading the championship by 276 points.
The experienced engineer will lead the Braeside squad into its new solely Grove-owned era, but will also bring engineering and winning nous with him.
"I'm very excited and grateful to Brenton & Steph for the opportunity to join Grove Racing in 2022," Cauchi said.
"It's a new role and a thrilling opportunity in a team with a deep and long history in the sport.
"I am looking forward to being a part of this new chapter in their story."
Team co-owner Stephen Grove was delighted to secure the services of the experienced and decorated engineer.
"Once we went through the ownership changes, it was essential that we found the best possible person we could to help take on some of Todd's critical roles, and we believe we have found that person in Cauchi.
"He has vast experience and know that he will fit well into the family culture of the team.
"We look forward to him starting with us in 2022."
Whincup reflects on 2014 Bathurst 1000 | 07:35
The move means Triple Eight Race Engineering will field an all-new race engineering line-up for the 2022 Repco Supercars Championship..
Wes McDougall, who has been engineering Jamie Whincup in 2021, will also depart the team at season's end.
Veteran McDougall joined the team this year from Matt Stone Racing.
It comes after Grant McPherson left the team at the end of 2020 to join Walkinshaw Andretti United.
McPherson was previously van Gisbergen's race engineer between 2016 and 2020.
He notably helped van Gisbergen to the championship in 2016, and Bathurst victory last year.
Cauchi is a long-term member of the Triple Eight family, having joined the team in 2007 as a data engineer.
He took over from Mark Dutton on Whincup's car in 2014 and helped him to the 2014 and 2017 drivers' titles.
Dutton, himself a decorated race engineer, is Triple Eight's Team Manager.
The team will also feature a new-look driver line-up in 2022, with van Gisbergen to be joined by Broc Feeney.
Feeney will replace Whincup, who himself will replace Roland Dane as Managing Director and Team Principal.
With McPherson and Cauchi both on the way out, van Gisbergen will have his third race engineer in as many years in 2022.
The 2021 Repco Supercars Championship will continue at next weekend's Bunnings Trade Sydney SuperNight. Tickets for all four upcoming Sydney events are on sale now.
The event will be broadcast live on Foxtel and will be streamed on Kayo.