Walker Buehler delivers on short rest, helps Los Angeles Dodgers force Game 5 in NLDS against San Francisco Giants
LOS ANGELES — Walker Buehler could feel where the momentum was going. A loss with Max Scherzer on the mound in Game 3 would mean the Los Angeles Dodgers would face elimination in Game 4 of the National League Division Series without an ideal option to start for them. Buehler needed to take the ball then and pitch on short rest for the first time in his career. He volunteered the idea to the Dodgers' principal decision-makers after Julio Urias helped defeat the San Francisco Giants in Game 2, then checked in with his teammates "to make sure I wasn't being an idiot."
They confirmed what Buehler already knew — that this needed to be done.
"It's not something we want to do all the time," Buehler said, "but I felt that if things didn't go our way [in Game 3], I would feel really weird not pitching a game that we could lose a series."
Buehler gave the Dodgers precisely what they needed in Tuesday's Game 4, recording 13 outs, allowing only one run and departing with a lead four days after starting the opener of this NLDS. The Dodgers went on to win 7-2 to force a decisive Game 5 on Thursday night at Oracle Park in San Francisco — and Buehler added another chapter to his growing legacy as one of the premier big-game pitchers in his sport.
Buehler, 27, pitched the Dodgers to a division title in his first full season in 2018, twirling 6 2/3 scoreless innings against the Colorado Rockies in Game 163. He helped defeat the Milwaukee Brewers in Game 7 of the NL Championship Series later that season, then pitched seven shutout innings against the Boston Red Sox in Game 3 of the World Series. In 2020, he pitched six scoreless innings against the Atlanta Braves in Game 6 of the NLCS and six innings of one-run ball against the Tampa Bay Rays in Game 3 of the World Series.
Buehler now owns a 1.25 ERA with the Dodgers facing elimination, the third-lowest mark in postseason history for someone who has made a minimum of three starts in that situation, trailing only Charlie Morton and Madison Bumgarner. All told, Buehler owns a 2.50 ERA in 72 career postseason innings.
"Walker's one of the best playoff pitchers I've ever seen," Dodgers reliever Blake Treinen said. "He loves big games. He loves big moments."
The presence of someone like Treinen — and several other high-powered relievers who help make up a devastating bullpen — gave Dodgers manager Dave Roberts the comfort to remove Buehler when he began to fade on three days' rest, a luxury not previously afforded to someone like Clayton Kershaw.
Buehler worked around back-to-back singles in the second but otherwise didn't face much trouble through the first four innings. In the fifth, he allowed a leadoff single to Evan Longoria, got Mike Yastrzemski to line out and walked Steven Duggar, prompting Roberts to turn to Joe Kelly with the Dodgers leading 4-0.
Kelly allowed only one of his inherited runners to score, and the Dodgers got that run back in the bottom half of the inning. The Giants never got much closer. Buehler threw his fastball an average of 96 mph, a tick faster than his season average, but also mixed in five other pitches, particularly a changeup that was used with more frequency than the Giants expected.
"He just seemed relaxed," Roberts said, "and sometimes when you might be a little bit more fatigued and not too amped up or too strong, you kind of try not to do too much. And all night long he stayed in his delivery. All the stuff — the velocity, the characteristics of his secondary pitches — was really good."
The Dodgers' best chance to advance through this postseason is for Scherzer, Buehler and Urias to absorb as many of their starts as possible, a circumstance that will require the occasional outing on short rest. Outside of those three, the only other options are Tony Gonsolin, who allowed eight runs over his last 12 regular-season innings, and David Price, who has occupied a nondescript bullpen role for most of this season.
Buehler taking the ball on short rest provided the dual benefit of Urias starting the decisive Game 5 — opposite Logan Webb — on normal rest. Roberts considered it "a no-brainer" as soon as Buehler suggested it if the Dodgers faced elimination. He was leaning that way after a 1-0 loss in Monday's Game 3, but first he needed to make sure Buehler still felt up for it the following morning.
That was never in question.
"There probably wasn't anything that could have been going on that I would have told him that I didn't want the ball," Buehler said. "As long as I could walk into the clubhouse, I think I was going to pitch."
Nathan Eovaldi, Boston Red Sox take issue with pivotal ball-strike call in loss to Houston Astros
BOSTON — Red Sox pitcher Nathan Eovaldi took two steps toward the dugout when his 1-2 curveball against Houston Astros catcher Jason Castro landed in the glove of catcher Christian Vazquez close to the top-right corner of the strike zone. With two outs already in the ninth inning, Eovaldi momentarily believed he had stranded Astros shortstop Carlos Correa on second base and first baseman Yuli Gurriel on first, but plate umpire Laz Diaz never signaled the punchout that would have left the score tied at 2 heading into the home half of the inning.
Instead, the at-bat continued, with Castro eventually singling to center field, scoring Correa to give Houston a 3-2 lead in Game 4 of the American League Championship Series. Soon, the wheels fell off for Boston, which gave up seven runs in Tuesday's final frame as the Astros won 9-2 to tie the series at two wins apiece and push it to at least a Game 6, which will be back in Houston.
"I thought it was a strike, but again, I'm in the moment. I'm trying to make my pitches," Eovaldi said after the game. "I'm attacking the zone."
While Boston took issue with the call, the chance of Eovaldi's curveball being called a strike was 23%, according to ESPN Stats & Information research.
The borderline call characterized an evening marked by complaints about the strike zone. Diaz ended the evening with 23 missed ball-strike calls, according to ESPN Stats & Information, with 12 coming on balls thrown by Red Sox pitchers and 11 from Houston's hurlers. Diaz's night behind the plate marked the most missed ball-strike calls of any umpire this postseason.
Castro said that with the velocity and quality of Eovaldi's arsenal, he was looking for a pitch that wasn't at the top of the strike zone, where the 1-2 curveball ended up.
"Where that pitch started, I didn't think it was one I could pull the trigger on," Castro said. "It was a ball, then I was able to move on to the next pitch."
Red Sox manager Alex Cora said he had not watched video of Diaz's call before speaking with the media.
"It's a tough job," Cora said. "I know Laz since our days in Miami, you know? He used to cover our games when I played at the University of Miami. Every Friday, he was the man in those games, so it's a hard job. I understand that. It's a hard job."
Cora took stronger exception to a strike three called on designated hitter J.D. Martinez in the third inning on a 94.6 mph fastball thrown by Houston reliever Cristian Javier in a 3-2 count with Red Sox outfielder Alex Verdugo standing on first. Cora ran out of the dugout to prevent Martinez — who infrequently argues with umpires — from getting ejected before confronting Diaz and needing to be restrained by third-base coach Carlos Febles.
"I'm not going to get thrown out of this game, but we thought that pitch was a strike and he disagreed with us, but that's a tough job," Cora said. "I don't think — yeah, it changes — if it's a strike, it changes the whole thing, right, but I think we had chances early on."
Boston went 0-for-9 with runners in scoring position, leaving 11 men on base.
Red Sox starter Nick Pivetta came up short on words when asked about Diaz's strike zone.
"I'm not going to say anything," Pivetta said.
Eovaldi said the strike zone had an impact on the game's outcome.
"There's going to be those at-bats where I felt like our batters were being very selective up there," Eovaldi said. "They were having quality at-bats, and a 1-0 count that turns into a 1-1 or a 2-0 count, it changes the at-bat a lot."
Jose Altuve, Jason Castro key Houston Astros' late rally to rout Boston Red Sox in Game 4 of ALCS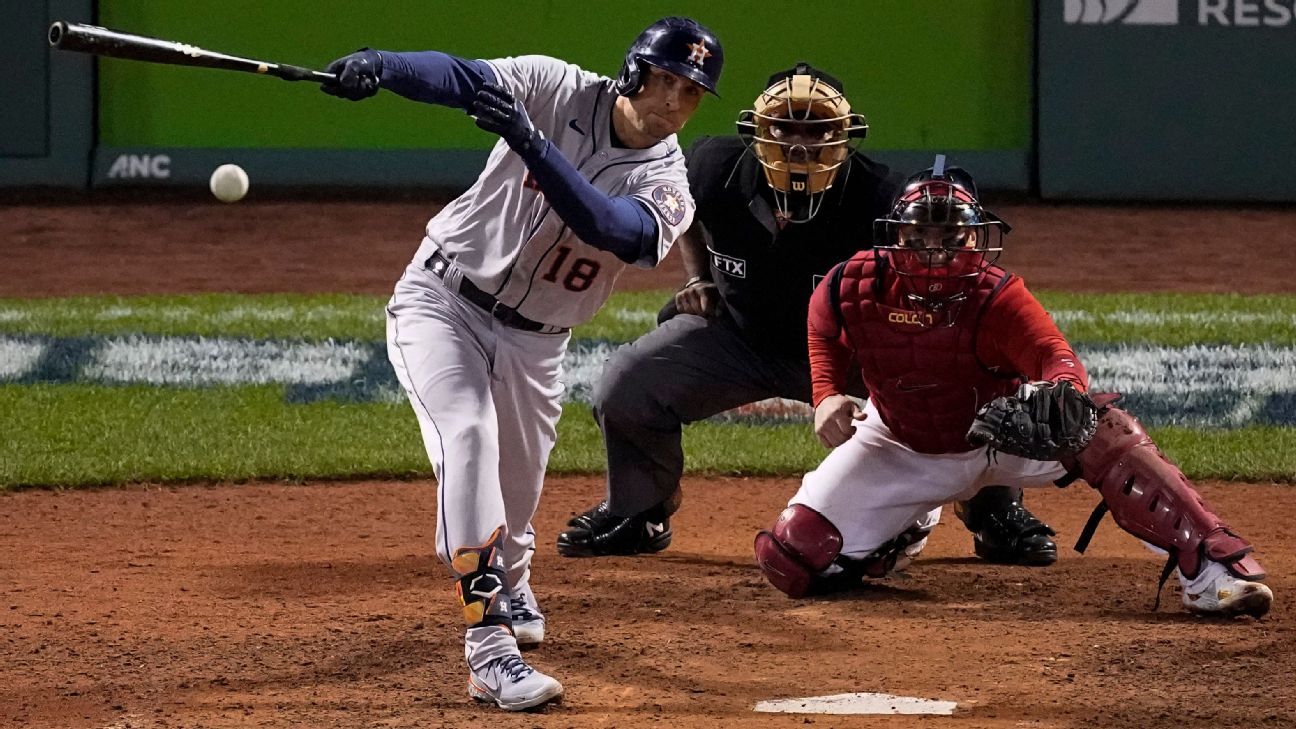 BOSTON — A seven-run ninth inning capped a comeback by the Houston Astros in their 9-2 victory over the Boston Red Sox in Game 4 of the American League Championship Series on Tuesday night.
Houston trailed 2-1 after the first inning of play, until second baseman Jose Altuve homered in the eighth off reliever Garrett Whitlock to tie the game before the visitors broke it open in the ninth to even the series at 2-all.
"He lives for those moments," teammate Carlos Correa said of Altuve. "He's one of the all-time greats in the playoffs. He's going to be one of the all-time greats when it's all said and done. Nothing surprises me about him anymore."
Of Altuve's 21 career postseason home runs, it was his 12th that either tied the game or gave his team the lead. That ties former New York Yankees great Derek Jeter for the most such home runs in postseason history.
"We need to tie the game right there," Altuve said. "Was happy to score with a homer right there. What we did in the ninth inning was amazing."
Correa's double to lead off the ninth ignited the game-winning rally, but it was backup catcher Jason Castro who came through with the biggest hit after Altuve's homer.
With two on and two outs — and the score still stuck at 2-all — Castro hit an 87 mph cutter from Red Sox starter-turned-reliever Nathan Eovaldi to right field for an RBI single. The floodgates opened after that.
"That was pretty cool to be in that spot," Castro said afterward with a smile. "It was a great team effort to put us in that spot."
Moments later, Michael Brantley's three-run double off lefty Martin Perez sent Red Sox fans to the exits as the Astros changed the momentum of the series when they needed it most. It was a dramatic turn of events.
"This is one of the great things about baseball," Astros manager Dusty Baker said. "When you're dead in the water and things aren't going good, and then all of a sudden, boom, boom, boom, and you've got seven runs.
"That's what they've been doing to us this whole series, and we're capable of doing that as well."
The seven-run inning is tied for the most runs scored in the ninth inning of a game in major league history. And they all came with two outs.
In fact, the Astros have scored 36 runs with two outs this postseason. According to ESPN Stats & Information, that's the most two-out runs ever in a team's first eight games of a postseason.
"I'm just glad that we didn't quit," Baker said. "What a job our bullpen did."
The Astros pen covered the final 7 2/3 innings after starter Zack Greinke came out after 37 pitches. He wasn't scheduled to go long. Greinke gave up a two-run home run in the first inning to Xander Bogaerts after Alex Bregman homered for the Astros in the top of the inning. But that's all the scoring the Red Sox would manage. Boston walked seven times but had only five hits, breaking its string of consecutive games with 10 or more hits at six.
Altuve's home run and the work of the bullpen was impressive but the talk after the game was about Castro. He battled one of the best Red Sox pitchers and came out on top.
"He was sitting on the bench for seven innings on a cold night," Correa said. "You don't have batting cage nearby to warm up because the ballpark is so old. I don't know how he did it but I admire that because I wouldn't be able to do that."
MLB playoffs 2021 – How the 268th pitch became the defining moment of ALCS Game 4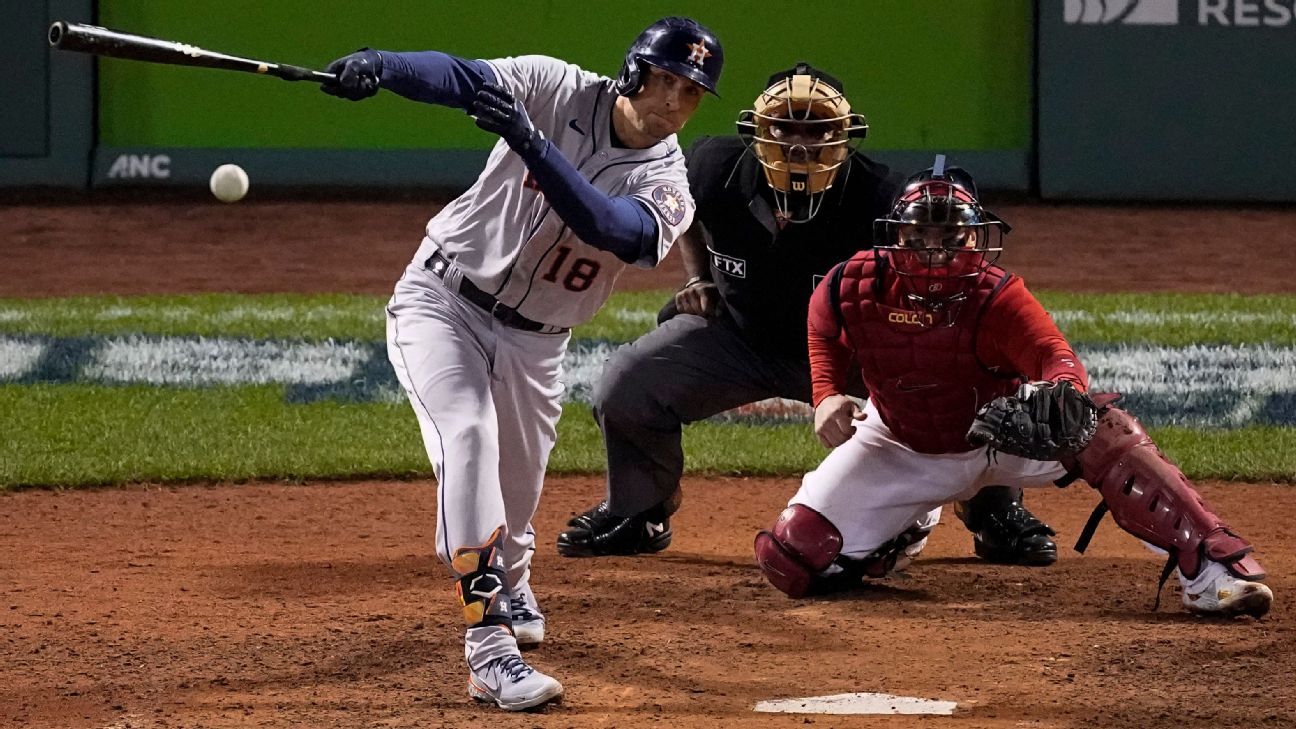 BOSTON — By numbers alone, the 268th pitch in Game 4 of the American League Championship Series wasn't particularly noteworthy. It left Nathan Eovaldi's hand at 80.4 mph and descended more than 4 feet on the way to Christian Vazquez's glove. It spun at less than half the rate of Eovaldi's average curveball. It didn't move much side to side. Had he thrown it at any other point in the game, to any other batter, in any other situation, it would've been just another pitch.
In an alternate universe, or at least one that follows the rulebook strike zone, the pitch was a strike, a strike would have ended the ninth inning and allowed the Boston Red Sox, owners of two walk-off hits this postseason, the opportunity to mint a third. In the real world, where the rulebook strike zone is a castle in the sky, the pitch was a ball, a ball that kept Jason Castro at the plate, a ball that preceded the 269th pitch of the night, which he fouled off, and the 270th, which he whacked for a go-ahead single that opened the floodgates of the Houston Astros' 9-2 victory at Fenway Park on Tuesday night.
It is a pitch that was lamented inside the park and in text chains connecting Red Sox fans who were hungry for a commanding lead but were left with a series tied and home-field advantage lost. A pitch that Eovaldi was so certain was a strike he skipped off the mound, maybe believing he had done his job and maybe trying to cajole the home-plate umpire, Laz Diaz, into punching out Castro, because he, like everyone, knew pitch No. 268 was on the edge of the strike zone, which isn't really a zone inasmuch as it is a concept subject to the execution of the man enforcing it. A pitch that, if Game 4 winds up as the detour that sent this series sideways for the Red Sox, will live in infamy in these parts as the strike that wasn't.
"If it's a strike," Red Sox manager Alex Cora said, "it changes the whole thing, right?"
Well, yeah. Though to characterize Game 4 as one won or lost by pitch No. 268 ignores the 267 prior to it — the ones that could have been something else, even a hit on any of the eight hitless at-bats with runners in scoring position for Boston — and the untold number after it in the sliding-doors version of this game. It was far from guaranteed that the Red Sox would win in the ninth or hold the Astros' dangerous lineup scoreless in the 10th and beyond.
Home-plate umpire Laz Diaz has missed 21 ball-strike calls tonight, according to @ESPNStatsInfo. That is the most of any umpire this postseason. The green dot in the upper RH corner is the Eovaldi curveball that would've ended top of the ninth with the score 2-2.

It is now 9-2. pic.twitter.com/VzdyL4lth3

— Jeff Passan (@JeffPassan) October 20, 2021
And yet because Diaz called an objectively questionable zone — strikes for balls, balls for strikes, two pitches in almost identical locations with one a ball and the other a strike — it left the 268th pitch as the natural end to a night that reminded a truth worth acknowledging at the same time as Boston treats lazdiaz as its newest curse word: Even a human being with an incredibly well-tuned eye can have trouble tracking balls traveling at 80 mph and breaking 4-plus feet. Or dropping 5 feet and sweeping nearly 2 feet across, as pitch No. 193 of the night did. Or sizzling at 94.6 mph and winding up outside, as pitch No. 109 — a called strike three on J.D. Martinez that left Cora fuming — did.
"It's a hard job," Cora said. "I understand that. It's — it's a hard job."
Cora was working three levels with his postgame approach. First: He knows Diaz, has known him since he played at the University of Miami and Diaz umpired his games. Next: He doesn't want to get fined for criticizing the umpires, because he is smart and likes money. Most of all: Blaming the umpires — blaming one pitch — is a losing mentality. Cora expects an immense amount of accountability from the players in the Red Sox clubhouse. He holds himself to that same standard, and he did just that in the aftermath of the game, at which point he took blame for using Eovaldi, who had started Game 2 on Saturday, in the ninth inning of a tie game.
Still, when Cora watches replay of pitch No. 268, here is what he will see: Castro waggling his bat, Eovaldi perched like a crane before he extends more than 6 feet off the rubber and releases the pitch, the ball bending over the outside corner at Castro's belt, Castro buckling, Eovaldi hop-skipping and Diaz emerging from his crouch with his hands on his hips, which is really all that needed to be said.
On the Fox broadcast's pitch tracker, the landing spot of the ball was colored in — meaning it was a strike. On MLB's website, the pitch landed on the edge of the zone — a strike. Neither of those matters. The only computer that mattered was Diaz's brain — and it processed the pitch as a ball.
Surely Diaz didn't know that of Eovaldi's 48 strikeouts this season with a curveball, only seven had been looking, none of those in the postseason. Nobody has a filthier repertoire — a 100-mph fastball, a biting slider, an obscene splitter, a tempestuous cutter and a curve that's there almost as a palate cleanser for the bad taste all those other pitches are subject to leave. There are few tougher pitchers to umpire. The scene was set before pitch No. 268 before anyone realized it.
How it will live on in Red Sox lore depends on what happens next, much in the same way how it registered in this game depended on what happened next. If Castro had rolled over the fastball instead of fouling it off. If Castro had swung over the splitter instead of lacing it up the middle. If either had happened, pitch No. 268 is just pitch No. 268, a bad call on a night in which Diaz made 23 of them, but not the impetus behind Wikipedia graffiti and screams for robot umpires.
If it's little more than a one-game impediment to the Red Sox rolling onto their fifth World Series appearance in 18 years, it'll be forgiven if not entirely forgotten, because up here they forget nothing. But if the alternate outcome comes to fruition — if the Astros avenge their loss to Boston in 2018 — the 268th pitch of Game 4 of the 2021 ALCS will join the phantom tag of the '99 ALCS and Ed Armbrister's interference in the 1975 World Series in the pantheon of Red Sox postseason umpiring what-should've-beens.
Not the sort of third strike Boston was looking for.