Max Verstappen vs Lewis Hamilton, points, crash, Red Bull vs Mercedes rivalry
Already at a longstanding simmer, the title fight between Max Verstappen and Lewis Hamilton reached boiling point at Monza on Sunday.
Now the scene has been set for a thrilling, yet uncomfortable, ride to the F1 championship finishing line.
All of F1's greatest rivalries down the line have had controversial crashes and wars of words to add spice to a tense championship showdown.
Stream Every Practice, Qualifier & Race of the 2021 FIA Formula One World Championship™ Live & On-Demand on Kayo. New to Kayo? Try 14-Days Free Now >
Three notorious moments will spring to most F1 fans' minds. Two belong to Ayrton Senna and Alain Prost who took turns in taking each other out at the Japanese Grand Prix in title-winning seasons. Prost did it in 1989, before Senna returned serve the following year. The other is when Michael Schumacher won the 1994 title having collided with Damon Hill in Adelaide.
With several races to go, Hamilton and Verstappen have already been involved in two big crashes of their own leading to retirements.
Halo saves Hamilton in horror crash | 00:36
READ MORE
COLUMN: Ricciardo's Monza miracle doesn't mean what you think it does… it's worth something far more special
'F***ING COME ON!' Ricciardo ends 3,213-day drought in all-time Monza madness
MAD MAX MADNESS: Verstappen breaks F1 code with 'surprising' snub after 'calculated' move sparks war
'WOULD HAVE DIED': F1 invention 'saves Hamilton's life' in sickening crash
The first came at Silverstone where Hamilton clipped the rear of Verstappen at the high-speed Copse corner, resulting in the Dutchman flying into the barriers. Hamilton copped a 10-second time penalty but it wasn't enough to stop him from winning the race.
The second came in an incident on Sunday that has added fuel to the fire, threatening an ongoing escalation between the drivers.
Verstappen was held up during an 11-second pit stop which saw Hamilton rejoin the track from his own stop ahead of the Red Bull driver.
Hamilton was narrowly ahead going into the second turn of the chicane but, with no where to go, Verstappen didn't back off and instead launched his car off the kerb and on top of the Mercedes.
The car's Halo device, introduced just three years ago, saved Hamilton's life by protecting his head with the Red Bull on top of him.
Verstappen hopped out of his car, didn't check on the welfare of his title rival, and walked straight back to the pits.
"I did see Max get out and just walk by," Hamilton said. "I found that a little bit surprising, because ultimately I think when we go out, and when we do have incidents, the first thing we want is make sure if the guy that we crashed into or we collided with is okay."
There's clearly no love lost between the pair, separated by 13 years in age.
Ricciardo ends 1204-day drought at Monza | 05:24
Whether it was a deliberate act by Verstappen is unclear, but it's worth noting how Hamilton reacted to winning at Silverstone when the 23-year-old was in hospital.
The Briton happily celebrated his win in front of his own fans, prompting a furious response from Verstappen who tweeted while undergoing checks in hospital.
"Very disappointed with being taken out like this," he wrote. "Watching the celebrations while still in hospital is disrespectful and unsportsmanlike behaviour but we move on."
'THERE WAS NO WAY'
What happens next is anyone's guess but the rivalry is only trending in one direction; towards more verbal barbs and, worryingly, more on-track incidents.
While the drivers may have been willing to give quarter in earlier stages of the season, we are now approaching the business end — and the battle is tight.
Verstappen leads Hamilton by just five points after 14 races in what has shaped up as one of F1's all-time great battles.
As such, every window of opportunity is getting that bit smaller. Knuckles on the wheel are becoming that bit whiter as the stakes rise.
That will be especially true of Verstappen, who has the added pressure of spearheading Red Bull's only genuine title chance since 2013, while Hamilton has already served Mercedes six championships in seven years.
The incident in Monza was arguably the first genuine sign that Verstappen is starting to feel the heat with the burden of the championship lead also weighing heavily.
1996 world champion Hill, who analysed the Monza crash in-depth, suggested Verstappen made a "calculated" move to take out Hamilton to not risk losing his lead.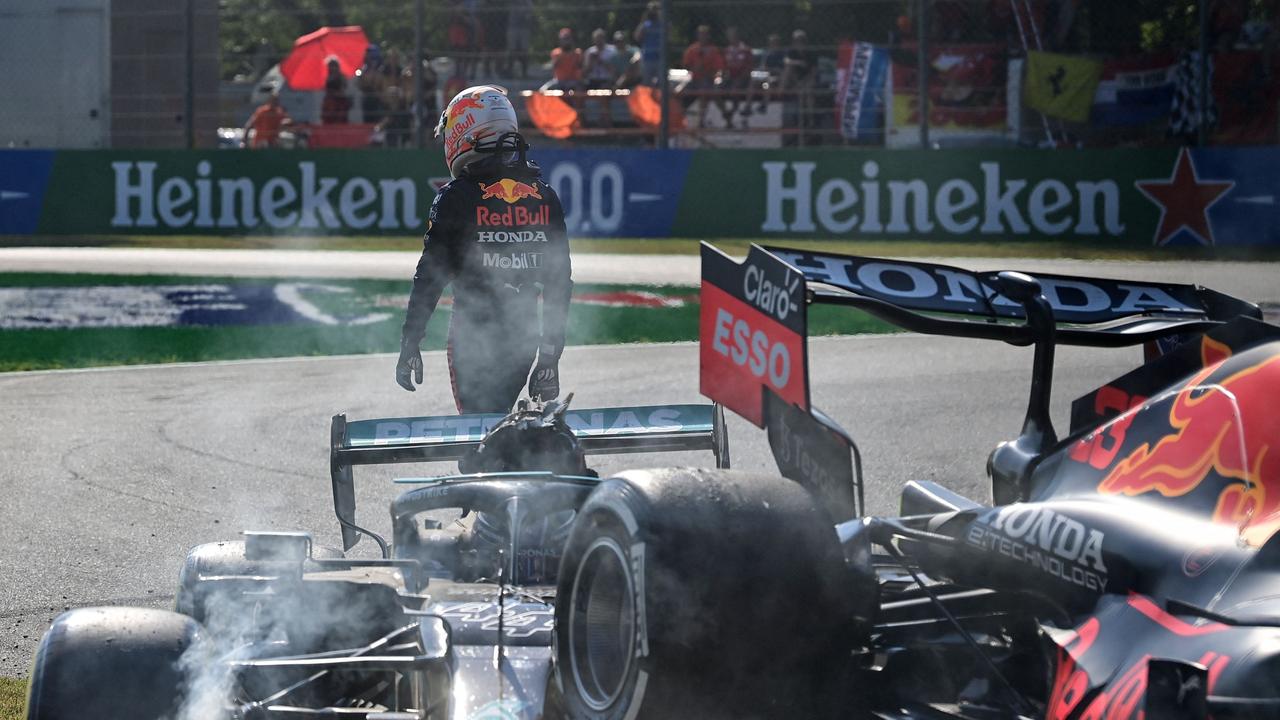 "Looking at the replay of Max on Lewis, there was no way he was going to make that work," Hill said. "The only conclusion is he might have been thinking 'I have to take him out'.
"I don't want to think that of any driver, but I think it was either an error of judgment or a calculated move to collide with Lewis.
"It is strong and I don't like the idea that I'm accusing anyone of doing that, but he's got a points advantage and this was a race which Mercedes was supposed to win."
Hill later added that this could be just the beginning with both drivers taking ultra-aggressive approaches.
"We're going to have a few more bumps and hiccups along the way aren't we?" he said.
"It's inevitable, and these are two guys who are not going to compromise, they're not going to give an inch to each other."
At long last, Ricciardo downs shoey | 01:12
'HOW FAR CAN WE GO?'
Mercedes boss Toto Wolff also predicted more chaos between the pair given how quickly the rivalry is escalating.
"We've had a high-speed crash in Silverstone, we've had one car ending up on top of the other on Lewis' head here," he said.
"How far can we go? Maybe next we have a high-speed crash and land on each other."
Verstappen later claimed that he believed it was simply a "racing incident" and that stewards were wrong to hand him a three-place grid penalty for the next race.
Former driver and Sky Sports pundit Paul di Resta was one of the few on his side, saying he would have ruled it as a racing incident, too.
"If I look back at the two of them, going back to Copse corner, Lewis wasn't going to let Max go (at Silverstone), Max wasn't going to let Lewis go (at Monza)," he said.
"These two are going head-to-head in the championship … I hope they've got great respect (for each other) because there's many great things for them both to come."
He added: "They're both going to go wheel-to-wheel. Senna and Prost went wheel-to-wheel. All the greats that went into championships (did).
"And I think Silverstone changed how they were going to go racing … two guys with very fine points who want to get as much as they can. 
"This is the championship we've been hoping for for a very long time."
Saudi Arabia Grand Prix, Lewis Hamilton, Max Verstappen, championship race, leaderboard, crash, reaction
Lewis Hamilton edged out Max Verstappen to win a chaotic and controversial Saudi Arabian Grand Prix that had the F1 world divided on Monday morning.
There were a number of flashpoints during the race that only intensified the ongoing tension between Hamilton and Verstappen, who are now level on points ahead of the decider.
Hamilton had sped away from pole position before the balance of power shifted after 10 laps when Mick Schumacher buried his Haas in a barrier.
Hamilton and Mercedes teammate Valtteri Bottas pitted under the safety car but Verstappen stayed out.
Stream Every Practice, Qualifier & Race of the 2021 FIA Formula One World Championship™ Live & On-Demand on Kayo. New to Kayo? Start Your Free Trial >
'I didn't understand what was going on' | 01:27
Four laps later, the race was red-flagged to allow the barriers to be repaired which enabled Verstappen to pit, change tyres and resume the race in the lead.
On the restart, Hamilton reclaimed the lead but claimed he was forced off the track by Verstappen.
Moments later there was another red flag as Sergio Perez, George Russell and Nikita Mazepin all collided at the rear of the field.
The stewards decided that Verstappen's manoeuvre was illegal and promoted Alpine's Esteban Ocon to pole for the third start of the race, with Hamilton in second and Verstappen in third.
Amazingly, Verstappen then took the lead again with Hamilton following through.
However the drama and controversy continued when they collided late in the race. Hamilton said he had been brake-tested and Verstappen was penalised by the stewards before the Briton swept past and onto victory.
"It has been a dirty race in terms of tactics," Martin Brundle said on Sky Sports F1.
"This is absolutely crazy. It's kind of like we're making it up as we go along.
"But it's so many unusual situations. It's more like an obstacle course than a race track."
The F1 world was just as stunned by what unfolded on Monday, with the constant chaos proving hard to keep up with.
Lewis Hamilton slams Max Verstappen, Saudi Arabian Grand Prix, reaction, quotes, result
Seven-time world champion Lewis Hamilton lashed out at title rival Max Verstappen after Sunday's gripping Saudi Arabian Grand Prix, describing the Dutchman as "over the limit".
Mercedes driver Hamilton won a dramatic race under lights on the Jeddah street circuit but only after several close run-ins with Red Bull's Verstappen.
Stream Every Practice, Qualifier & Race of the 2021 FIA Formula One World Championship™ Live & On-Demand on Kayo. New to Kayo? Start Your Free Trial >
"I really had to try and keep my cool out there which was really difficult to do," said Hamilton.
"I have raced a lot of drivers in my 28 years of racing, I have come across a lot of characters. There's a few that are over the limit, the rules don't apply.
"He (Verstappen)'s over the limit for sure. I have avoided collision on so many occasions with the guy.
"I don't mind being the one who does that because you get to live another day. It doesn't matter for him if we don't finish. It does for me."
'Rules don't apply' – Lewis RIPS Max | 01:03
MORE F1 NEWS
'GUY IS F***ING CRAZY': Bitter F1 rivals ordered to front stewards as title race EXPLODES
'CHILDISH': Max Verstappen torched over 'pathetic' podium snub
The tense battle culminated in a late collision when Hamilton, apparently unaware that Verstappen had been ordered to give up the lead after an illegal manoeuvre shortly before, hit the Red Bull as it braked in front of him.
Red Bull maintained that Verstappen was simply following instructions while Mercedes intimated that the Dutchman was 'brake-testing'.
"I don't understand why he hit the brakes quite so heavily so I ran into the back of him," said Hamilton.
"I didn't get the information. It was very confusing."
Did Lewis intentionally hit Verstappen? | 01:50
A visibly annoyed Verstappen, however, denied any wrong-doing in the incident. "I slowed down, I wanted to let him by, I was on the right but he didn't want to overtake and we touched," said Verstappen.
"I don't really understand what happened there." Stewards, who gave Verstappen a five-second penalty for an earlier incident, were investigating the decision.
"It was quite eventful! A lot of things happened, which I don't fully agree with, but it is what it is," said the 24-year-old Dutchman.
'I didn't understand what was going on' | 01:27
He later stormed off the podium, refusing to take part in the traditional end of race champagne spraying with Hamilton and his Mercedes teammate Valtteri Bottas who took third.
The two drivers are now level on points as they head to the final race of the season in Abu Dhabi next weekend, although Verstappen has the advantage of having won more races.
"It's a straight fight as it has been all year," said Red Bull principal Christian Horner.
"The form is with Mercedes but Max has fought like a lion this weekend, he has given it everything."
Hamilton has now won three races on the bounce and is primed to become the first man to win eight world titles, one more than the record he currently shares with Michael Schumacher.
"I am personally chilled," he said. "I feel like I am in the boxing ring and I am ready to go."
Lewis Hamilton vs Max Verstappen, crash, stewards, ruling, update, reaction, video, radio, Toto Wolff
It was just one flashpoint in a drama-filled race with major repercussions on the Formula 1 championship race.
But the collision between Lewis Hamilton and Max Verstappen on Monday morning had been brewing long before lap 48 and its dramatic fallout is far from over too.
Hamilton took out the victory at the Saudi Arabian Grand Prix to draw level on points with Verstappen despite suffering wing damage in a late collision with his tense rival.
Stream Every Practice, Qualifier & Race of the 2021 FIA Formula One World Championship™ Live & On-Demand on Kayo. New to Kayo? Start Your Free Trial >
'Rules don't apply' – Lewis RIPS Max | 01:03
Verstappen had been ordered to give up the lead after an illegal manoeuvre shortly before but an oblivious Hamilton hit the Red Bull as it braked in front of him.
It left Toto Wolff fuming, with the Mercedes boss erupting as he tossed his headset onto the desk while Hamilton was simply puzzled.
"I didn't get the information, so I didn't really understand what was going on, it was very very confusing," Hamilton told Sky Sports post-race.
"All of a sudden he started backing up and started moving a little bit [across the track], I was like: 'Is he trying to play some crazy tactic? I don't know'.
"The message started coming through just as he … like, he hit the brakes so hard that I nearly went up the back of him and took us both out."
Verstappen did not have an answer either, telling Sky Sports: "I don't really understand what happened".
So, what exactly happened?
Well, a tense radio exchanged seemed to suggest Hamilton and Verstappen had every right to be confused.
MORE F1 NEWS
'RULES DON'T APPLY': Hamilton tears Max to shreds in 'over the limit' F1 spray
'CHILDISH': Verstappen torched over 'pathetic' podium snub
'TOO MUCH': Why ugly clash in F1 feud was 'inevitable'… and only going to get worse
Hamilton and Verstappen collide! | 00:57
Mercedes team manager Ron Meadows and FIA F1 race director Michael Masi engaged in a verbal disagreement over whether the move had been properly communicated.
MEADOWS: "Are we allowed to go by him?
MASI: "You are allowed to go by him.
MEADOWS: "Well, he needs to slow down and let us. We had no idea he was going to do that.
MASI: "Excuse me, Ron. I came over and told you.
MEADOWS: "No, no, no. You told me as it happened.
MASI: "Ok, well Ron I can only push as many buttons as I can."
"I think it was a misunderstanding, frankly," F1 great Martin Brundle told Sky Sports.
"Red Bull will say we tried to give him the place back, and he ran into us… Mercedes will say he brake-tested us."
Fellow commentator David Croft described it as a "bit of a mess", questioning whether Verstappen even tried to make the space to let Hamilton through.
'I didn't understand what was going on' | 01:27
Michael Masi, the race director, is a man with an awful lot on his plate tonight but it sounds like a bit of a mess in terms of the communications," he said in commentary for Sky Sports.
"Ron Meadows, the sporting director at Mercedes, is saying you didn't tell us at the time. We didn't have time to tell our driver the place was being handed back.
"Max didn't look as if he was moving to one side or another to make it easy for Lewis to get past."
"I think there was enough space," Brundle replied.
"Lewis just didn't know what was going on. Obviously it's confirmed because the team didn't realise and hadn't given him that piece of information in time."
Breaking down the incident after the race, two Sky Sports experts questioned what role the DRS (drag reduction system) may have played in the collision.
"Verstappen pushes Hamilton wide and both go off and as a result of that, Verstappen was told to give the place back but was told by his team to do it strategically," Teddy Kravitz said.
"Now, is that a smoking gun? Not really.
"Red Bull learned from Bahrain at the beginning of the year, when they didn't give the place back strategically to Lewis Hamilton, do it in a place where you are going to get DRS afterwards.
"You can give the place back, stick there for a few seconds and then immediately take the place back, that is the way to do it strategically. Clearly that is what Verstappen was trying to do.
Did Lewis intentionally hit Verstappen? | 01:50
"Hamilton was confused, maybe he was trying to do that so he had the DRS. When Verstappen was told to give the place back, crucially, the FIA's Michael Masi hadn't told Hamilton before he told Verstappen.
"So Verstappen knew Hamilton was going to take the place back and was told to give the place back strategically.
"But they hadn't told Hamilton that Verstappen was going to slow down and let him pass."
Anthony Davidson agreed the DRS could be an additional factor to monitor in the motivation behind the move.
"There is one thing to remember here," he said.
"I think there might have been a little bit of gamesmanship going on because of the DRS detection point coming up and I believe this is what they are both playing at here.
"This line is the critical thing. That line there is the DRS detection point. If you are within one second of the car in front of you, you get DRS don't forget down that next straight.
"I think they were kind of racing towards this one and that is why in the re-pass that Max did in the second time around, he immediately went for it. He had the DRS to cover himself.
"I wonder, in desperation to get to that line and make sure you're behind that car to really attack them down the main straight, maybe that was what was going on and it adds another element to the confusion for all and the stewards as well."
Hamilton and Verstappen have both been called to the stewards for an alleged breach of FIA sporting regulations.