Football news 2021, PSG, Lionel Messi, Mauricio Pochettino, Paris Saint Germain, substitute, latest, reaction, Cristiano Ronaldo
Was this the moment Mauricio Pochettino lost his job as manager of Paris Saint-Germain?
With the game against Lyon delicately poised at 1-1 and the attacking quartet of Lionel Messi, Neymar, Kylian Mbappe and Angel Di Maria all still on the pitch with 15 minutes to go, the former Tottenham boss needed to make a change.
The change he decided to make however, was to bring off Messi – and the six-time Ballon d'Or winner made his disappointment felt, refusing to shake his manager's hand and giving him puzzled and bemused looks.
The fact that Pochettino's substitutions ultimately saw Mauro Icardi score a last-minute winner to vindicate his boss will have little consolation to Messi who despite being pleased of the victory, will have a sour taste in his mouth over the personal cost it came at.
Watch PSG superstars Messi, Neymar & Mbappé Live & Free every week in September with beIN SPORTS on Kayo Freebies. Join now & stream live instantly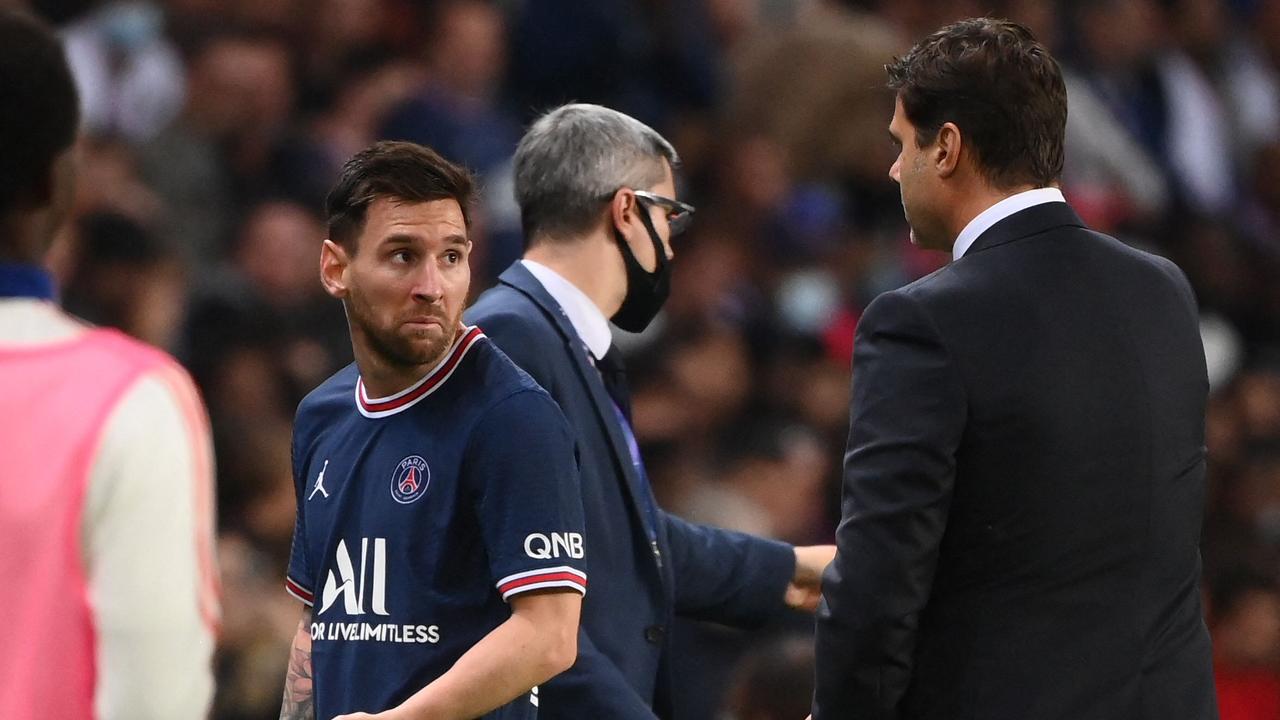 It's been a slow start for Messi since his move to Paris. He began his career in the French capital from the bench before making his first start in the disappointing Champions League draw away to Club Brugge last week. He has yet to find the net, despite hitting the bar and the post in the last two games, while Neymar retains penalty duties even in Messi's presence.
It'll be frustrating for the Argentine, who no longer has time on his side and wants his impact on PSG to be immediate – like the four goals in three games impact his great rival Cristiano Ronaldo has had at Manchester United already.
But while that decision to haul off Messi is not even close to a reason to sack anyone, it does perhaps suggest at troubles he and Pochettino may have down the line this season, as the manager attempts to mould some of the biggest egos in world football into a Champions League-winning squad.
But that's not really Pochettino's style.
His work at Spurs was a continuation of his methods at Southampton, his tenures at both clubs testament to how he likes to build a squad in his image, rather than be provided one full of ready-made superstars.
When he took over at Tottenham, the likes of Harry Kane, Heung-min Son and co. were hardly household names, yet he built a philosophy and a team ethic and transformed the club into Champions League finalists over the course of nearly five years. The most expensive player he purchased was one he barely was able to use in Tanguy Ndombele for £60m.
Put simply, he hadn't dealt with egos before, certainly not ones inflated to the sizes of the ones he has got in his squad now.
Look at Cristiano Ronaldo's career with managers an example. He is a player well known for his ego and someone who takes personal offence if the man he is playing for doesn't insist he is the best player in the world at every opportunity. He likes man-managers. That's why he thrived under the likes of Sir Alex Ferguson, Zinedine Zidane and Carlo Ancelotti, and will likely do so under Ole Gunnar Solskjaer as well. He won trophies with all of them and all of them enjoyed the career they wanted with him.
Compare that to the likes of Jose Mourinho, Rafa Benitez, Carlos Queiroz or Maurizio Sarri, all of whom had strained relationships with Ronaldo, and all of whom were ultimately sacked or pushed to a point of wanting to resign. Egos like his need to be massaged, not challenged or provoked.
That's not to say Pochettino will provoke or challenge Messi or any other the big egos belonging to Neymar, Mbappe, Di Maria, Sergio Ramos and the rest. But these players need preferential treatment, they need to be handled differently from everyone else because, well, they are.
Former Real Madrid assistant manager Paul Clement revealed how Ancelotti completely tore up his tactics after speaking with Ronaldo and tailored them more to how the Portuguese superstar wanted them to suit him.
"Carlo started to pencil in what the team might look like, even before the players arrived for pre-season," Clement told The Athletic. "That was with Cristiano as a striker.
"Cristiano came to Carlo and said he felt more comfortable playing off the left, coming in, making passes, hitting crosses and shots. And this was one of Carlo's greatest strengths as a coach. All he said was, 'Well, you have to be comfortable, that's the most important thing'. So he developed the system to help make him comfortable."
Another manager may have pushed back, reminded Ronaldo who was the boss and who was the player and he would do what he was told like everybody else. But Ancelotti had the common sense to know that pleasing Ronaldo would benefit the rest of the team and also himself. It won him a Champions League.
Messi may not have the famed ego of Ronaldo and has been styled as a more squad-serving player than perhaps the self-serving one the Manchester United man is portrayed to be, but don't for a second believe he will be happy to fall on his sword. He wants to prove he is still the best in the world and can do it somewhere other than at Barcelona.
So Pochettino, to get the best out of his star-studded squad, and Messi in particular, will need to adapt to that and realise that acceding to the preferences of his best players is not a sign of weakness. It's a strength and it will only benefit you.
If he doesn't realise that, then PSG may be forced to find someone who can.
Premier League 2021/22 talking points, results, news, reaction, ladder, Chelsea form, Ralf Rangnick, Manchester United
Ralf Rangnick won his first match as Manchester United interim manager this weekend after the top three in the Premier League swapped positions, with Manchester City now in the driving seat.
Newcastle at last tasted victory to give new manager Eddie Howe hope they can escape relegation while Steven Gerrard won his third match in four since taking over at Aston Villa.
Here are three talking points from the action in the English top flight.
Watch the world's best footballers every week with beIN SPORTS on Kayo. LIVE coverage from LaLiga, Bundesliga, Ligue 1, Serie A, Carabao Cup, EFL & SPFL. New to Kayo? Start Your Free Trial >
'NOT GOOD ENOUGH': Arteta fumes as Gunners gunned down
Toffees notch sweet win over Gunners | 01:33
RANGNICK RESTORES 'ORDER' AT UTD
Ralf Rangnick was given an early sight of the job that lies ahead of him to ensure the Red Devils do not miss out on the top four.
The high-energy style the 63-year-old has built his reputation on in German football was on show early on at Old Trafford, just days after his arrival to replace the sacked Ole Gunnar Solskjaer.
But United struggled to maintain that intensity or break Palace down until Fred's fine strike from outside the box 13 minutes from time.
A first home clean sheet of the season gives Rangnick a platform on which to build, but that was more due to the visitors' caution and a glaring miss from Jordan Ayew than great defending.
United are now sixth in the table after a second straight win, just three points behind fourth-placed West Ham.
Rangnick bags first win with United | 01:26
However, Rangnick has an enticing run of fixtures coming up, with Norwich, Brentford, Brighton, Newcastle and Burnley to come before the end of the year.
United great Gary Neville said Rangnick got the "order" he would have wanted in the victory over Crystal Palace.
"I really enjoyed it," Neville said on Sky Sports' Monday Night Football show. "Was it flamboyant football? Were Manchester United at their absolute best in the last hour? It was a struggle at times.
"… 48 hours to be with his team and lets be clear in the last six to seven weeks Manchester United have been a mess defensively. They hadn't had a clean sheet at home in 16 matches.
"They were conceding goals like you wouldn't believe, getting battered at home against Liverpool and City. All the over teams have cut through them. What Ralf Rangnick would've wanted yesterday was order. Order in the performance and I think we got that."
LIVERPOOL'S FORGOTTEN 'LEGEND' DELIVERS WHEN IT MATTERS
Divock Origi marked his 100th substitute appearance for Liverpool on Saturday with the latest in his collection of crucial late goals.
Jurgen Klopp's men had dominated Wolves at Molineux but could not find a way through until the Belgium forward struck in the 94th minute, sparking scenes of delirium from the Liverpool bench.
Other memorable moments for Origi have included an 87th-minute strike in the 2019 Champions League final win against Tottenham and a last-gasp winner in a 2018 derby against Everton.
"He is a top striker, a top boy," said Klopp, who described the 26-year-old as a "legend".
"He is already here at Liverpool for a long time — he came here very young and has scored some of the most important goals in the history of this club."
Origi saves Liverpool | 01:29
PROBLEMS FOR CHELSEA AS DESPERATE MOVE BACKFIRES
It is too soon to talk of serious problems at Chelsea after they suffered just their second Premier League defeat of the season against high-flying West Ham.
But they have now dropped points in three of their past five league games at a time when Manchester City and Liverpool have hit the accelerator.
The Stamford Bridge side are built of tough stuff under Thomas Tuchel and the game at the London Stadium was just the third time in 53 matches under the German that they had conceded more than once.
Tuchel acknowledged West Ham's winner from Arthur Masuaku was a freak goal but bemoaned earlier mistakes.
He will be concerned at the lack of goals from his main forwards, particularly the out-of-sorts Romelu Lukaku, who was used as a substitute at the London Stadium.
Masuaku cross downs Chelsea | 01:31
Defender Reece James and attacking midfielder Mason Mount are the club's top scorers this season, with five goals each in all competitions.
Big summer signing Lukaku has struggled with form and fitness this season and has not scored since mid-September after a bright start at Stamford Bridge.
Tuchel conceded that he made a mistake in playing Lukaku at all against West Ham United after admitting the striker was not at the level of fitness required to play an influential role.
"It's my fault," the German boss said of Lukuka, who came on after half-time.
"I don't think he is ready for 45 minutes physically but still we decided to bring him on for his height because we lost Kai (Havertz).
"Kai had a crucial role in defending set-pieces, which is a huge threat from West Ham, so this is on me. I took the decision so it's my responsibility."
FA Cup draw in full: Man Utd get Gerrard's Aston Villa as minnows land dream Chelsea tie
THE FA CUP draw has thrown up plenty of opportunity for giant killings when the third round gets underway shortly after the new year.

Source link
Arsenal boss Mikel Arteta furious with players for failing to 'execute' plans vs Everton
ARSENAL lost 2-1 to Everton on Monday night to put a serious dent in their Champions League hopes.

Source link