Two-interception game caps memorable week for Philadelphia Eagles corner Darius Slay – Philadelphia Eagles Blog
CHARLOTTE, N.C. — During his news conference following Sunday's come-from-behind 21-18 win over the Carolina Panthers, Philadelphia Eagles quarterback Jalen Hurts was asked about one of his key late-game runs. But Hurts had something else entirely on his mind, and directed the conversation to it.
"I don't want to talk about that. I want to talk about how the defense played. How Darius Slay came out, added another munchkin to the bunch this week, came out here and got two picks," he said.
That was a concise summary of a chaotic and memorable week for Slay. The cornerback's wife gave birth to their son, Desmond Demetrius, on Thursday — the couple's fifth child together. Understandably busy, Slay missed Thursday's practice and wasn't able to dedicate as much time to preparation as he normally would.
Desmond Demetrius slay is here❤️❤️❤️ another future king!!!🙏🏾

— Darius Slay (@bigplay24slay) October 7, 2021
All he did was come out and have his best game in an Eagles uniform. He intercepted quarterback Sam Darnold twice and limited the Panthers' DJ Moore, one of the most productive wide receivers in the league, to five catches for 42 yards. It was the 30-year-old Slay's first game with multiple interceptions since Week 15 of 2017.
"Shout out to my teammates because a lot of times I couldn't go to practice," he said. "I didn't get any reps, just walking through, Zoom calls, my baby boy was born. Rod [Rodney McLeod], Ant [Anthony Harris], all the DB guys, I told them, 'I'm going to need everyone today.' I prepared as much as I could. I leaned on those guys. We cover each other. I appreciate them boys for having my back out there and putting me in position to make the plays that I made."
Slay has been solid if unspectacular since the Eagles acquired him from the Detroit Lions in 2020 for third- and fifth-round picks, then signed him to a three-year, $50 million contract. He has frequently been asked to shadow the opposition's top receiver and isn't targeted as much as other corners, but had only one interception through 19 games with the Eagles. Quarterbacks had been completing 75% of their passes when throwing in his direction. On Sunday, he looked more like the shutdown corner he was in Detroit, earning him one of the better nicknames in the NFL.
"That's 'Big Play Slay,' that's what he do," said rookie receiver DeVonta Smith. "He went out there and he made plays."
Slay showed his value as a veteran leader as well. Following Smith's third-quarter fumble, Slay went up to him on the sideline and told him, "S— happens, keep your head up", "You're a playmaker" and "We're for you, as a team, as a unit."
Smith finished with seven catches for 77 yards and a two-point conversion following the Eagles' go-ahead touchdown.
"He said let it go," Smith said, "and that's what I did."
The Eagles are now 2-3. It's been a roller-coaster ride on both sides of the ball, with each unit taking turns dominating and being dominated. The defense is the more experienced unit of the two. If one unit is going to stabilize and become the more reliable partner, it's the defense. As one of the secondary's best players, Slay is key to making that happen.
There's no rest for Papa Slay. Tom Brady and the Bucs come to town on Thursday night (8:20 p.m. ET, Fox/NFL Network).
Jacksonville Jaguars' Dawuane Smoot helps wife deliver baby girl at home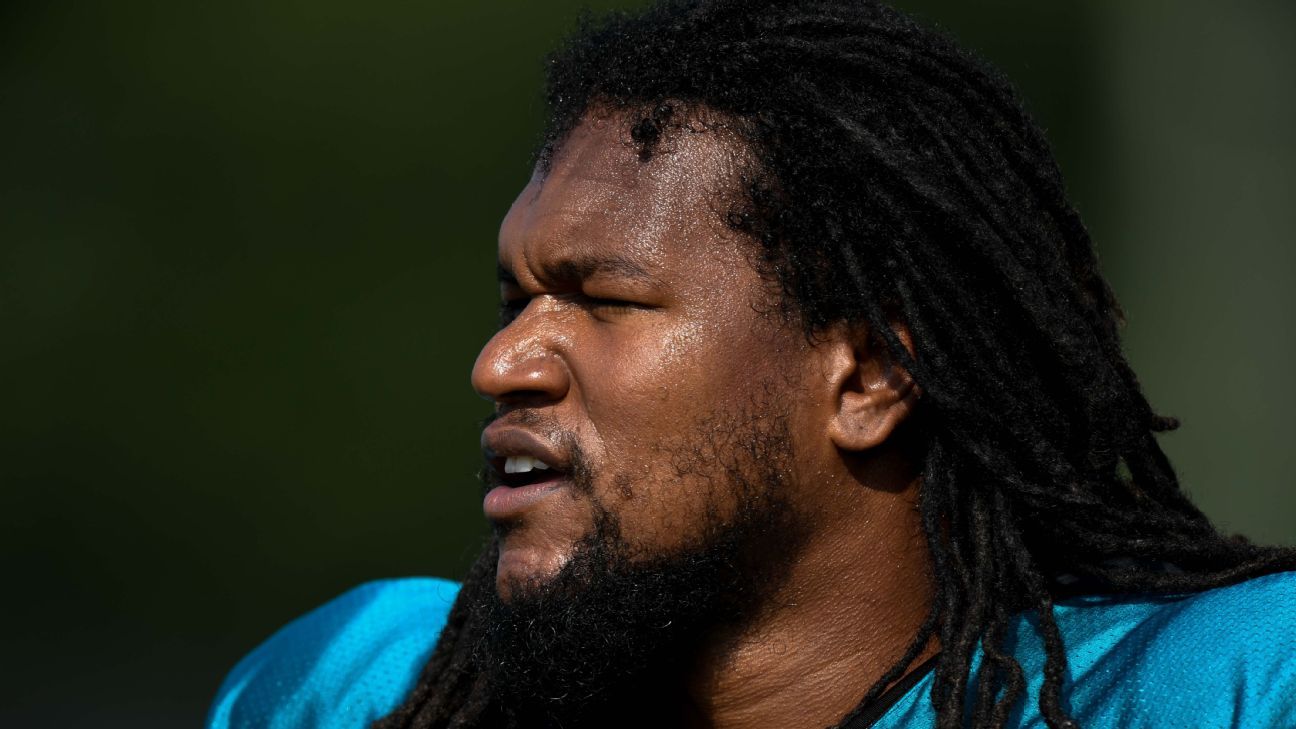 JACKSONVILLE, Fla. — Jacksonville Jaguars defensive end Dawuane Smoot might just have the best hands on the team.
Smoot helped his wife, Aumari, deliver the couple's second child early Tuesday morning in their Jacksonville home, according to a team official. They were about to leave for the hospital around 4 a.m. ET when Aumari fell, the official said. Smoot caught her, but there wasn't enough time to get to the hospital before the baby was born.
Smoot called 911, and paramedics talked him through tying the umbilical cord over the phone. Daughter Ahlani Moon Smoot was born in the couple's living room.
Smoot obviously missed Tuesday's workouts at the Jaguars' facility, but he called in to the team meeting and told the story, and was roundly cheered.
The couple also has a 2-year-old son, Ahmir.
Dallas Cowboys safety Damontae Kazee arrested on DWI charge
THE COLONY, Texas — Dallas Cowboys safety Damontae Kazee was arrested early Tuesday on suspicion of driving while intoxicated in a Dallas suburb, police said.
The Colony police Sgt. Aaron Woodard said Kazee was booked on a Class B misdemeanor. Kazee was released around midday after posting $2,500 bond, Woodard said.
Kazee was pulled over in the suburb next to Frisco, the location of team headquarters about 30 miles north of Dallas. Kazee is in his first season with the Cowboys after signing as a free agent.
The 28-year-old has started all six games for the Cowboys (5-1), who have won five consecutive games. Dallas is off this week. Their next game is Oct. 31 at Minnesota.
On Monday, coach Mike McCarthy said he talked with players last week about being smart during the bye when he informed them they would not have any practices this week.
"Talked about the distractions and what we don't want," McCarthy said. "We have an outstanding season — 5-1, where we are — make sure that everybody is taking care of themselves and spend as much time as they can with family and friends. They deserve it. They deserve this break, the length of it. I have a lot of confidence and a lot of trust in those guys."
Kazee spent his first four seasons with Atlanta, and the fifth-round pick started 34 of 52 games with the Falcons. His arrival in Dallas coincided with that of defensive coordinator Dan Quinn, who was Atlanta's coach for five-plus seasons before getting fired last year.
The Cowboys had no comment on Kazee's arrest. His agent didn't immediately return a message seeking comment.
ESPN's Todd Archer and The Associated Press contributed to this report.
Short-handed and struggling, New York Giants put left tackle Andrew Thomas on injured reserve
EAST RUTHERFORD, N.J. — The New York Giants lost another piece to their offensive line for at least three games when left tackle Andrew Thomas was placed on injured reserve.
Thomas hurt his right ankle in Sunday's loss to the Los Angeles Rams. It is not believed to be a high ankle sprain, according to a source. But the second-year tackle still lands on IR in part because he had missed the previous game with a left foot injury that had him limping for several weeks.
Rookie wide receiver Kadarius Toney is also expected to miss some time after aggravating an ankle injury Sunday on the opening drive, leaving the Giants (1-5) even thinner after playing this past week without running back Saquon Barkley (ankle) and wide receivers Kenny Golladay (knee) and Darius Slayton (hamstring).
Thomas, the No. 4 overall pick in last year's draft, was playing his best football prior to the injuries. He now will miss games against the Carolina Panthers, Kansas City Chiefs and Las Vegas Raiders. He can return after the Giants' bye week when they play on the road against the Tampa Bay Buccaneers on a Monday night in late-November.
New York, which scrambled to fill its offensive line depth days before the season, is now without three-fifths of its Week 1 offensive line because of injuries. Center Nick Gates (leg) and guard Shane Lemieux (knee) are already out for the season.
Losing Thomas is a big blow. Quarterback Daniel Jones was hit from behind on the play immediately after Thomas exited on Sunday with Matt Peart stepping in at left tackle. It went for a sack-fumble that put the Giants in an even deeper hole.
Peart, a second-year player out of UConn, and Nate Solder are expected to serve as the Giants' starting tackles with Thomas sidelined.
The Giants also placed wide receiver and kick returner C.J. Board on injured reserve Wednesday. Board broke his arm at the end of a long kick return in the 38-11 loss to the Rams. His season is expected to be over.
In order to fill the roster spots, the Giants signed tackle Korey Cunningham and wide receiver Dante Pettis off the practice squad.
They also officially signed former Pro Bowl linebacker Benardrick McKinney to the practice squad, in addition to wide receiver Travis Toivonen and tackle Derrick Kelly. McKinney will begin on the practice squad with the intention of being elevated to the active roster when he's ready.