NFL kickers have historically rough week with record-setting misses
From this moment forward, Week 5 shall be remembered as the week all the kicks were missed. One minute a slew of game-winning field goals — including Justin Tucker's NFL-record 66-yarder in Week 3 — were ensuring kickers got their flowers, the next they couldn't seem to buy a make.
To be clear, Tucker got out of the Baltimore Ravens' Monday Night Football matchup with the Indianapolis Colts unscathed … because he's Justin Tucker. But Colts kicker Rodrigo Blankenship wasn't as lucky.
Blankenship's name got added to the list of kickers who fell prey to the Week 5 curse when he delivered the 13th missed extra point of the week.
Rodrigo Blankenship's missed PAT on #MondayNightFootball was the 13th miss across the NFL this week

That is the most missed PAT in a single week in the Super Bowl era

It is also the 25th missed kick in total this week (incl. 12 missed FG), most in a week since Week 11, 1987

— NFL Research (@NFLResearch) October 12, 2021
Not long after the above was tweeted, Blankenship missed a 47-yard field goal attempt on the final play of regulation (the 13th failed field goal of the week), bringing the grand tally to 26 muffed kicks since Thursday.
The influx of misses marks the first week with at least 10 missed field goals and at least 10 missed extra points since the point after touchdown was moved back from the 2-yard line to the 15-yard line in 2015.
It all started when Los Angeles Rams kicker Matt Gay missed an extra point on his team's first touchdown against the Seattle Seahawks during Thursday Night Football. Things went downhill quickly from there.
On Sunday morning, the bad juju continued in London when New York Jets kicker Matt Ammendola missed an extra-point attempt on the Jets' first touchdown of the day in their early loss to the Atlanta Falcons.
Then, on Sunday afternoon, Week 5 caught up with Mason Crosby. The Green Bay Packers' kicker entered the matchup with the Cincinnati Bengals having made 27 straight field goals. Week 5 appeared to take that personally as Crosby missed three crucial field goals and an extra point before eventually making the game-winner.
With Green Bay and Cincinnati tied at 22 with 2:12 left, Crosby shanked a 36-yarder wide left. The Bengals then drove into field goal range for their own go-ahead field goal attempt, but in a shocking turn of events, Evan McPherson's 57-yard attempt also resulted in a miss.
After a quick strike from Aaron Rodgers to Davante Adams, the Packers once again put Crosby in position to be the hero. Conversely, he missed from 51 yards away to send the game into overtime.
WE'RE GOING TO OT IN CINCY.

📺: #GBvsCIN on FOX
📱: NFL app pic.twitter.com/1yeHFK44UP

— NFL (@NFL) October 10, 2021
In overtime, the Packers intercepted Joe Burrow to set up another winning field goal chance for Crosby. To the surprise of absolutely no one reading this, he missed. That gave Cincinnati's McPherson another chance at the game-winner. One that he, too, missed.
It hit the flag?!

📺: #GBvsCIN on FOX
📱: NFL app pic.twitter.com/zeLsexFvwA

— NFL (@NFL) October 10, 2021
Crosby eventually redeemed himself with a 49-yard field goal to give the Packers the win.
But the collective kicking woes hardly stopped there.
The Los Angeles Chargers managed to pull out a win over the Cleveland Browns; however, it was hardly thanks to stellar kicking. Tristan Vizcaino missed a pair of extra points, including one that would have tied the game at 42 after Austin Ekeler took a screen pass to the house with just over three minutes left. Vizcaino has now missed four extra points on the season.
In keeping with the theme, the New England Patriots' close win over the Houston Texans featured three missed extra points in a row. The Texans' Ka'imi Fairbairn missed the PAT on his team's first score, and Patriots kicker Nick Folk answered with a missed PAT of his own on the Patriots' first touchdown. When Houston responded with another touchdown, Fairbairn missed another extra point. You can't make this stuff up, folks.
Elsewhere, Cody Parkey of the New Orleans Saints missed an extra point after a touchdown by Alvin Kamara against the Washington Football Team and Jacksonville Jaguars kicker Matthew Wright missed the extra point on the Jaguars' first touchdown of the day.
Can't help wondering if the word "missed" has ever been used more frequently in a story. Also, on a slightly unrelated note, that things can only get better from here for beleaguered kickers everywhere.
Green Bay Packers QB Aaron Rodgers puts Davante Adams on catch and repeat in win over Bengals – Green Bay Packers Blog
CINCINNATI – Why Davante Adams isn't the highest-paid receiver in the NFL is a question for another day. The one that must be asked after the Green Bay Packers receiver caught pass after pass on Sunday against the Cincinnati Bengals is this:
How does he keep doing this?
Play after play. Game after game. Season after season.
On another day when just about everyone in the stadium knew where Aaron Rodgers wanted to go with the football, another opponent found almost no way to stop him.
• Inside the record Ravens could break on MNF
• Colts GM patient, but fans want wins
• Two INTs caps Slay's memorable week
• Panthers' Darnold must improve under pressure
• Why so many huge days for Packers' Adams?
Adams caught 11 passes for a career-high 206 yards and a touchdown in the Packers' improbable 25-22 overtime victory that included five missed field goals in the final couple of minutes in regulation and overtime. It was the most yards in a game by a Packers receiver in more than seven years and the team's first 200-yard receiving game since Jordy Nelson's 209 against the Jets in Week 2 of 2014.
"I told at least three people outside the building – talking to family, one of my cousins, talking to my wife, I told her — 'I feel like this could be my career high this game,'" Adams said. "So, either I'm clairvoyant or I know what I'm talking about."
Clairvoyance might not be Adams' only psychic ability.
Adams also claimed that during some of his catches he gets the feeling that he's done the same thing before. Like on his 20-yard catch with seconds remaining in regulation to set up a potential game-winning field goal. It reminded him of what happened two weeks earlier in San Francisco, when Adams caught one over the middle to set up Mason Crosby's 51-yard winning field goal. This time, Crosby missed from 51, but …
"I have this thing in games where I have déjà vu during the play," Adams said. "It's like a really weird thing."
So weird that Adams once told fellow Packers receiver Marquez Valdes-Scantling that he thought something was wrong with him.
"I'll catch a ball and as I'm catching a football I'll subconsciously have a quick flashback to something that's happened before," Adams said. "I don't know. It's like some weird 'That's So Raven' s—. But when I get in those moments, it kind of helps me, because I know I've been there before so I turned up field, I started trying to take it all the way, I just didn't know who was on that back side."
But on Sunday's déjà-vu play, Adams still had the presence of mind to snap out of it and realize if he didn't get down, Rodgers might not have time to get everyone set for a clock-stopping spike.
"I decided to get down and give myself up," Adams said. "But obviously we didn't put that one through, but he came through at the end."
It doesn't happen without Adams, who was targeted 16 times (12 more than Rodgers' next-highest-targeted receiver).
The reigning four-time Pro Bowler, Adams last season set the franchise record with 115 catches and tied the team mark for most receiving touchdowns (18) in a season. In the process, he became the first player in NFL history with 100-plus catches and 18 touchdowns.
Sunday was Adams' second double-digit catch game and third triple-digit receiving yards game in the first five weeks of the season. Through Sunday's games, Adams leads all NFL receivers in receptions (42), targets (61) and yards (579).
While Rodgers said Adams rarely does anything that surprises him anymore, they did connect on a deep ball for Adams' season-long catch of 59 yards in the fourth quarter.
"Even when you know that I'm probably going to him, he still finds a way to get open and makes a big catch and breaks a tackle," Rodgers said. "The guy is a special player. We had some coverages we hadn't expected or run those plays against over the last couple of years. Hit that deep ball, hadn't hit that type of reaction on that play since 2009 at Arizona."
Adams wasn't the only one who felt like he was headed for a big day.
"I could feel him early and I could tell," Packers coach Matt LaFleur said. "He's a guy who's hungry for the football and he shows good reason why. He's got people draped all over him and it doesn't matter. He finds a way to do it every time. There's a reason he's got that 99 rating in Madden. He is a baller. I don't think there's anybody better than him. We're fortunate to have him."
Adams said before the season that he deserves to be the NFL's highest-paid receiver. Packers general manager Brian Gutekunst agreed, but they just can't agree on what exactly defines the highest paid.
There's also this: Does Adams want that to happen in Green Bay, where Rodgers' future beyond this season is uncertain?
"It's time to just …" Adams said before stopping himself. "I'm just catching balls now and just having fun. I'm not really thinking about that. That's typically how it goes, but that's not really my main focus when I'm out there."
He's too busy predicting his big games and having déjà vu in the middle of them.
Down 19 points, QB Lamar Jackson rallies Baltimore Ravens to comeback win over Indianapolis Colts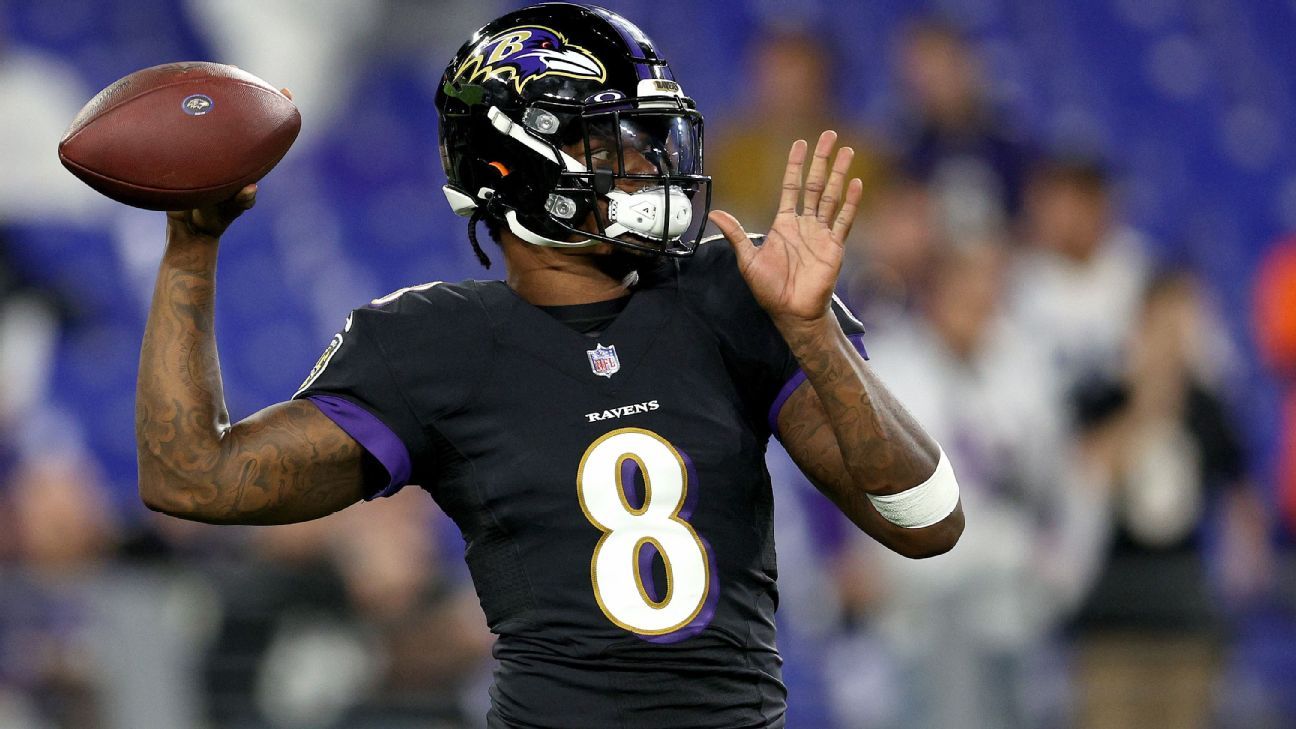 BALTIMORE — The Baltimore Ravens weren't able to set an NFL rushing record but all they will remember is how Lamar Jackson carried them with his arm.
Rallying from 19 points down in the second half, Jackson led the Ravens to an improbable 31-25 comeback win over the Indianapolis Colts. Jackson's 5-yard touchdown pass to Marquise Brown in overtime lifted Baltimore to its fourth straight win.
The Ravens, who were down 22-3 with 3:06 left in the third quarter, completed their biggest comeback under Jackson and coach John Harbaugh. Baltimore had been 0-17 under Harbaugh when trailing by 19 or more points.
Held to 72 yards rushing, the Ravens had their record-tying 100-yard rushing streak end at 43.
"We didn't get it," Jackson said of the rushing streak after the game. "It's all good, we got the victory."
Jackson carried the Ravens with his arm this time, throwing for a career-best 442 yards.
Green Bay Packers coach absolves kicker Mason Crosby of some blame for end-of-game misses
GREEN BAY, Wis. — A day after Mason Crosby missed three potential game-winning field goals before finally sealing the victory on his fourth try, coach Matt LaFleur absolved the 37-year-old kicker of some of the blame.
"I think there's just some things that we absolutely need to clean up just from an operation standpoint," LaFleur said Monday of the Packers' overtime win at the Cincinnati Bengals. "You can't put all of that on Mason. I thought there's some areas that we have to make sure we get corrected, and we will."
In the special teams world, "operation" is code for snap, hold and protection.
Long-snapper Hunter Bradley has struggled with snap accuracy. Holder Corey Bojorquez is new this season and there have been protection issues — a near block on the game-winning field goal in Week 3 and a block that was called back by a penalty in Week 4.
"I'm not going to throw anybody under the bus, so I'm not going to expand on that," LaFleur said. "Sorry, you're going to have to watch the tape, evaluate it yourself and come up with your own conclusions there."
Crosby on Sunday said he's his own harshest critic and would fix whatever went wrong. He had made 27 consecutive regular-season field goals, including his first three Sunday against the Bengals. He then missed from 36 yards with 2:12 left in regulation, from 51 on the final play of regulation and from 40 after Packers linebacker De'Vondre Campbell intercepted Joe Burrow on the first play of overtime.
Bengals rookie kicker Evan McPherson hit the right upright and missed from 57 yards with 21 seconds left in regulation and then missed from 49 after Crosby's first overtime miss.
Crosby, the team's career scoring leader, finally ended it when he made a 49-yard field goal with 1:55 left in overtime.
"All I can think about is that last kick right now," Crosby said. "You see the faces of your teammates and what those guys put on the line to continue to get in that position. I just want to come through for them. Everyone has all the faith in the world in me, and I have all the faith in the world that I'm going to keep getting those ops.
"I'm so happy I was able to come through there at the end, and I'm going to celebrate it. I'm a realist and I'm honest with myself and I'm probably my harshest critic, so I'm going to make sure that I do what I can and we'll clean up anything on the other side if there are any operation or protection or things like that. Up front, we moved some guys around and the protection seemed really great all day."
The Packers don't just have field goal operation problems to worry about. They may have lost another cornerback. Kevin King couldn't finish Sunday's game because of a shoulder injury apparently aggravated further on a collision with Bengals receiver Tyler Boyd in the third quarter.
"He was playing a lot of that game or part of that game with basically one arm," LaFleur said of King, who has a history of shoulder injuries. "So I thought he competed well and was playing really, really well."
Last week, the Packers lost All-Pro cornerback Jaire Alexander, also to a shoulder injury. He was placed on injured reserve with the hope that he can return at some point this season.
The Packers could be without two of their top three cornerbacks for Sunday's game at the Chicago Bears. Rookie Eric Stokes, Isaac Yiadom and Chandon Sullivan finished the game against the Bengals as the team's top three cornerbacks. The Packers also signed cornerback Rasul Douglas off Arizona's practice squad last week, but he was inactive against Cincinnati.