MLB playoffs 2021 – Why Braves slugger Joc Pederson has former Cubs teammate Anthony Rizzo to thank for his NLDS heroics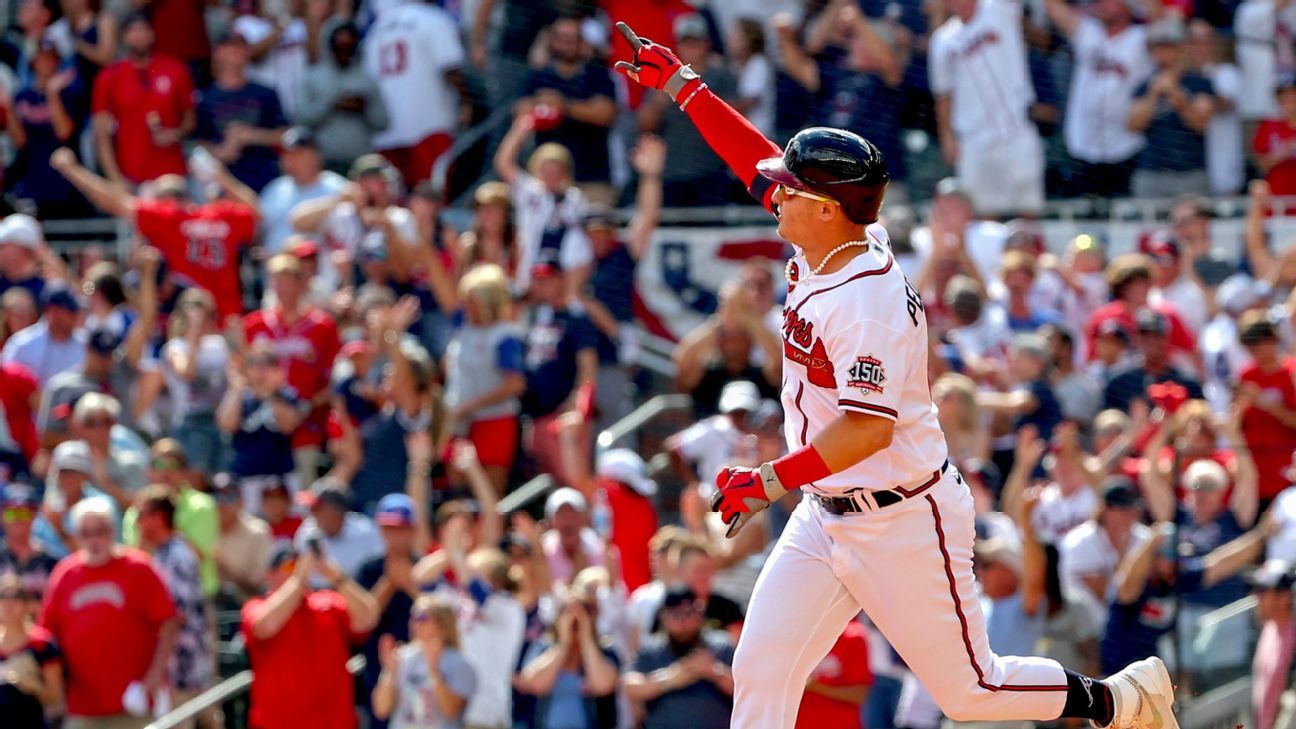 For a team that lost 91 games, the Chicago Cubs are having quite an impact on the 2021 MLB playoffs.
Everywhere you look, some recent ex-Cub is turning up as the latest October hero. The trend reached a ridiculous proportion with Monday's National League Division Series contest between the Atlanta Braves and Milwaukee Brewers.
In the bottom of the fifth, Braves pinch hitter Joc Pederson became just the third player to hit two pinch-hit homers in the same postseason, belting a three-run jack off Milwaukee righty Adrian Houser that accounted for all the scoring in the Braves' 3-0 win.
As you either already know or no doubt have guessed, Pederson is a very recent ex-Cub, having been acquired from Chicago by Atlanta in mid-July for a prospect. Oh, but there's more: The bat Pederson used to hit the game-turning bomb was one he "stole" from former Chicago teammate Anthony Rizzo.
Joc Pederson was using Anthony Rizzo's bat for that home run! pic.twitter.com/jnlS4L2f9N

— Talkin' Baseball (@TalkinBaseball_) October 11, 2021
Cameras during the broadcast caught Rizzo's name on Pederson's lumber. Asked about it during his on-field interview after the game, Pederson told TBS, "I stole it from him when we were in Chicago. He's got a lot of hits in it. So, thanks, Big Horn."
So Rizzo didn't know?
"He just texted me," Pederson said with a shrug. "Yeah, we'll see."
According to NBC Sports Chicago, Pederson first "borrowed" the bat — or at least a Rizzo model bat — back in May, when he rang out three hits in a loss to the Cleveland Indians.
Borrowing a teammate's bat isn't particularly unusual in the big leagues nor is continuing to use it if it works. But taking it beyond state lines and to another franchise? That might be a new tradition.
It was Rizzo who helped get the ex-Cub home run parade off to a grand start this October, homering for the New York Yankees in a wild-card game loss at the Boston Red Sox. Rizzo's shot came three innings after another recent former Cub — Kyle Schwarber — went deep for the Red Sox.
And so it has gone in October: Rizzo is done, but his bat is not. Pederson has now hit two pinch-hit homers in Atlanta's series against the Brewers, both off Houser. He is the first player to hit two pinch-hit bombs off the same pitcher in the same postseason.
No one has hit three career postseason pinch-hit homers. Even Pederson was impressed.
"Yeah, I guess I'm just a pretty good player, I don't know," Pederson deadpanned to reporters after Monday's victory. "Just knocked it out of the yard."
The key blow continues to put a fresh 21st-century spin on the old Ex-Cub Factor mythology. For decades, it was a trope around baseball that a team could not win a World Series if it had at least three former Cubs on the roster.
Now, in 2021, it seems you can't get to the World Series without some fresh former Cub around to help. Rizzo, Pederson (twice), Schwarber (twice) and San Francisco's Kris Bryant have all gone deep so far in the playoffs.
At the time of this writing, that means six of the 33 homers this postseason have been hit by batters who played for the Cubs either this season or last. Those four players have combined to hit .433 with a 1.033 slugging percentage.
The lesson is clear: In 2021 baseball mythology, if you want to win, you must have a former Cub. Failing that, swipe some equipment. Better yet, as in the case of Pederson and the Braves, try to get both.
Follow live: Red Sox look to stay hot, take control of ALCS
Houston Astros start rookie Jose Siri in center field for Game 3 of ALCS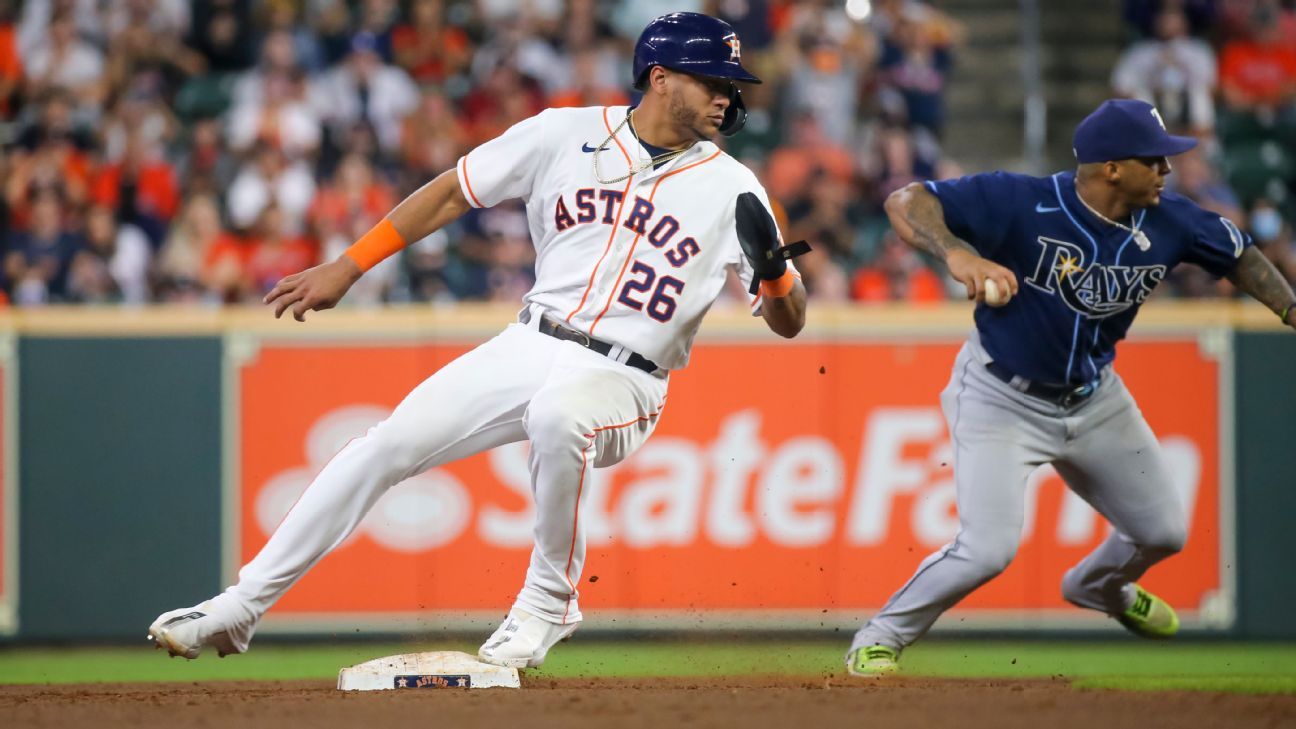 BOSTON — The Houston Astros are starting rookie Jose Siri in center field over Chas McCormick for Game 3 of their ALCS matchup against the Boston Red Sox on Monday night.
"He can cover the ground, and he can also throw to stop you from scoring on the double from first base [and] limit triples," manager Dusty Baker said Monday afternoon. "He throws better than McCormick and [Jake] Meyers, who is not quite ready."
Siri, 26, played 21 games for the Astros this year including five starts in center. He will bat eighth in Monday's lineup.
It might be Siri's lone start as Meyers is close to returning after suffering a shoulder injury attempting to catch a ball over the outfield wall against the Chicago White Sox in the ALDS.
"He is doing a lot better," Baker stated. "He could probably get a start in these next two days, maybe as early as tomorrow [Tuesday]. Every day is important when you are fighting an injury."
Game 3 will be Siri's first at Fenway Park in his career.
"My first time playing in the postseason in the big leagues and to do it in center field at Fenway Park, it means a lot to me, and I'm really excited about it," Siri said through a translator. "It's a big center field, very deep. A lot of room to maneuver. I think I have an opportunity to make some good plays out there in center."
Siri hit .304 with four home runs in 46 at-bats for the Astros this season.
Carter Hawkins introduced as Chicago Cubs GM after 14 seasons with Cleveland Indians
CHICAGO — Carter Hawkins was part of Cleveland's front office when the Indians lost to the Chicago Cubs in the 2016 World Series. He vividly remembers being on the team bus for the trip to the airport after Game 5.
"We're just inching along, just barely going anywhere. There's people everywhere," Hawkins recalled, "and all I could hear was 'Go Cubs Go' over and over and over and over."
Now he wants to sing along with those same fans in October.
The 37-year-old Hawkins was formally introduced as the Cubs' new general manager on Monday, stepping into a position that had been open since Jed Hoyer was promoted to president of baseball operations almost a year ago.
Hoyer, who took over the top job after Theo Epstein stepped down, put off the GM search because of the COVID-19 pandemic. He also wanted to empower the rest of his front office.
When he started to begin his search in earnest, he said Hawkins' name came up repeatedly as he made calls around the league.
"As we started talking on the phone during this process and then as we moved to formal interviews, it became clear to me how he built such a sterling reputation," Hoyer said. "He spoke with clarity and conviction about leadership, employee development, organizational alignment and team building.
"The breadth of our conversation was really remarkable and really showed his preparation for all aspects of the GM job today."
The conversations between Hoyer and Hawkins included a dinner that lasted approximately five hours and watching this year's AL Wild Card game — an experience Hawkins compared to the Manning brothers' broadcast for Monday Night Football.
"It was very comfortable from the get-go," Hawkins said.
Hawkins comes to Chicago after 14 seasons with Cleveland, including the last five as an assistant general manager. He also supervised the team's player development department.
While the Cubs have struggled with developing their young pitchers, the Indians have flourished.
Cleveland ace Shane Bieber, a fourth-round pick in the 2016 amateur draft, won the AL Cy Young Award last year. Aaron Civale, a third-rounder in 2016, went 12-5 with a 3.84 ERA in 21 starts this season. Zach Plesac and Triston McKenzie also have had some positive moments.
"You're not going to hire a GM based on a couple guys they've developed, but certainly their ability to develop pitching has been remarkable," Hoyer said.
Hawkins played college baseball at Vanderbilt and started working for Cleveland in 2008 as an advance scouting intern. As he worked his way up with the Indians, general manager Mike Chernoff said Hawkins had a "huge impact" on their player development process.
"I think we've all seen in the game, the evolution of player development has been really, really fast and dynamic over the past 10 years," Chernoff told the AP, "and Carter's been able to help lead the group through that, especially with the more information and technology that we have now to kind of quantify development in ways that we couldn't in the past.
"He's helped to weave that into a system that was very much process-based, but not necessarily analytically based, and to tie that together with just great coaching."
Chernoff called Hawkins "a really incredible solid person."
"I mean that's probably his greatest strength, is just the interpersonal relationships that he builds, the way that he can connect with a lot of different people with diverse backgrounds and skillsets and really bring people together," Chernoff said.
Next up for Hawkins is helping Hoyer rebuild Chicago after it went 71-91 this season for the club's worst record since it went 66-96 in 2013. It had a string of six consecutive winning seasons before faltering this year.
Longtime stars Javier Báez, Kris Bryant and Anthony Rizzo were traded away in July.
Pitching likely will be the team's top priority over the winter. The Cubs had a 4.87 team ERA in 2021, ranking 27th in the majors.
"What Jed and Theo started to put together roughly 10 years ago today has raised the bar in Chicago for baseball to an incredibly high level," Hawkins said. "The challenge is how do we raise it even further, and that is a difficult challenge, but one I'm eager to take on."