McLaren tyre call, bad pit stop costs team
McLaren's honeymoon was well and truly ended at the Russian Grand Prix as the cruel side of F1 showed its fangs once more, biting both Lando Norris and Daniel Ricciardo in separate incidents.
Ricciardo's podium hopes went up in smoke in Sochi over a botched pit stop.
But that was overshadowed by Norris' own misfortune, which resulted in pointed remarks to his team over a crucial strategy error that saw him spin out of the lead with two laps remaining.
Stream Every Practice, Qualifier & Race of the 2021 FIA Formula One World Championship™ Live & On-Demand on Kayo. New to Kayo? Start Your Free Trial >
'SPORTING TRAGEDY': Bold gamble costs star, Ricciardo burned by pit disaster in F1 madness
Did misinformation cost Norris? | 00:31
Norris held the lead over Mercedes' Lewis Hamilton having resisting team orders to stop for intermediates, despite rain intensifying.
It proved to be the wrong call as he sensationally spun out on Lap 51 to hand Hamilton the win, and finish seventh.
The result sent McLaren crashing back down to earth after claiming a rare one-to finish at Monza two weeks earlier.
Norris said he was "devastated" by the result, and admitted that it was him, not the team, that ultimately made the wrong call.
"It was more that they thought I should box and I decided to stay out. It was my decision, I thought it was the way to go," Norris told Sky Sports F1.
But Norris' tune later changed, questioning why Mercedes had better knowledge over his own team about what the weather was going to do.
"I made my decisions and they told me it was only going to be drizzling like it was for those first five laps, but it rained a lot more," he said.
Ricciardo: It was a clear decision | 01:04
"That's something we didn't know for some reason, Mercedes seemed to know it was going to rain a lot more, it's something I'll talk to the team about.
"At that point in time, and from what the team was telling me, I made the right decision. They weren't telling me that it was going to rain a lot more and the slick tyre wasn't going to be the one to be on.
"At that point it wasn't a risk, we were making a correct decision, but for some reason not seeing the rain or not knowing it was going to get a lot harder was the thing that caught us out."
"(The decision) was wrong at the end of the day but everything until then the guys did an excellent job. I'm happy with everything apart from that one decision which we'll review and try not to make again."
Hamilton claims 100th F1 victory | 00:36
Hamilton was overheard in the media pen telling Norris that he didn't want to pit either but eventually took his medicine and obeyed team orders at the second time of asking.
It was the right call that spoke in volumes about both Hamilton's experience, and the trust he has in the team that's helped him to six world titles.
"Lando, you didn't want to come in? Me neither, I was like 'he's right there'," Hamilton was heard saying to Norris, before praising his team for pushing him to stop.
McLaren team boss Andreas Seidl accepted some responsibility for the result, but made suggestive remarks over Norris' decision to ignore calls to pit.
"Of course we are disappointed, he's very disappointed at the moment, but that's part of the sport we are in," Seidl said. "In hindsight it's always easy to judge what we could have done different, what he could have done different.
"In the end we didn't get it together as a team – it was the wrong decision to stay out – but again it's part of the sport."
The team had been on cloud nine heading to Sochi after Ricciardo claimed the team's first win since 2012 at Monza, where Norris finished second.
A wet and wild qualifying then saw the normal order shaken up again with Norris on pole and Ricciardo in fifth, albeit with a strong chance to gain positions with Williams' George Russell and Ferrari's Carlos Sainz ahead of him.
Ricciardo's 'knife in my back' moment | 00:50
Ricciardo ran as high as second place having successfully defended Hamilton for several laps. He then pitted on Lap 23, hoping for a smooth change that would give him a chance to fight for a podium in the race's second half.
But a slow stop, due to issues with the front left tyre, lay waste to those hopes, putting him back out in P14 in a result Sky Sports' Paul di Resta called a "nightmare".
Ricciardo showed his class by regaining positions over George Williams, Esteban Ocon, Lance Stroll and Sebastian Vettel after his first pit stop.
The only negative was Red Bull's Sergio Perez passing him, although Ricciardo was able to gain the spot back and only finished behind Hamilton, Verstappen and Carlos Sainz.
"Very mature drive by Ricciardo as well isn't it? Showing his class," di Resta said.
"Maybe not ultimately getting the speed out of the car but when it comes to wheel-to-wheel racing, he's kind of getting back in the same zone as where he was last year.
"I'd say he's the third best on the track next to Hamilton and Verstappen."
Commentator David Croft added: "Form is temporary, class is permanent and Daniel Ricciardo certainly has plenty of class."
'FOR ME, IT WAS C'EAR'
Asked after the race for his thoughts on stopping for wet tyres, Ricciardo said he felt it was a clear-cut decision.
"I speak purely on my race and my feeling … it was the far part (of the track) that was wet and we (the drivers, not the engineers) are the best reference for that," Ricciardo told Sky Sports.
"I said, 'Turn 5, Turn 7 I can't keep it on the track anymore'. So for me it was clear, I said, 'I need to come in for the inter'.
"Turn 7 I went off close to the wall, so it wasn't even a question for me.
"Normally we are the best judge for that because we're the one feeling the track, but again, I'm not speaking about Lando's situation but for me it was clear."
Seidl was still full of praise for Norris and said the experience will serve the Briton better in the long run.
"That's why we need to, of course, analyse together with him what we could have done better today and learn from it – but then at the same time I think it's also important to see all the positives from this weekend, also on his side, and come back stronger in Turkey," Seidl said.
V8 Supercars news 2022 season, Newcastle, dates, March 4 6, start time, when, calendar
Supercars has announced it will officially begin the 2022 season on the streets of Newcastle, bringing the race back to the city for the first time since 2019.
Next year's season will kick off on the weekend of March 4-6 at the location where the 2018 and 2019 season finales were held.
"We're thrilled to have locked in our 2022 Championship opener as a return to the stunning Newcastle Street Circuit," Supercars CEO Sean Seamer said.
Stream Every Practice, Qualifier & Race of the 2021 Repco Supercars Championship Live & On-Demand on Kayo. New to Kayo? Start Your Free Trial >
"The spectacular shots of Supercars racing on the CBD street circuit have become images that are embedded into the minds of tens of millions of motor racing fans around the world.
"Newcastle has established itself as one of the most popular stops on the Supercars calendar with both fans and drivers and we look forward to seeing as many familiar faces as possible trackside in March."
The Newcastle 500 is the only event of the 2022 season to so far have a confirmed date, with further details regarding the rest of the calendar to be released over the coming weeks.
Daniel Ricciardo radio call exposes Lando Norris at Russian Grand Prix
Newly-released exchanges from McLaren's team radio during the Russian Grand Prix have revealed a stark contrast in strategy and temperament between Lando Norris and teammate Daniel Ricciardo.
Norris had appeared on course for his maiden F1 win before rain started falling on the track at Sochi, causing his race to end in tragedy when he opted to stay on slick tyres too long before switching to intermediate tyres.
Stream Every Practice, Qualifier & Race of the 2021 FIA Formula One World Championship™ Live & On-Demand on Kayo. New to Kayo? Start Your Free Trial >
With seven-time world champion Lewis Hamilton hot on his heels, Norris was desperate to conserve his lead and avoid taking a pit stop, but that plan fell apart when he struggled to control his car as the rain got heavier.
Unable to drive smoothly on the track, the young Brit didn't pit until lap 51, resulting in him falling from first to seventh as Hamilton claimed his 100th Grand Prix victory.
In contrast, Ricciardo opted to pit much earlier on lap 48 and change to wet weather friendly tyres.
The decision was a wise one as the Australian passed a couple of drivers to finish fourth in another solid result.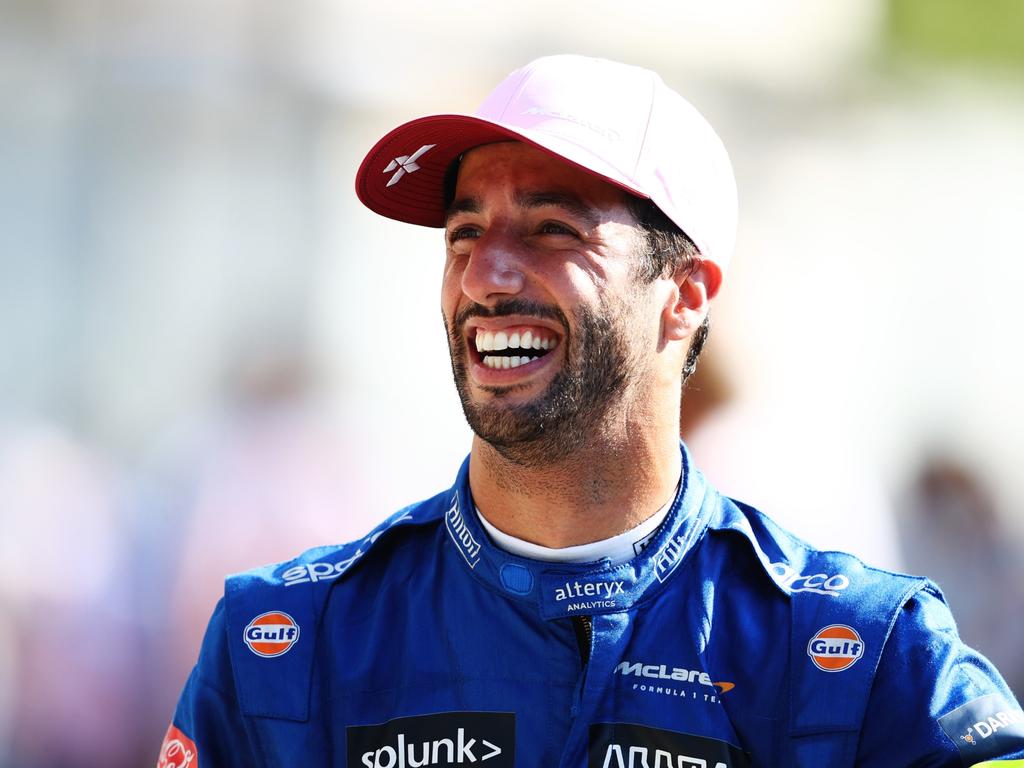 Although Norris and Ricciardo were in different situations in the race and on different parts of the track when it started to rain, radio messages from lap 46 show Ricciardo dealt with the chaotic situation much better.
"Yeah, very slippery," Ricciardo said on lap 47.
"Yeah, crazy slippery," he said a lap later.
"Daniel copy, five laps (to go in the race) after this, do we need the inter?" Ricciardo's race engineer Tom Stallard asked.
Ricciardo: "Yeah. I can't keep it on track. The hard (tyre) has just got no temp."
Stallard: "Copy, Daniel. We'll box, we'll box."
While Ricciardo quickly decided to change to intermediate tyres, Norris snapped at his McLaren engineer Will Joseph for suggesting he ditch the slick tyres.
"Four (laps) to go after this one, four after this one," Joseph said. "Some cars have pitted for inter. (Mercedes' Valtteri) Bottas has gone already.
"Track very slippery from here to turn 10. Lots of cars going off."
"Yeah. Shut up!" Norris retorted.
Joseph persisted with the idea but his driver wasn't having any of it.
"Lando, what do you think about inter? What do you think about inter?" he said.
"No!" Norris fired back.
Joseph then told Norris second-placed Hamilton had pitted to change tyres on lap 50.
"Okay, Lando, Hamilton has taken it," Joseph said. "He's gone to inter."
"Yes, I see, I see," a sassy Norris replied. "We've just got to commit to slicks."
Over the next few laps, the 21-year-old realised he had made the wrong call as he lost complete control of the car in the wet conditions on lap 51.
"This f***ing … It's full wet, boys," he said. "I've got to box. I'm going to shunt. I can't do this."
Speaking after the race, Ricciardo said he believed it is up to the drivers themselves to make the final decision on whether or not to switch tyres in the rain.
"My situation is that when some of the track's dry and some of it's wet, it really has to be us (that decides)," he said.
"The team can help us on pit wall and they were saying there's a bit of rain on pit wall, but not too heavy.
"Then I was saying, 'Look, it's really wet turn five and seven'. And that next lap I nearly went off (the track). Well, I did go off.
"So I just told the team I need to come in for inters. I was very black and white with them, but that was my situation and that was the right thing for me at the time."
Ricciardo's calm and collected approach paid off significantly, as he backed up his win at the Italian Grand Prix with another solid top-five finish.
Norris, however, has expressed his frustrations his team didn't give him firmer instructions to pit earlier.
"I didn't know there was going to be a lot, lot more rain," he told The Race. "And there's no way of me knowing unless they tell me there's going to be a lot more rain, which they didn't.
"I decided to stay out because the team said it was only meant to be drizzling like that and that's as hard as the rain was going to get.
"For whatever reason, we didn't know or see or anticipate that it was not just going to be a drizzle, it was going to be a lot of rain. And that's where we went wrong at the end of the day."
The F1 season resumes at the Turkish Grand Prix on Monday 11 October (AEST).
F1 2021, Qatar Grand Prix, Losail International Circuit, date, schedule, 2023 ten year deal, human rights, sportswashing
Qatar will hold its first ever Formula One Grand Prix in November replacing the cancelled Australian GP, organisers announced on Friday.
The race will take place at the Losail International Circuit north of Doha on November 21 and will form the first part of a Middle Eastern ending to the Formula One season as it will be followed by races in Saudi Arabia and the season-ending Abu Dhabi Grand Prix.
Qatar has also signed a 10-year deal to host Formula One from 2023.
The Australian GP, traditionally a season-opener, was moved towards the end of the season in a bid to ensure it could go ahead in the light of Covid-19 restrictions. In spite of that, it was cancelled for a second year running.
Watch the world's best footballers every week with beIN SPORTS on Kayo. LIVE coverage from LaLiga, Bundesliga, Ligue 1, Serie A, Carabao Cup, EFL & SPFL. New to Kayo? Start Your Free Trial >
"We are very pleased to welcome Qatar to the Formula 1 calendar this season and for the longer term from 2023," said F1 President and CEO Stefano Domenicali.
"We have shown that we can continue to adapt and there is huge interest in our sport and the hope from many locations to have a Grand Prix.
"The huge effort from all the teams, F1 and the FIA has made it possible to deliver a 22 race calendar, something that is very impressive during a challenging year and something we can all be proud of."
The Losail Circuit opened in 2004 and has hosted Moto GP since then, under floodlights which will also be used for the Grand Prix.
In its statement, F1 said it would confirm the venue for the race in Qatar from 2023 onward at a later date, suggesting a possible change from Losail.
It is the latest sporting coup for gas-rich Qatar, which will host the football World Cup in 2022.
The decision has been met with backlash from Amnesty International over human rights issues in Qatar.
A spokesperson for the organisation told Sportsmail in a statement: "It's no secret that rich countries in the Middle East see top-level sport as a means to rebrand and sportswash their images, and a Grand Prix in Qatar would be more of the same.
'Shut up!' – Lando gets feisty on radio | 00:40
"Qatar's human rights record is extremely troubling – from the country's longstanding mistreatment of migrant workers, to its curbs on free speech and its criminalisation of same-sex relations.
"Formula One should insist that all contracts pertaining to this race contain stringent labour standards across all supply chains."
Formula One told the publication in response that they take their responsibilities 'very seriously'.
"For decades Formula 1 has worked hard be a positive force everywhere it races, including economic, social, and cultural benefits," F1 said in a statement.
"Sports like Formula 1 are uniquely positioned to cross borders and cultures to bring countries and communities together to share the passion and excitement of incredible competition and achievement.
"We take our responsibilities very seriously and have made our position on rights clear to all our partners and host countries who commit to respect our responsibilities in the way their events are hosted and delivered."