MCL sprain to sideline Kansas City Chiefs RB Clyde Edwards-Helaire 'a few weeks,' source says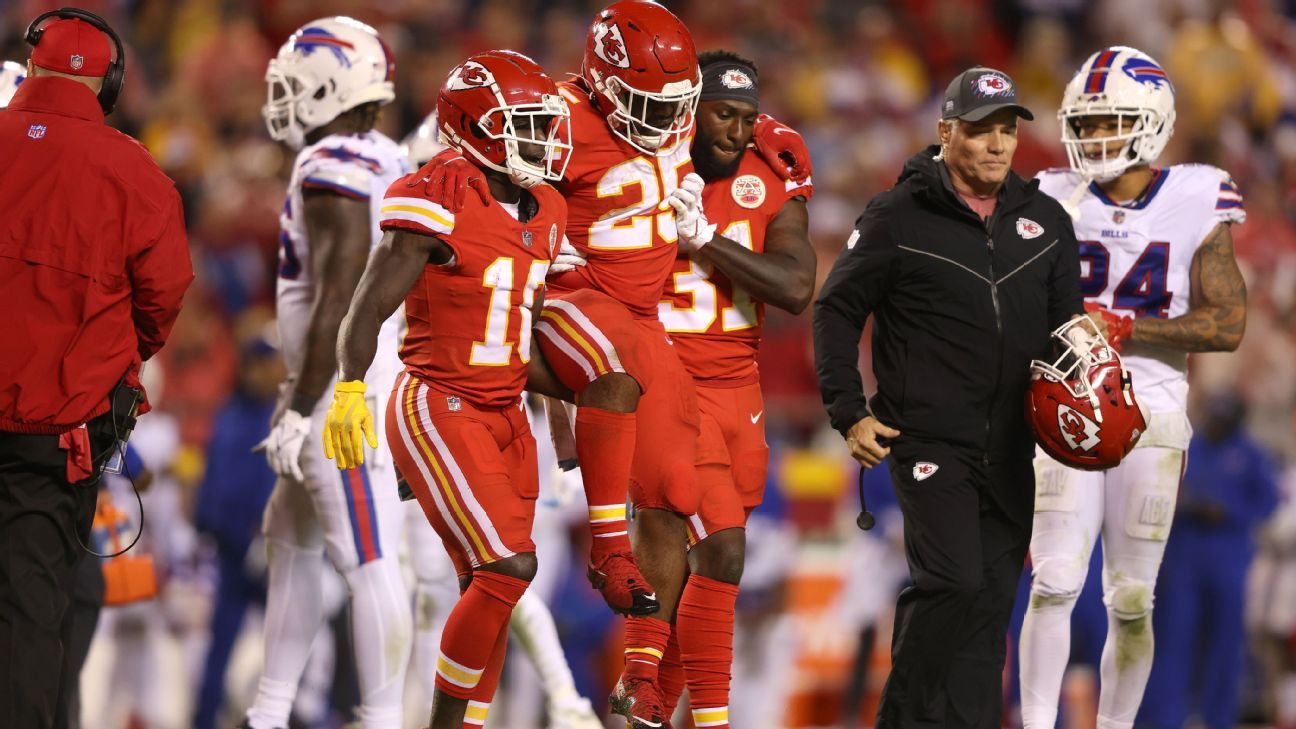 KANSAS CITY, Mo. — Running back Clyde Edwards-Helaire sprained the MCL in his left knee and will be out of the Kansas City Chiefs lineup for "a few weeks," a source told ESPN's Adam Schefter.
In addition, Chiefs wide receiver Tyreek Hill suffered a minor knee injury on Sunday night, but the team does not expect him to miss time, a source told Schefter.
Edwards-Helaire injured the knee in the third quarter of Sunday night's 38-20 loss to the Buffalo Bills.
He was helped off the field by teammates after getting tackled following a screen pass with 8:08 remaining in the third quarter. He finished with 13 yards on seven carries and one catch for 11 yards after back-to-back 100-yard rushing games.
He is the Chiefs' leading rusher with 304 yards through the first five games.
Veterans Darrel Williams and Jerick McKinnon are the Chiefs' backup running backs. Williams has rushed for 99 yards and two touchdowns and caught seven passes for 45 yards this season. McKinnon has one carry for two yards and three catches for 27 yards.
Sunday night's loss dropped the Chiefs to 2-3 on the season.
Arizona Cardinals' J.J. Watt says he's won't be facing same Texans 'I remember' on Sunday
TEMPE, Ariz. — When Arizona Cardinals defensive lineman J.J. Watt looks across the line of scrimmage this Sunday and sees the Houston Texans' uniforms and helmets, he'll be reminded of the memories made during 10 seasons with his former team, the playoff games won and AFC South division banners hanging inside NRG Stadium.
But that's where the emotion of facing the only team he played for until this season will end.
"There's obviously something more to it," Watt said Thursday. "I don't think that it's what people may think it is because, I mean, you look at the roster and you look at the guys that are there, I mean it's been so massively turned over that there's only a handful of guys that are even there from last year that I played with.
"So, it's not like, I'm like, 'Oh, I want to go and beat my old team' or 'Oh, I can't wait to face this guy,' because it's not the same team. It's not the same organization that I remember and that I was a part of."
That's a large part of why Watt asked for his release from Houston back in February, he told the Houston media during a conference call Thursday morning. Watt said he expected Houston's roster to be turned over like it has as well as the lack of success that's resulted from it.
He barely recognizes the roster anymore, he said.
"There's so many guys I don't know," Watt said.
After 10 seasons, four division championships, helping the franchise win its first playoff game all while winning three Defensive Player of the Year awards and being named the 2017 NFL Walter Payton Man of the Year, it pains Watt to see the Texans in this current state of disrepair.
"That's why it hurts me to see where it is now, because I believe those fans deserve to be living those high times and to be experiencing those great moments and it hurts to know that they're not, and to know that they're struggling," Watt said. "So, I hope that they get back there at some point and I hope that they get to do that because I know firsthand it's an unbelievable place to play when you're rolling."
Watt said once the game starts Sunday, it'll be just like any other game as the Cardinals look to improve on their 6-0 record with a short week coming up before hosting the Green Bay Packers on "Thursday Night Football."
Watt hasn't parted ways with all his "thousands of pieces" of Texans gear, and it sounds like he probably won't. However, he estimated, with a smile, that about half of Pewaukee, Wisconsin, his hometown, may be dressed in Texans clothing. That's starting to change to Cardinals red, he added.
"I mean there's 10 years of my life and there's 10 years of relationships," Watt said, "so it's not like I just chucked all my Houston stuff."
And, yes, Watt said he has "a couple of big friends" who fit into his clothes.
Seeing the Texans' blue, white and red uniform across from him Sunday at State Farm Stadium will be different, Watt said — just like studying film all week has been.
"When I turn on the film this week and I watch the games and you're looking at NRG Stadium, for 10 years, I've looked at that film and I've been watching the team in blue and white," Watt said. "And now I'm watching it from the other perspective and I'm studying those guys, so it is, it's definitely different. "But I don't think I'm going to forget which guy I'm supposed to tackle, if that's what you're asking."
ESPN Texans reporter Sarah Barshop contributed to this report.
Joe Judge accepts blame for New York Giants' struggles, says 'the fish stinks from the head down'
EAST RUTHERFORD, N.J. — New York Giants coach Joe Judge isn't putting the blame elsewhere for his team's 1-5 start — he's looking right in the mirror.
"There's your answer. I'm the head coach. It's my responsibility, point blank," Judge said Thursday. "Every player on this field, every position group, the execution, it all comes down to me. The fish stinks from the head down.
"I've been taught that from great guys who I worked for, played for. There are no excuses, no exceptions. You demand it from your coaches to make sure that the player are playing the right way. You demand it of the players to know what to do and then go out there to do it.
"But it starts with me and ends with me."
The Giants have dropped their last two games and are coming off a 38-11 demolition last Sunday at the hands of the Los Angeles Rams. They've lost all three of their home games this season by a combined score of 82-38.
Judge, who is 7-15 since taking over as head coach, insists he's not feeling the pressure.
"To me, the only time you really feel any kind of pressure and nerves is when you're unprepared," he said. "If you're prepared and you go through the tasks and process at hand and you're consistent with it, then you go in with confidence.
"That is what we preach to our guys. We come out here and practice every week, prepare a certain way every week. We have to go out there better and execute better to have the results that we want."
Judge has vowed that the Giants, who spent big in free agency to upgrade the roster this offseason, will turn it around.
"This is definitely going to get better, so there you go," Judge said earlier this week. "I don't know what kind of guarantee [the fans] want, but I can assure everyone out there that's a Giants fan and they want to know when it's going to turn, I can tell them right now we're working tirelessly to make sure we get this thing turned around in the right direction, not just for short-term results, but for long-term success."
Turning around their season will not be easy for the banged-up Giants heading into their home matchup Sunday with the Carolina Panthers. Star running back Saquon Barkley (ankle) and wide receivers Kenny Golladay (knee) and Kadarius Toney (ankle) were not at practice again Thursday, while starting left tackle Andrew Thomas (foot/ankle) went on injured reserve earlier this week.
Judge said Barkley, Golladay and Toney "all made progress" on Wednesday, and the team would see if they can get on the field by Friday. It still seems highly unlikely any of Barkley, Golladay or Toney would play against the Panthers. Sources told ESPN earlier in the week it was "doubtful" that Barkley and Golladay, who both were out against the Rams, would be return this week.
Judge has refused to use the injuries as an excuse and has been adamant about focusing on the process and daily grind. It seems to have been well-received in the building.
"Joe's our leader. We all look to our leader for strength. He's done a hell of a job I think of keeping the team moving forward," special teams coordinator Thomas McGaughey said.
McGaughey later added: "Joe is a tough guy. Joe is mentally tough and he's doing a great job with our team as far as the leadership part of it. Keeps expressing to focus on the task at hand, and that is to win today. You don't have a chance on Sunday if you don't win today. So we're focusing on right now being where our feet are."
Cleveland Browns activate WR Jarvis Landry from IR ahead of game vs. Denver Broncos
CLEVELAND — The Cleveland Browns have activated Jarvis Landry off injured reserve, clearing the way for the Pro Bowl wide receiver to return for Thursday night's game against the Denver Broncos.
Landry missed the last three games with an MCL sprain in his left knee. He suffered the injury on Sept. 19 on the opening drive against the Houston Texans.
Landry, who has 80 yards receiving on six catches this season, should provide an immediate boost to a battered Cleveland offense.
Against the Broncos, the Browns will be without starting quarterback Baker Mayfield (non-throwing left shoulder) and running backs Nick Chubb (calf) and Kareem Hunt (calf) due to injuries. Wideout Odell Beckham Jr. (shoulder) is questionable to play, as well.