Matildas captain Sam Kerr and her teammates defend national team after Lisa De Vanna allegations
Matildas captain Sam Kerr has declared the national team a "safe haven" as the players defend the group's culture in the wake of damning allegations from former star Lisa De Vanna.
Kerr was one of 15 current Matildas who expressed their empathy for De Vanna who went public with historic allegations of bullying and a "toxic culture".
But they declared the Matildas were a "second family" and "like home" as Football Australia, the PFA and Sport Integrity Australia launched investigations into the allegations.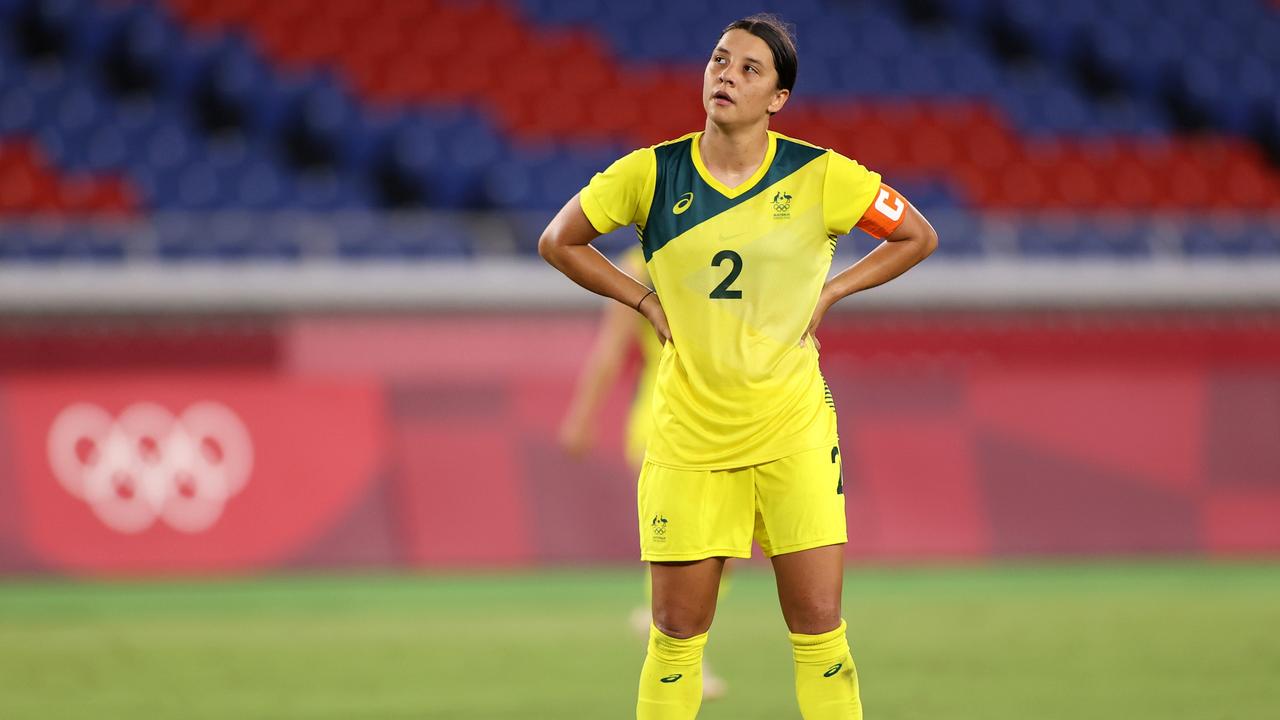 "I have been a part of this team for 12 amazing years, from 15 years old to now. Throughout my career the Matildas have been a safe haven for me and allowed me to grow into the player and person I am today," Kerr said.
"I count myself lucky to be a part of this amazing group of athletes and people."
As a collective, the players said they acknowledged the "seriousness of Lisa's allegations about the past" but said the Matildas, who made a stunning run to the bronze medal match at the Tokyo Olympics, had a "strong professional, inclusive and supportive culture".
"We empathise with her for not feeling like she could come forth earlier," the player statement said.
"We will work with Football Australia, the PFA and Sport Integrity Australia to ensure that all current and future players feel comfortable, safe and able to report instances of inappropriate behaviour in a timely manner. There must also be a trusted process to deal with these complaints.
"We all – from our most capped players to our most recently capped – would like to reassure to our fans, family and friends that today we have a strong professional, inclusive and supportive culture that does not condone any of the behaviour mentioned within the numerous media articles about historical incidents. Our strong leadership ensures our cultural norms are appropriate for today's professional sporting environment.
"As a group, we represent the values reflective of Australia and that includes acceptance and inclusivity, regardless of sexuality, ethnicity or culture. It was disappointing to observe conversations inferring the group is not accepting of differences, especially given the diversity that exists within our current leadership group on all those fronts, let alone across the broader team.
"We would also like to reiterate the professional standards that surround the current team today. Women's football has dramatically grown in recent years and so has our professionalism and standards.
"As a team, we have spoken at length about the allegations and are all hurt by what has occurred. We hold this team close to our hearts and, for many, this team has been a safe haven. It has given us strength and purpose throughout our careers.
"We are together like a family in this, from our oldest to our youngest player, and the difficulties we've faced in the last week have only made us stronger as a group.
"We stand supportive of athletes who are able to come forward and report instances of inappropriate behaviour in their respective environments, and therefore welcome an independent review into this matter."
Personal statements form the players:
"I am in full support of this collective statement together with my teammates. The Matildas have been my second family and safe place for over a decade, and we, as a full inclusive team, will always stand for and with each other." – Mackenzie Arnold
"I support the collective team statement. The current Matildas environment is one that allows individual players to strive for their personal best within the team setting." – Ellie Carpenter
"The Matildas have always been a second family to me. I have spent more time with these players and these staff members than I have with my own family at times, and I have always felt at home and safe. I am proud to be part of this family and will always support and care for the people within it." – Steph Catley, Matildas vice-captain
"From the moment I stepped into the Matildas environment as a 16-year-old, this has been my safe place and the professional environment has helped me to grow into the player and person I am today. I stand with my teammates/second family in full support of this collective statement." – Caitlin Foord
"I play my best football when I'm in an environment that's professional, fun and supportive. This team gives me all of that." – Mary Fowler
"Being a part of the Matildas family is something I take immense pride in. I fully support our collective statement and stand by the strong, inclusive, safe and professional environment that I have experienced for the best part of a decade." – Alanna Kennedy
"The Matildas are a large part of my identity. I have dedicated a lot of my time to help grow the culture and professionalism of this team and it's been a fantastic journey that we are all proud of." – Elise Kellond-Knight
"I have been a part of this team for 12 amazing years, from 15 years old to now. Throughout my career the Matildas have been a safe haven for me and allowed me to grow into the player and person I am today. I count myself lucky to be a part of this amazing group of athletes and people." – Sam Kerr, Matildas captain
"Since joining this team at the beginning of 2019, I have felt welcomed, valued and only experienced the utmost professional environment both on and off the field." – Teagan Micah
"Being part of the Matildas has been the greatest honour and I couldn't be prouder to be a part of this team." – Clare Polkinghorne
"Throughout my involvement with the Matildas, I have found great comfort in the professional and safe working environment within this group. The Matildas are like my family, they have played a big part in shaping who I am, and I am so proud to be a part of this special team" – Hayley Raso
"For me, coming in at a young age during a major tournament, I have experienced nothing but acceptance and welcome and can honestly say the environment is one of the best I have been a part of." – Kary Roestbakken
"I am in full support the collective team statement. For 11 years I have been incredibly lucky to be part of such an amazing team, be surrounded by incredible athletes and even better people. The Matildas have always been more than just a team, they have been my safe space and my second family. In those 11 years, this group has helped me grow and find myself as a footballer and as a person. I am grateful to them for being a part of my journey and shaping who I am today." – Emily van Egmond
"As a current and longstanding Matilda, I am in full support of the collective statement from the team and the professionalism which we have built over the years. I am proud of every moment that I get to stand with and for my teammates in the green and gold." – Lydia Williams
"As an individual and as a current Matilda I am in full support of the collective statement made by the teammates I stand side-by-side with wearing the green and gold jersey." – Tameka Yallop
UEFA Champions League fixtures, Liverpool FC vs Atletico Madrid, latest news, preview, team news, kick off time aedt, where to watch
Liverpool manager Jurgen Klopp said he still finds it hard to warm to Atletico Madrid's style of play despite his deep admiration for the Spanish champions' coach Diego Simeone.
Klopp hit out at Atletico's defensive tactics when Simeone's men won 3-2 after extra-time at Anfield in the Champions League last-16 in March 2020 to progress 4-2 on aggregate.
The German excused that outburst on Monday, saying it showed his frustration at being forced to play the game with a full crowd just days before the coronavirus pandemic shut down European football for months.
"I was angry, disappointed about a lot of things with the world in the moment," said Klopp. "Then we had to concentrate on football in a really strange circumstance.
"Diego Simeone is doing everything right. He is the current Spanish champion. He is at Atletico for I don't know how long, but very successful there."
Klopp said he respected what Atletico had achieved but preferred a different style of football.
"Do I like it? Not too much but that's normal because I prefer a different type of football," he said. "Other coaches prefer other styles of football so nobody has to like it — it just has to be successful and that is what Atletico are for sure."
Watch the world's best footballers every week with beIN SPORTS on Kayo. LIVE coverage from LaLiga, Bundesliga, Ligue 1, Serie A, Carabao Cup, EFL & SPFL. New to Kayo? Start Your Free Trial >
Liverpool are unbeaten in 11 games this season, thanks in large part to Virgil van Dijk's return from knee ligament damage.
The Dutch captain was injured last October by a wild lunge by Everton goalkeeper Jordan Pickford in a bad-tempered Merseyside derby.
Van Dijk resisted the temptation to rush back to represent his country at Euro 2020 and Liverpool have reaped the benefits as he has slotted back at the heart of the defence.
Simeone said the Dutchman's return has given the Reds the "security" they lacked last season to attack more freely.
But Van Dijk himself believes he still has some way to go to get back to his best.
"I don't think there are a lot of examples of players coming back from an ACL (anterior cruciate ligament), a complex knee injury, that's back to his best after a year, so I've work to do," said Van Dijk.
"I want to be as good as I can be for the team I play for, the fans I play for and the country I play for. The only thing to get there is play games and get more confident in the things you do.
"It's going the right way and I'm feeling fine so there is always room for improvement." Liverpool are on course for the Champions League last 16 after winning their opening two games ahead of the trip to Madrid.
Atletico needed a late turnaround to beat 10-man AC Milan in their last European outing, but are also well-placed on four points from two games in Group B.
Ange Postecoglou, Celtic news, fixtures, results, Europa League, Maccas response, latest news
Ange Postecoglou has added another to his greatest hits album of one liners after dropping a classic Macca's reference when defending his team selection.
The Celtic boss has come under fire for persisting with his incredibly attacking philosophy which has so far returned patchy results, including two back-to-back defeats in the Europa League.
That means that this Friday's (AEDT) clash at home to Ferencvaros has become a must-win game for the Aussie, or face the embarrassment of another European failure for the club.
Celtic have conceded eight goals in the two Europa games so far, leaving questions surrounding Postecoglou's midfield and whether he should consider dropping either Tom Rogic or David Turnbull to make space for another holding midfielder alongside Callum McGregor.
"My view on that is: if you are a strict vegetarian, you don't drop into Macca's [McDonald's] just because you are hungry mate, you know?" he said.
Watch the world's best footballers every week with beIN SPORTS on Kayo. LIVE coverage from LaLiga, Bundesliga, Ligue 1, Serie A, Carabao Cup, EFL & SPFL. New to Kayo? Start Your Free Trial >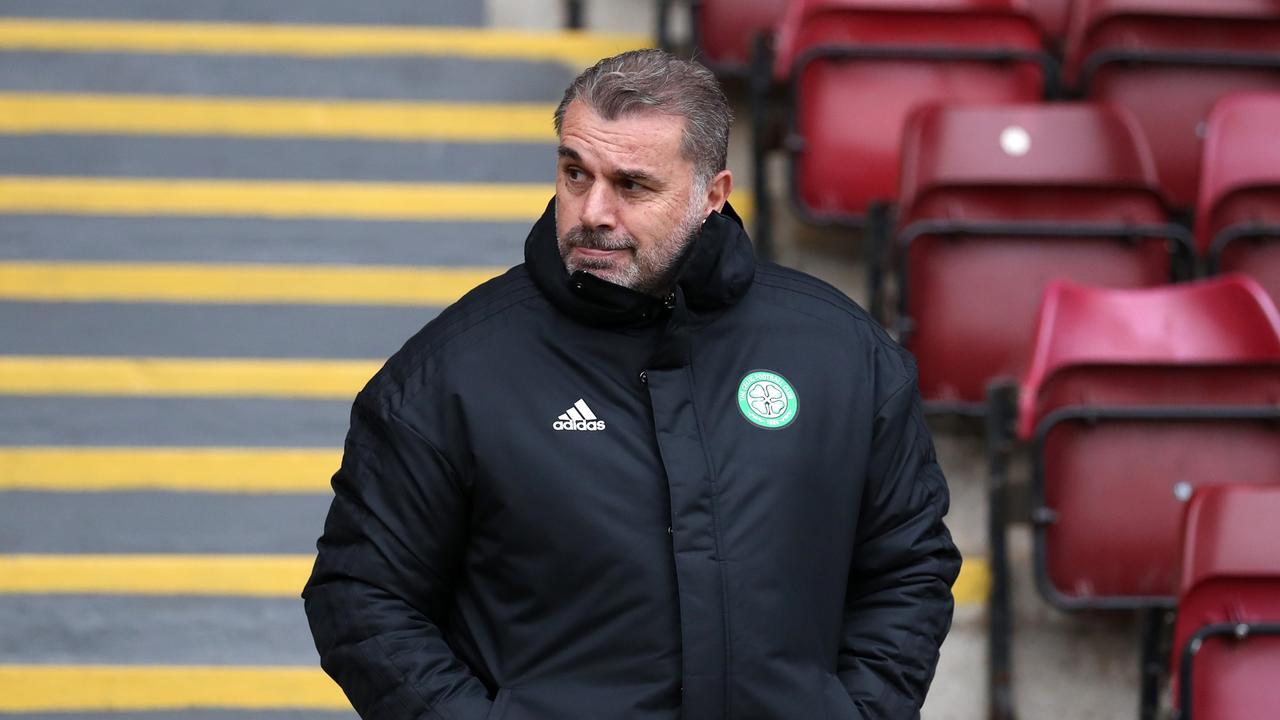 "This is what I believe in. I don't believe in it because I am trying to prove something, I just believe it is truly the way to create a special team. It's not easy, sure, and there are pitfalls along the way, and you have to get the balance right.
"But I've had so much success doing it this way, I'm a believer in it, and it's how I think we will become a special team and have success. You have to be prepared for the fact – and I certainly am, and have had it throughout my whole career – that people are going to question it if the success isn't there. I understand that and I love the debate around it, but it's not going to change me mate.
"This is what I believe in. I don't waver in it. I believe it because I believe it will get us to where we want to get to. And by the way, I'm nowhere near being a vegetarian either…that was just an analogy on my part.
"But that's what I think will bring us success, and that's the approach. Mate, I did it at a World Cup [as Australia manager] facing up to [Arjen] Robben, [Robin] Van Persie, [Andres] Iniesta, [David] Villa. I took that approach, we paid a price – or a high tariff – then as well, but I still think it's the way forward, mate."
EPL news 2021, Manchester United, Ole Gunnar Solskjaer, sacked, next manager, Zinedine Zidane, Antonio Conte, Cristiano Ronaldo
Manchester United are 100 per cent adamant that Ole Gunnar Solskjaer is going nowhere and that he knows the best route back from the dirt track the team is currently on after the latest bump which knocked them off the road.
But a horror run of fixtures is straight ahead, starting with this week's must-win Champions League game with Atalanta, before Premier League games against Liverpool, Tottenham and Manchester City – with the return leg against Atalanta sandwiched in between.
If he manages to make it to Watford away at the end of November, he will then have another run of fixtures which sees United away to Villarreal, Chelsea and at home to Arsenal over the space of nine days.
Put simply, by the blowing of the full-time whistle at Old Trafford on December 3 (AEDT) following the Arsenal game, it could have got pretty ugly.
Watch the world's best footballers every week with beIN SPORTS on Kayo. LIVE coverage from LaLiga, Bundesliga, Ligue 1, Serie A, Carabao Cup, EFL & SPFL. New to Kayo? Start Your Free Trial >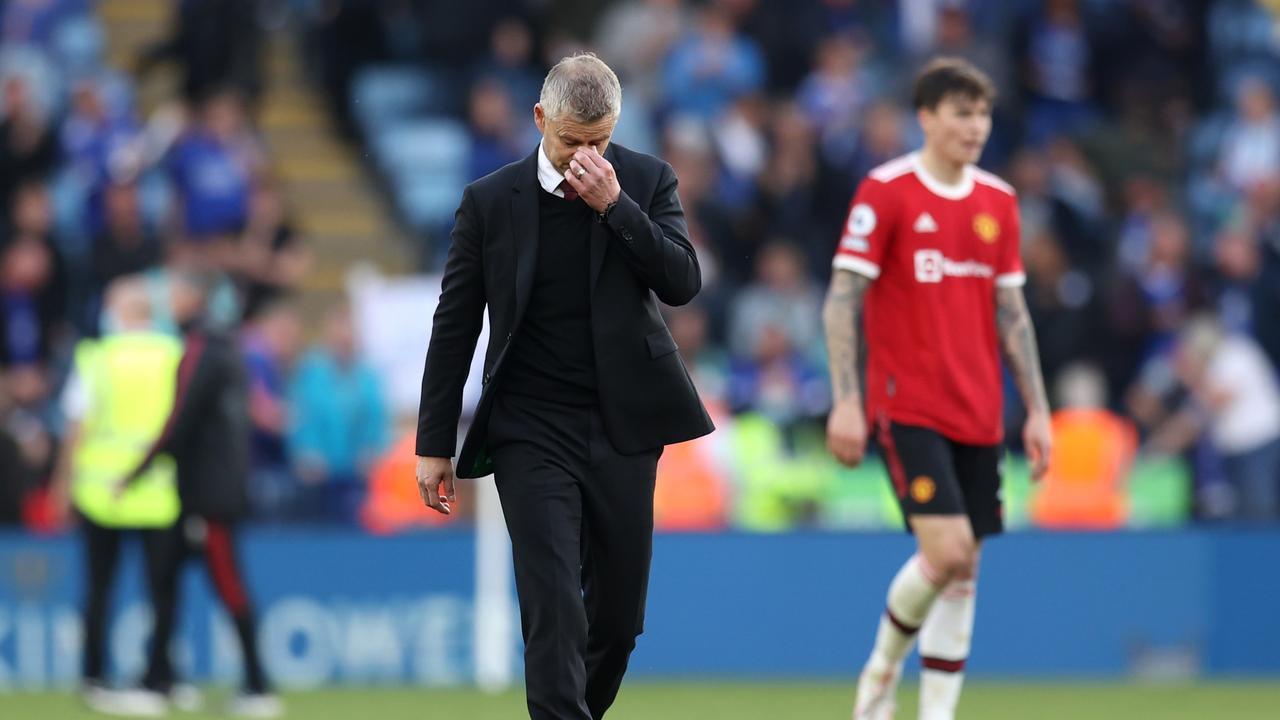 After all, this isn't like any of the other mini-crises that Solskjaer has faced and overcome before. He no longer in charge of a team still traumatised from the Jose Mourinho era, he can no longer lean on implementing a "cultural re-boot" of the club and he now has an expensively-assembled squad which is capable of challenging for major trophies on all fronts.
After all, while there is a young core to the squad with the likes of Marcus Rashford, Mason Greenwood and Jadon Sancho still miles away from their already frightening potential, the likes of Cristiano Ronaldo, Raphael Varane, Bruno Fernandes and Paul Pogba are in the stage of their career where they are expecting to win trophies now.
They are the ones who will get antsy, as we've already seen with Ronaldo storming off down the tunnel following the Aston Villa loss and Pogba saying "something needs to change" after the Leicester calamity.
Soon it'll be clear what that "change" is – if it isn't already.
And should United finally relent, and CEO Ed Woodward sign off from his eight-year spell in charge with a fourth failed managerial experiment and a sacking, who will his replacement draft in to replace Solskjaer?
THE PROBABLY NOTS
Former Chelsea manager Antonio Conte will probably be the first name of the list for a number of Manchester United fans. He worked wonders at Chelsea in winning the Premier League with a revolutionary style of football before behind perhaps unfairly sacked and heading to Internazionale to wrestle the Serie A title away from Juventus for the first time in nine seasons.
Put simply, he's a winner and he would provide Manchester United with a discernible style of football for the first time since Sir Alex Ferguson was in charge.
However, with the exception of moving Aaron Wan-Bissaka to an inside-right central defensive role, his 5-3-2 formation isn't going to suit too many in the current squad – especially when United are blessed with some of the most exciting young wingers in the game right now.
He's also an abrasive character himself, which was part of the reason he was shown the door at Chelsea and why he ultimately quit Inter. It's his way or the highway and a team of egos would be particularly polarising to him. The reaction when Ronaldo or Pogba inevitably falls out with him would be too great and we've seen this all before with what happened under Mourinho.
The risk is far too high and the money spent on the current squad is even higher. The next manager needs to be tailored to the current squad, rather than build another one in his image and with Conte, you would be forced to do the latter regardless of how brilliant a coach he is.
Another brilliant coach who has probably ruled himself out is the long-linked Mauricio Pochettino, who is currently battling away at PSG.
He arguably would have been the only choice if this conversation was needing to be had 12 months ago, but now, with how the squad has evolved and the big names that have arrived, he also might struggle.
Put simply, if you took Ronaldo and maybe even Pogba out of this team, he would be the perfect choice to mould this young squad as he did with Spurs, but with Ronaldo, you lose that hard-working centre forward he created in Harry Kane and with Pogba you lose the box-to-box energy he so craves.
He has also shown at PSG that he may not be as adept at juggling big egos as he would have hoped as he failed to retain Ligue 1 in his debut season and has an indifferent start to this year, even with a front three of Lionel Messi, Kylian Mbappe and Neymar.
THE JUST MIGHT WORKS
What's clear is that Manchester United are desperate for some tactical impetus, and there is no shortage of managers with that in abundance across Europe at the moment.
One is Ralf Rangnick, who Chelsea attempted to fill in after Frank Lampard's sacking before going for Thomas Tuchel. Rangnick is considered as one of the pioneers of the current crop of high intensity pressing coaches which have found so much success in Europe. He may not be able to get Ronaldo to run without the ball but he would be able to find another nine outfield players willing to. If Manchester United want their own Jurgen Klopp or Tuchel, then he might just be as close as they will find.
However, he has already shown his reluctance to leave his current role as Head of Sports and Development at Lokomotiv Moscow and his relative inexperience of managing a top-tier club could be seen as a big gamble.
Ajax's Erik ten Hag, who led that fantastic young Ajax team to the Champions League semi-final in 2019 is another highly-rated tactician and would be someone who would be able to unlock Donny van de Beek's abilities as he did when the pair were together in Amsterdam. He could solve United's troublesome midfield and is reportedly a target for Barcelona, too.
The same concerns as with Rangnick persist however, and United love a big-name, even if it's not necessarily the right one.
THE BEST BET
To tick all of the boxes that Manchester United want, it appears to be a big-name manager, who is capable of keeping a bunch of egos in check whilst still commanding the respect of the players and having a presence that will drive results out of them when needed.
Oh, and is better at all of that than Solskjaer currently is.
So how about Zinedine Zidane? He won three Champions League titles at Real Madrid and showed he is capable of doing all of the above. There is still an air of suspicion around him that he isn't as good as his record makes him look and that the Real Madrid squad he had was so strong that they effectively managed themselves.
If that sounds familiar, it's because United also have a team heavy on stars, egos and, of course, Ronaldo. It's not a long-term success plan but if the club's hierarchy is adamant on seeing a return from their two-year Ronaldo splurge, then this might be the best option.
After that, a more tactical coach can come in and mould a more flexible squad in his image.
Either that, or give it to Ronaldo so at least Manchester United can rest assured that he will at least keep himself happy at all times, as well as providing the commercial department another boost.