Los Angeles Dodgers thwarted by 'crazy' wind as San Francisco Giants take Game 3 thanks to Evan Longoria HR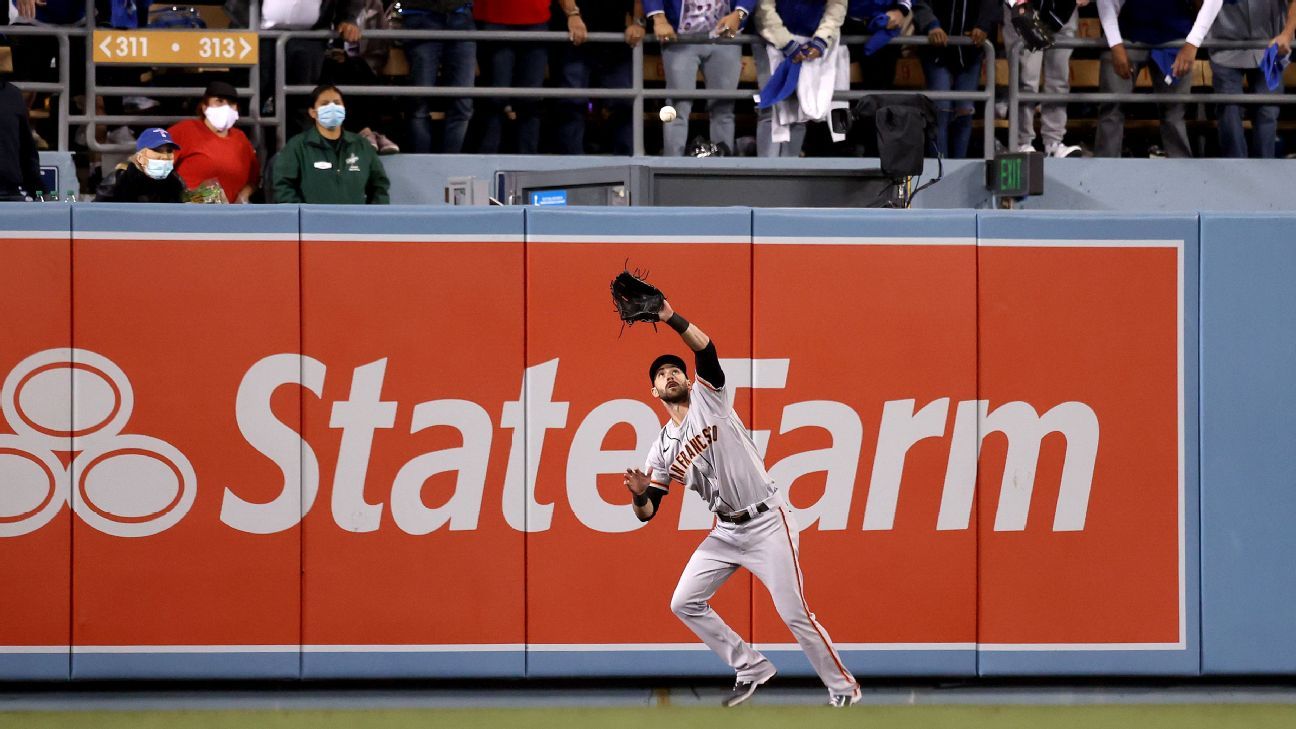 LOS ANGELES — Off the bat, nine innings into a game surprisingly devoid of action, it seemed as if an entire ballpark believed Gavin Lux had tied the score with his Los Angeles Dodgers down to their final out.
"My stomach pretty much sank when he hit it," San Francisco Giants third baseman Evan Longoria said.
With none on, two outs and the Dodgers trailing by a run, Lux unleashed his best swing on an up-and-away, 99 mph fastball from the young, electric Camilo Doval and produced a 107 mph line drive with a 22-degree launch angle — a batted ball with an expected batting average of .890, the type that resulted in a home run about half the time this season.
But wind gusts that hovered around 15 mph for the most of this Monday night knocked the baseball down as it traveled into the deeper parts of Dodger Stadium's center field. The Giants held on by a 1-0 score and took a 2-1 lead in this best-of-five National League Division Series, pushing one of the most talented teams in Dodgers history to the brink of elimination.
Dodgers manager Dave Roberts referenced Lux's drive and another from Chris Taylor in the sixth — 372 feet, 107 mph — as the type that would have resulted in home runs "any other night."
"Those two balls right there — it would've been a different outcome," Roberts said. "But those were the elements both teams had to play with, and that's baseball."
Strong winds, whipping around the outfield, began about an hour before the first pitch, blowing so hard that both foul poles swayed throughout the night. Max Scherzer, who ultimately struck out 10 batters in seven innings of one-run ball, noticeably lost his balance midway through facing leadoff hitter Tommy La Stella and later said the wind was "pushing me towards home plate."
Longoria couldn't recall ever stepping out of the batter's box so often, out of fear that he might get knocked over. His decisive solo homer to lead off the fifth — on an 0-2, 96 mph fastball that caught too much of the strike zone — became the only extra-base hit of the night, even though it registered as one of 13 batted balls that traveled at least 100 mph.
Longoria's left his bat at 110 mph.
"I was thinking — if that ball didn't go out tonight," Longoria said, "I might just cash it in."
Instead, Longoria, four days removed from his 36th birthday, produced the run that put the 107-win Giants one victory away from eliminating the 106-win Dodgers and propelling them into the NL Championship Series. In hopes of doing so, the Giants will begin Game 4 with Anthony DeSclafani, who allowed 22 runs in 27 innings against the Dodgers this season. Roberts said his team remained undecided but stated repeatedly that "everything's on the table," including, one would assume, starting Walker Buehler on three days' rest.
The Dodgers produced nine of the 13 100-plus-mph batted balls in Game 3, and seven of them resulted in outs. Two of those came off the bat of Mookie Betts, one of which was a scorching line drive with two outs and the tying run on base in the seventh inning — another out thanks to a leaping catch by Crawford, a significantly more mobile shortstop in his age-34 season.
Crawford, a central figure for the Giants over these last 10 years, was playing in his 79th game at Dodger Stadium and couldn't recall conditions like these in any other game.
"I hardly even remember a light breeze here most nights," Crawford said. "The wind was definitely pretty crazy tonight, and it was a factor in the game for sure."
The Giants received 14 outs from Alex Wood, a clubhouse favorite for the Dodgers who helped them win last year's World Series, then got another five outs from Tyler Rogers. After Jake McGee escaped trouble in the seventh, Kapler turned to Doval, the 24-year-old right-hander who hasn't allowed a run since coming back up from the minor leagues near the middle of August.
Doval breezed through the first five hitters. Then came Lux, pinch-hitting in the pitchers' spot. He got a second straight fastball with the count at 1-0, drove it to center and stretched his left arm in the direction of the Dodgers' dugout in anticipation of a celebration. Steven Duggar raced to the warning track, momentarily lost his footing as he began to make a sudden move forward, then secured the catch on the edge of the dirt.
Lux stood near first base with his mouth ajar, unable to believe the baseball had stayed in the park.
"I couldn't believe it didn't go," Longoria said. "Guess it was just our night."
Dave Roberts, Los Angeles Dodgers in awe of Cody Bellinger
LOS ANGELES — Dodgers manager Dave Roberts summed up the gravity of the moment best: "It just flipped everything."
That was just one way Roberts described a three-run home run by Cody Bellinger that did more than tie a game in the bottom of the eighth inning. It just might have rescued the bid of the defending champions to win it all again.
Bellinger electrified a to-that-point tense Dodger Stadium crowd with that blast, erasing a 5-2 Atlanta lead and setting up Mookie Betts' go-ahead double a few batters later. Facing the abyss of an 0-3 series deficit, the Dodgers instead defeated Atlanta 6-5 on Tuesday and now can even the National League Championship Series in Game 4 Wednesday.
"Man, pure elation, joy," Roberts said. "I mean, it's just hard to imagine a bigger hit."
The sudden turnabout, when the Dodgers appeared to be on the cusp of a virtually insurmountable series deficit, was swift and stunning.
"It's impossible not to be aware of (the deficit)," Betts said. "But I think that's a weak way to think of things. I think our mindset has been, why are we going to focus on that when we are here now, we can win the game now."
Still, Bellinger's home run was, in context, abrupt. The 2019 MVP had been swinging better after some late-season mechanical tweaks. Nevertheless, this was a player who hit .165 over 350 plate appearances during the regular season.
Even more stunning? The tying blast came off a 96-miles-per-hour fastball from Braves reliever Luke Jackson that was well above the strike zone. It was, in a nutshell, an impossible pitch for Bellinger to hit out of the park. According to ESPN Stats & Information research, the pitch crossed the plate 4.12 feet off the ground. No one since at least 2008 has homered on such a pitch at that speed during the postseason.
What's more, Bellinger had not homered on a pitch out of the strike zone the entire season.
"Yeah, it's not a hitter's pitch right there," Bellinger said "But in the moment, whatever happened, I saw it and I just tried to put the barrel on it and continue to pass the baton."
In effect, that's what happened. Right after Bellinger's homer ignited the crowd, Chris Taylor singled, knocking Jackson out of the game. He stole second base, which was key because pinch-hitter Matt Beaty grounded out on what might have been a double play ball. And Betts hammered a drive to the fence for a double, scoring Taylor.
The sequence unfolded at lightning speed. And when it was over, it was hard to square up the energy in the stadium with the feeling of impending doom that hung over Chavez Ravine just moments earlier.
"We were dead in the water," Roberts said. "You could see it."
The Dodgers were five outs away from going down 0-3, a deficit only the 2004 Red Sox have overcome in a series. (A team on which Roberts played.) Los Angeles became the first team down 0-2 in a series to come back from at least three runs down after the fifth inning.
All of this brings up some bad and relatively fresh memories for the Braves. It was just last year that Atlanta seized a two-game lead on the Dodgers. Game 3 that time around went very different – a 15-3 L.A. romp – but Atlanta took Game 5 to go up 3-1. Then the Dodgers recovered to take three straight and advance to the World Series, a place Atlanta has not reached since 1999.
Still, Braves manager Brian Snitker seemed unconcerned about his club's mindset even after last year's collapse was brought up.
"Hell, I don't even remember how I felt last year," Snitker said, laughing. "Our guys are, every year, getting more and more battle-tested. We played a really good game out there today. A lot of really good things happened, and we didn't get one pitch back."
The Dodgers will turn to 20-game winner Julio Urias in Game 4, while Snitker's club will go with a parade of relievers, the order of which has yet to be determined. After last season, even a Braves win might not fully restore the momentum they built up with two late-inning victories in Atlanta.
And all of that is because of one Cody Bellinger blast that resuscitated the flagging hopes of the defending champs, a blow so unlikely that that even the player who hit was still trying to make sense of it during the postgame press conference. That is, until Betts clarified it for him, and everyone else.
"Honestly, for as weird as it was, I saw it," Bellinger said. "I saw it and I just tried to put a good swing on it. It's just one of those things."
At that point, Betts, a fellow former MVP, interrupted to remind his teammate that the likely explanation is that he is simply very good.
"Tell them, Belli," Betts said. "They're good, but you drive a (Mercedes) Benz too."
Follow live: Red Sox look to keep offense rolling against Astros in ALCS
MLB qualifying offer value drops by $500,000 to $18.4 million
NEW YORK — The price of a qualifying offer to Major League Baseball free agents dropped by $500,000 to $18.4 million, a sign of the slide in salaries.
The figure is determined by the average of the top 125 major league contracts this year and marks only the second fall. The price fell by $100,000 to $17.8 million in 2019, then rose to $18.9 million in 2020.
Among the top players eligible for free agency following the World Series are Atlanta first baseman Freddie Freeman, Los Angeles Dodgers pitcher Max Scherzer and shortstop Corey Seager, Houston shortstop Carlos Correa, Colorado shortstop Trevor Story, Toronto shortstop Marcus Semien, Yankees first baseman Anthony Rizzo, San Francisco third baseman/outfielder Kris Bryant, and Mets pitcher Noah Syndergaard, outfielder Michael Conforto and shortstop Javier Báez.
A qualifying offer can be made through the fifth day after the World Series, and a player has a week after that to accept. If a team makes a qualifying offer to a player who signs a major league contract with another club before the amateur draft, his former club would receive a draft pick as compensation at the end of the first round or at the end of competitive balance round B. The placement depends on whether the new contract is worth $50 million or more and the revenue-sharing and luxury tax status of the team losing the player.
While the collective bargaining agreement expires Dec. 1, the rules remain in effect until a successor agreement or until implementation of new work rules following an impasse in bargaining.
A free agent can be made a qualifying offer only if he has been with the same team continuously since opening day and has never received a qualifying offer before.
Qualifying offers began after the 2012 season, and only seven of 96 offers have been accepted: New York Mets second baseman Neil Walker and Philadelphia pitcher Jeremy Hellickson after the 2016 season; Los Angeles Dodgers pitcher Hyun-Jin Ryu after the 2018 season, Chicago White Sox first baseman José Abreu after 2019 and Mets pitcher Marcus Stroman and San Francisco pitcher Kevin Gausman last season. Abreu later agreed to a $50 million, three-year contract.
Stroman and Gausman are eligible for free agency again.
The qualifying offer price started at $13.3 million in 2012 and rose to $14.1 million in 2013, $15.3 million in 2014, $15.8 million in 2015, $17.2 million in 2016 and $17.4 million in 2017.