Lewis Hamilton vs George Russell, Daniel Ricciardo McLaren future, Sebastian Vettel confirmed by Aston Martin
UPDATED — A flurry of activity in the driver market since the mid-season break has seen the F1 grid for 2022 almost completely settled in quick time.
There's still several races to come in 2021 but all but a few seats have already been snapped up after Kimi Raikkonen's retirement triggered a rapid game of musical chairs.
The few spots that remain vacant, meanwhile, already have drivers lined up who are expected to be confirmed in the coming weeks.
Here's how the 2022 F1 grid has shaped up.
Stream Every Practice, Qualifier & Sprint Qualifying of the 2021 FORMULA 1 HEINEKEN ITALIAN GRAND PRIX 2021™ Live & Free on Kayo Freebies. No Credit Card. No Brainer. Join Now.
MERCEDES
Lewis Hamilton
George Russell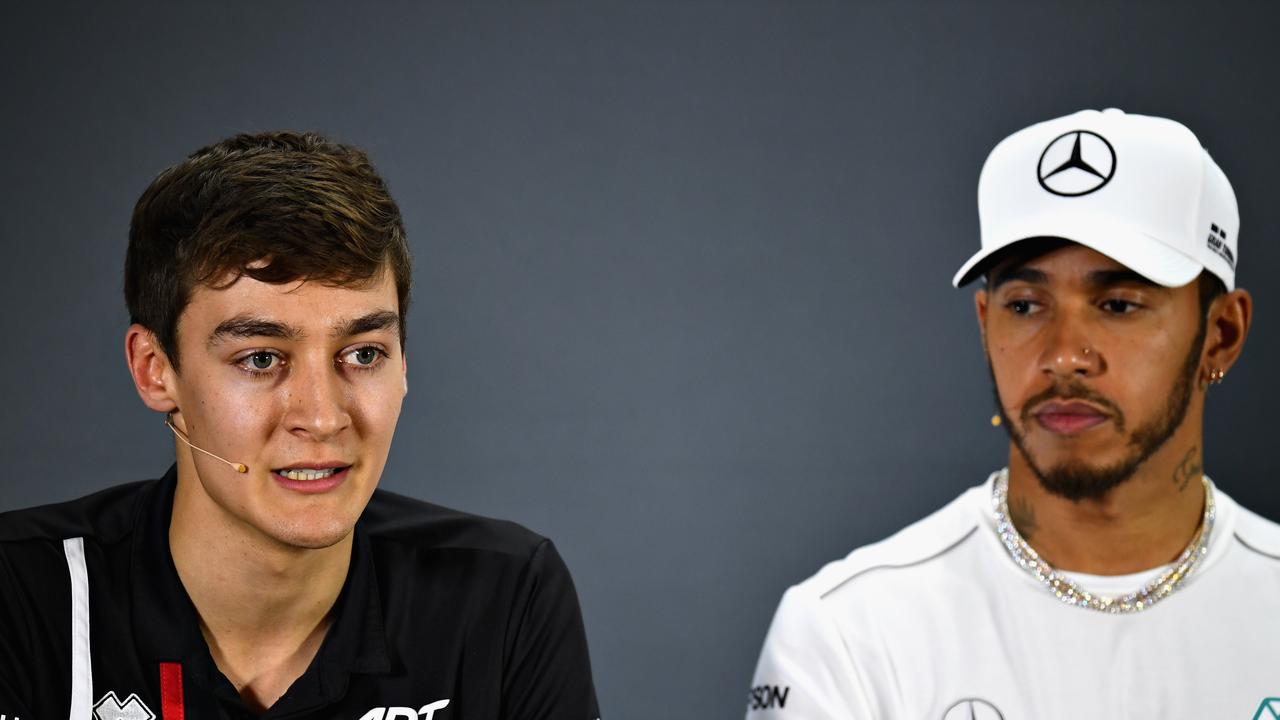 It's been on the cards for years, and now the all-Briton partnership is finally set to come to fruition.
George Russell's three-year stint at Williams has come to a close and, with Valtteri Bottas finally being moved on, Mercedes has promoted the 23-year-old.
Russell is a highly-rated Mercedes protege who impressed during his developmental stint at Williams, while he almost won for the Silver Arrows in a one-off race in Bahrain last year when he replaced Lewis Hamilton who had tested positive for COVID-19.
Russell is expected to push countryman Hamilton — 13 years his senior — in a way that Bottas never could.
Publicly, Hamilton said Russell will help "energise" Mercedes, although reports in the UK say that the seven-time world champion was secretly angered by the appointment.
A well-placed source told Sportmail: "Toto has made up his mind to bring in George. Lewis has been told and he's not happy.
"He wanted Valtteri as a teammate because he is compliant and not quite quick enough to trouble him, but that's not what is happening.
"You could say, as far as Lewis is concerned, it's gone down like a lead balloon."
It promises to be an exciting dual between the two Brits next season.
RED BULL
Max Verstappen
Sergio Perez
Red Bull has been built around Max Verstappen for years and he will lead to the team for many to come.
As for who his teammate will be, team bosses have been happy enough with the form of Sergio Perez to extend his stay for at least another year.
He was one of the last drivers to earn a contract after the 2020 season when Red Bull threw the Aston Martin castaway a lifeline having axed Alexander Albon.
Perez hasn't exactly set the world alight in his debut Red Bull season and has been well behind the pace of Verstappen, although he still won in Azerbaijan and claimed another podium in France.
Red Bull boss Christian Horner said Perez's experience will play an important role for the team moving forward given the wide-ranging rule changes that will come into effect next year.
MCLAREN
Lando Norris
Daniel Ricciardo
Daniel Ricciardo's debut season at McLaren hasn't gone to plan — but he signed a three-year contract with the Woking outfit, meaning he still has some time on his side.
Nonetheless, the pressure will continue to be applied from the other side of the McLaren garage where Lando Norris continues to take big steps forward.
He's been the quicker of the two drivers this year and was earlier this season handed a contract extension until the end of 2023.
Norris looks poised to come out on top of the intra-team contest in 2021 — but it's 2022's battle that will really matter.
F1's regulation changes will effectively change the nature of the sport, including how cars behave amid a raft of technical tweaks that will usher in the new era.
As such, F1 is in for a massive shake-up and it's unclear where everything will land — including the Ricciardo-Norris dynamic.
As things stand, Norris is comfortable and therefore has more to lose than Ricciardo, who is known to be unhappy with the temperamental nature of the current McLaren cars.
Given Ricciardo has had major input on 2022 development — and has had little say on this year's car that's undergone few changes — he's expected to show big signs of improvement next year.
If he doesn't, however, and Norris continues to improve then Ricciardo will simply be fighting to keep his drive in 2023.
FERRARI
Charles Leclerc
Carlos Sainz Jnr
No changes at Ferrari for 2022 — and it's easy to understand why. Charles Leclerc is undoubtedly one of the most talented drivers in the field, as he re-proved with pole laps in Monaco and Azerbaijan this season. He's on a long-term contract that takes him through to the end of 2024 and is a key piece to Ferrari's ambitions of returning to a championship contender.
Carlos Sainz, meanwhile, is only 27 and appears to be a good fit at Ferrari where he has settled in quickly. Ahead of the Italian Grand Prix, he was trailing Leclerc in the drivers' championship by just 2.5 points.
Regardless, he's not yet halfway into his Ferrari contract that takes him through to the end of next season.
ALPINE
Fernando Alonso
Esteban Ocon
Fernando Alonso will still be racing in F1 when he's 41 thanks to a contract extension. The Spaniard's comeback was meant to coincide with the wholesale rule changes but they were pushed back by a year due to the coronavirus pandemic.
As such, Alonso will stick around for at least one more season, while teammate Esteban Ocon has extended his contract until 2024.
Ocon was said to be in the mix to replace Bottas at Mercedes given he's managed by Toto Wolff and was previously contracted by the team, but that door swiftly closed.
ASTON MARTIN
Lance Stroll
Sebastian Vettel
Aston Martin locked in its driver line-up for 2022 on Thursday, confirming Sebastian Vettel and Lance Stroll will once again lead the charge.
The details of Vettel's contract initial contract weren't clear, although the team said last year that the German had joined on a deal that covered "2021 and beyond".
The team hadn't clarified what "beyond" means or if there was a target Vettel had to meet to trigger an extension, but team principal Otmar Szafnauer said it wa sjust a matter of "timing" before his stay was confirmed.
Meanwhile, Stroll has also been locked in. The team's owner is his father, Lawrence, who picked him to stay at the team over Sergio Perez last year.
ALPHATAURI
Pierre Gasly
Yuki Tsunoda
AlphaTauri will go into 2022 with an unchanged line-up after offering extensions to both Pierre Gasly and Yuki Tsunoda.
Both drivers would have been looking over their shoulders given the seemingly never-ending production line of Red Bull juniors. Liam Lawson, Jehan Darvuvala and Juri Vips were all options — and will continue to be closely watched in F2 by Helmut Marko.
Nonetheless, team boss Franz Tost said Gasly and Tsunoda have formed a rare, harmonious pairing that's working well for the team.
"We have seen that the positive relationship between the two, made of a competitiveness on-track and a friendship off-track, has proven effective for the team," he said.
ALFA ROMEO
Valtteri Bottas
TBD
The only genuine gap in the 2022 grid.
Raikkonen has announced that, at 41 years of age, he will finally be calling it a day in F1.
That opened the door to Bottas who saw the writing on the wall at Mercedes and pounced at the chance to extend his F1 career by taking a seat at the significantly weaker Alfa Romeo.
Who partners Bottas in 2022 is unclear. Antonio Giovinazzi has held a seat at Alfa Romeo since 2019 but has shown little signs of progress.
Alfa Romeo, along with Haas, still has a relationship with Ferrari — its power unit supplier — that sees the team open to handing a drive to Ferrari Academy talents.
Robert Shwartzman and Marcus Armstrong are therefore contenders given their impressive performances in F2.
Nonetheless, Alpine Academy driver Guanyu Zhou is reportedly set to claim the spot and become China's first F1 driver.
Apart from his talent, he brings with him a wealth of Chinese financial backing that will be hard to ignore for Alfa Romeo.
WILLIAMS
Alex Albon
Nicholas Latifi
The game of musical chairs that Raikkonen's retirement caused opened the door to an unlikely F1 return for Alex Albon.
Not many drivers get a second chance in F1 after being chewed up and spat out, but the 25-year-old finds himself as one of the lucky few.
Russell's departure for Bottas' vacant seat at Mercedes has seen Albon — who was dropped by Red Bull at the end of 2020 — handed a contract.
Given Williams is a customer team of Mercedes, the move has meant Albon has had to sever ties with Red Bull, where he was retained as a test driver.
Nonetheless, Red Bull says that it still has a relationship with Albon who has "future options" with the team.
Meanwhile, Nicholas Latifi has been retained and brings to the team important financial backing from wealthy father Michael.
Albon to return to F1 grid in 2022 | 00:27
HAAS
Nikita Mazepin
TBC
Nikita Mazepin is assured of his spot in 2022 given the team is relying heavily on the investment of his father Dmitri Mazepin.
Mick Schumacher's Haas future is less clear. He certainly has a bright future in F1 and is worthy of a seat, while his name is naturally attached to significant financial opportunities for whoever he drives for.
Haas is considered just a stepping stone for Schumacher, although it seems likely he will stay for at least one more year given Alfa Romeo has the only other vacant seat — and that seems set to be filled.
Schumacher said this week that he is close to confirming a contracting for 2022.
"At the moment, that's where things are going to," he said when asked if he was readying for another season with Haas.
how to watch, date, news, preview, Supercars, Jamie Whincup, Mount Panorama
Jamie Whincup has detailed the "absolutely massive" Bathurst podium in 2005 that aided his move to Triple Eight.
Next weekend's Repco Bathurst 1000 will be the retiring Whincup's final full-time appearances before he shifts to team management.
It was at Mount Panorama where Whincup scored the biggest result of his fledgling career prior to his signing with Triple Eight.
Watch the Supercheap Auto Bathurst 1000 LIVE with FOX SPORTS on Kayo. Every practice, qualifying session and race Live and Ad-Break Free during racing. New to Kayo? Get your free trial now & start streaming instantly >
Van Gisbergen wins Supercars title | 02:04
After a run of outs with Garry Rogers Motorsport and Perkins Engineering, a 21-year-old Whincup was signed by Tasman Motorsport for the 2005 season.
Top 10s came and went, but it was at Sandown and Bathurst where Whincup flexed his muscle alongside the late Jason Richards.
The duo finished third at Sandown, before they crossed the line second in the Great Race behind the might of Mark Skaife and the Holden Racing Team.
Just weeks later, Whincup was signed to Triple Eight, and the rest is history.
"It was absolutely massive," Whincup told The Howie Games podcast.
"I've got this lifeline to get back into the sport through Greg Murphy's father Kevin.
"Little did I know at the time that a certain team boss, Roland Dane, he was looking for a young, cheap kid that could stay out of trouble all year and team up with Lowndesy to win Bathurst.
"For me to run second, hand the car over to Jase in the lead with 30 laps to go, that was a huge pivotal point for me to get the opportunity with my current team."
Van Gisbergen claims thrilling R29 win | 01:40
Whincup won on his first appearance as a Triple Eight driver in Adelaide, and returned to Bathurst and won with Craig Lowndes.
In 14 seasons since, Whincup added 122 more wins and a record seven drivers' titles, as well as three more Bathurst victories.
Whincup cited the Adelaide breakthrough as a "fairytale" and highlighted that it was proof he could stick it out long term if he continued to race at the front.
"The car was fantastic; I was a passenger," he said of Adelaide 2006.
"We ran third on the Saturday and won on the Sunday. It was a fairytale start to my journey with Triple Eight.
De Pasquale fumes after Mostert battle | 00:38
"There's a common saying in motorsport; you're only as good as your last race.
"It's so true; you have a win, and you're hot property. You're the man of the moment.
"Winning was huge for me back then, and it started to cement that, hey, I had longevity if I was given the opportunity."
The 2021 Repco Supercars Championship and Dunlop Series seasons will conclude at the Repco Bathurst 1000.
Every session of the event will be broadcast live on Foxtel (Fox Sports 506) and streamed on Kayo.
This article first appeared on supercars.com and was reproduced with permission.
Brazil Grand Prix result, McLaren power loss, chassis crack
Daniel Ricciardo's McLaren team has revealed a cracked chassis was the reason he was forced to quit the Brazil Grand Prix on Monday morning.
The Australian suffered a cruel nightmare when he was forced to retire late in the race as a result of his MCL35M experiencing power loss.
Did you know you can catch up on the 2021 F1 Mexican Grand Prix for FREE with Minis on Kayo Freebies? Register now, no credit card required.
He said after the race he had been optimistic about finishing ahead of Ferrari rivals Charles Leclerc and Carlos Sainz, possibly finishing as high as fifth in Monday's dramatic Grand Prix won by Lewis Hamilton.
Despite being out-performed by Ferrari all weekend, the team's strategy of running a one-stop race on harder tyres had appeared like a stroke of genius before the day was ruined instantly by his fading power.
McLaren has now announced the team investigated the loss of power inside the garage and found a crack had formed within components related to its power unit installation.
McLaren team principal Andreas Seidl said the team will continue to investigate why the problem occurred.
"We had a power loss on track," he said.
"In the initial investigation we found a technical issue, a crack on the chassis side of the power unit installation, which we need to now investigate. I can give you a better update next week in Qatar."
It ended Ricciardo's run of 34 consecutive races of reaching the finish line. Ricciardo was called into the garage on lap 51, just 20 laps short of the chequered flag.
He said after the race it was a new problem he had not experienced since joining the team for the start of the 2021 season.
"We were looking like we were going to get a few points and the race was going pretty well, we were coping pretty well – potentially a one-stop strategy could have worked out for us strongly," he said.
"It was definitely a better day than yesterday and I was happy with how we were going but it was just out of our control today.
"We knew they had to two-stop. I think they had a bit more pace but maybe through strategy we could've disrupted them.
"But then we had a loss of power and had to retire the car. Definitely a shame, but it was a much more promising day than [Saturday]. We'll take the positives from that, and we've got another chance next week."
It capped off a miserable weekend for McLaren with Lando Norris only able to score one championship point after finishing 10th.
The team struggled to find a quick set-up through Saturday's qualifying and Sunday's sprint race.
Ricciardo dropped from eighth to 11th during the sprint race after dropping down the field in the opening lap.
Qatar stages the next chapter of 2021's gripping title battle next Sunday.
With AFP
Brazilian Grand Prix, Constructors championship, leaderboard, Max Verstappen, Lewis Hamilton, feud, Toto Wolff, Christian Horner, engine, rear wing
Just three rounds are left in the race for the Formula 1 title and two challengers remain.
Max Verstappen and Lewis Hamilton – the same two that have been caught up in a simmering feud that has been escalating all season.
A rivalry that has already reached boiling point and yet is far from settling down as the crescendo climax awaits at Abu Dhabi in December.
Hamilton's dream of a record-breaking eighth world championship remains very much a possibility after his incredible resurgence in Brazil.
Stream Every Practice, Qualifier & Race of the 2021 FIA Formula One World Championship™ Live & On-Demand on Kayo. New to Kayo? Start Your Free Trial >
Hamilton clinches dramatic win in Brazil | 03:05
It leaves him just 14 points behind Red Bull's Verstappen and with the stakes only set to get higher, the competition will subsequently become even fiercer.
Both team principals have refused to interfere too much in the drama, instead describing the conflict back in September as the coming together of two equally-competitive combatants.
"Max is a no-quarter kind of guy; Lewis has demonstrated that he doesn't want to give anything either and when you get two racers of that mentality, you get incidents," Red Bull's Christian Horner said.
Mercedes' Toto Wolff was equally diplomatic at the time adding: "The point is that these two are racing for a drivers' championship and you can't expect them to have velvet gloves on".
That all changed on Monday morning though, with even Wolff taking his velvet gloves off.
"I think we've just had many, many punches in the face this weekend," he said.
"Decisions that could have swung either side against us or for us. It's something that I'm just angry about and I will defend my team, my drivers to what comes.
"I've always been very diplomatic in how I discuss things, but diplomacy has ended today."
What exactly sparked the change in mood from Wolff?
Well, there were a host of incidents that all came to a head of Monday as the ongoing feud between Mercedes and Red Bull spilled over.
It started when Hamilton was disqualified from qualifying classification after the FIA deemed his rear wing not to be legal, with the Drag Reduction System opening greater than the maximum 85 millimetres allowed.
RACE IS ON: Title twist could see Hamilton and Verstappen go to historic tie-breaker
Is Max too close for comfort? | 00:27
Wolff could hardly believe it, telling reporters he thought Mercedes sporting director Ron Meadows "was joking" when the news came through on WhatsApp.
Earlier in the day Verstappen had walked over to Hamilton's car and briefly touched the rear wing, copping a hefty fine for his actions.
It was Verstappen's defensive driving on the track though on Monday morning that really sent Wolff over the edge, particularly given the punishment handed down to Hamilton a few days earlier.
It was turn three on lap 48 and Hamilton had long been closing in on Verstappen, who held a slender lead.
Like Wolff had said back in September, these were two drivers competing for a championship and willing to do whatever it takes in the pursuit of that goal.
What Verstappen did next though crossed a line according to the Mercedes boss.
It was another flashpoint in the pair's ongoing duel, with Verstappen seeming to deliberately push his championship rival off the track to keep hold of his lead.
F1 race director Michael Masi has since hinted Verstappen could face a retrospective penalty for the incident once all footage is reviewed but at the time no punishment was laid down.
Given Hamilton's previous disqualification, Wolff was left livid by the decision.
Verstappen and Hamilton flare once again | 00:31
"That was just over the line – should have been a five-second penalty at least – and probably Max knew that," he said.
"Just brushing it under the carpet is just the tip of the iceberg. I mean, it's laughable."
Wolff though was in no laughing mood when it also emerged that Red Bull made wing changes under parc ferme conditions on the same weekend Mercedes was denied that chance.
"No I'm not [happy], it is being judged two different ways here in the sport at this time," he said of that development.
Horner later clarified from Red Bull's standpoint that the two requests were "completing different", telling Sky Sports Mercedes had failed a legality test on their repair.
It changed little for Wolff though, only intensifying the siege mentality which saw him declare: "Lewis – brilliant job. Damage limitation. F*** them all" on the team radio after the sprint race.
"I don't want to claim anything on the stewards… I think they have a difficult life anyway and they are only there to lose," Wolff later added.
"But in a certain way when you're taking punches all weekend and you have such a situation on top of everything, you're just losing faith."
When Hamilton and Verstappen crashed back at the British Grand Prix and Horner launched a scathing attack at the Brit's driving, it seemed tensions between Mercedes and Red Bull had reached boiling point.
Bottas takes pole in Brazil | 01:11
Instead, four months later, the drama is still bubbling away and with the championship yet to be decided it is unlikely to go away anytime soon.
Particularly when you consider the added mystery of Mercedes' engine problems.
Rules allow teams to make changes to the engine provided it improves reliability as opposed to the performance advantage.
Mercedes had already previously hinted at the need for additional power unit parts at the end of the season and on the weekend, they took the gamble.
With Hamilton already trailing Verstappen in the race to the title, a grid penalty was the last setback Mercedes needed but the sudden jump in pace was needed.
It ended up giving the Brit a significant boost to his straight-line speed and helped Hamilton secure a remarkable victory.
It also, along with the rear wing of Hamilton's car, left Verstappen suspicious and Red Bull searching for answers.
A late protest could provide them but not just yet.
"We need to look at where that speed comes from," Horner said.
"It's not normal and we need to look at it, but it's too early to protest."
Just another ongoing drama as Hamilton eyes history with the entire F1 world watching.
Red Bull in particular it seems will be keeping a close eye on it all.