Lando Norris grim warning for Daniel Ricciardo, McLaren MCL35M
It took Daniel Ricciardo several months to adjust to McLaren's car, and it looks as though the Australian F1 star might have to undergo the entire ordeal all over again in 2022.
Following an underwhelming two-year stint at Renault, Ricciardo signed with McLaren ahead of the 2021 season, partnering with British young gun Lando Norris.
However, it was anything but smooth sailing at first for the 31-year-old.
Did you know you can catch up on the 2021 F1 Turkish Grand Prix for FREE with Minis on Kayo Freebies? Register now, no credit card required.
Ricciardo was repeatedly bettered by his teammate on race day, with the Perth driver struggling to adapt to the intricacies of the MCL35M's braking system.
Norris secured three podium finishes in the first half of the 2021 championship – three more than Ricciardo.
But F1 cars will look very different in 2022, with simplified aerodynamics and bigger wheels encouraging more overtaking and closer competition.
Motorsports fans were offered a glimpse of next year's car with a concept version being unveiled at the British Grand Prix in July.
A significant cut in downforce looks set to be one of the biggest challenges for drivers next season, something Norris has already noticed in the simulator.
"It's a very different car to drive. In a way not as nice as this season," Norris told Motorsport.com.
"But I think hopefully that's the same case with every other team as well. And we'll see, there's no point trying to think it's amazing or terrible.
"You just have to do the best job you can and hopefully, next season, we go to the pre-season test with a good car.
"The only car we've seen is the one at Silverstone. The car we have in the factory, it's not even a car. It's a drawing and some paper.
"I don't think we will see it for many more months, maybe not until next year in a way. We've seen some of the drawings and the designs for next season, but every week, it's something new and something different, because there's so many different things with the car.
"But every week it's very easy to make changes and make it quicker and quicker."
Ricciardo's fortunes took a turn at last month's Italian Grand Prix in Monza, with the Australian clinching his first F1 victory in three years.
But Norris' remarks serve as a grim warning for the Australian – don't expect next season to be a walk in the park.
Simulators will be critical for F1 drivers ahead of the 2022 championship, with pre-season testing restricted to just two weeks next year.
The 2021 season will resume this weekend with the Turkish Grand Prix, scheduled to get underway at 11pm AEDT on Sunday.
Turkish Grand Prix, Lewis Hamilton, grid penalty, latest, how to watch
Reigning world champion Lewis Hamilton will have a 10-place grid penalty for Sunday's Turkish Grand Prix after being punished for using too many engine parts, race organisers said ahead of practice on Friday.
Mercedes are using a fourth part to reduce the risks of Hamilton suffering a failure during a championship run-in that is closer than for years.
Just three parts are permitted under the rules.
Did you know you can catch up on the 2021 F1 Turkish Grand Prix for FREE with Minis on Kayo Freebies? Register now, no credit card required.
Did misinformation cost Norris? | 00:31
The team argue they have taken the decision to boost performance. Hamilton's rival for the title, Red Bull driver Max Verstappen, received a similar penalty two weeks ago.
Because seven-time world champion Hamilton has only taken one power unit component, he will not be punished with a full grid relegation.
Verstappen is just two points behind the Briton ahead of this weekend's race.
Aussie young gun Oscar Piastri 'deserves' to racing in Formula One, Charles Leclerc, Daniel Ricciardo, Alfa Romeo
The chance of Oscar Piastri driving in Formula One next year is increasing as support grows for the Australian sensation to fill the vacant seat on the grid.
The 20-year-old is currently leading the Formula 2 standings on 178 points, 36 ahead of Guanyu Zhou on 142.
Did you know you can catch up on the 2021 F1 Turkish Grand Prix for FREE with Minis on Kayo Freebies? Register now, no credit card required.
He is on track for his third championship win in as many years, after he won the Formula Renault Eurocup title with R-ace GP in 2019 and the Formula 3 title in 2020 after he was snapped up by the Renault (now Alpine) academy.
Usually the Formula 2 winner would be all but guaranteed a spot on the following year's F1 grid, but that is not the case for Piastri.
Alfa Romeo's Antonio Giovinazzi is the only driver who is not yet guaranteed a seat on the grid for next year.
Piastri's name has been mentioned as one of the main contenders to possibly take over the Italian's seat if he is not re-signed.
However it is Zhou, who is second behind Piastri in Formula 2, who is favoured to take Giovinazzi's Alfa Romeo seat.
Zhou reportedly has $48 million (AUD) in backing to help him secure a seat in the big leagues in 2022, which would see him become China's first F1 driver.
But all hope is not lost for Piastri after Alfa Romeo boss Fred Vasseur labelled rumours of Zhou's huge financial support "pure speculation and bullsh***".
Reports also emerged this week Zhou had ruffled feathers at Alfa Romeo in discussions over the length of a possible contract.
The chances of Piastri driving in F1 next year are growing by the week and Ferrari's Charles Leclerc believe the Melburnian deserves to graduate from F2 as soon as possible.
"He is a very, very talented driver," Leclerc told The Race.
"I obviously look at all the F2 races and he's incredibly consistent, always there when he needs to be.
"It is impressive and he definitely has the merit to be in F1.
"I really hope for him – he should be in F1. So, I really hope he will be very soon."
There is no guarantee the winner of Formula 2 will make the leap to F1 the following season but Leclerc said Piastri has done all he to press his case.
"It's pretty clear once a driver deserves it," he said.
"Oscar, it's his first year in F2 and (it looks likely) he wins it straight away – that's been the case for other drivers, too."
Piastri's F1 credentials have also been endorsed by none other than his compatriot Daniel Ricciardo, who praised the young gun's "race craft" and said it would be "cool" to have two Aussies on the F1 grid.
"I am really excited to see … Oscar do well," Ricciardo told F1TV this week
"I know what it was like for me when Mark Webber was in F1. When I joined the grid he was still there.
"It was cool, it was really a cool feeling and (I was) obviously proud to represent Australia.
"Oscar's been killing it this year. (He has) really good race craft, as well. (He) seems to have the whole package right now."
It's unclear when Alfa Romeo will choose its driver to partner Valtteri Bottas in 2022 but Piastri seems resigned to missing out on an F1 seat for next season.
"I'm not really in the frame at Alfa Romeo, to be blunt," he told Wide World of Sports.
"I don't think it's going to be me. I don't really know much about it, which is a fair indication that I'm not really in contention.
"Being with Alpine, there's no engine link with Alfa Romeo at all, so it's not a conventional route to that seat.
"I'd be very happily surprised if I got the drive, but I'm not confident."
Piastri believes the most likely scenario is being elevated to Alpine's F1 reserve driver with a view to replacing veteran Fernando Alonso in 2023.
"Regardless of where I finish this year it doesn't look like I'll be on the F1 grid next year, but if I have three championships in three years on my resume, well that looks pretty good," he said.
"It would be very satisfying and it should prove that I can bring plenty to the table for an F1 team in the future.
"It's a bit of an unfortunate situation, but I'm not the first one it's happened to and I won't be the last.
"The logical step would be to get the reserve driver role at Alpine, and then obviously target an F1 seat in 2023."
Daniel Ricciardo reality check, Lewis Hamilton grid penalty
Reigning world champion Lewis Hamilton was fastest in both of Friday's practice sessions for the Turkish Grand Prix but has to take a 10-place grid penalty for Sunday's race having had the engine replaced on his Mercedes.
Championship leader Hamilton was quickest in the second practice with a time of 1min 23.804sec ahead of Ferrari's Charles Leclerc.
Did you know you can catch up on the 2021 F1 Turkish Grand Prix for FREE with Minis on Kayo Freebies? Register now, no credit card required
Valtteri Bottas in the other Mercedes was third, followed by Red Bull pair Sergio Perez and Max Verstappen, the Dutchman who trails Hamilton by just two points in the title race.
Verstappen was more than half a second behind Hamilton who avoided a full grid penalty as the entire power unit was not changed.
On Sunday, on the track where Hamilton wrapped up the 2020 title, he will start in 11th place at best. If another part is changed on Saturday or even before the race on Sunday, he will be penalised more heavily.
"The track felt so different to last year – in 2020, oil was rising from the new surface and the grip was so difficult to find," said Hamilton.
"We're fairly close to the maximum we can extract from the package but we always find something overnight, so we'll be working hard to take our pace into tomorrow – hopefully it isn't raining!
"I have a lot of work to do on Sunday and I need to just focus on getting the best out of tomorrow, obviously aiming for pole to limit the loss of the penalty."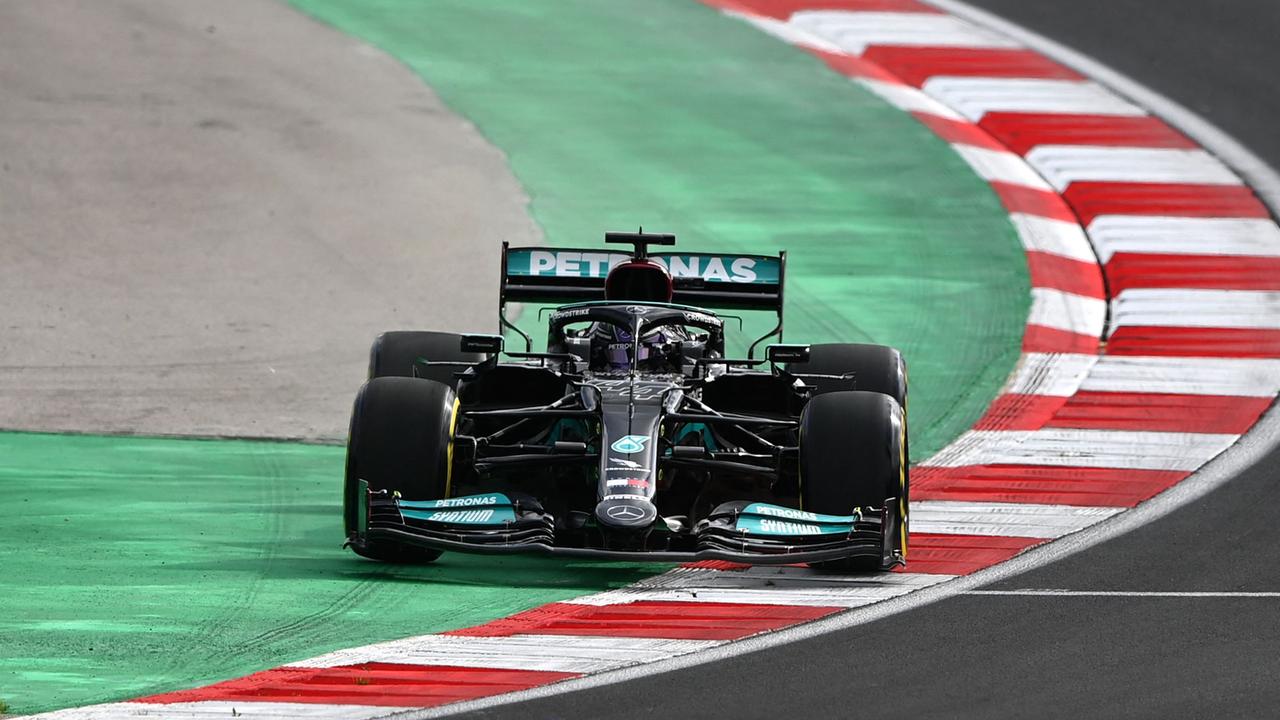 Aussie Daniel Ricciardo was well back, only managing the 14th fastest time in P2. His effort comes after he delivered a reality check about McLaren saying despite his recent win at Monza and colleague Lando Norris' strong performances, his outfit's ability to challenge the top teams is still largely dependent on each circuit.
"I think it's still a little track-dependent for us as a team. I don't think we're universally strong across the board, at every track layout we go to," Ricciardo said.
"The ones that we're strong on, we seem to be able to really take it to the top two teams."
McLaren team principal Andreas Seidl agreed, adding: "I think with the picture we have seen so far this year, yes I would agree that it will be track-specific."
Hamilton won the 100th race of his career in the last round of the championship in Russia while Verstappen, who was second in Russia despite starting from the back of the grid, said practice in Turkey "was not the best of days".
"It's a super nice track especially with the improved conditions but it looks like we have a lot to go through this evening because today wasn't the best of days," said the Dutchman.
"We tried a few different things going from FP1 to FP2 but we're still looking around for improvements as we don't have a lot of data on these cars for this track.
"Of course, Lewis is taking a penalty on Sunday but we have to focus on ourselves, hopefully we can make improvements before qualifying tomorrow as we have some challenges, we'll see what we can do."