Jon Gruden used anti-gay, misogynistic language in emails over 7-year period
Jon Gruden frequently used misogynistic and anti-gay language in numerous emails during the seven-year period before he was hired as coach of the Raiders, The New York Times reported Monday night, saying it has reviewed the emails.
The NFL sent the Raiders additional Gruden emails to review, on top of the one about NFL Players Association executive director DeMaurice Smith that surfaced last week, and others Gruden recently confirmed to ESPN, sources told ESPN's Adam Schefter on Monday.
According to The Times, Gruden sent emails to Bruce Allen, then the president of the Washington Football Team, and others during a seven-year period that ended in 2018.
Gruden emailed Allen that NFL commissioner Roger Goodell should not have pressured then-Rams coach Jeff Fisher to draft "queers," referring to former defensive end Michael Sam, a gay player drafted in 2014, according to The Times. The Times also reported that Gruden used an anti-gay slur in several instances while referring to Goodell, and used offensive language to describe some owners, coaches and media members who cover the league.
Gruden also denounced the emergence of women as referees in his emails, according to The Times, and said that safety Eric Reid, who kneeled during the national anthem to protest racial injustice, should be fired. In 2017, after being sent an article link about NFL players seeking the commissioner's support in their efforts to promote racial equality and criminal justice reform, Gruden replied, in reference to Goodell: "He needs to hide in his concussion protocol tent."
Gruden was employed by ESPN as the lead analyst for Monday Night Football at the time he sent the emails that were under review.
"The comments are clearly repugnant under any circumstance," ESPN said in a statement.
The Wall Street Journal reported Friday afternoon that one of Gruden's emails from 2011 included a racist comment in reference to Smith. Gruden, who had given his players a heads-up Friday morning that the Journal's report would be coming out, apologized, saying he was "ashamed I insulted De Smith" and added that he "never had a racial thought" when he sent the email.
Raiders owner Mark Davis issued a statement on Friday after the Journal's story broke, calling the content of Gruden's email to Smith "disturbing" and "not what the Raiders stand for," while league spokesman Brian McCarthy condemned the email and said it was "appalling, abhorrent and wholly contrary to the NFL's values."
Gruden's emails came to light during the NFL's investigation of workplace misconduct with the Washington Football Team, as "the league was informed of the existence of emails that raised issues beyond the scope of that investigation," according to McCarthy. Senior league executives reviewed the content of more than 650,000 emails, including ones between Gruden and Allen. The NFL sent pertinent emails to the Raiders for review.
Gruden, speaking to ESPN's Chris Mortensen over the weekend, acknowledged disparaging Goodell with a vulgar description in one of several emails that were among the materials provided by the league to the Raiders. Gruden and his players spoke about the emails Sunday in the wake of the Raiders' 20-9 loss to the Bears at Allegiant Stadium, at which time Gruden again apologized for his language.
Gruden led the Raiders from 1998 until he was traded to Tampa Bay after the 2001 season. He immediately led the Buccaneers to a Super Bowl title — against the Raiders.
He lasted through the 2008 season in Tampa before being fired, then headed to the Monday Night Football booth.
The Raiders, then in Oakland, rehired Gruden in 2018 with a 10-year, $100 million contract. The team moved to Las Vegas last year and has not made the playoffs since his return. The Raiders are 3-2 in 2021.
ESPN's Paul Gutierrez and The Associated Press contributed to this report.
Jon Gruden out as Las Vegas Raiders head coach
Jon Gruden is out as the Las Vegas Raiders' head coach, a source confirmed to ESPN's Adam Schefter on Monday.
Raiders owner Mark Davis arrived at the team's facility a couple of hours ago and went to find Gruden, a source told Schefter. The two men met, and Gruden no longer will be the Raiders' head coach, the source said.
The news comes in in the wake a New York Times report that Gruden used misogynistic and anti-gay language in numerous emails during a seven-year period
NFL Network was first to report Gruden's departure from the team.
MCL sprain to sideline Kansas City Chiefs RB Clyde Edwards-Helaire 'a few weeks,' source says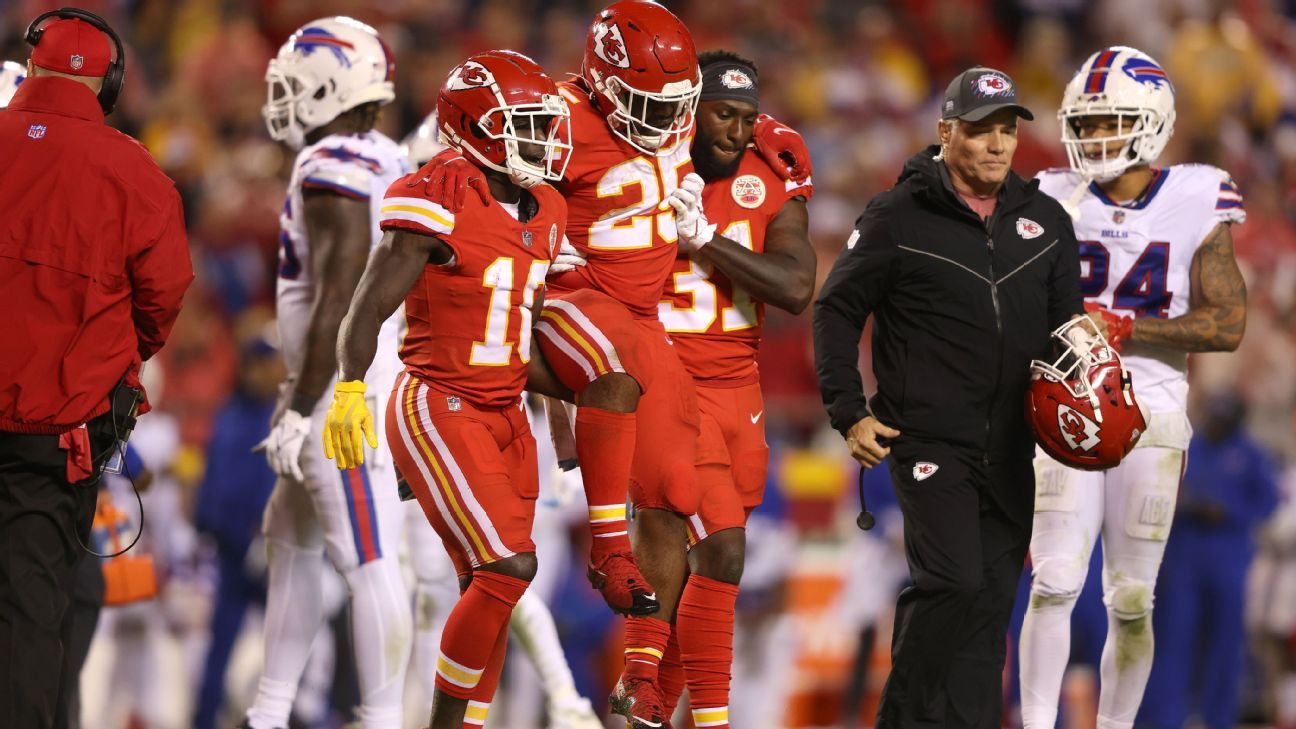 KANSAS CITY, Mo. — Running back Clyde Edwards-Helaire sprained the MCL in his left knee and will be out of the Kansas City Chiefs lineup for "a few weeks," a source told ESPN's Adam Schefter.
In addition, Chiefs wide receiver Tyreek Hill suffered a minor knee injury on Sunday night, but the team does not expect him to miss time, a source told Schefter.
Edwards-Helaire injured the knee in the third quarter of Sunday night's 38-20 loss to the Buffalo Bills.
He was helped off the field by teammates after getting tackled following a screen pass with 8:08 remaining in the third quarter. He finished with 13 yards on seven carries and one catch for 11 yards after back-to-back 100-yard rushing games.
He is the Chiefs' leading rusher with 304 yards through the first five games.
Veterans Darrel Williams and Jerick McKinnon are the Chiefs' backup running backs. Williams has rushed for 99 yards and two touchdowns and caught seven passes for 45 yards this season. McKinnon has one carry for two yards and three catches for 27 yards.
Sunday night's loss dropped the Chiefs to 2-3 on the season.
San Francisco 49ers QB Trey Lance suffered sprained knee in first start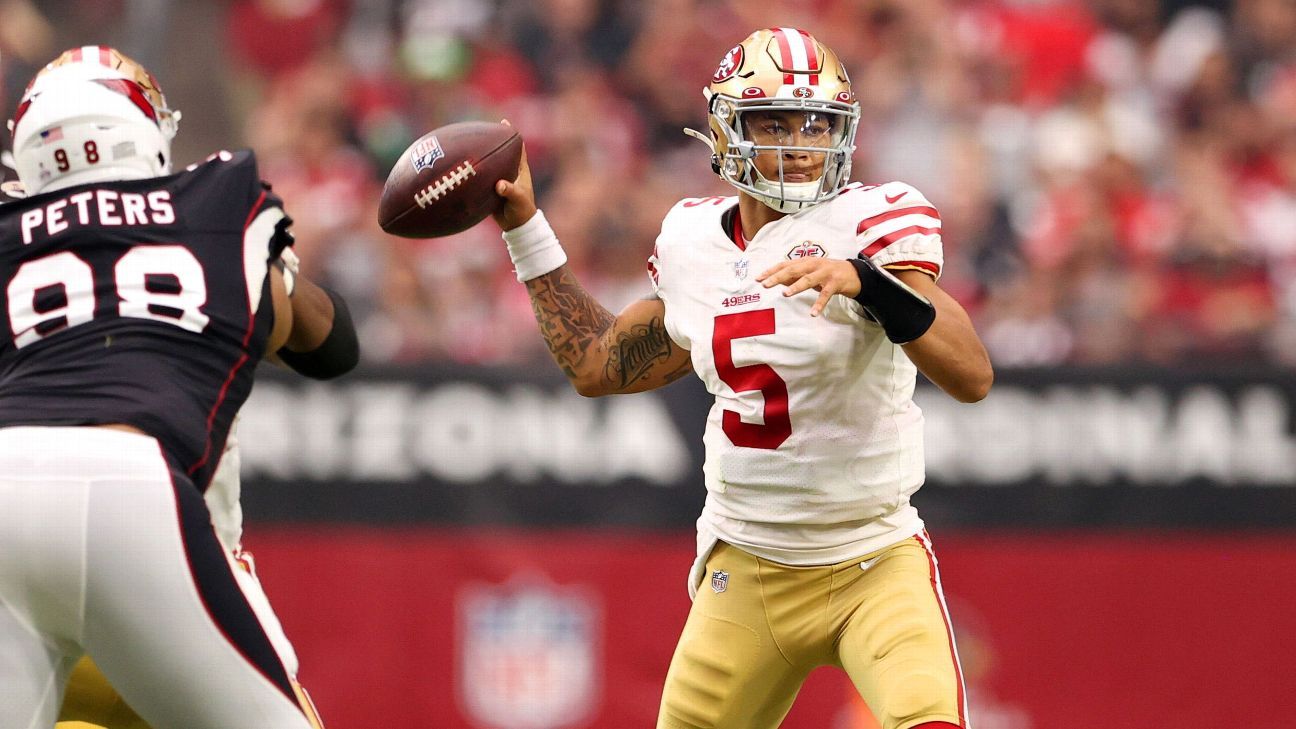 SANTA CLARA, Calif. — As it turns out, Jimmy Garoppolo won't be the only San Francisco 49ers quarterback who has to stay in the Bay Area on the team's bye week to recover from an injury.
That's because rookie signal-caller Trey Lance suffered a left knee sprain in Sunday's 17-10 loss to the Arizona Cardinals, coach Kyle Shanahan announced Monday.
Lance had an MRI on Monday morning and isn't expected to miss much time, especially since the 49ers are on bye and won't play again until they meet the Indianapolis Colts on Oct. 24.
"It's not a long-term injury but they did say they won't be able to know until (later)," Shanahan said. "He'll have to stay here on the bye week and get treatment and everything, so we should have a good idea by the end of the next week whether he has got a chance for Indy or not. If he doesn't, they told me it should be like a one-to-two-week thing but possibly just one."
After Sunday's loss, Lance said he felt "fine" despite taking plenty of hits. Lance finished 15-of-29 for 192 yards with an interception and had 16 carries for 89 yards.
But Lance told Shanahan that he first started feeling something wrong with his knee just before he went to bed Sunday night.
According to Shanahan, neither he nor Lance could pinpoint an exact moment when the injury happened. Still, Lance will have to spend the bye week with Garoppolo rehabbing before a determination can be made on his Week 7 availability.
"I was messing with Trey and Jimmy that now Jimmy just got some company," Shanahan said. "So, they'll be here, both of them the whole week so they have the best chance to be ready for Monday when we all get back."
Shanahan has maintained that Garoppolo would return to the starting role once he returns from his right calf injury. Shanahan was again optimistic that Garoppolo's return to the lineup will come against the Colts, given that he nearly was able to play against Arizona and now has an extra week to rehab and heal.
After watching the tape of Lance's first start, Shanahan offered Monday that he was "proud" of how Lance handled himself against a good team in a tough environment. Shanahan cited how aggressive Lance was and said he was pleased with how his rookie quarterback bounced back from an early interception.
Still, none of that has changed how Shanahan views the long-term situation at quarterback even as the 2-3 Niners are mired in a three-game losing streak.
"It doesn't change my opinion big-picture," Shanahan said. "Trey definitely has the ability to help us win games. I thought he was a big part of why we had a chance to win that game yesterday. I just wish we could have played better around him, too. Not that he was perfect by any means but he gave us a very good chance to win that game and I know he will give us a chance to win a lot going forward. But it's more of a decision than just which player do you want to go with? There's a whole team here, there's a lot more that goes into it and these three losses that we've had in a row, the answer good or bad, is not just the quarterback."