Jon Gruden resigns as Las Vegas Raiders head coach
Jon Gruden has resigned as head coach of the Las Vegas Raiders following reports that emails he wrote over a 10-year period included racist, misogynistic and anti-gay language.
"I love the Raiders and do not want to be a distraction," Gruden said in a statement Monday night. "Thank you to all the players, coaches, staff, and fans of Raider Nation. I'm sorry, I never meant to hurt anyone."
Raiders owner Marc Davis released a short statement saying he has accepted Gruden's resignation. Assistant coach Rich Bisaccia is expected to replace Gruden as the team's interim head coach, ESPN's Suzy Kolber reported.
The resignation came shortly after the New York Times reported that Gruden used misogynistic and anti-gay language in numerous emails during a seven-year period. That report came days after 10-year-old emails from Gruden surfaced that included a racial comment about NFL Players Association executive director DeMaurice Smith as well as a vulgar criticism of commissioner Roger Goodell.
According to The Times, Gruden sent emails to Bruce Allen, then the president of the Washington Football Team, and others during a seven-year period that ended in 2018.
Gruden emailed Allen that Goodell should not have pressured then-Rams coach Jeff Fisher to draft "queers," referring to former defensive end Michael Sam, a gay player drafted in 2014, according to The Times. The Times also reported that Gruden used an anti-gay slur in several instances while referring to Goodell, and used offensive language to describe some owners, coaches and media members who cover the league.
Gruden was employed by ESPN as the lead analyst for Monday Night Football at the time he sent the emails that are now under review.
"The comments are clearly repugnant under any circumstance," ESPN said in a statement.
Gruden's emails also included harsh language for a handful of team owners involved in the 2011 labor disagreement that led to a lockout at the time. The Wall Street Journal reported Friday that Gruden, in an email to Allen, said Smith had "lips the size of michellin tires," with the newspaper saying it had reviewed the email in question.
Gruden told ESPN that he routinely used the term "rubber lips" to "refer to a guy I catch as lying … he can't spit it out."
"I'm ashamed I insulted De Smith. I never had a racial thought when I used it," Gruden told ESPN. "I'm embarrassed by what's out there. I certainly never meant for it to sound that bad."
The emails came to light during the NFL's investigation into workplace misconduct with Washington, as "the league was informed of the existence of emails that raised issues beyond the scope of that investigation," according to NFL spokesperson Brian McCarthy. Senior league executives reviewed the content of more than 650,000 emails, including the one the Journal reported was written by Gruden to Allen. The NFL sent pertinent emails to the Raiders for review.
Gruden, 58, became the Raiders head coach in 2018, agreeing to a 10-year contract worth a reported $100 million.
The Raiders, off to a 3-1 start before hosting the Chicago Bears on Sunday, have gone 22-30 under Gruden this time around after he initially coached the Raiders from 1998 to 2001. He was traded to the Tampa Bay Buccaneers and beat his former team in Super Bowl XXXVII. The Raiders have had one winning season and playoff appearance since, in 2016.
Los Angeles Rams' Sean McVay wishes communication with Jared Goff was better ahead of trade to Detroit Lions
THOUSAND OAKS, Calif. — Nearly nine months after the Los Angeles Rams agreed to trade Jared Goff to the Detroit Lions, and with a pending reunion at SoFi Stadium on Sunday, coach Sean McVay expressed regret about how the deal went down with his former quarterback.
"Yes, I wish there was better, clearer communication," McVay said Monday. "To say that it was perfectly handled on my end, I wouldn't be totally accurate in that. I'll never claim to be perfect, but I will try to learn from some things that I can do better, and I think that was one of them without a doubt."
The Rams are 5-1 and heavily favorited against the 0-6 Detroit Lions in the Week 7 matchup, but plenty of intrigue surrounds the game as McVay and Goff prepare to face off after a conflicted ending to their four-year run.
"I think he'll be received well," McVay said about Goff's return to L.A., where he spent five seasons after the Rams traded up 15 spots to select him first overall in 2016. "I think the L.A. fans and I think the Rams fans know what a great job he had done and how much — I think how much he meant to the Rams organization both as a football player and also the community."
After McVay was hired in 2017, he and Goff won two division titles and an NFC championship. However, following a 13-3 loss to the New England Patriots in Super Bowl LIII, the Rams offensive production declined, and they missed the 2019 playoffs.
Following a divisional playoff loss to the Green Bay Packers last season, Goff's status as Rams starting quarterback appeared in question when neither McVay nor general manager Les Snead commited to him. Days earlier, quarterback Matthew Stafford requested a trade from the Lions, and a chance run-in between Stafford and McVay — both were vacationing in Cabo San Lucas, Mexico — marked the end of Goff with the Rams, as he was traded along with two first-round picks and a third-rounder to the Lions in exchange for Stafford.
In the aftermath, Goff told reporters that McVay and the Rams had no contact with him from the time the season ended to when he received the phone call about the trade. Goff claimed he was blindsided by the move.
"You don't want to catch guys off guard," McVay said. "It came together a lot faster than anybody anticipated, but yeah, of course I think that any time that tough decisions and things like that where people are affected, you always want to be as understanding, as empathetic as possible, think about it through the other person's lens and there's certainly things that I know I would do it a little bit differently if — when those situations arise in the future."
McVay insisted Monday that there was no tipping point in his relationship with Goff and that the chance to acquire Stafford was too great to pass.
"That was why that decision was made and that was why things came together as quickly as they did because we felt like it was a rare opportunity to acquire a player of Matthew's caliber," McVay said. "Those opportunities just don't come up often."
Stafford has two seasons remaining on a five-year, $135 million deal. In a short period, he has ignited the offense and has the Rams among the Super Bowl favorites.
Stafford has passed for 16 touchdowns, which ranks tied for third in the NFL with the Dallas Cowboys' Dak Prescott and behind the Kansas City Chiefs' Patrick Mahomes and Tampa Bay Buccaneers' Tom Brady. They are the most by any quarterback through his first six games with a team in NFL history, according to Elias Sports Bureau.
Stafford said he would treat Sunday's reunion with the Lions "just like every other game," though he added that there likely would be an extended period of greetings with friends, former teammates and, if in attendance, the Ford family before kickoff.
McVay said he would talk to Stafford about facing his former team, but expected the 13th-year quarterback to handle it as he would any other game.
"He's so impressive in terms of his weekly rhythm and his consistency through these first six weeks," McVay said. "He's so steady and even-keeled, I don't think he'll make it bigger than what it is."
Seattle Seahawks' Pete Carroll says follow-up tests on injured Darrell Taylor come back clear
Seattle Seahawks coach Pete Carroll said Monday that pass-rusher Darrell Taylor appears to have avoided a serious injury after being stretchered off the field during Sunday night's overtime loss to the Steelers in Pittsburgh.
Carroll's comments were based on the results of an MRI Taylor had Monday following a CT scan Sunday night.
"A really, really positive report," Carroll said. "His MRI stuff was clear. His CT scan stuff was clear. He does not have a neck injury. He got jammed pretty good. We got to wait and see what it's like. It may be a little bit more in his shoulder even as we figure it out."
Carroll said it's not out of the question that Taylor plays when the Seahawks host the New Orleans Saints on Monday night.
"We'll see how that goes," Carroll said. "He's got to have a good week to do that. I haven't talked to Darrell since the MRI stuff came back. I talked to him last night … and he was very positive about it and all that. So we'll see what happens. But a really, really good report, and I know a lot of people were really upset about that (Taylor being hurt) for good reason. Whenever they take a guy off like that, the threat is so huge. Anyway, he came out great, so we'll hope for the best and he may have a chance to go this week."
Taylor was injured in the fourth quarter and remained near midfield for several minutes before he was immobilized on a stretcher, with his helmet still on and his face mask removed. Both teams circled around Taylor as he received medical attention.
He had movement in his extremities and flew back to Seattle with the team. Carroll said on his 710 ESPN Seattle radio show that Taylor wanted to get up while he was was being tended to and that he was upset at having to be taken off the field on a stretcher.
Taylor, a second-round draft pick last year out of Tennessee, missed his rookie season with a leg injury that dated back to his final college season. He has been Seattle's best pass-rusher this season, leading the team with four sacks in the first five games. He had the Seahawks' only official QB hit Sunday night.
The Seahawks also lost running back Alex Collins and guard Damien Lewis to injuries Sunday. Carroll said Collins took separate hits on his hip and glute and Lewis suffered an AC joint sprain.
Carroll said Monday that it's not out of the question that Collins can return this week, but the Seahawks won't know his status for a couple more days.
"He got beat on pretty good," Carroll said. "Cramped up a little bit, too. He had a little bit of everything happen … he just got a lot of wear and tear last night. He played a great football game for us and he was really tough. We'll see what happens, but he didn't have a significant injury."
Collins ran for 101 yards and a touchdown on 20 carries. He started for the second straight week in place of Chris Carson, who was placed on injured reserve Friday with a neck injury. Carson has to spend at least two more games on IR, as does quarterback Russell Wilson.
Carroll has no estimate on when Carson will be back. Asked if Wilson can return after Seattle's Week 9 bye from finger surgery, Carroll said: "I don't know that … the medical side of this thing. But I know Russell, and if it's possible, it's going to happen. If it's possible, it'll happen."
Running back Rashaad Penny (calf) is returning off IR this week, per Carroll.
Houston Texans to release longtime defensive standout Whitney Mercilus, source says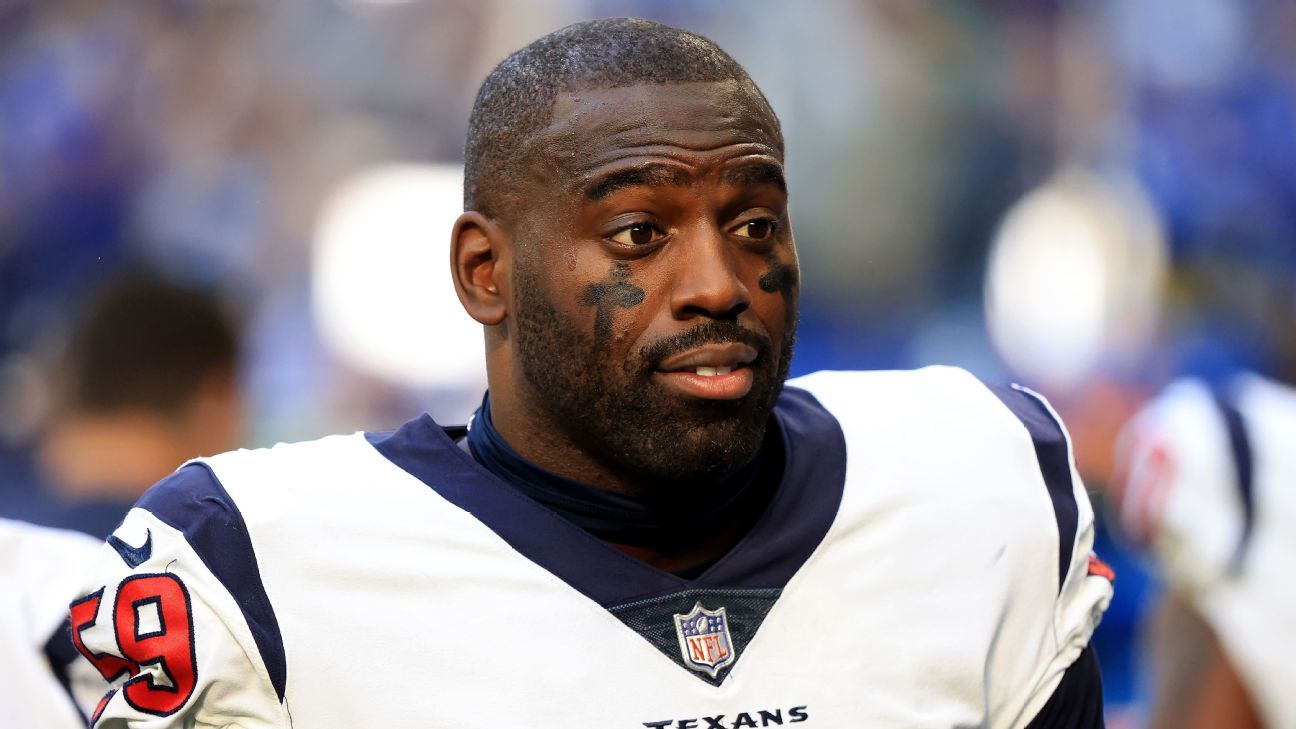 HOUSTON — The Texans plan to release defensive end Whitney Mercilus, a source confirmed to ESPN.
The Texans drafted Mercilus in the first round in 2012, but this was his first year in Lovie Smith's defense, which saw him move from outside linebacker to defensive end.
In March, the 31-year-old Mercilus restructured his four-year, $54 million contract, making him a free agent after this season.
Last month, Mercilus said the transition in the Texans' new defense has "been a little different."
"Now it's like my keys are shortened down to just reading tackles and tight ends and pre-snap reads, so I can't see anything that's post-snap or when motions happen, stuff like that, to get a beat on what might happen, things like that," Mercilus said. "It's just reading my keys more so and locking in on that, and just letting instinct take over."
In six games for Houston this season, Mercilus has three sacks, four tackles for a loss, three quarterback hits and 12 tackles.
He has 57 sacks in 10 seasons for the Texans, which ranks second in franchise history behind J.J. Watt, who had 101 sacks with Houston.
The news was first reported by SportsTalk 790.