Formula 1 seats in 2022, Oscar Piastri, leads Formula 2 championship, wins in Russia, Alfa Romeo, news
Australia's Oscar Piastri is one step closer to the Formula 2 championship after claiming victory in the feature race in Sochi, Russia.
The 20-year-old from Melbourne converted his third consecutive pole position into a second consecutive win, moving to 178 points and extending his lead at the top over Guanyu Zhou (142) and Robert Schwartzman (135).
With a maximum of 63 points on offer each weekend, Piastri hasn't won the title yet, but his consistency means he heads into the final two races in Jeddah and Abu Dhabi as the clear favourite.
Stream Every Practice, Qualifier & Race of the 2021 FIA Formula One World Championship™ Live & On-Demand on Kayo. New to Kayo? Start Your Free Trial >
"That was probably one of the hardest races of my life," Piastri said after crossing the line.
The Alpine Academy driver still appears very unlikely to receive a Formula 1 drive for 2022, with Alfa Romeo's second seat alongside Valtteri Bottas the last remaining option.
Instead his championship rival Guanyu Zhou is favoured to take the spot, even though Piastri is set to become the third driver after Ferrari's Charles Leclerc and soon-to-be Mercedes' George Russell to win the Formula 3 title and Formula 2 title in back-to-back seasons.
Piastri looks likely to bid for the Alpine reserve driver spot in 2022, behind Fernando Alonso and Esteban Ocon, before getting a seat at the team in 2023 (potentially when Alonso retires again).
Norris claims milestone pole! | 02:00
"Looking forward, that Alfa seat, I'm not very confident about that," he told Motorsport.com.
"Realistically, the most logical pathway is to try and be reserve driver for Alpine for next year and put in a lot of hours in the sim and really working with the team to try and get a 2023 seat.
"I'd be okay with spending one year on the sidelines I think. Obviously, it's still not ideal, but it's happened to quite a lot of drivers out there.
"That one I can accept, but if it was looking like more than one year out, then there'd some serious discussions about what I do moving forward.
"The aim would definitely be to try and be reserve driver at Alpine and then target a 2023 season. Given how the cards have been played this year, I think that's the most realistic target now."
Ricciardo and Norris on the same page | 01:16
He added: "I think I caught myself out with how well it's gone to be honest.
"Naturally if it caught myself out, and I know more or less what I can do, then I think that's naturally going to catch out a few other people as well.
"The original plan from even when I got into F3 was two years of F3 and two years of F2. And F3 obviously went better than planned and F2 is also probably going better than planned.
"Not trying to sound arrogant, but there's very few drivers that have managed to do what I've done and what I'm doing.
"George and Charles are kind of the only two that have had a similar fate. So without blowing my own horn, it's not a very common situation."
F1 2021 Russian Grand Prix live, result, report, video, Daniel Ricciardo, Sochi race, how it happened, finishing order
A bold gamble from McLaren's Lando Norris in the final laps of a dramatic Russian Grand Prix cost him dearly, allowing Lewis Hamilton to claim the 100th win of his F1 career.
Rain began to fall in the last four laps and Hamilton pitted for intermediates, but Norris tried to stay out; when the rain became heavier he simply couldn't get around the corners, coming home seventh.
"I'm unhappy, devastated in a way," Norris told Sky Sports F1. "We made a call to stay out and we stand by that.
"It was the wrong one at the end of the day but I made the decision just as much as the team. It was more that they thought I should box and I decided to stay out."
For the championship the big story was Red Bull's Max Verstappen, who coughed up the lead in the race with Hamilton, but finished second after starting dead last.
Stream Every Practice, Qualifier & Race of the 2021 FIA Formula One World Championship™ Live & On-Demand on Kayo. New to Kayo? Start Your Free Trial >
'I MADE THE RIGHT CALL': McLaren star calls out team as huge gamble blows up F1 honeymoon
FORMULA 2: Aussie ace closes in on title, but F1 still ignoring him
Hamilton claims 100th F1 victory | 00:36
Daniel Ricciardo was running in second during the race's first stint but was burned by a slow put stop on lap 23 that burnt his chances of back-to-back wins.
The eight-second stop saw him rejoin the race in 14th, but he recovered to finish fourth, just behind Ferrari's Carlos Sainz.
"P4 is a solid result. Good points and, I think, for those tricky conditions, it's always nice just to get out with your nose clean," he said.
"There are definitely some positives and personally still a few things to work on, so we'll keep our head down."
Lando's classy gesture | 00:30
LIVE RACE REPORT
McLaren was expecting light rain in the first 15 minutes of the race, but it failed to appear, with rain hanging over the nearby sea.
The top five runners began on medium tyres with Fernando Alonso (starting sixth) and Max Verstappen among those on the hards, with the title leader looking to go long.
Carlos Sainz took the lead in the first corner thanks to the huge run down the opening straight and the slipstream, with Norris, Russell and Stroll next.
Ricciardo: It was a clear decision | 01:04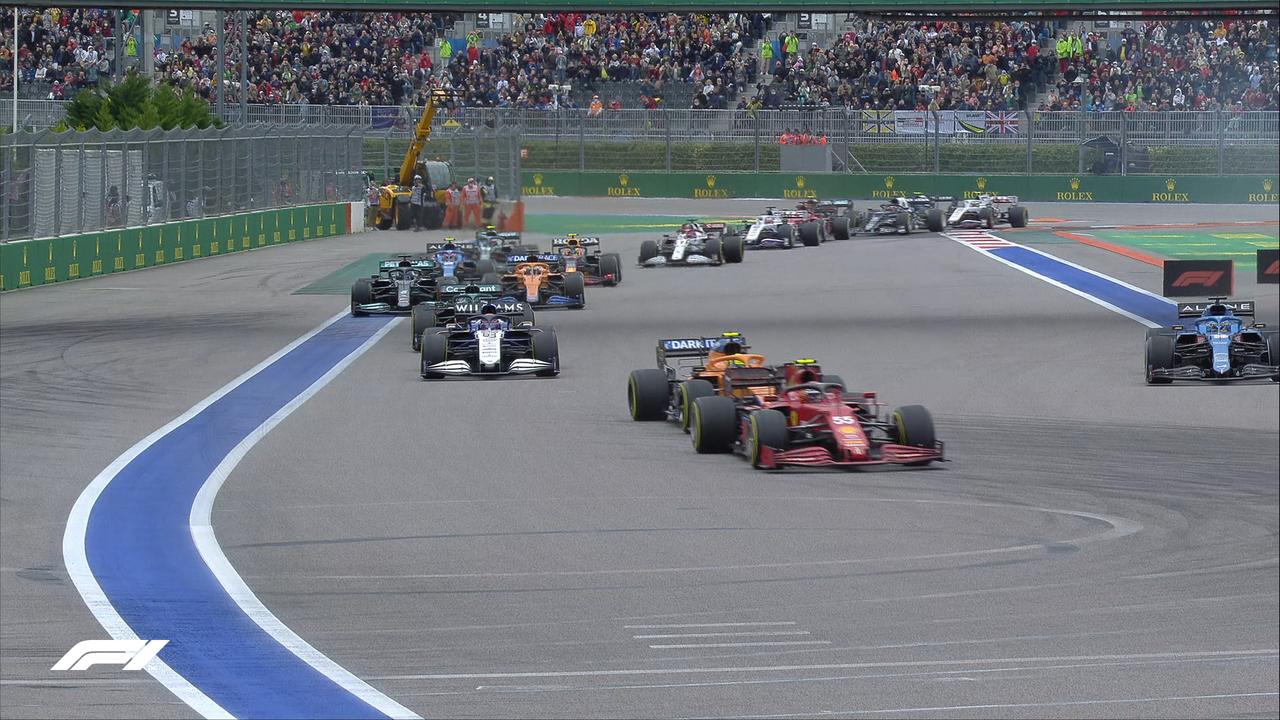 Ricciardo dropped back early from his starting position of fifth but soon overtook Hamilton and Alonso to regain it.
Verstappen was up into 17th by the end of lap one.
Ricciardo quickly came under pressure from Hamilton in the DRS zone down the main straight but thanks to Russell and Stroll being within range, the Aussie had DRS too.
On lap six, Sainz had a two-second lead over Norris, who had a six-second lead over third-placed Russell and a five-car DRS train, which Sergio Perez joined in seventh.
Verstappen overtook Valtteri Bottas on the back straight on lap seven, moving into 14th and beginning his push into the points. Bottas didn't put up much of a defence, failing to move and leaving commentator Paul di Resta shocked.
"You've got to make it difficult – think about the championship! That could be the argument for not getting a contract for next year," he said.
Verstappen overtook Leclerc for 12th on lap ten after nearly going down the inside on a fast corner, as Leclerc was trying to pass Seb Vettel, and being pushed into the wall.
At the front, Norris soon got within DRS range of Sainz and was getting almost alongside him into the first corner.
With Russell still holding up the train featuring Hamilton (sixth), the Mercedes driver was suddenly nine seconds back of the leader and just nine seconds ahead of Verstappen.
On lap 13, Stroll was the first driver to pit from fourth, onto the hards looking to undercut Russell and finding an 11-second gap of free air between 14th-placed Bottas and 15th-placed Mazepin.
Later that lap Norris re-took the race lead down the back straight, as Russell pitted but was passed by Stroll in the process. It left Ricciardo third and Hamilton fourth but if they were to pit, they would be behind the Williams and Aston Martin pair.
Stroll was soon lapping over a second faster than Norris, with the race seemingly splitting between one and two-stop strategies.
"I'm completely confused by what Mercedes have done with Hamilton. Why have they left him out there?" commentator Karun Chandhok asked as the seven-time champion ran behind second-placed Ricciardo.
Verstappen was soon running sixth (though he hadn't pitted yet) and on lap 17 set the fastest lap on his used hards, threatening to challenge for a podium after starting last. He was running over a second faster than Hamilton.
By lap 19 rain clouds were beginning to gather around the track and moisture was visible on the back wing of Ricciardo's car.
On lap 21 it looked as if the drivers who stopped early, moving onto a two-stop strategy, had made an error – Sainz, who was battling for the lead with Norris before pitting, was still a full pit stop behind the McLaren as he ran 11th.
Verstappen could soon see the DRS train led by Ricciardo and Hamilton.
Ricciardo pitted on lap 23 for hards and was disastrously slow, putting him in dirty air behind 13th-placed Ocon when he emerged from the pits.
After being released from behind Ricciardo, Hamilton set the fastest lap of the race on lap 24, though Ricciardo then set a lap almost a second faster.
Race leader Norris was out to almost a 12-second lead on second-placed Hamilton on lap 26, with neither driver having pitted.
Hamilton then pitted for hards and passed Ricciardo, coming out ninth, with Verstappen pitting for mediums and coming out 12th behind Russell – five seconds behind Hamilton.
Norris pitted from the lead on lap 29 and came out fourth behind Perez, Alonso and Leclerc who all hadn't pitted yet, remaining nine seconds ahead of Hamilton.
Hamilton made an important move on Sainz for sixth on lap 30 with Toto Wolff getting on the radio to tell the Brit he could still win the race. He passed the yet-to-pit Gasly later in the lap.
Ricciardo found himself running ninth behind early stoppers Sainz and Stroll, passing the Aston Martin down the back straight on lap 32, with Verstappen doing the same on the main straight.
Race leader Perez found himself in an interesting position, yet to pit on lap 33 but he would've been just five seconds behind Hamilton if he pitted at that point and on fresher rubber.
Norris passed the yet-to-pit Leclerc for third on lap 34, but Hamilton was closing in, just five seconds back of the virtual race leader.
Verstappen meanwhile was dropping back while stuck behind Sainz and Ricciardo, moving a full 20 seconds back of Hamilton by lap 36.
Norris took the race lead on lap 37 when Perez and Alonso pitted; the Red Bull driver had a nine-second stop. With the leaders having pitted the race was fully on, with Norris leading from Hamilton, Sainz, Ricciardo, Perez and Verstappen.
Red Bull didn't tell Perez to let Verstappen through, which proved a poor strategic decision as Alonso was able to pass the championship leader on his fresher tyres on lap 38.
The race win was down to either Norris or Hamilton, who by lap 40 (of 53) was just outside of DRS range.
On lap 42 Leclerc, who started at the back, overtook Russell for ninth as the teams warned their drivers rain was expected in the last few laps.
By lap 45 Hamilton was getting within a second of Norris during most of the lap, but falling out of DRS range in the tricky final sector, meaning he couldn't have it down the main straight. Meanwhile Perez passed Ricciardo for fourth.
Rain began to fall on lap 46 with spectators putting on their jackets in the stands.
Norris nearly gave up the lead on lap 47 as he struggled in the wet portion of the track closest to the sea, while Perez passed Sainz for third.
Drivers were running wide constantly in the rainy sections as Russell, Bottas and others pitted for intermediates on lap 48 with five laps left. Hamilton was told to box for inters but refused.
The two Aston Martins collided when Stroll essentially forced Vettel into the wall.
Verstappen, Sainz and Ricciardo pitted from sixth-eighth for inters on lap 49; a lap later Hamilton pitted for inters while telling the team it wasn't raining, but Norris said he didn't need to stop.
Norris at this point couldn't stop for inters and had to commit and stay on the dry tyres – he was on lap 50 of 53 with a 25-second lead. Hamilton closed six seconds of that gap in one lap.
Norris' lead was evaporating by the corner as Hamilton closed in with heavy rain falling in sections. He couldn't keep it on the track and it was clear he had erred.
Hamilton took the lead by lap 51 as Norris spun out, with Verstappen surging through the field into third after pitting onto inters early.
"This is tragedy in a sporting context for Lando Norris," commentator David Croft said.
Hamilton went on to win from Verstappen, Sainz, Ricciardo and Bottas. Norris finished seventh but was set to visit the stewards after crossing the pit line illegally.
After jumping out of his car he said: "The rain came, it was very opportunistic, the team did a great job, I'm grateful for the points.
"It's taken a long time to get to 100 wins.
"I wasn't even sure it would come. The team made such a good call at the end. I didn't want to let Lando go. I'm incredibly grateful to all these men and women here and back in the factory. Wow, 100."
Norris claims milestone pole! | 02:00
FORMULA 1 RUSSIAN GRAND PRIX – Results
1 Lewis Hamilton (GBR/Mercedes) 1hr 30min 41.001sec
2. Max Verstappen (NED/Red Bull-Honda) at 53.271sec
3. Carlos Sainz (ESP/Ferrari) 1:02.475
4. Daniel Ricciardo (AUS/McLaren-Mercedes) 1:05.607
5. Valtteri Bottas (FIN/Mercedes) 1:07.533
6. Fernando Alonso (ESP/Alpine-Renault) 1:21.321
7. Lando Norris (GBR/McLaren-Mercedes) 1:27.224
8. Kimi Räikkönen (FIN/Alfa Romeo Racing-Ferrari) 1:28.955
9. Sergio Pérez (MEX/Red Bull-Honda) 1:30.076
10. George Russell (GBR/Williams-Mercedes) 1:40.551
11. Lance Stroll (CAN/Aston Martin-Mercedes) 1:56.198
12. Sebastian Vettel (GER/Aston Martin-Mercedes) 1 lap
13. Pierre Gasly (FRA/AlphaTauri-Honda) 1 lap
14. Esteban Ocon (FRA/Alpine-Renault) 1 lap
15. Charles Leclerc (MON/Ferrari) 1 lap
16. Antonio Giovinazzi (ITA/Alfa Romeo Racing-Ferrari) 1 lap
17. Yuki Tsunoda (JPN/AlphaTauri-Honda) 1 lap
18. Nikita Mazepin (RUS/Haas-Ferrari) 2 laps
19. Nicholas Latifi (CAN/Williams-Mercedes) 6 laps
Fastest lap: Lando Norris (GBR/McLaren-Mercedes)
Retired: Mick Schumacher (GER/Haas-Ferrari)
CHAMPIONSHIP STANDINGS
1. Lewis Hamilton (GBR) 246.5 pts
2. Max Verstappen (NED) 244.5
3. Valtteri Bottas (FIN) 151
4. Lando Norris (GBR) 139
5. Sergio Pérez (MEX) 120
6. Carlos Sainz Jr (ESP) 112,5
7. Charles Leclerc (MON) 104
8. Daniel Ricciardo (AUS) 95
9. Pierre Gasly (FRA) 66
10. Fernando Alonso (ESP) 58
11. Esteban Ocon (FRA) 45
12. Sebastian Vettel (GER) 35
13. Lance Stroll (CAN) 24
14. Yuki Tsunoda (JPN) 18
15. George Russell (GBR) 16
16. Nicholas Latifi (CAN) 7
17. Kimi Räikkönen (FIN) 6
18. Antonio Giovinazzi (ITA) 1
19. Mick Schumacher (GER) 0
20. Robert Kubica (POL) 0
21. Nikita Mazepin (RUS) 0
Constructors
1. Mercedes 397.5 pts
2. Red Bull-Honda 364.5
3. McLaren-Mercedes 234
4. Ferrari 216.5
5. Alpine-Renault 103
6. AlphaTauri-Honda 84
7. Aston Martin-Mercedes 59
8. Williams-Mercedes 23
9. Alfa Romeo Racing-Ferrari 7,
10. Haas-Ferrari 0
Re-live the Russian F1 Grand Prix in our blog below!
Scott McLaughlin named Rookie of the Year, Long Beach Grand Prix finishing position
Scott McLaughlin has capped an impressive switch from Supercars to clinch IndyCar's Rookie of the Year award, becoming the first Team Penske driver to earn the honour.
The Australian finished 11th at the season-ending event in Long Beach, enough to clinch rookie honours as he finished 13th in the overall standings with his season including one podium finish.
"Really excited for next year. This year was a foundation year; all about building. I feel like I've done that," said McLaughlin, who is likely to return to compete in the Bathurst 1000 ater in the year.
"Hopefully I can be a little bit further up next year… every area I need to get better."
Stream Every Practice, Qualifier & Race of the 2021 Repco Supercars Championship Live & On-Demand on Kayo. New to Kayo? Start Your Free Trial >
Alex Palou became the first Spaniard in IndyCar history to clinch the season points championship after finishing fourth in Monday's (AEST) Long Beach Grand Prix race in southern California.
The 24-year-old is also the second straight Chip Ganassi team driver to win the title and it comes in just his second season driving in IndyCar.
Palou is emblematic of the youth movement in IndyCar this season as he is the first series champ younger than 25 since Scott Dixon in 2003. He is also the seventh youngest champion in IndyCar history.
Southern California native Colton Herta won Sunday's race after leading in all three practice sessions.
Herta beat runner-up Josef Newgarden to the chequered flag by just .588 of a second for his second straight victory and third this season.
McLaren tyre call, bad pit stop costs team
McLaren's honeymoon was well and truly ended at the Russian Grand Prix as the cruel side of F1 showed its fangs once more, biting both Lando Norris and Daniel Ricciardo in separate incidents.
Ricciardo's podium hopes went up in smoke in Sochi over a botched pit stop.
But that was overshadowed by Norris' own misfortune, which resulted in pointed remarks to his team over a crucial strategy error that saw him spin out of the lead with two laps remaining.
Stream Every Practice, Qualifier & Race of the 2021 FIA Formula One World Championship™ Live & On-Demand on Kayo. New to Kayo? Start Your Free Trial >
'SPORTING TRAGEDY': Bold gamble costs star, Ricciardo burned by pit disaster in F1 madness
Did misinformation cost Norris? | 00:31
Norris held the lead over Mercedes' Lewis Hamilton having resisting team orders to stop for intermediates, despite rain intensifying.
It proved to be the wrong call as he sensationally spun out on Lap 51 to hand Hamilton the win, and finish seventh.
The result sent McLaren crashing back down to earth after claiming a rare one-to finish at Monza two weeks earlier.
Norris said he was "devastated" by the result, and admitted that it was him, not the team, that ultimately made the wrong call.
"It was more that they thought I should box and I decided to stay out. It was my decision, I thought it was the way to go," Norris told Sky Sports F1.
But Norris' tune later changed, questioning why Mercedes had better knowledge over his own team about what the weather was going to do.
"I made my decisions and they told me it was only going to be drizzling like it was for those first five laps, but it rained a lot more," he said.
Ricciardo: It was a clear decision | 01:04
"That's something we didn't know for some reason, Mercedes seemed to know it was going to rain a lot more, it's something I'll talk to the team about.
"At that point in time, and from what the team was telling me, I made the right decision. They weren't telling me that it was going to rain a lot more and the slick tyre wasn't going to be the one to be on.
"At that point it wasn't a risk, we were making a correct decision, but for some reason not seeing the rain or not knowing it was going to get a lot harder was the thing that caught us out."
"(The decision) was wrong at the end of the day but everything until then the guys did an excellent job. I'm happy with everything apart from that one decision which we'll review and try not to make again."
Hamilton claims 100th F1 victory | 00:36
Hamilton was overheard in the media pen telling Norris that he didn't want to pit either but eventually took his medicine and obeyed team orders at the second time of asking.
It was the right call that spoke in volumes about both Hamilton's experience, and the trust he has in the team that's helped him to six world titles.
"Lando, you didn't want to come in? Me neither, I was like 'he's right there'," Hamilton was heard saying to Norris, before praising his team for pushing him to stop.
McLaren team boss Andreas Seidl accepted some responsibility for the result, but made suggestive remarks over Norris' decision to ignore calls to pit.
"Of course we are disappointed, he's very disappointed at the moment, but that's part of the sport we are in," Seidl said. "In hindsight it's always easy to judge what we could have done different, what he could have done different.
"In the end we didn't get it together as a team – it was the wrong decision to stay out – but again it's part of the sport."
The team had been on cloud nine heading to Sochi after Ricciardo claimed the team's first win since 2012 at Monza, where Norris finished second.
A wet and wild qualifying then saw the normal order shaken up again with Norris on pole and Ricciardo in fifth, albeit with a strong chance to gain positions with Williams' George Russell and Ferrari's Carlos Sainz ahead of him.
Ricciardo's 'knife in my back' moment | 00:50
Ricciardo ran as high as second place having successfully defended Hamilton for several laps. He then pitted on Lap 23, hoping for a smooth change that would give him a chance to fight for a podium in the race's second half.
But a slow stop, due to issues with the front left tyre, lay waste to those hopes, putting him back out in P14 in a result Sky Sports' Paul di Resta called a "nightmare".
Ricciardo showed his class by regaining positions over George Williams, Esteban Ocon, Lance Stroll and Sebastian Vettel after his first pit stop.
The only negative was Red Bull's Sergio Perez passing him, although Ricciardo was able to gain the spot back and only finished behind Hamilton, Verstappen and Carlos Sainz.
"Very mature drive by Ricciardo as well isn't it? Showing his class," di Resta said.
"Maybe not ultimately getting the speed out of the car but when it comes to wheel-to-wheel racing, he's kind of getting back in the same zone as where he was last year.
"I'd say he's the third best on the track next to Hamilton and Verstappen."
Commentator David Croft added: "Form is temporary, class is permanent and Daniel Ricciardo certainly has plenty of class."
'FOR ME, IT WAS C'EAR'
Asked after the race for his thoughts on stopping for wet tyres, Ricciardo said he felt it was a clear-cut decision.
"I speak purely on my race and my feeling … it was the far part (of the track) that was wet and we (the drivers, not the engineers) are the best reference for that," Ricciardo told Sky Sports.
"I said, 'Turn 5, Turn 7 I can't keep it on the track anymore'. So for me it was clear, I said, 'I need to come in for the inter'.
"Turn 7 I went off close to the wall, so it wasn't even a question for me.
"Normally we are the best judge for that because we're the one feeling the track, but again, I'm not speaking about Lando's situation but for me it was clear."
Seidl was still full of praise for Norris and said the experience will serve the Briton better in the long run.
"That's why we need to, of course, analyse together with him what we could have done better today and learn from it – but then at the same time I think it's also important to see all the positives from this weekend, also on his side, and come back stronger in Turkey," Seidl said.