Follow live: Dodgers have opportunity to take control in pivotal Game 3 vs. Giants
MLB playoffs 2021 – Inside the weird, wild and controversial 13th inning of Rays-Red Sox ALDS Game 3
Game 3 of the American League Division Series between the Tampa Bay Rays and Boston Red Sox might have had one of the wildest endings in postseason history. The two teams had battled back and forth for more than five hours, with the Rays' Wander Franco and Randy Arozarena leading a comeback in the eighth inning to help send the game into extras. Neither squad could get much going from the 10th to the 12th, but then all hell broke loose in the 13th.
We asked our team of MLB experts to weigh in on the kind of ending fans will be talking about for years.
Dave Schoenfield — What the heck just happened?
In the top of the 13th inning of a game that would last 5 hours, 14 minutes and feature 16 pitchers and 389 pitches, Yandy Diaz was on first base for the Rays with two outs and was running when Kevin Kiermaier lined a 3-2 slider from Nick Pivetta off the base of the low wall in front of the bullpens in right-center field. The ball bounced back onto the warning track, off Hunter Renfroe's leg and over the wall into the bullpens.
Make it make sense pic.twitter.com/QyLp3UTpdL

— Tampa Bay Rays (@RaysBaseball) October 11, 2021
Diaz was already a step from third base and would have scored easily if the ball remained in play, but after an umpire review, he was sent back to third base and Kiermaier to second. Pivetta then struck out Mike Zunino to end the threat.
Note that rule 5.05(a)(8) in the rulebook and 5.06(b)(4)(h) in the umpires manual say, "Any fair fly ball is deflected by the fielder into the stands, or over the fence into foul territory, in which case the batter shall be entitled to second base; but if deflected into the stands or over the fence in fair territory, the batter shall be entitled to a home run."
That would be the famous Jose Canseco play — the fly ball bouncing off his head and over the fence for a home run. For Kiermaier's hit, rule 5.05(a)(8) comes into play, making it a ground-rule double.
In the bottom of the 13th, Luis Patino walked Renfroe, and then Christian Vazquez walked it off with a home run over the Green Monster, the sixth walk-off homer in postseason history in the 13th inning or later.
The Red Sox won 6-4, and they lead the series 2-1.
---
Jeff Passan — Why they got it right … but it still feels wrong
All credit due to the review crew that looked at the play, interpreted the rules correctly and enforced them. The ball bounded off the wall, deflected off Renfroe and went over the fence and into the bullpen, advancing the runners two bases. Further, as the MLB umpiring manual notes, there is a difference between, say, an outfielder fielding the ball cleanly and tossing it over the fence intentionally and the ball caroming off a person out of play. If the fielder has "complete possession," according to the manual, "the award is two bases from the position of the runners at the time the ball was kicked or deflected." Renfroe did not have possession. Thus, the rules say, "the award is two bases from the time of the pitch."
For those asking: Well, Yandy Diaz was halfway between second and third when the ball hit out Hunter Renfroe, so why didn't he get two bases and advance home? Here is the rule from the MLB umpire manual. It has to do with possession — and it determines when the two are awarded. pic.twitter.com/FVXF20QN6Q

— Jeff Passan (@JeffPassan) October 11, 2021
In other words, you can't just grab the ball and chuck it into the stands without there being a penalty. No, you just have to completely misfield it and only then do you get rewarded!

— Jeff Passan (@JeffPassan) October 11, 2021
All that said: This feels wrong — and it would feel equally as wrong were the Rays the ones benefiting from it. Renfroe misplayed the ball off the wall. Instead of grabbing it with his hand or glove, Renfroe misjudged the bounce and it ricocheted off his body. In other words, because he did his job incorrectly … the Red Sox were rewarded.
MLB's rulebook is filled with answers to so many what-if questions, but the game is the game. It offers situations of which not even the most creative mind could conceive. And as much as it strives for fairness, there are bound to be holes. One of those appeared Sunday night. It might have changed the course of Game 3, because the notion that everything would have gone the same way — the idea that Vazquez' two-run homer would have simply won the game 6-5 — had the Rays scored that run, rather than remain tied, is spurious. And in the end, it might be the thing that costs Tampa Bay a trip to the AL Championship Series, with the Red Sox now ahead two games to one and angling to close out the series on Monday at Fenway Park.
---
Joon Lee — What they're saying at Fenway
The Rays clearly felt devastated over the outcome of the play. Kiermaier looked visibly distressed, calling the moment a "heartbreaker." Manager Kevin Cash, for his part, did not seem interested in stirring any controversy over the play, repeatedly citing the rulebook during his postgame news conference.
Kevin Kiermaier says the ground-rule double call that cost his team a run is a "heartbreaker."
"I think it would be a very easy call if somebody stepped in and said it was stating the obvious that he was going to score," Cash said. "Saying that, it's been a rule for a long time, and we're going to play within the rules that are presented to us this season."
Kiermaier said he expected for Diaz to score but also deferred to the rulebook.
"The rules are in place, and I can't sit here and go against those," Kiermaier said. "It's just incredible that it worked out to their advantage just like that."
The moment particularly stung after Vazquez's deciding homer, which led to a jubilant celebration at Fenway Park featuring a helmet tossed in celebration flying high into Boston's brisk autumn sky, multiple Gatorade tub dunks and a confident Red Sox team ready for an opportunity to eliminate the first-place finishers of the American League East.
"We're not lucky," Vazquez said.
And as Boston center fielder Enrique Hernandez added, "We played a good game. Play a good game and play the elements, we took care of home-field advantage, came our way. We did what we had to do to win the game. Got big hits, got big homers."
MLB playoffs 2021 – Why Braves slugger Joc Pederson has former Cubs teammate Anthony Rizzo to thank for his NLDS heroics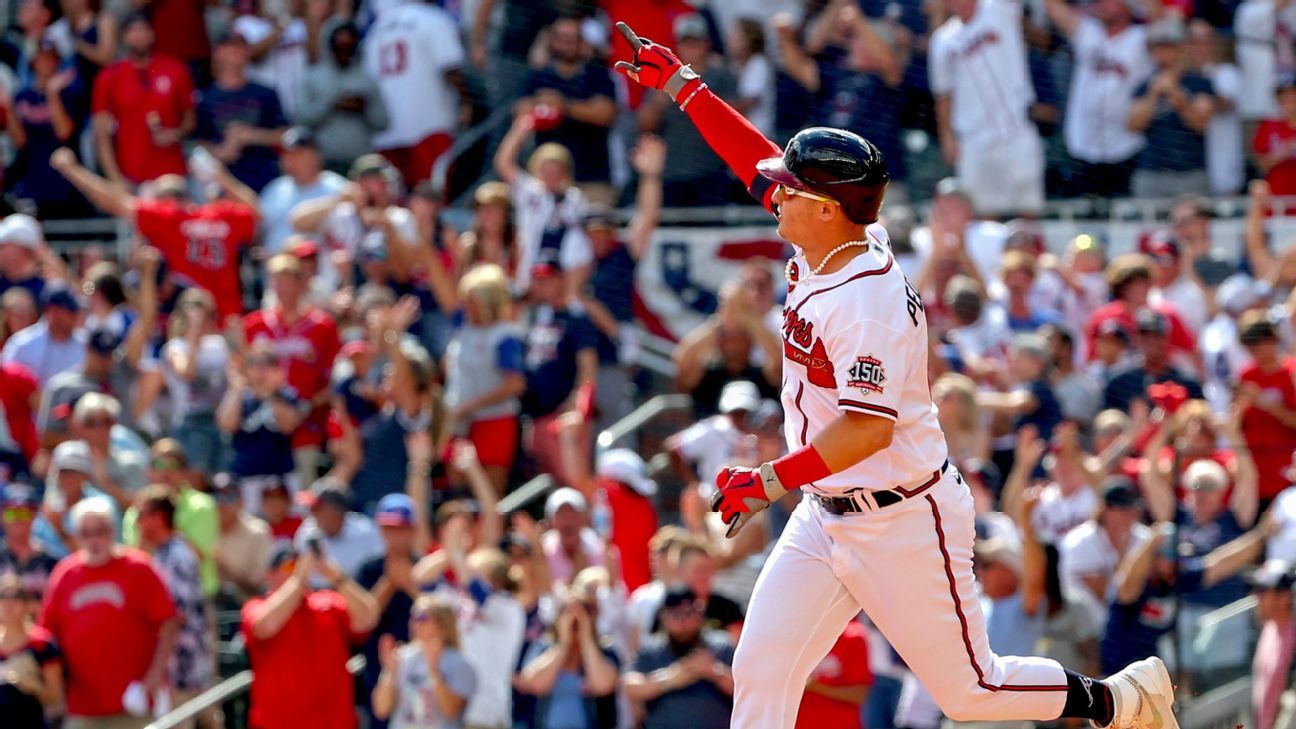 For a team that lost 91 games, the Chicago Cubs are having quite an impact on the 2021 MLB playoffs.
Everywhere you look, some recent ex-Cub is turning up as the latest October hero. The trend reached a ridiculous proportion with Monday's National League Division Series contest between the Atlanta Braves and Milwaukee Brewers.
In the bottom of the fifth, Braves pinch hitter Joc Pederson became just the third player to hit two pinch-hit homers in the same postseason, belting a three-run jack off Milwaukee righty Adrian Houser that accounted for all the scoring in the Braves' 3-0 win.
As you either already know or no doubt have guessed, Pederson is a very recent ex-Cub, having been acquired from Chicago by Atlanta in mid-July for a prospect. Oh, but there's more: The bat Pederson used to hit the game-turning bomb was one he "stole" from former Chicago teammate Anthony Rizzo.
Joc Pederson was using Anthony Rizzo's bat for that home run! pic.twitter.com/jnlS4L2f9N

— Talkin' Baseball (@TalkinBaseball_) October 11, 2021
Cameras during the broadcast caught Rizzo's name on Pederson's lumber. Asked about it during his on-field interview after the game, Pederson told TBS, "I stole it from him when we were in Chicago. He's got a lot of hits in it. So, thanks, Big Horn."
So Rizzo didn't know?
"He just texted me," Pederson said with a shrug. "Yeah, we'll see."
According to NBC Sports Chicago, Pederson first "borrowed" the bat — or at least a Rizzo model bat — back in May, when he rang out three hits in a loss to the Cleveland Indians.
Borrowing a teammate's bat isn't particularly unusual in the big leagues nor is continuing to use it if it works. But taking it beyond state lines and to another franchise? That might be a new tradition.
It was Rizzo who helped get the ex-Cub home run parade off to a grand start this October, homering for the New York Yankees in a wild-card game loss at the Boston Red Sox. Rizzo's shot came three innings after another recent former Cub — Kyle Schwarber — went deep for the Red Sox.
And so it has gone in October: Rizzo is done, but his bat is not. Pederson has now hit two pinch-hit homers in Atlanta's series against the Brewers, both off Houser. He is the first player to hit two pinch-hit bombs off the same pitcher in the same postseason.
No one has hit three career postseason pinch-hit homers. Even Pederson was impressed.
"Yeah, I guess I'm just a pretty good player, I don't know," Pederson deadpanned to reporters after Monday's victory. "Just knocked it out of the yard."
The key blow continues to put a fresh 21st-century spin on the old Ex-Cub Factor mythology. For decades, it was a trope around baseball that a team could not win a World Series if it had at least three former Cubs on the roster.
Now, in 2021, it seems you can't get to the World Series without some fresh former Cub around to help. Rizzo, Pederson (twice), Schwarber (twice) and San Francisco's Kris Bryant have all gone deep so far in the playoffs.
At the time of this writing, that means six of the 33 homers this postseason have been hit by batters who played for the Cubs either this season or last. Those four players have combined to hit .433 with a 1.033 slugging percentage.
The lesson is clear: In 2021 baseball mythology, if you want to win, you must have a former Cub. Failing that, swipe some equipment. Better yet, as in the case of Pederson and the Braves, try to get both.
MLB playoffs 2021 – Best moments and plays from Monday's postseason games
The wildly dramatic — and sometimes controversial — 2021 MLB playoffs continue Monday with a tripleheader.
To catch you up, the Boston Red Sox took a 2-1 series lead over the Tampa Bay Rays after winning a 13-inning game with a walk-off homer from Christian Vazquez on Sunday. In Sunday's other AL division series, the Chicago White Sox got their first win, beating the Houston Astros, who lead the series 2-1.
The Atlanta Braves got today's action going with a 3-0 victory over the Milwaukee Brewers (Atlanta leads 2-1) ahead of Game 3 between the San Francisco Giants and Los Angeles Dodgers (tied 1-1).
Game 4 of the Astros-White Sox series was postponed due to rain. It is scheduled to now be played on Tuesday. Ready for a day with high-stakes October baseball? Here's the best from Monday's games:
Braves 3, Brewers 0
Braves lead series 2-1
Whether it's the Braves' pitching, the Brewers' hitting or, most likely, a combination of both, the bottom line is the same: Milwaukee must figure out some way to generate some offense, or its season will end with Game 4 on Tuesday.
All three games in the Atlanta-Milwaukee division series have followed the same script. The starting pitchers for both sides put up zeros, the bullpens mostly do their jobs and the outcomes are determined by one or two key offensive sequences. The Braves converted their best scoring opportunity in Monday's Game 3, the Brewers did not, and Atlanta grabbed a 2-1 lead in the series with a 3-0 win.
Milwaukee starter Freddy Peralta and Atlanta counterpart Ian Anderson both were dealing in the early innings, and both were removed for pinch hitters in the fifth inning, because their teams both put two runners on base and runs have been oh-so-hard to come by in this series.
While the Brewers' second-and-third, one-out threat in the top of the fifth fizzled, the Braves' two-on, none-out surge in the bottom of the fifth did not, as Atlanta manager Brian Snitker was able to exploit what has emerged as a highly favorable matchup for Atlanta.
In Game 1, Adrian Houser, working in relief, gave up a solo homer to pinch hitter Joc Pederson in the late innings, the only run the Braves scored in that contest. With two runners on, Anderson due up and Houser again on in relief, Snitker sent Pederson up again. And, again, it worked: Pederson clubbed a three-run, pinch-hit bomb to right field that accounted for the only scoring in the game.
So here we are, three games in, and the Brewers have scored two runs total in the series. Over their last seven postseason games, Milwaukee has gone 1-6 and scored a total of eight runs in those seven games. It's a nasty trend for the Brewers, one that they have about 24 hours to curb or else their season will come to a very quiet end. — Bradford Doolittle
---
According to ESPN's Stats and Information, the Braves are now 6-3 in the postseason at Truist Park (opened in 2017), winning four straight dating back to 2019.
Atlanta will seek to close out the NLDS having lost 10 of their last 13 potential series-clinchers since losing the 1999 World Series.
Braves WIN!

Final: #Braves 3, Brewers 0.#BattleATL pic.twitter.com/QeLGdx4Arl

— Atlanta Braves (@Braves) October 11, 2021
It's Joctoberfest in Game 3. And, apparently, Joc Pederson hit that pinch-hit homer with former Chicago Cubs teammate Anthony Rizzo's bat.
WELCOME TO JOCTOBER!@yungjoc650 | #ForTheA pic.twitter.com/scosmrCNuN

— Atlanta Braves (@Braves) October 11, 2021
Joc Pederson was using Anthony Rizzo's bat for that home run! pic.twitter.com/jnlS4L2f9N

— Talkin' Baseball (@TalkinBaseball_) October 11, 2021
Ronnie's in the house ❤️@ronaldacunajr24 | #BattleATL pic.twitter.com/qCI3AsU7iM

— Atlanta Braves (@Braves) October 11, 2021
chipper jones, he's just like us pic.twitter.com/CMOcBu4KpV

— Cut4 (@Cut4) October 11, 2021
Brewers left fielder Christian Yelich showing off the arm.
DEFENSIVE RUNS SAVED @ChristianYelich | #ClawsUpMKE pic.twitter.com/fhZ7GHq6cb

— Milwaukee Brewers (@Brewers) October 11, 2021
The Brewers and Braves have arrived in style.
Cooler than a polar bear's toenails 👽@Outkast | @BigBoi | #BattleATL pic.twitter.com/ycoa6l9XqA

— Atlanta Braves (@Braves) October 11, 2021
People keep asking me questions about my shirt already answered by my shirt. pic.twitter.com/rabVCCvr2W

— Milwaukee Brewers (@Brewers) October 11, 2021
GOAT sighting in ATL 🐐 #ClawsUpMKE pic.twitter.com/LXiOFa5z1d

— Milwaukee Brewers (@Brewers) October 11, 2021
---
Rays vs. Red Sox
Boston appears quite committed to keep Devers' moving in the right direction.
everybody say "raffy" keep it goin' pic.twitter.com/t7aiHflgOb

— Cut4 (@Cut4) October 12, 2021
The Red Sox took control in the third inning beginning with a 3-run homer by Rafael Devers. Alex Verdugo drove in Xander Bogaerts via double before scoring his own run to give Boston a 5-0 lead.
The outburst drew approval from a couple notable Red Sox fans.
Rafael Devers. Red Sox strike first.

108 MPH
404 feet pic.twitter.com/L7y74QJTxC

— Mike Monaco (@MikeMonaco_) October 12, 2021
ARE YOU NOT ENTERTAINED!? pic.twitter.com/1JxQ5v8HLG

— Red Sox (@RedSox) October 12, 2021
its the RED SOX 🤣🤣🔥 keep it rollin boys!!! 👀

— David Ortiz (@davidortiz) October 12, 2021
Let's GO RED SOX!!!!!
Big B!

— Lil Wayne WEEZY F (@LilTunechi) October 11, 2021
Hunter Renfroe didn't take long to get fans on their feet with this web gem.
Hunter Renfroe was ready to play ball. 💪 pic.twitter.com/eTWeHG2yAb

— Red Sox (@RedSox) October 11, 2021
Boston bling alert.
Alex Verdugo's connection to Boston is special. ❤️ pic.twitter.com/ttqOaTnr3T

— MLB (@MLB) October 11, 2021