F1 news 2021, Lewis Hamilton, Max Verstappen crash, video, watch, latest, injury, punishment, Red Bull, Helmut Marko
Red Bull advisor Helmut Marko has appeared to suggest that Lewis Hamilton was exaggerating the extent of the neck injury he suffered as a result of the crash with Max Verstappen during the Italian Grand Prix.
Hamilton was protected by the halo device fitted around the cockpit and although he said it saved his life, he admitted he would still need to see a specialist after suffering a potential neck injury.
Previously unseen footage released from Hamilton's car shows how Verstappen's tyre rolled over the top of his helmet, causing visible damage to it.
Stream Every Practice, Qualifier & Race of the 2021 FIA Formula One World Championship™ Live & On-Demand on Kayo. New to Kayo? Try 14-Days Free Now >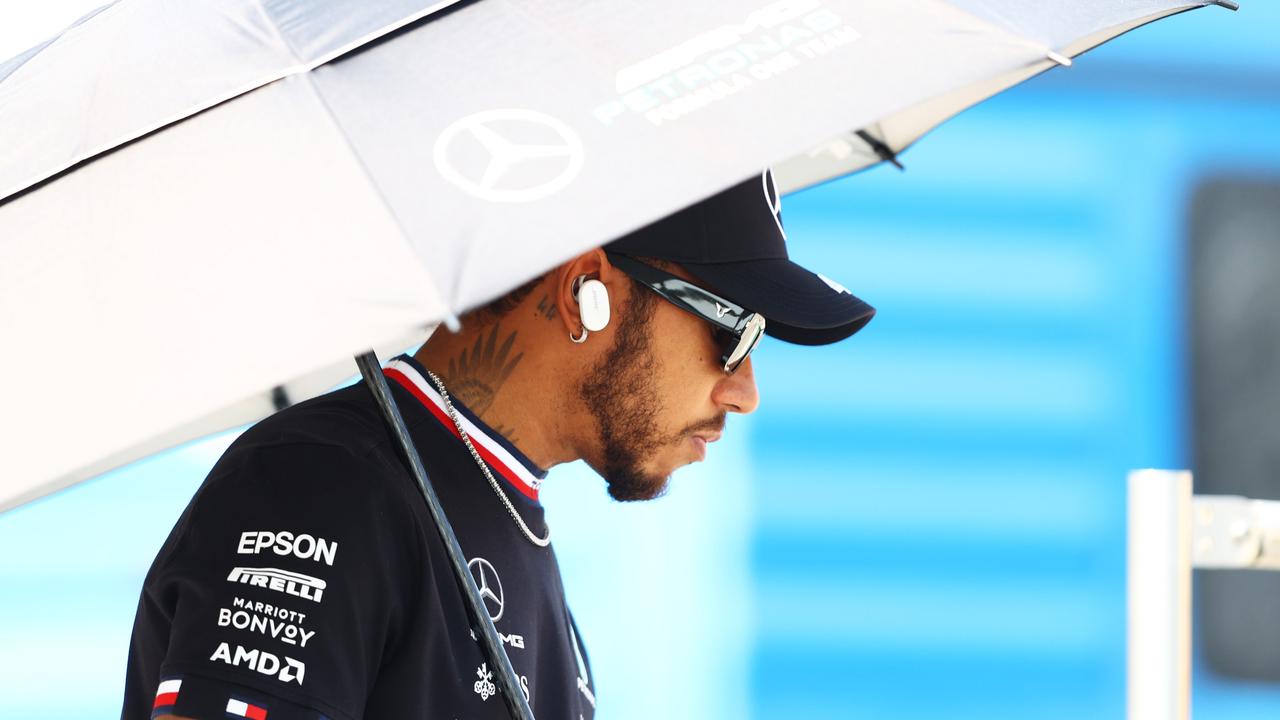 READ MORE:
RICCIARDO REVEALS SECRET 'RESET' MOMENT WHICH TURNED AROUND 'MOST CHALLENGING YEAR'
'CLASSY' RICCIARDO IS 'BAD NEWS' FOR F1 AFTER STUNNING ACT OF 'PERFECTION': GRID VIEW
HORRIFYING NEW FOOTAGE EMERGES OF UGLY F1 CRASH THAT LEFT HAMILTON 'LUCKY TO BE ALIVE'
"My neck is getting tighter and tighter," he said on Monday (AEST).
However, the outspoken Marko has now implied that Mercedes had deliberately made more of the incident than they should have, with Verstappen getting a three-place grid penalty for the next race as a result.
"It was a normal racing accident, all the stories around it were pulled by Mercedes by the hair," he told the Austrian daily newspaper, Osterreich.
"Verstappen had already got out when Hamilton tried to go back to get out of the gravel. The medical car saw that and drove on. And then a show is put on that poor Hamilton is suddenly injured, etc."
According to the Daily Telegraph in the UK, that is not a view that the whole of Red Bull holds, just Marko himself, but it will be sure to further fray the strained relationship between the two teams in this increasingly fiery rivalry.
V8 Supercars, Cameron Waters, Tim Blanchard, co driver rant, news, updates, latest, live results
Cameron Waters has blown up at the co-drivers in action at the Bathurst 1000 on Sunday after a series of near misses at Mount Panorama.
On the 21st lap around the Mountain, co-driver in the No.3 car Tim Blanchard attempted to overtake the fellow Tickford car of Waters, trying to go around the outside of the Monster Energy car at The Chase before pulling out and settling behind him.
Stream every practice, qualifier & race of the 2021 Repco Bathurst 1000 Live & On-Demand on Kayo with no ad-breaks during racing. New to Kayo? Start your free trial now >
BATHURST LIVE: FOLLOW ALL THE ACTION AS IT HAPPENS HERE
"That's scary. That's scary for Waters," commentator Neil Crompton said of the incident.
Waters, who was running in fifth, clearly thought so too, producing some colourful language over the team radio.
"Some of these co-drivers are so f***ing dumb," he said following the incident.
Crompton's co-commentator Mark Skaife found the incident highly entertaining as he chuckled about Waters' message.
Tander FLIES, Moffat falls on first lap | 01:35
He added: "I love the chat, I can't really repeat what was said but a couple of the primary drivers are complaining about the co-drivers at the moment.
"Being escorted around the outside there was one of the things that was being relayed by Cam back to the pit. He was a little bit animated about being given the outside tour."
Waters was pushing after a disappointing start by his own co-driver James Moffat which left him fighting back from P12 to get into the top five after 24 laps.
Bathurst 2021, crash, V8 Supercars, S5000 Series, watch, video, latest updates, start time, how to watch
Bathurst has been rocked by another massive crash in one of the support categories ahead of The Great Race on Sunday afternoon.
The-championship leader Aaron Cameron was thrown into the wall at speeds of 275km/h during the S5000 Series race, causing the race to be red flagged after just five laps.
Cameron was attempting to overtake Luis Leeds through the kink of The Chase but the pair made contact, with Cameron's left rear destroyed immediately which left him a helpless passenger in a monster crash, spinning three times on the track then riding up along the wall.
Stream every practice, qualifier & race of the 2021 Repco Bathurst 1000 Live & On-Demand on Kayo with no ad-breaks during racing. New to Kayo? Start your free trial now >
LIVE: FOLLOW ALL THE ACTION AS IT HAPPENS FROM BATHURST
Leeds, meanwhile, spun on the inside gravel track multiple times as his car was wrecked.
Fortunately, both drivers appeared okay as they were able to climb out of their wrecked cars.
It was the second time Cameron had crashed during the race, after he collided with his GRM teammate Nathan Herne.
Cameron, who had stalled on the grid and tumbled down the order, attempted to overtake Herne on turn one but braked too late and spun both drivers out, leaving Herne furiously slamming his steering wheel.
Both Cameron and Herne were able to get back out on the track with Cameron needing a new front wing attached while the safety car was still out.
That left him at the back of the pack and with a big task on his hands to get back towards the front but as he went about his new mission, disaster struck again.
It came after a terrifying S5000 Tasman crash on Saturday, when Joey Mawson and Jordan Boys both crashed at The Chase, before Japanese driver Yoshi Katayama ran straight off the track and head-first into Boys' prone car.
Mawson and former Japan F3 champion Katayama also both wiped out in Friday's race. Katayama found the wall at Griffins Bend, before Mawson crashed out at The Cutting.
start time, schedule, live stream, how to watch, news, updates, Shane van Gisbergen, full grid, Chaz Mostert pole, when does it start, Will Brown penalties,
LIVE: It's finally here. The Great Race. The pinnacle of Australian motorsport, around the pinnacle itself of Mount Panorama. 6.2 kilometres each lap, 161 of them adding up to a gruelling 1,000 kilometres all told.
But there has been late drama with a pair of top-five contenders copping huge penalties for rule breaches in the Top 10 Shootout.
Stream every practice, qualifier & race of the 2021 Repco Bathurst 1000 Live & On-Demand on Kayo with no ad-breaks during racing. New to Kayo? Start your free trial now >
Terrifying high-speed head-on crash! | 02:24
PREVIEW
It's the final race of the 2021 Supercars Series, which has been won by the great Shane van Gisbergen. The Red Bull Ampol Racing Team star is the reigning Bathurst champion, and will be looking to add to his 2020 success today.
There's his teammate, Jamie Whincup, arguably the greatest Supercars driver of all time with a record SEVEN title wins and four Bathurst crowns. Whincup is retiring after this one and will soon become van Gisbergen's boss when he takes on a new role in the garage. Can he end his epic career by lifting the trophy one final time?
Then there's 2014 Bathurst winner Chaz Mostert. On Saturday, he delivered a true lap of the gods to smash the course record and book his place on pole position. Sporting an 'aerodynamic mullet' and delivering hilarious interviews again and again, he's a popular figure among fans – and would be a hugely popular winner if he can convert his top form this weekend into victory.
But there are still 22 other pairs of drivers desperate to stand atop the podium. It's all set to be another stunning edition of the legendary race.
Follow all the action in our live blog below!
SUPERSTAR DUO COP BIG PENALTIES FOR BREACH
Erebus Motorsport starlets Will Brown and Brodie Kostecki have copped big penalties for running underweight cars during Saturday's Top 10 shootout.
Kostecki put his Commodore into fourth in the shootout, ahead of Brown in fifth. Brown, the 23-year-old rising star, had on Friday claimed provisional pole with a stunning qualifying lap that saw him firmly in the conversation as a potential winner.
But stewards weighed both cars after the shootout, and found that while both cars were under the total allowed weight – both had doors that weighed less than regulations allowed.
The official report stated that the "left front, left rear and right rear doors on Car #9 (Brown) ,and the right rear door on Car #99 (Kostecki), were found to be under the minimum weight for each such door…"
Both drivers had their Shootout laps cancelled, meaning Brown/Jack Perkins will start ninth and Kostecki/David Russell 10th for the main race.
"Erebus Motorsport is disappointed to hear news that after being reviewed by the Stewards at Bathurst today, they have been disqualified from this afternoon's Top Ten Shootout," an Erebus statement reads.
"After thorough inspection it was found that although the overall car weights were by the book, doors on both Erebus Holdens were underweight.
"It is a small oversight and honest mistake by the crew who have worked tirelessly for six weeks to ensure they represented the team, its partners, and their fans well.
"Erebus Motorsport apologises and look forward to putting their best foot forward in tomorrow's Great Race.
The full starting grid is at the bottom of this article.
2021 BATHURST 1000 SCHEDULE (all times in AEDT)
SUNDAY, DECEMBER 5
9:10am: Warm Up (20 minutes)
12:15pm: Race 31 (161 laps)
WEATHER FORECAST
There is currently just a 10 per cent chance of rain on race day, which would likely be small showers in the morning and afternoon.
Easterly winds of up to 35 km/h are forecast, with the temperature expected to top out at 18C.
RACE CENTRE: LIVE LAP TIMES AND FULL RESULTS FROM EVERY SESSION
ULTIMATE GUIDE: Rules, history, weather forecast and favourites for great race
What time does the Bathurst 1000 actually start?
Stuck throttle sends driver into wall | 01:46
MORE NEWS
Bathurst record demolished as 'best ever' run seals all-time Top 10 Shootout
'Unreal' fireball, scary 290km/h head-on as THREE huge crashes rock Bathurst
'Grew some balls': Young gun tops 'truly ridiculous' Friday qualifying as legend flops
HOW TO WATCH
Every Supercars practice session, qualifying, the Top 10 Shootout and the main race, plus all support category action will be LIVE and AD-BREAK FREE on the FOX SPORTS BATHURST Channel (Foxtel Channel 503).
This year will see the biggest ever dedicated 24/7 Bathurst channel on Foxtel and Kayo from Monday until Sunday, December 5.
Sunday's coverage begins at 8.15am for everything Bathurst 1000.
Get all the latest supercars news, highlights and analysis delivered straight to your inbox with Fox Sports Sportmail. Sign up now!!!
Couldn't give a s*** if anyone beats me | 02:45
LIVE BLOG
Follow all the action from the track in our live blog below! Can't see it? Click here!
FULL STARTING GRID
1) #25 Mobil 1 Appliances Online Racing
Chaz Mostert/Lee Holdsworth, Holden Commodore ZB
2) #11 Shell V-Power Racing Team
Anton De Pasquale/Tony D'Alberto, Ford Mustang GT
3) #6 Monster Energy Racing
Cameron Waters/James Moffat, Ford Mustang GT
4) #3 CoolDrive Racing
Tim Slade/Tim Blanchard, Ford Mustang GT
5) #888 Red Bull Ampol Racing
Shane van Gisbergen/Garth Tander, Holden Commodore ZB
6) #17 Shell V-Power Racing Team
Will Davison/Alex Davison, Ford Mustang GT
7) #8 R&J Batteries Racing
Nick Percat/Dale Wood, Holden Commodore ZB
8) #5 Truck Assist Racing
Jack Le Brocq/Zak Best, Ford Mustang GT
9) #9 Erebus Motorsport
Will Brown/Jack Perkins, Holden Commodore ZB
10) #99 Boost Mobile Erebus Motorsport
Brodie Kostecki/David Russell, Holden Commodore ZB
11) #88 Red Bull Ampol Racing
Jamie Whincup/Craig Lowndes, Holden Commodore ZB
12) #2 Mobil 1 Middy's Racing
Bryce Fullwood/Warren Luff, Holden Commodore ZB
13) #20 DEWALT Racing
Scott Pye/James Golding, Holden Commodore ZB
14) #18 IRWIN Racing
Mark Winterbottom/Michael Caruso, Holden Commodore ZB
15) #39 Supercheap Auto Racing
Broc Feeney/Russell Ingall, Holden Commodore ZB
16) #44 Boost Mobile Racing
James Courtney/Thomas Randle, Ford Mustang GT
17) #7 NED Whisky Racing
Andre Heimgartner/Matt Campbell, Ford Mustang GT
18) #14 Cub Cadet Mowers
Todd Hazelwood/Dean Fiore, Holden Commodore ZB
19) #26 Penrite Racing
David Reynolds/Luke Youlden, Ford Mustang GT
20) #19 Local Legends Racing
Fabian Coulthard/Jonathon Webb, Holden Commodore ZB
21) #34 UNIT Racing
Jake Kostecki/Kurt Kostecki, Holden Commodore ZB
22) #96 Coca-Cola Racing
Macauley Jones/Chris Pither, Holden Commodore ZB
23) #35 Yellow Cover Racing
Zane Goddard/Jayden Ojeda, Holden Commodore ZB
24) #4 SCT Logistics Racing
Jack Smith/David Wall, Holden Commodore ZB
25) #22 Team Sydney
Garry Jacobson/Dylan O'Keeffe, Holden Commodore ZB