F1 2021 Russian Grand Prix live, result, report, video, Daniel Ricciardo, Sochi race, how it happened, finishing order
A bold gamble from McLaren's Lando Norris in the final laps of a dramatic Russian Grand Prix cost him dearly, allowing Lewis Hamilton to claim the 100th win of his F1 career.
Rain began to fall in the last four laps and Hamilton pitted for intermediates, but Norris tried to stay out; when the rain became heavier he simply couldn't get around the corners, coming home seventh.
"I'm unhappy, devastated in a way," Norris told Sky Sports F1. "We made a call to stay out and we stand by that.
"It was the wrong one at the end of the day but I made the decision just as much as the team. It was more that they thought I should box and I decided to stay out."
For the championship the big story was Red Bull's Max Verstappen, who coughed up the lead in the race with Hamilton, but finished second after starting dead last.
Stream Every Practice, Qualifier & Race of the 2021 FIA Formula One World Championship™ Live & On-Demand on Kayo. New to Kayo? Start Your Free Trial >
'I MADE THE RIGHT CALL': McLaren star calls out team as huge gamble blows up F1 honeymoon
FORMULA 2: Aussie ace closes in on title, but F1 still ignoring him
Hamilton claims 100th F1 victory | 00:36
Daniel Ricciardo was running in second during the race's first stint but was burned by a slow put stop on lap 23 that burnt his chances of back-to-back wins.
The eight-second stop saw him rejoin the race in 14th, but he recovered to finish fourth, just behind Ferrari's Carlos Sainz.
"P4 is a solid result. Good points and, I think, for those tricky conditions, it's always nice just to get out with your nose clean," he said.
"There are definitely some positives and personally still a few things to work on, so we'll keep our head down."
Lando's classy gesture | 00:30
LIVE RACE REPORT
McLaren was expecting light rain in the first 15 minutes of the race, but it failed to appear, with rain hanging over the nearby sea.
The top five runners began on medium tyres with Fernando Alonso (starting sixth) and Max Verstappen among those on the hards, with the title leader looking to go long.
Carlos Sainz took the lead in the first corner thanks to the huge run down the opening straight and the slipstream, with Norris, Russell and Stroll next.
Ricciardo: It was a clear decision | 01:04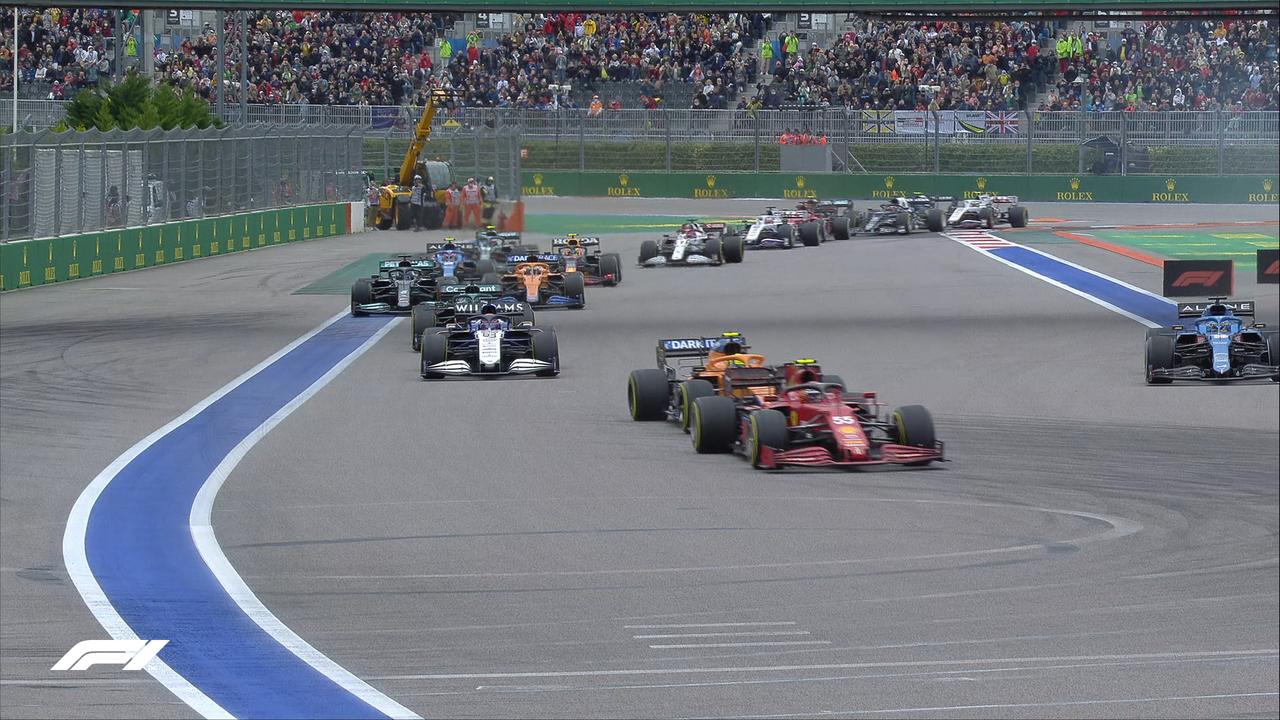 Ricciardo dropped back early from his starting position of fifth but soon overtook Hamilton and Alonso to regain it.
Verstappen was up into 17th by the end of lap one.
Ricciardo quickly came under pressure from Hamilton in the DRS zone down the main straight but thanks to Russell and Stroll being within range, the Aussie had DRS too.
On lap six, Sainz had a two-second lead over Norris, who had a six-second lead over third-placed Russell and a five-car DRS train, which Sergio Perez joined in seventh.
Verstappen overtook Valtteri Bottas on the back straight on lap seven, moving into 14th and beginning his push into the points. Bottas didn't put up much of a defence, failing to move and leaving commentator Paul di Resta shocked.
"You've got to make it difficult – think about the championship! That could be the argument for not getting a contract for next year," he said.
Verstappen overtook Leclerc for 12th on lap ten after nearly going down the inside on a fast corner, as Leclerc was trying to pass Seb Vettel, and being pushed into the wall.
At the front, Norris soon got within DRS range of Sainz and was getting almost alongside him into the first corner.
With Russell still holding up the train featuring Hamilton (sixth), the Mercedes driver was suddenly nine seconds back of the leader and just nine seconds ahead of Verstappen.
On lap 13, Stroll was the first driver to pit from fourth, onto the hards looking to undercut Russell and finding an 11-second gap of free air between 14th-placed Bottas and 15th-placed Mazepin.
Later that lap Norris re-took the race lead down the back straight, as Russell pitted but was passed by Stroll in the process. It left Ricciardo third and Hamilton fourth but if they were to pit, they would be behind the Williams and Aston Martin pair.
Stroll was soon lapping over a second faster than Norris, with the race seemingly splitting between one and two-stop strategies.
"I'm completely confused by what Mercedes have done with Hamilton. Why have they left him out there?" commentator Karun Chandhok asked as the seven-time champion ran behind second-placed Ricciardo.
Verstappen was soon running sixth (though he hadn't pitted yet) and on lap 17 set the fastest lap on his used hards, threatening to challenge for a podium after starting last. He was running over a second faster than Hamilton.
By lap 19 rain clouds were beginning to gather around the track and moisture was visible on the back wing of Ricciardo's car.
On lap 21 it looked as if the drivers who stopped early, moving onto a two-stop strategy, had made an error – Sainz, who was battling for the lead with Norris before pitting, was still a full pit stop behind the McLaren as he ran 11th.
Verstappen could soon see the DRS train led by Ricciardo and Hamilton.
Ricciardo pitted on lap 23 for hards and was disastrously slow, putting him in dirty air behind 13th-placed Ocon when he emerged from the pits.
After being released from behind Ricciardo, Hamilton set the fastest lap of the race on lap 24, though Ricciardo then set a lap almost a second faster.
Race leader Norris was out to almost a 12-second lead on second-placed Hamilton on lap 26, with neither driver having pitted.
Hamilton then pitted for hards and passed Ricciardo, coming out ninth, with Verstappen pitting for mediums and coming out 12th behind Russell – five seconds behind Hamilton.
Norris pitted from the lead on lap 29 and came out fourth behind Perez, Alonso and Leclerc who all hadn't pitted yet, remaining nine seconds ahead of Hamilton.
Hamilton made an important move on Sainz for sixth on lap 30 with Toto Wolff getting on the radio to tell the Brit he could still win the race. He passed the yet-to-pit Gasly later in the lap.
Ricciardo found himself running ninth behind early stoppers Sainz and Stroll, passing the Aston Martin down the back straight on lap 32, with Verstappen doing the same on the main straight.
Race leader Perez found himself in an interesting position, yet to pit on lap 33 but he would've been just five seconds behind Hamilton if he pitted at that point and on fresher rubber.
Norris passed the yet-to-pit Leclerc for third on lap 34, but Hamilton was closing in, just five seconds back of the virtual race leader.
Verstappen meanwhile was dropping back while stuck behind Sainz and Ricciardo, moving a full 20 seconds back of Hamilton by lap 36.
Norris took the race lead on lap 37 when Perez and Alonso pitted; the Red Bull driver had a nine-second stop. With the leaders having pitted the race was fully on, with Norris leading from Hamilton, Sainz, Ricciardo, Perez and Verstappen.
Red Bull didn't tell Perez to let Verstappen through, which proved a poor strategic decision as Alonso was able to pass the championship leader on his fresher tyres on lap 38.
The race win was down to either Norris or Hamilton, who by lap 40 (of 53) was just outside of DRS range.
On lap 42 Leclerc, who started at the back, overtook Russell for ninth as the teams warned their drivers rain was expected in the last few laps.
By lap 45 Hamilton was getting within a second of Norris during most of the lap, but falling out of DRS range in the tricky final sector, meaning he couldn't have it down the main straight. Meanwhile Perez passed Ricciardo for fourth.
Rain began to fall on lap 46 with spectators putting on their jackets in the stands.
Norris nearly gave up the lead on lap 47 as he struggled in the wet portion of the track closest to the sea, while Perez passed Sainz for third.
Drivers were running wide constantly in the rainy sections as Russell, Bottas and others pitted for intermediates on lap 48 with five laps left. Hamilton was told to box for inters but refused.
The two Aston Martins collided when Stroll essentially forced Vettel into the wall.
Verstappen, Sainz and Ricciardo pitted from sixth-eighth for inters on lap 49; a lap later Hamilton pitted for inters while telling the team it wasn't raining, but Norris said he didn't need to stop.
Norris at this point couldn't stop for inters and had to commit and stay on the dry tyres – he was on lap 50 of 53 with a 25-second lead. Hamilton closed six seconds of that gap in one lap.
Norris' lead was evaporating by the corner as Hamilton closed in with heavy rain falling in sections. He couldn't keep it on the track and it was clear he had erred.
Hamilton took the lead by lap 51 as Norris spun out, with Verstappen surging through the field into third after pitting onto inters early.
"This is tragedy in a sporting context for Lando Norris," commentator David Croft said.
Hamilton went on to win from Verstappen, Sainz, Ricciardo and Bottas. Norris finished seventh but was set to visit the stewards after crossing the pit line illegally.
After jumping out of his car he said: "The rain came, it was very opportunistic, the team did a great job, I'm grateful for the points.
"It's taken a long time to get to 100 wins.
"I wasn't even sure it would come. The team made such a good call at the end. I didn't want to let Lando go. I'm incredibly grateful to all these men and women here and back in the factory. Wow, 100."
Norris claims milestone pole! | 02:00
FORMULA 1 RUSSIAN GRAND PRIX – Results
1 Lewis Hamilton (GBR/Mercedes) 1hr 30min 41.001sec
2. Max Verstappen (NED/Red Bull-Honda) at 53.271sec
3. Carlos Sainz (ESP/Ferrari) 1:02.475
4. Daniel Ricciardo (AUS/McLaren-Mercedes) 1:05.607
5. Valtteri Bottas (FIN/Mercedes) 1:07.533
6. Fernando Alonso (ESP/Alpine-Renault) 1:21.321
7. Lando Norris (GBR/McLaren-Mercedes) 1:27.224
8. Kimi Räikkönen (FIN/Alfa Romeo Racing-Ferrari) 1:28.955
9. Sergio Pérez (MEX/Red Bull-Honda) 1:30.076
10. George Russell (GBR/Williams-Mercedes) 1:40.551
11. Lance Stroll (CAN/Aston Martin-Mercedes) 1:56.198
12. Sebastian Vettel (GER/Aston Martin-Mercedes) 1 lap
13. Pierre Gasly (FRA/AlphaTauri-Honda) 1 lap
14. Esteban Ocon (FRA/Alpine-Renault) 1 lap
15. Charles Leclerc (MON/Ferrari) 1 lap
16. Antonio Giovinazzi (ITA/Alfa Romeo Racing-Ferrari) 1 lap
17. Yuki Tsunoda (JPN/AlphaTauri-Honda) 1 lap
18. Nikita Mazepin (RUS/Haas-Ferrari) 2 laps
19. Nicholas Latifi (CAN/Williams-Mercedes) 6 laps
Fastest lap: Lando Norris (GBR/McLaren-Mercedes)
Retired: Mick Schumacher (GER/Haas-Ferrari)
CHAMPIONSHIP STANDINGS
1. Lewis Hamilton (GBR) 246.5 pts
2. Max Verstappen (NED) 244.5
3. Valtteri Bottas (FIN) 151
4. Lando Norris (GBR) 139
5. Sergio Pérez (MEX) 120
6. Carlos Sainz Jr (ESP) 112,5
7. Charles Leclerc (MON) 104
8. Daniel Ricciardo (AUS) 95
9. Pierre Gasly (FRA) 66
10. Fernando Alonso (ESP) 58
11. Esteban Ocon (FRA) 45
12. Sebastian Vettel (GER) 35
13. Lance Stroll (CAN) 24
14. Yuki Tsunoda (JPN) 18
15. George Russell (GBR) 16
16. Nicholas Latifi (CAN) 7
17. Kimi Räikkönen (FIN) 6
18. Antonio Giovinazzi (ITA) 1
19. Mick Schumacher (GER) 0
20. Robert Kubica (POL) 0
21. Nikita Mazepin (RUS) 0
Constructors
1. Mercedes 397.5 pts
2. Red Bull-Honda 364.5
3. McLaren-Mercedes 234
4. Ferrari 216.5
5. Alpine-Renault 103
6. AlphaTauri-Honda 84
7. Aston Martin-Mercedes 59
8. Williams-Mercedes 23
9. Alfa Romeo Racing-Ferrari 7,
10. Haas-Ferrari 0
Re-live the Russian F1 Grand Prix in our blog below!
David Cauchi joins Kelly Grove Racing, Triple Eight, Shane van Gisbergen
Kelly Grove Racing has confirmed David Cauchi will join the team in 2022 as Team Principal.
Cauchi will join the team next season following a long stint with Triple Eight Race Engineering.
The decorated race engineer will replace Todd Kelly, who has been Team Principal since he retired from full-time driving.
He is currently Shane van Gisbergen's race engineer, having skippered Jamie Whincup's efforts between 2014 and 2020.
Cauchi has worked in Supercars for 14 years, and has helped Triple Eight to eight drivers' titles.
Stream Every Practice, Qualifier & Race of the 2021 Repco Supercars Championship Live & On-Demand on Kayo. New to Kayo? Start Your Free Trial >
That could become nine in 2021, with van Gisbergen leading the championship by 276 points.
The experienced engineer will lead the Braeside squad into its new solely Grove-owned era, but will also bring engineering and winning nous with him.
"I'm very excited and grateful to Brenton & Steph for the opportunity to join Grove Racing in 2022," Cauchi said.
"It's a new role and a thrilling opportunity in a team with a deep and long history in the sport.
"I am looking forward to being a part of this new chapter in their story."
Team co-owner Stephen Grove was delighted to secure the services of the experienced and decorated engineer.
"Once we went through the ownership changes, it was essential that we found the best possible person we could to help take on some of Todd's critical roles, and we believe we have found that person in Cauchi.
"He has vast experience and know that he will fit well into the family culture of the team.
"We look forward to him starting with us in 2022."
Whincup reflects on 2014 Bathurst 1000 | 07:35
The move means Triple Eight Race Engineering will field an all-new race engineering line-up for the 2022 Repco Supercars Championship..
Wes McDougall, who has been engineering Jamie Whincup in 2021, will also depart the team at season's end.
Veteran McDougall joined the team this year from Matt Stone Racing.
It comes after Grant McPherson left the team at the end of 2020 to join Walkinshaw Andretti United.
McPherson was previously van Gisbergen's race engineer between 2016 and 2020.
He notably helped van Gisbergen to the championship in 2016, and Bathurst victory last year.
Cauchi is a long-term member of the Triple Eight family, having joined the team in 2007 as a data engineer.
He took over from Mark Dutton on Whincup's car in 2014 and helped him to the 2014 and 2017 drivers' titles.
Dutton, himself a decorated race engineer, is Triple Eight's Team Manager.
The team will also feature a new-look driver line-up in 2022, with van Gisbergen to be joined by Broc Feeney.
Feeney will replace Whincup, who himself will replace Roland Dane as Managing Director and Team Principal.
With McPherson and Cauchi both on the way out, van Gisbergen will have his third race engineer in as many years in 2022.
The 2021 Repco Supercars Championship will continue at next weekend's Bunnings Trade Sydney SuperNight. Tickets for all four upcoming Sydney events are on sale now.
The event will be broadcast live on Foxtel and will be streamed on Kayo.
Sebastian Vettel slams 2022 calendar, F1 news
Four-time world champion Sebastian Vettel has slammed the Formula 1 schedule for 2022, which features a record 23 races in the calendar year.
Australia, Canada, Singapore and Japan are all set to make their long-awaited return next season after being axed in 2020 and 2021 due to the Covid-19 pandemic and subsequent health restrictions.
The 2022 season will start in Bahrain on March 20 and finish at Abu Dhabi on November 20.
Stream Every Practice, Qualifier & Race of the 2021 FIA Formula One World Championship™ Live & On-Demand on Kayo. New to Kayo? Start Your Free Trial >
China has been dropped from the F1 calendar for a third successive year, and will be replaced by the Emilia Romagna Grand Prix at Imola on April 24.
A new race in Miami has also been confirmed for May 8 as the United States hosts two events with Austin pencilled in for October 23.
There will be two triple-headers and seven back-to-back races next year, a tightly-packed schedule that has led to criticism over stress levels for staff.
And this week, Aston Martin driver Vettel has voiced his frustration with the calendar, detailing how it will impact fans and staff.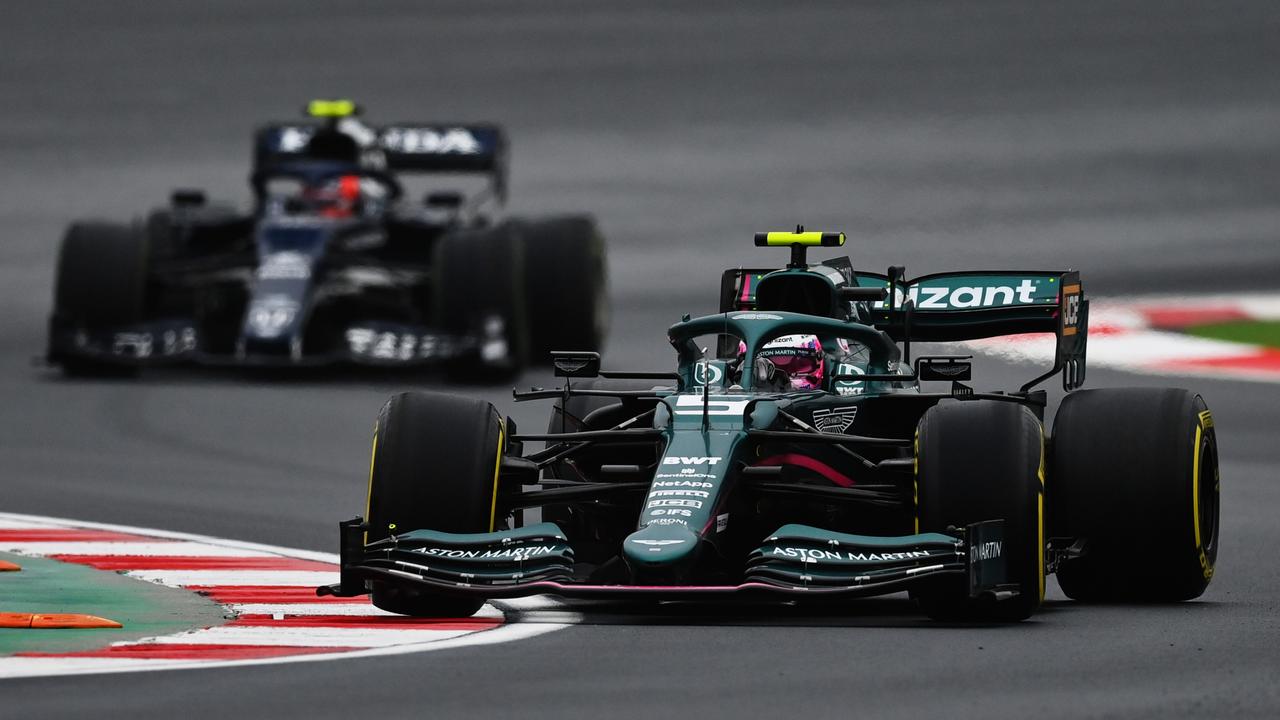 "This is only my opinion, and it's not worth anything, but I think we should not have that many races," Vettel said, as reported by Wide World of Sports.
"I think (for) one, maybe it's too many races for the people to watch. It's not special anymore if there's that many.
"And (secondly), I feel for (the staff). Us drivers – we are at the good side of things: we can arrive on a Wednesday night and leave if we find a flight, et cetera, on a Sunday night.
"But the team already has a lot more stress. They arrived Monday or Saturday the week before, they build the garage, prepare the cars and then also they have to run the full week and then pack down, send everything back and prepare back in the factory.
"For them, it's a job that you're busy all weekdays and nearly every weekend, so you have no time for yourself. And I think we are in a time where people are growing more and more conscious that they have a life, too, and that the life doesn't belong to the employer.
"I'm not in charge and obviously there's some other interests, but it's just making sure that people have a balance between their life at home and the time spent away.
"I think it should be a number of races that is sustainable for keeping your passion for many years and not being, you know, sucked out after two or three years."
It remains to be seen whether or not the experiment with qualifying sprint races, introduced this year, returns in 2022. A decision will be made after the third and final sprint race at the Brazilian GP from November 12 to 14, said the F1 Commission.
The 2022 season will also see the introduction of new cars with redesigned aerodynamics to allow drivers the chance to follow and overtake with greater ease in a sport criticised for its often processional nature.
F1 will return this weekend with the United States Grand Prix, which is scheduled to get underway at 6am AEDT on Monday, October 25.
2022 Formula 1 calendar
March 20: Bahrain, Sakhir
March 27: Saudi Arabia, Jeddah
April 10: Australia, Melbourne
April 24: Emilia Romagna, Imola*
May 8: Miami, Miami**
May 22: Spain, Barcelona*
May 29: Monaco, Monaco
June 12: Azerbaijan, Baku
June 19: Canada, Montreal
July 3: Great Britain, Silverstone
July 10: Austria, Spielberg
July 24: France, Le Castellet
July 31: Hungary, Budapest
August 28: Belgium, Spa-Francorchamps
September 4: Netherlands, Zandvoort
September 11: Italy, Monza
September 25: Russia, Sochi
October 2: Singapore, Singapore*
October 9: Japan, Suzuka
October 23: United States, Austin*
October 30: Mexico, Mexico City
November 13: Brazil, Sao Paulo
November 20: Abu Dhabi, Yas Marina
* subject to contract
** subject to FIA circuit
– with AFP
Johnny Herbert suggests Daniel Ricciardo talent may have 'evaporated', McLaren, F1 news
Former Formula 1 driver turned analyst Johnny Herbert has questioned why Australian driver Daniel Ricciardo has struggled in the sport since his move to McLaren, theorising his talent has "evaporated".
Following an underwhelming two-year stint at Renault, Ricciardo joined McLaren ahead of the 2021 season, partnering with British young gun Lando Norris.
But Ricciardo's maiden season in orange has been anything by smooth sailing, with the Perth driver struggling to come to terms with the MCL35M's braking system.
Stream Every Practice, Qualifier & Race of the 2021 FIA Formula One World Championship™ Live & On-Demand on Kayo. New to Kayo? Start Your Free Trial >
The 32-year-old is currently sitting in eighth place on the F1 drivers' standings, 50 points behind Norris.
Ricciardo seemingly turned a corner at Monza last month, winning the Italian Grand Prix to help McLaren secure its first 1-2 finish in the sport since 2010.
But the triumph was a lone highlight in what has otherwise been a disappointing 2021 campaign for the Australian.
"Daniel has been a shocker," Herbert told Motorsport Magazine.
"We never expected him to struggle so much.
"I can empathise with him and it's terrible, especially when it's been so long and you still haven't found the answer.
"Still, we know how good he is and he knows it too.
"I've heard Daniel's problems are brake-related, but it's also down to aerodynamics," he added.
"If it's already causing us headaches, think what it's like for him.
"He's not too old, he hasn't had a bad crash. There have been plenty of drivers for whom it (their talent) just evaporated.
"I go back to Jean (Alesi). He was the 'next big thing' and yet he only won one Grand Prix. It didn't work for him, with all his natural talent.
"The problem is that if it doesn't get better, the rumours start, and once that starts and the tornado accelerates, you're just a passenger."
The F1 season resumes next weekend with the United States Grand Prix, which is scheduled for 6am AEDT on Monday, October 25.