Daniel Ricciardo unleashes after McLaren Italian Grand Prix win
Daniel Ricciardo has put an exclamation point on top of the vicious backhand he sent his detractors following his breakthrough victory on Monday.
The 32-year-old silenced his critics with an impeccable drive to victory in the Italian Grand Prix at Monza last weekend, helping McLaren secure its first F1 victory in nine years.
Stream Every Practice, Qualifier & Race of the 2021 FIA Formula One World Championship™ Live & On-Demand on Kayo. New to Kayo? Try 14-Days Free Now >
His win included a phenomenal last stint where he produced the quickest lap of the race on the final lap. He has admitted in the aftermath of the win that he threw caution to the wind when he could have coasted to the chequered flag in a deliberate, defiant reminder to those who suggested the West-Australian wasn't up to it since his move to McLaren at the start of the year.
In a podcast released on Friday, Ricciardo revealed just how stinging he wanted that message to be as he crossed the line for his first Grand Prix win in 1204 days.
It was a very sweet moment.
He said on Barstool Sports' Pardon My Take Podcast: "I don't like talking about myself and I'll try and make it not sound arrogant. But, because for me it had been three years and it's been a tough year and there were still people surely questioning my ability.
"Putting in the fastest lap of the race in the last lap where the victory was in my hands, that for me was like a little thing to say, 'Guys I did not feel the pressure this whole time'.
"Just for my piece of mind I'm going to set the fastest lap just to say, 'I told you so and go f*** yourselves'.
"It was my way of saying I love the pressure."
He had revealed on Thursday radio messages from McLaren teammate Lando Norris saying Ricciardo was driving "too slow" also inspired him to push for the fastest lap.
Ricciardo had struggled to adapt to the MCL35M throughout the first half of his maiden season at McLaren, and was repeatedly bettered by Norris on race day. But not at Monza.
Following the dramatic crash between Max Verstappen and seven-time world champion Lewis Hamilton on Lap 26, Ricciardo realised his teammate was getting a little too close for comfort.
During the race, Norris suggested on the team radio that he was driving faster than Ricciardo, and pondered whether he should try and overtake him.
"There was one lap in particular, not long after the restart when I let (Norris) get too close and I probably gave him the impression I was maybe not that fast. And I think that's when he probably said, 'I want to try and attack Daniel'," Ricciardo said in an interview with the BBC.
"I could see in my mirrors, Turn 2 into Curva Grande and into the next chicane, he was probably even closer than I let Max get at the start of the race.
"I was like, 'OK, I don't need to be saving (tyres) this much', so then I kind of turned it up a little bit. With the restarts and the craziness of the racing these days, I was always trying to save a little bit, just in case there was another restart.
"Could I have won by 20 seconds? I'm not saying I could have, no, but I was just doing what I had to."
Ricciardo threw caution to the wind on the final lap of Monza, proving he was the quickest driver on the track by claiming fastest lap of the Italian Grand Prix and clinching a valuable extra point for the constructors' championship.
And there was a defiant reason he wanted to end on a high note with his final trip around the circuit.
"It was to remind people that I haven't forgotten (how to do it)," Ricciardo explained.
"I was in control and I just wanted to show it was the last lap and I am not feeling any of the nerves or pressure so I am going to do my fastest lap of the race on the last lap, just to remind people, 'I got this'."
Ricciardo now sits eighth on the drivers' standings with 83 points, still comfortably behind fourth-placed Norris on 132.
"There are people who have been at this team a long time, long before even I started racing, and the last eight or nine years there has been drought," Ricciardo told the BBC.
"So to come back and especially for the ones that have stuck through the thick and thin, it's awesome. It's cool.
"I've obviously had some personal struggles with the team this year from the performance point of view, but now to come out of that with this result, it makes me appreciate what I have at this team and playing a part now is quite fulfilling."
The F1 season resumes on Sunday, September 26 with the Russian Grand Prix, which is scheduled to get underway at 10pm AEST.
Bathurst 1000, news, Supercars, crashes, video, latest, update
This year's Bathurst action has already delivered a host of monster crashes across a number of different categories, and Friday was no different.
First there was a crash in the GT World Challenge Australia before another huge shunt in the Porsche Carrera Cup Australia.
Stream every practice, qualifier & race of the 2021 Repco Bathurst 1000 Live & On-Demand on Kayo with no ad-breaks during racing. New to Kayo? Start your free trial now >
In the afternoon's Porsche category, Simon Fallon ran wide exiting the Cutting and battled for seventh position with Nick McBride over the next three corners. They went side-by-side in a narrow part of the track, with Fallon cutting in front of McBride only to be spun around and launched a metre up the wall.
The race was cut short by a safety car as ambulances attended to the drivers. A lengthy operation ensued to tow both cars away and remove the massive amounts of oil, coolant, and debris from the track.
'Holy hell': Bathurst rocked by 'truly terrifying' crash
'That's nasty': Same car crashes out TWICE in brutal start to Bathurst
Earlier, the GT World Challenge Australia season finale at Mount Panorama saw a hard crash between Ben Porter and Theo Koundouris.
Porter went wide on the entry, causing a crash at Sulman Park as he hit a wall and took Koundouris along with him.
The safety car was brought out but Koundouris did well to keep his line and avoid crashing into the wall himself.
"He did a good job initially because quite often you can follow the car in front and can tend to follow them and drift wide and end in the wall yourself," Chris Stubbs said in commentary.
"We've seen that happen multiple times at the top of the mountain. He kept his line well and wasn't thrown off by the drifting Porter but just had nowhere to go."
Meanwhile, Greg Rust later revealed Porter's crew were looking into whether earlier contact may have sparked a slow deflation.
"I've just had a word to Ben Porter's crew," Rust said.
"They are question marking whether he may have had a little bit of contact, possibly, going up mountain straight which has triggered a slow deflation.
"They're not sure about that. They have question marked that and ultimately whether it triggered that."
Liam Talbot and co-driver Fraser Ross took out the victory, with Talbot getting around then-leading Stephen Grove with 20 minutes remaining to then hold on for the win.
Brett Hobson was his biggest challenger in the latter stages of the race.
Bathurst drama as Pither rams the wall | 01:28
Ex-Renault boss Cyril Abiteboul finally comes good on tattoo bet with Daniel Ricciardo
It was in August last year that Daniel Ricciardo revealed his bet with former Renault boss Cyril Abiteboul.
If the Australian finished on the podium for the French team in 2020, Abiteboul must get a permanent reminder of Ricciardo's achievement on his body.
Stream Every Practice, Qualifier & Race of the 2021 FIA Formula One World Championship™ Live & On-Demand on Kayo. New to Kayo? Start Your Free Trial >
Despite Abiteboul being able to choose the placement and size, it was a big risk as Ricciardo would choose the design.
Fast forward to October last year at the Eifel Grand Prix in Germany, and Abiteboul's dream/nightmare became reality as Ricciardo finished third to end a two-and-a-half year drought from the podium.
Such was the momentous occasion of knowing his boss would now have to get a tattoo, Ricciardo forgot to celebrate the achievement in his traditional fashion of doing a shoey on the podium, although he did get around to it later in his trailer.
But as time went on after his third-place finish in Germany, the lack of ink of Abiteboul's body began to draw some concern from Ricciardo and the F1 community as the Western Australian hoped their bet wouldn't "drag on and become old news".
Now, after more than a year since Ricciardo sprayed the champagne at the Nurburgring, Abiteboul has finally held up his end of the bet as the pair ventured out to a tattoo artist to seal the deal with the whole ordeal being posted on Ricciardo's YouTube channel.
The former Renault boss, who is watching the 2021 F1 season from the sidelines having left the time after they rebranded as Alpine, presented a concept design that had half of an old Renault logo as well as a modern-style honey badger.
Given Ricciardo is somewhat of a tattoo veteran with the amount of ink on his body, Abiteboul could take comfort in his former driver's expert wisdom on how the needle would feel on his clean skin.
Despite Red Bull boss Christian Horner claiming after the Eifel Grand Prix that Abiteboul should get the Red Bull logo "emblazoned on his derrière", the right calf of Abiteboul was chosen as the destination for the tattoo, although he never seemed totally convinced as he lay flat on the table.
Of course, Ricciardo was lapping up every moment as his former boss winced in pain.
Slowly but surely, the tattoo artist made progress on the design as Abiteboul continued to look like he'd rather be anywhere else in the world but in the small studio.
Eventually, Abiteboul was put out of his misery as the work on his calf was done and it was smiles all around for everyone.
While Ricciardo had plenty of fun with his former boss, his attention is now firmly focused on the Saudi Arabian Grand Prix on December 6 with lights out scheduled for 4.30am (AEDT).
Supercars Championship, Gen3 prototypes, photos, reaction, video
The new era of the Repco Supercars Championship has arrived, with the two Gen3 prototypes unveiled in Bathurst.
The covers came off the Ford Mustang GT and General Motors Chevrolet Camaro ZL1 on the Friday morning of the Repco Bathurst 1000.
The Gen3 cars will make their racing debut in the 2023 Repco Supercars Championship.
The prototype Mustang and Camaro bare a closer visual connection between race and road vehicles than the current model race cars.
Stream every practice, qualifier & race of the 2021 Repco Bathurst 1000 Live & On-Demand on Kayo with no ad-breaks during racing. New to Kayo? Start your free trial now >
Holdsworth tops practice session | 01:18
The new cars will also feature a signature Gen3 V8 engine sound.
The Bathurst unveiling brings the project full circle, with the Gen3 ruleset revealed at the 2020 Great Race.
The last 12 months have been headlined by a painstaking effort by Supercars and the two homologation teams to bring the cars to life.
Dick Johnson Racing has been charged with the development of the Mustang, and Triple Eight Race Engineering the Camaro.
From roof to bonnet, doors to windows, Gen3 cars will share the same key dimensions as the road cars they are based on.
BATHURST 1000 LIVE: Early crash causes drama; Supercars gun's 'extraordinary' feat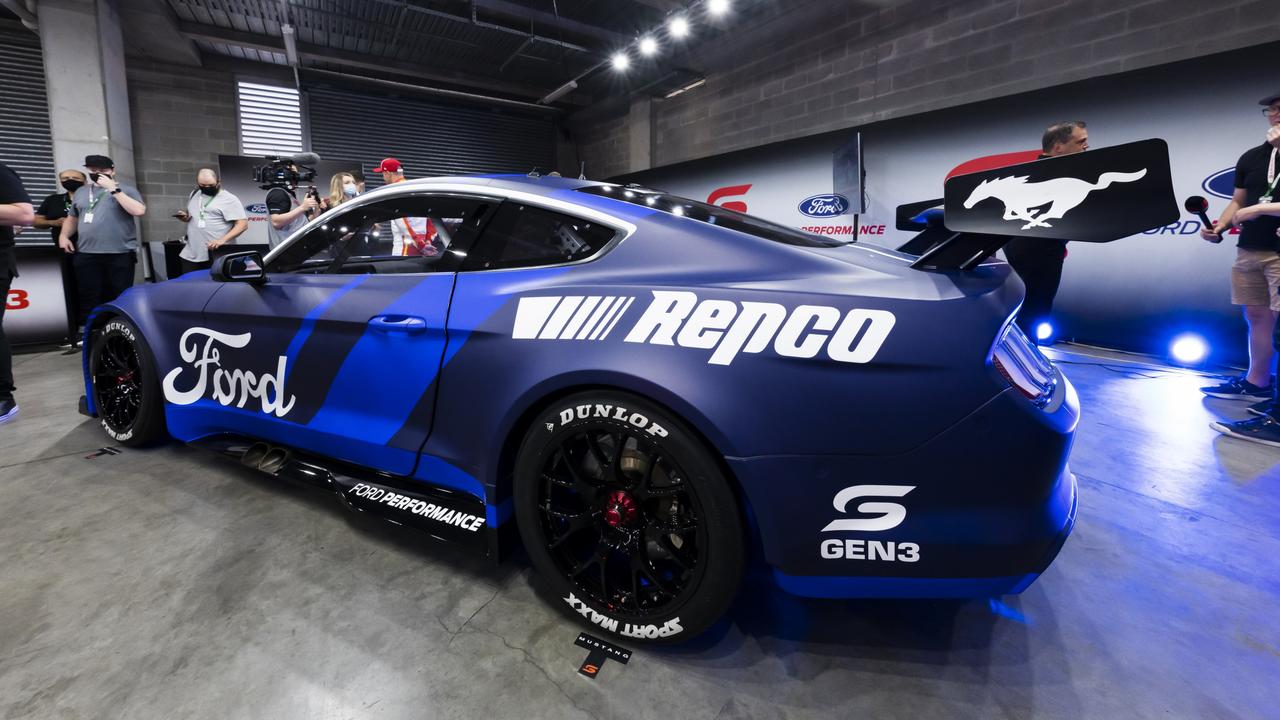 Supercars CEO Sean Seamer was delighted to uncover the future of the Repco Supercars Championship.
"These are incredible looking race cars and it's an historic occasion to be here today, unveiling them at the foot of Mount Panorama, our spiritual home of racing," Seamer said.
"The motorsport and motoring worlds have been watching this announcement very closely as it is a massive opportunity for our sport to step up on several levels and attract a wider audience.
"Both the Mustang and Camaro give a nod to the Supercar of the past, with as much attention given to the design and appearance of the cars as the new technologies.
"With the work of the Gen3 Steering Committee, our manufacturers and the homologation teams, we truly believe these cars will create close racing with a more level playing field.
"The Ford Mustang and GM Camaro are the first chapter of our new era that will be cost-effective for our major stakeholders and teams but retain the very core of our success – terrific and exciting Supercar racing, which is what our fans have been asking us for."
Bathurst drama as Pither rams the wall | 01:28
It was also revealed at Friday's launch that 2021 champion-elect and 2020 Bathurst winner Shane van Gisbergen will have the honour of turning the first laps of Mount Panorama in the Camaro.
Anton De Pasquale will drive the first lap of the Bathurst circuit in the Mustang.
The cars will be on display from Friday at the Repco Bathurst 1000. Demonstrations will be held at events in 2022.
Supercars will return to the track on Friday for Practice 3 at 10:40am AEDT. Click here to view the track schedule.
Every session of the event will be broadcast live on Foxtel (Fox Sports 503) and streamed on Kayo.
This article first appeared on supercars.comand was reproduced with permission.