Daniel Ricciardo reality check, Lewis Hamilton grid penalty
Reigning world champion Lewis Hamilton was fastest in both of Friday's practice sessions for the Turkish Grand Prix but has to take a 10-place grid penalty for Sunday's race having had the engine replaced on his Mercedes.
Championship leader Hamilton was quickest in the second practice with a time of 1min 23.804sec ahead of Ferrari's Charles Leclerc.
Did you know you can catch up on the 2021 F1 Turkish Grand Prix for FREE with Minis on Kayo Freebies? Register now, no credit card required
Valtteri Bottas in the other Mercedes was third, followed by Red Bull pair Sergio Perez and Max Verstappen, the Dutchman who trails Hamilton by just two points in the title race.
Verstappen was more than half a second behind Hamilton who avoided a full grid penalty as the entire power unit was not changed.
On Sunday, on the track where Hamilton wrapped up the 2020 title, he will start in 11th place at best. If another part is changed on Saturday or even before the race on Sunday, he will be penalised more heavily.
"The track felt so different to last year – in 2020, oil was rising from the new surface and the grip was so difficult to find," said Hamilton.
"We're fairly close to the maximum we can extract from the package but we always find something overnight, so we'll be working hard to take our pace into tomorrow – hopefully it isn't raining!
"I have a lot of work to do on Sunday and I need to just focus on getting the best out of tomorrow, obviously aiming for pole to limit the loss of the penalty."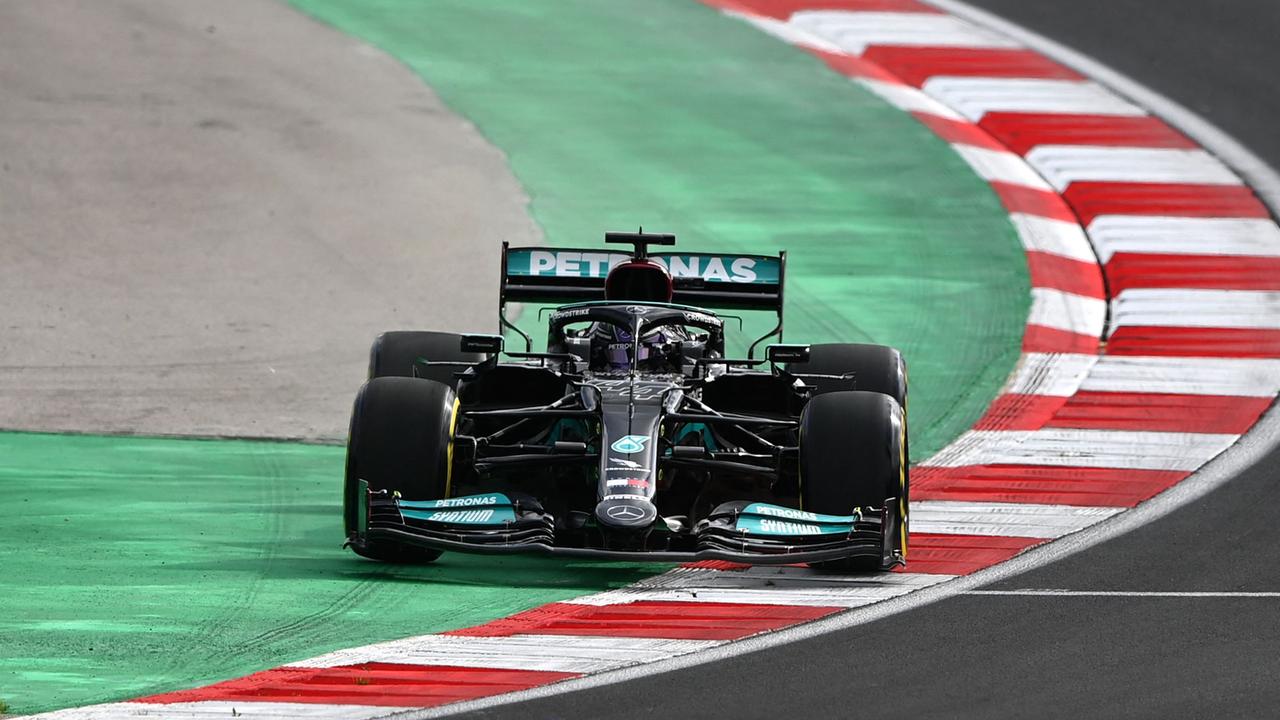 Aussie Daniel Ricciardo was well back, only managing the 14th fastest time in P2. His effort comes after he delivered a reality check about McLaren saying despite his recent win at Monza and colleague Lando Norris' strong performances, his outfit's ability to challenge the top teams is still largely dependent on each circuit.
"I think it's still a little track-dependent for us as a team. I don't think we're universally strong across the board, at every track layout we go to," Ricciardo said.
"The ones that we're strong on, we seem to be able to really take it to the top two teams."
McLaren team principal Andreas Seidl agreed, adding: "I think with the picture we have seen so far this year, yes I would agree that it will be track-specific."
Hamilton won the 100th race of his career in the last round of the championship in Russia while Verstappen, who was second in Russia despite starting from the back of the grid, said practice in Turkey "was not the best of days".
"It's a super nice track especially with the improved conditions but it looks like we have a lot to go through this evening because today wasn't the best of days," said the Dutchman.
"We tried a few different things going from FP1 to FP2 but we're still looking around for improvements as we don't have a lot of data on these cars for this track.
"Of course, Lewis is taking a penalty on Sunday but we have to focus on ourselves, hopefully we can make improvements before qualifying tomorrow as we have some challenges, we'll see what we can do."
F1 Turkish Grand Prix 2021 qualifying, full grid, results, Daniel Ricciardo, McLaren, timesheets, timings, latest news, highlights
Lewis Hamilton found a silver lining on Saturday, dominating qualifying for the Turkish Grand Prix to minimise the damage from the 10-place grid penalty Mercedes decided to incur by changing his engine ahead of the race.
Meanwhile Daniel Ricciardo mistimed his run and exited in the first qualifying session will start from a disappointing 15th, but promised to 'put on a show' come the race.
Did you know you can catch up on the 2021 F1 Turkish Grand Prix for FREE with Minis on Kayo Freebies? Register now, no credit card required.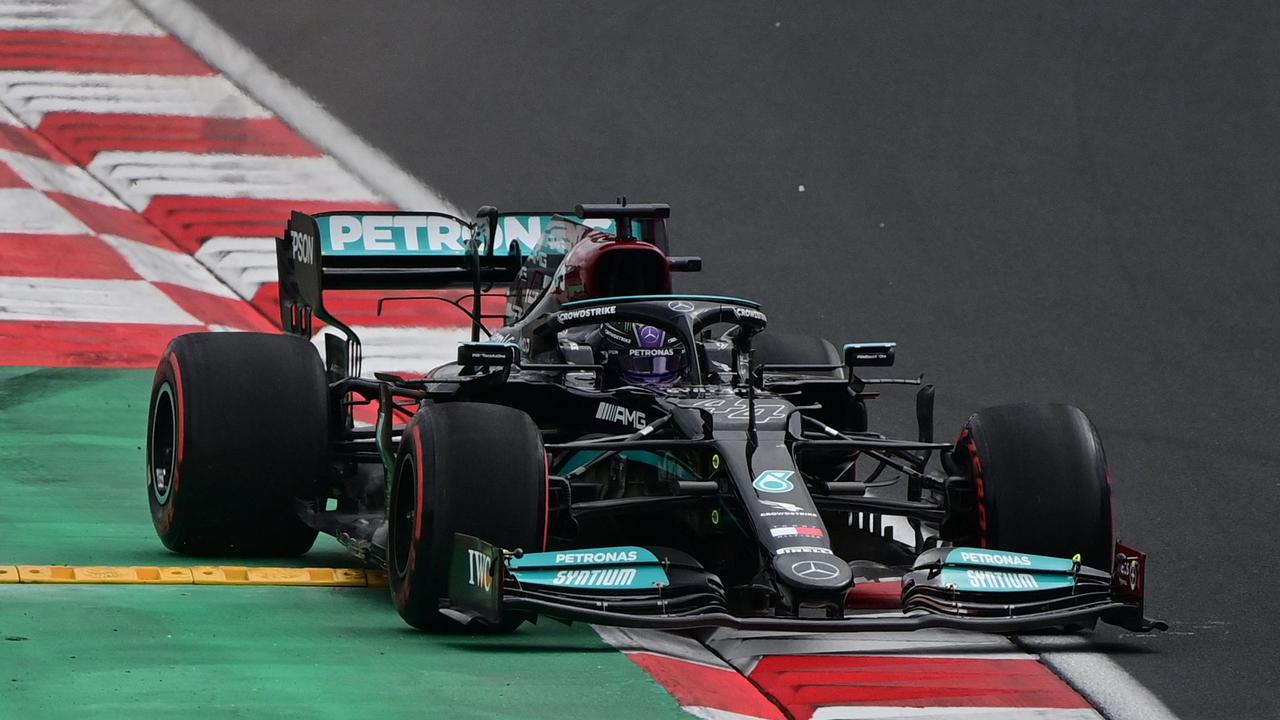 At a race where qualifying was red flagged last season and after morning practice was also interrupted by a red flag as drivers spun on a wet track, qualifying on a damp track started under a cloud as team radar predicted that rain would start to fall on parts of the course in less than three minutes.
Yet, the rain held off and, after a panicky start, world champion Hamilton improved his time in each of the three qualifying phases.
After breaking the 16-year-old track record in practice on Friday, he broke it again in each of the three qualifying sessions.
He finished the session with a time of 1min 22.868sec, 0.130sec ahead of teammate Valtteri Bottas, who will start from pole position on Sunday, with title rival Max Verstappen 0.328 back in the Red Bull.
"The track's completely different," said Hamilton. "The track is absolutely awesome, with the grip level it gives us now." Monegasque Charles Leclerc, in a Ferrari, and Frenchman Pierre Gasly, in an AlphaTauri, will start on the second row.
Veteran Spaniard Fernando Alonso, in an Alpine, and Mexican Sergio Perez of Red Bull occupy the next two places.
Alonso will start fifth for a Grand Prix for the first time since 2014 as he qualified sixth but benefits from Hamilton's penalty.
Daniel Ricciardo has it all to do as McLaren was dealt a reality check after two consecutive strong performances in the previous two races.
He qualified 16th – exiting in the first qualifying session in a dismal low due to completing his flying lap on the drying track earlier than rivals. He'll start 15th after Carlos Sainz took an engine penalty.
"I think everybody was still improving and yes, if you had a magic wand, you'd probably want to be the last one to cross the line and there's going to be probably some free time there, so we couldn't plan any of that," he said. "It was yellow flags often into Turn 1 [so] that your lap would get aborted, and then you're out of sync, so just the nature in these kind of changing conditions, but we didn't get on top of it today. No big, sad story here," he said.
"We have every option available now so I guess that will [create] some excitement talking about that and trying to plan a comeback tomorrow," he added. "I don't know if it's going to be easy to overtake or not. I mean no track's easy, but I think it's possible. I'll try to put on an attack tomorrow, put on a charge. There's a few companions with me towards the back and hopefully we can put on a show and charge through," he concluded.
Teammate Lando Norris managed eighth but will start seventh after Hamilton's engine penalty.
"I wouldn't say we're happy just because it's P8," said Norris. "I think it's really the best we could have done. The car's not easy to drive and even if I did a good lap, you know, I was half a second off Fernando – maybe two-tenths off Perez, if I did a perfect lap, I could have got him. Half a second off Fernando, [who] was two places ahead, so we just didn't have the pace today which is a bit of a shame."
HAMILTON VS VERSTAPPEN
Hamilton leads Verstappen by just two points in the standings but will start nine places behind the Dutchman on Sunday even though the Mercedes has been faster all weekend.
"I'll give it everything," said Hamilton. "Tomorrow is going to be difficult to move up. Hopefully we can give the fans a good race." Bottas insisted that on Sunday "I will race my own race".
"As a team, the result was as we planned," he said. "Hamilton with the minimum penalty and me on pole." Mercedes principal Toto Wolff was not sure if his petrol tank was half full or half empty.
"You need to look at the positives that the car is very quick and we can start from pole," he said.
"On the negative side we could have had a front-row lockout." He said it would be "very difficult" for Hamilton to move up.
Verstappen said he had been having problems since the start of the weekend but the team had made adjustments between Friday and Saturday "Third was the maximum today," he said. "I will try to pick up as many points as we can tomorrow."
Some drivers starting ahead of Hamilton admitted they will be looking over their shoulders.
"He'll be passed me in a couple of laps," said Lando Norris who will start seventh in his McLaren.
Gasly said he'd try to make his AlphaTauri as wide as possible. "It's pretty much what I try every race," he said.
"We know Lewis is going to come from the back tomorrow," Gasly said.
Hamilton fastest but penalised | 01:04
– 'Finish ahead of them' –
Christian Horner, principal of AlphaTauri's parent team Red Bull, agreed. "If he can keep at least one Mercedes behind him for the whole afternoon it would be very welcome," Horner said but added he wanted to attack Mercedes.
"The best route to beat them is to finish ahead of them."
Before the start of qualifying, drivers queued up to beat the expected downpour and put in a quick lap, but with the track still damp and in cool conditions that meant tyres took longer to warm up, many struggled to keep their cars on course.
Hamilton was particularly eager, barging past several other cars as they approached the start.
The Briton exceeded track limits on the first corner. Verstappen was among several drivers who soon spun.
At the other end of the field, Mick Schumacher reached the second qualifying session for the first time in his career. The German eventually qualified 14th in his Haas.
"Those tricky conditions were fun to drive," Schumacher said. "It's been a nice feeling on track in the car so I'm happy." His best finish in a race is 12th.
"Tomorrow, hopefully we're able to keep the position or even be a bit further forward," he said.
FULL GRID
Front row Valtteri Bottas (FIN/Mercedes) Max Verstappen (NED/Red Bull-Honda)
2nd row Charles Leclerc (MON/Ferrari) Pierre Gasly (FRA/AlphaTauri-Honda)
3rd row Fernando Alonso (ESP/Alpine-Renault) Sergio Perez (MEX/Red Bull-Honda)
4th row Lando Norris (GBR/McLaren-Mercedes) Lance Stroll (CAN/Aston Martin-Mercedes)
5th row Yuki Tsunoda (JPN/AlphaTauri-Honda) Sebastian Vettel (GER/Aston Martin-Mercedes)
6th row Lewis Hamilton (GBR/Mercedes)* Esteban Ocon (FRA/Alpine-Renault)
7th row George Russell (GBR/Williams-Mercedes) Mick Schumacher (GER/Haas-Ferrari)
8th row Daniel Ricciardo (AUS/McLaren-Mercedes) Nicholas Latifi (CAN/Williams-Mercedes)
9th row Antonio Giovinazzi (ITA/Alfa Romeo Racing-Ferrari) Kimi Raikkonen (FIN/Alfa Romeo Racing-Ferrari)
10th row Nikita Mazepin (RUS/Haas-Ferrari) Carlos Sainz (ESP/Ferrari)*
* Engine changes penalty
Daniel Ricciardo's $18.6m Beverly Hills mansion, Turkish Grand Prix
Daniel Ricciardo will be hoping for another points finish at the Turkish Grand Prix on Sunday.
The Aussie driver, 32, finished fourth last time out at the Sochi Autodrom, as he gained 12 points to climb up the F1 standings.
And in terms of getting on the property ladder, "The Honey Badger" isn't doing too badly either.
Did you know you can catch up on the 2021 F1 Turkish Grand Prix for FREE with Minis on Kayo Freebies? Register now, no credit card required.
Ricciardo already owns an apartment in Monte Carlo, as well as a grand home in his native Perth.
In 2018, he added this stunning mansion to his property portfolio in Los Angeles after visiting the US in 2014, which Realtor.com shared the photos of.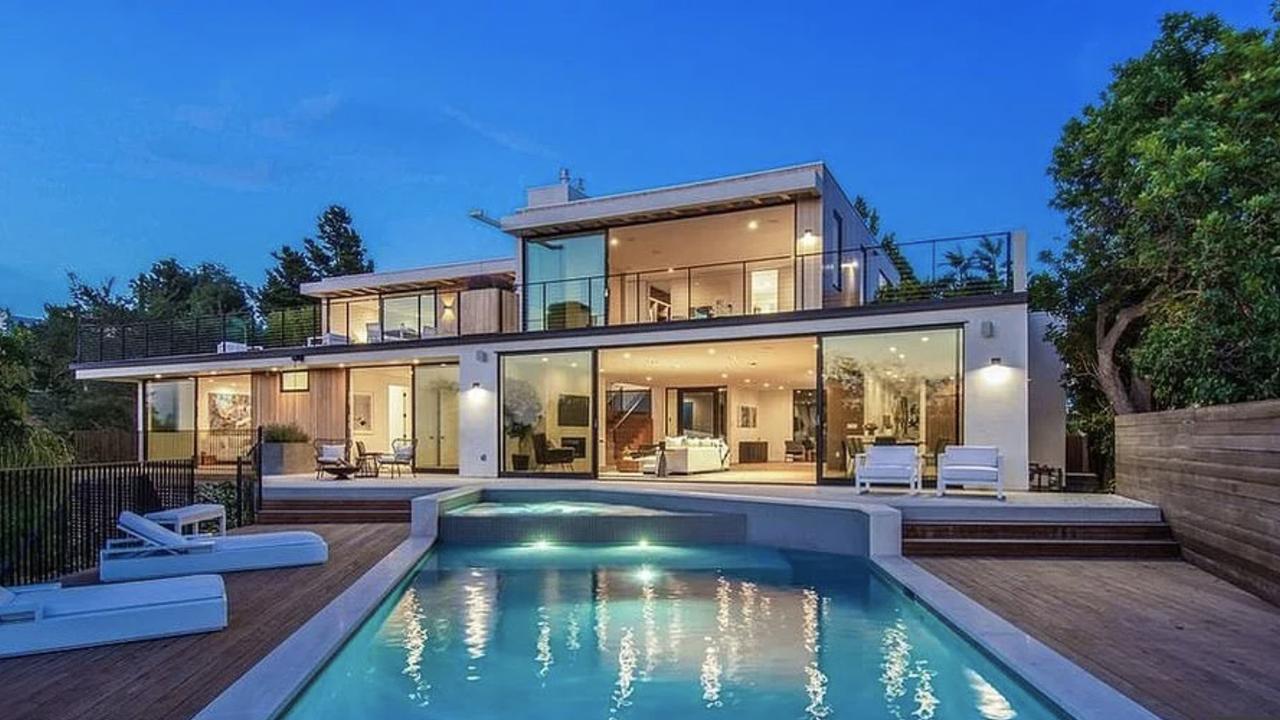 The McLaren ace revealed that the city "immediately resonated well with me", when he visited his cousin who lives there.
"The weather, having the beaches close by, I feel like you can escape the madness of it all," he told The West Australian.
He paid a whopping £10 million (AUD$18.6 million) for a Beverly Hills home, which is an updated 1960s pad.
The huge property has five luxury bedrooms, five and a half bathrooms, as well as a two-door garage.
The master suite takes up most of the home's second floor – ideal for the bachelor lifestyle Ricciardo lives.
It boasts a glassy bedroom with sitting area and fireplace, a walnut closet, and a master bath with wood and stone accents, dual vanities, and a spacious soaking tub.
Outside the master bedroom is a massive outdoor deck – perfect for relaxing on loungers on.
The incredible abode also offers unparalleled views of the Pacific Ocean and Coldwater Canyon.
If you want to take advantage of the Californian sunshine, the house offers a vast terrace to entertain guests, as well as a sun deck and a pool and jacuzzi.
The stylish digs also has a modern kitchen, fitted with Miele appliances, and includes a sub-zero fridge.
When the F1 season ends, Ricciardo reportedly prefers to spend his summer months in Los Angeles.
And living in such a home, it's easy to see why.
This article originally appeared on The Sun and was reproduced with permission
Daniel Ricciardo position, Lewis Hamilton, Max Verstappen championship points, Valtteri Bottas wins
Mercedes driver Valtteri Bottas claimed his first chequered flag of the season to win the Turkish Grand Prix on Sunday as Max Verstappen reclaimed the lead in the title race.
The Red Bull driver finished second to take a six-point lead in the championship ahead of Lewis Hamilton who finished fifth voicing frustration with his Mercedes' team strategy.
Sergio Perez, in the other Red Bull, took third with Ferrari's Charles Leclerc in fourth.
Australia's Daniel Ricciardo finished outside of the points in 13th having started the race from the back of the grid after McLaren made wholesale changes to his car.
Did you know you can catch up on the 2021 F1 Turkish Grand Prix for FREE with Minis on Kayo Freebies? Register now, no credit card required.
RICCIARDO ENDURES SEASON-WORST TORMENT AS MAJOR SACRIFICE SETS UP BRIGHT FUTURE
WATCH: Twist in Mad Max duel as Hamilton turns on team in fiery radio exchange
Bottas wins Turkish GP, Max second | 03:11
Ricciardo was left frustrated, saying that his car struggled with its tyres all race.
"I think we had maybe four laps in the race where we had good pace but the rest was hard," he said.
"I got a bit excited because I thought maybe it will just keep getting better and better, but it lasted four laps and then the rear dropped away again, so the last ten laps were a bit painful, just trying to hang on.
"Obviously, we were fighting for the points and that strategy was our best chance, but it was just really unpredictable. I know others went longer, with one going the entire race on one set, but at the end I saw my tyres and they were on their last legs.
"Unfortunately, it wasn't a strong race but we'll try to analyse it."
Meanwhile, Hamilton declined an initial call to come in for fresh tyres but finally acceded to the Mercedes team instructions, boxing eight laps from the end.
It cost Hamilton two places as Perez and Leclerc flew on ahead and the Englishman did not hide his frustration over the radio.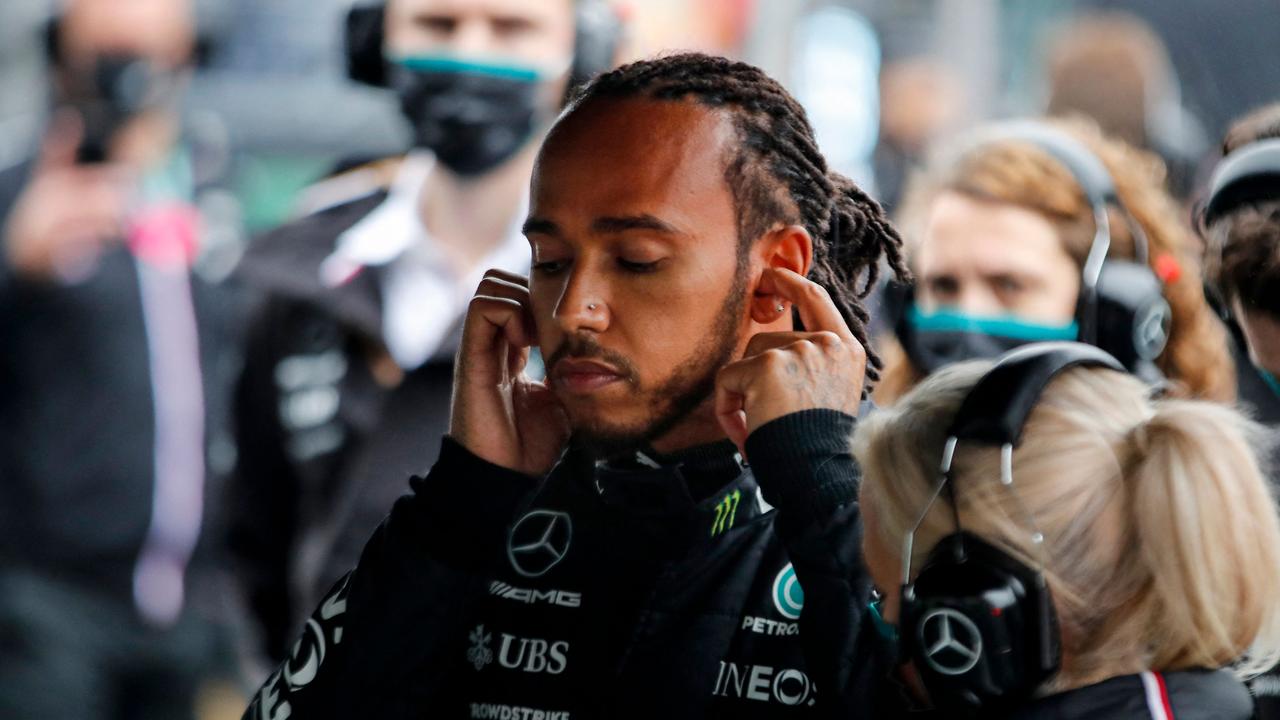 – 'Shouldn't have come in' –
"F**k man, why'd you give up that space?" Hamilton fumed over team radio.
As he struggled to hold off Pierre Gasly in the AlphaTauri, he said: "We shouldn't have come in. Massive graining man. I told you."
A disgruntled Hamilton later pointed out Alpine's Esteban Ocon made it round with one set of tyres, intimating that he could have stayed out.
"I feel like I should have stayed out," Hamilton told Sky F1. "My gut feeling was to stay out, and I feel like that's what I should have done. So I'm frustrated in myself for not following my gut."
Mercedes boss Toto Wolff backed the call at the end of the race, saying that it was Hamilton's delay in stopping which hurt his chances of claiming a podium.
"That would have been better than what we ended up with," Wolff told Sky Sports after the race. "But it was measured and in the car, he didn't see how much he was dropping off. It was clear that had he stayed out then he would have lost out to Gasly.
"We thought we could finish third without stopping or, if a dry line emerged, maybe going to a soft tyre.
"Then we saw Leclerc dropping off and Lewis was dropping off and it was clear we wouldn't make it to the end."
Hamilton was quickest in qualifying but had to start the race in 11th because of a grid penalty incurred for changing his engine.
The seven-time champion gained two places on the opening lap before picking his way up to fifth where he was held up by Perez, the two of them dicing at the end of lap 35 in some classic wheel-to-wheel racing.
As the other cars came in to change their tyres Hamilton stayed out, moving up to third and looking good for the podium.
Although the rain eased by the start of the race, the wet conditions prevailed throughout, making the tactics around tyres and the timing of pit stops all the more important.
Championship leader Verstappen said: "It wasn't easy today.
"The track was very greasy, we had to manage the tyres the whole race so couldn't really push.
"Just seemed Valtteri had a bit more pace, could look after the tyres all race. Happy to finish second in these conditions, it's easy to get it wrong so you drop back."
Race winner Bottas said after his 11th career win it was "probably one of the best races" he ever had.
Bottas began from pole, avoiding a tangle between Gasly and Fernando Alonso on the opening lap, and led until pitting on the 38th lap of the 58-lap race.
That gave Leclerc the lead but as his tyres faded so did his pace and the Finn soon reclaimed the lead, going on to take his 11th Grand Prix victory and his first win since Russia over a year ago.
"It's been a while. Feels good," said Bottas who is leaving Mercedes at the end of the season to join Alfa Romeo.
"It is not easy to choose the strategy here with these conditions and when to stop and which tyre but I'm glad everything went smooth for once for me.
"When only one drying line, it doesn't need much to go off. I definitely needed to focus all through the race. A difficult one, but feels like a well-earned victory."
Mercedes team principal Toto Wolff, who has recruited George Russell to replace Bottas next season, was thrilled with the performance of his current number two.
"Absolute dominant drive from him from the get go," he said. "He had it absolutely under control. Ten out of ten for me."
Verstappen, who began the race two points behind Hamilton in the title race, made no attempt to challenge Bottas and focussed on a damage limitation exercise, content to ease home second knowing that Hamilton was three places further back.
There are six races left in the season with the United States Grand Prix in Texas on October 24 next on the schedule.