Boston Red Sox manager Alex Cora says good luck text from Bill Belichick was 'highlight of the year'
BOSTON — The sure sign for Red Sox manager Alex Cora that things are getting serious in the baseball playoffs: He got a text from Patriots coach Bill Belichick wishing him luck.
"That's like the highlight of the year," Cora gushed before Game 3 of the American League Division Series against Tampa Bay on Sunday. "I got the text from this random area code. That's cool, to be honest with you, for somebody of his status to wish us luck."
Cora said Belichick reached out before Tuesday's wild-card victory over the New York Yankees and texted again after. Although the two have met several times, including when the 2018 World Series champions were honored before a Patriots game, "This is more personal," Cora said.
The genial Red Sox manager said he saw a different side of Belichick than the one the dour coach shows through the media. Cora, who has one World Series ring as a Red Sox player and another as the manager, wondered aloud to reporters whether he might go all Belichickian if he wins a few more.
"I won't promise you," Cora said, "but I don't think I will change."
Boston and Tampa Bay were tied 1-1 heading into Game 3 of the best-of-five ALDS, another matchup between the city that dubbed itself Titletown while winning 12 NFL, MLB, NHL and NBA championships since 2001 and the one that is trying to swipe the nickname. The Rays are the defending AL champs, the Lightning have won back-to-back Stanley Cups, and the Buccaneers won last season's Super Bowl.
So has Rays manager Kevin Cash heard from Tom Brady, who led Tampa Bay to the championship after winning six rings in New England?
"No," Cash said. "But if I do, I'm going to ask if I can go on his boat."
It's E-Rod's time – Eduardo Rodriguez mocks Carlos Correa's celebration in Game 3 win
When Houston Astros All-Star shortstop Carlos Correa hit his seventh-inning home run in Game 1 of the American League Championship Series, some Boston Red Sox players viewed his gesture of pointing to an imaginary wrist-watch — signaling it was "his time" in the postseason — as a display of arrogance in showing up losing pitcher Hansel Robles.
"It did not bother me. Correa is one of the best hitters in baseball; you cannot make mistakes against him. But I did think for a moment … the standing at home plate … pointing to the watch … sometimes some of that stuff is a bit overboard," said a hesitant Robles, who spoke in Spanish to ESPN.com in Houston on Saturday. But let me tell you something, I have no reason to be mad at Correa. I am the one who made the pitch. In that at bat, he did his job; I did not do mine."
But some teammates disagreed: During Game 3 at Fenway Park, with Boston enjoying a comfortable 6-run lead at the time, Eduardo Rodriguez retired Correa to close out the top of the 6th inning, the lefty mockingly pointed to an imaginary watch.
Carlos Correa in Game 1 vs. Eduardo Rodriguez in Game 3 ⌚

🍿🍿🍿 pic.twitter.com/NqOpv6b6tS

— SportsCenter (@SportsCenter) October 19, 2021
Before the Sox's 9-5 Game 2 win in Houston, Correa said that he did not feel the need to apologize for what may have been interpreted as a violation of etiquette.
"I was not showing up anybody, I was just enjoying the moment," Correa told ESPN.com.
He added: "It was just celebration with my teammates and it had nothing to do with the other team. I love all those guys over there. I respect all those guys. We didn't start the game the right way, and I just wanted to spark my team up a little bit. It was a celebration of a big homer in a playoff game."
The on-field culture in Major League Baseball continues to evolve, and it has exposed many of the tensions beneath the surface of a sport that alienates those who do not follow the unwritten rules of "old school" baseball.
"In the end, we play baseball and this is the entertainment business," Correa said. "Even though we have a lot of old school heads in the game, this is still the entertainment business, and fans come here to watch a show. We're here to entertain and win games."
"I enjoy playing baseball. And as long as my fans appreciate what I do, and love me for the way I play, that's all I care about," Correa said. "I care about what my fans and family think of me; that's what makes me sleep happy at night."
In terms of whether he embraces the villainous role the Astros, and especially Correa and second baseman Jose Altuve have been tagged with since a sign-stealing scandal marred their 2017 championship run, the 27-year-old shortstop said that it does not faze him.
And neither does the prospect of "getting one on the ribs" as retaliation. As Correa quipped, with a wry smile, "then my on base percentage would go up."
Follow live: Red Sox look to stay hot, take control of ALCS
Houston Astros start rookie Jose Siri in center field for Game 3 of ALCS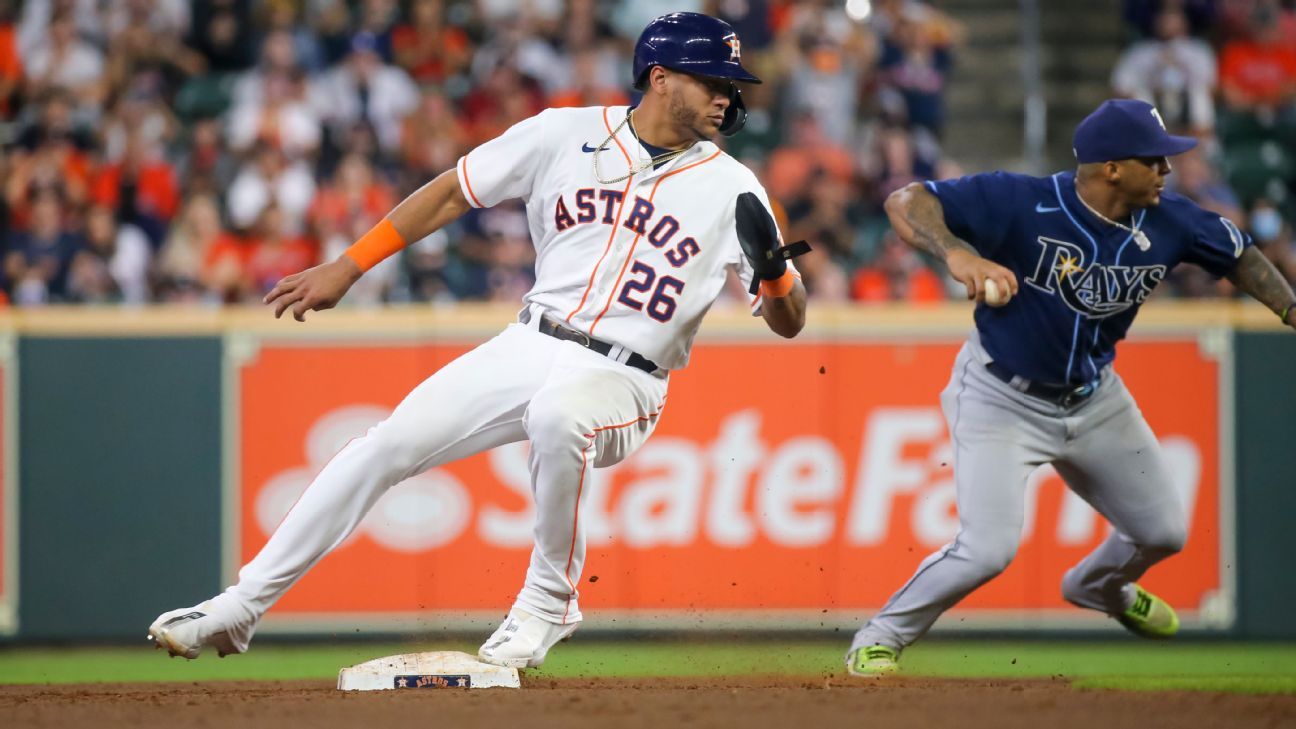 BOSTON — The Houston Astros are starting rookie Jose Siri in center field over Chas McCormick for Game 3 of their ALCS matchup against the Boston Red Sox on Monday night.
"He can cover the ground, and he can also throw to stop you from scoring on the double from first base [and] limit triples," manager Dusty Baker said Monday afternoon. "He throws better than McCormick and [Jake] Meyers, who is not quite ready."
Siri, 26, played 21 games for the Astros this year including five starts in center. He will bat eighth in Monday's lineup.
It might be Siri's lone start as Meyers is close to returning after suffering a shoulder injury attempting to catch a ball over the outfield wall against the Chicago White Sox in the ALDS.
"He is doing a lot better," Baker stated. "He could probably get a start in these next two days, maybe as early as tomorrow [Tuesday]. Every day is important when you are fighting an injury."
Game 3 will be Siri's first at Fenway Park in his career.
"My first time playing in the postseason in the big leagues and to do it in center field at Fenway Park, it means a lot to me, and I'm really excited about it," Siri said through a translator. "It's a big center field, very deep. A lot of room to maneuver. I think I have an opportunity to make some good plays out there in center."
Siri hit .304 with four home runs in 46 at-bats for the Astros this season.