ALDS Game 4 between Houston Astros, Chicago White Sox postponed until Tuesday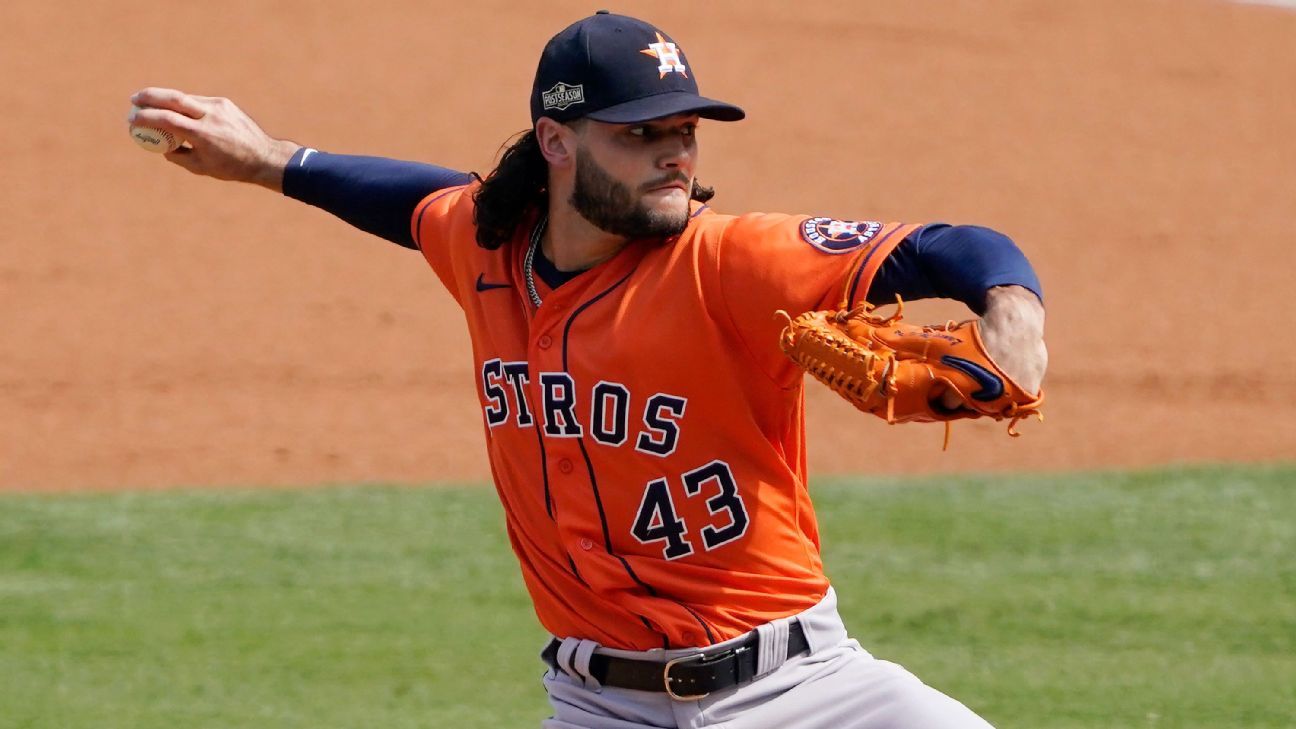 Given an extra day of rest due to the postponement of Game 4 until Tuesday, the Houston Astros will instead start Lance McCullers Jr. against the Chicago White Sox, the team announced.
Game 4 of the American League Division Series was originally scheduled for Monday afternoon, but it was postponed until Tuesday because of rain in the forecast.
Jose Urquidy had been Houston's scheduled starter for Monday's game, but manager Dusty Baker instead will look to close out the series with McCullers, who was dominant in Game 1 while holding Chicago without a run in 6 2/3 innings.
The Astros lead the best-of-five series 2-1.
White Sox manager Tony La Russa said he will stick with Carlos Rodon in Game 4 on Tuesday, with Game 1 starter Lance Lynn available out of the bullpen.
La Russa said Lynn or Lucas Giolito would start a potential Game 5 Wednesday at Houston depending on how things go Tuesday.
The Associated Press contributed to this report.
Eddie Rosario's 4-hit, 2-homer night gives Atlanta Braves 3-1 lead over Los Angeles Dodgers in NLCS
LOS ANGELES — There's hot, there is sizzling and then there is the Braves' Eddie Rosario.
Rosario banged out four hits in a game for the second time in the National League Championship Series and tied a Braves postseason record with 12 total bases, leading Atlanta to a 9-2 win over the defending champion Los Angeles Dodgers on Wednesday. With the victory, the Braves seized a commanding 3-1 series lead over Los Angeles and can clinch their first pennant since 1999 with a win at Dodger Stadium in Game 5 on Thursday.
"This whole postseason he's been pretty much unbelievable," said Braves leader Freddie Freeman, who homered, doubled, walked and got overshadowed by Rosario's spree.
Rosario fell a double short of becoming the second player to hit for the cycle in a postseason game, but only because his bat is almost too hot. With a homer, triple and single already in the books, Rosario cleared the fence with a drive to right in the ninth inning for his second homer of the game, a three-run shot that capped a four-run Atlanta rally that broke open the game.
"It's postseason, no matter what, the cycle, I want to try to help the team to win," Rosario said. "Three RBI is better than hitting a double."
On Sept. 19, Rosario hit for the cycle against the San Francisco Giants, needing just five pitches to do so. That kicked off a hot streak that has continued right on into the highest-stakes games of his career. Beginning with that game, Rosario has hit .354 with five homers over a 22-game span. And when his bat is referred to as being hot, it's just that — one particular hot bat. Rosario said he has been using the same stick with which he hit for the cycle.
"I've been using that bat that I hit for the cycle with and it has not disappointed," Rosario said. "I had that double remaining, and I'm like, man, this bat has not let me down yet."
During the NLCS, Rosario has hit .588 with a pair of four-hit games. He's the first player to have a pair of four-hit games in the same LCS. Only Hall of Famer Robin Yount, who did it in the 1982 World Series, has done it in any postseason series.
Not bad for a player who was non-tendered by the Minnesota Twins last fall, didn't latch on to a new team until February, struggled during a half-season with the Cleveland Indians and then was dealt away at the trade deadline.
"I came here and I wanted to show my name, showcase my talents and prove to the people the kind of ballplayer that I am," Rosario said. "I feel like I had success in Minnesota and I struggled a little bit in Cleveland, so when I came over here I definitely wanted to make sure that I showcased my talents appropriately."
As postgame questioners were all too willing to remind the Braves after Wednesday's game, Atlanta also held a 3-1 lead over the Dodgers in the NLCS last season, only to drop three straight to L.A. and finish one game short of snapping the franchise's pennant drought. But with every question asked in that vein, the Braves have had a pretty simple response: This is a different team and a different year.
"[It is] 2021," Freeman said. "2020 was last year. This is a whole different team, a whole different thing. So if anybody's thinking about 2020, I think everybody wants to be in a 3-1 lead, so we'll take it."
The different team part has been on full display against the Dodgers. Rosario and two other in-season outfield acquisitions — Joc Pederson and Adam Duvall — have led the Braves' offense this series. The trio has combined to hit .404 with four homers and 14 RBIs against L.A. Everyone else has hit .225 with two homers and seven RBIs.
Atlanta still has to take that final step, but things could hardly line up better for the Braves than on Thursday. That's because baseball's hottest hurler, Max Fried, will take the mound, while the Dodgers will go with a bullpen game to save their season. Fried, who hails from southern California and grew up a Dodgers fan, has a shot to close the door on his boyhood club.
"What he's done in the second half and pretty much over the whole course of the season, after the first couple weeks, every time you see No. 54 on that mound you got a real good feeling," Freeman said.
If Freeman's feelings are prescient, the Braves will be headed back to the World Series for the first time this century.
"I was very young when they went, the last time they went," Freeman said. "So we got a good team and we're playing really good baseball and hopefully we can take this thing home and get to the World Series."
Los Angeles Dodgers All-Star Justin Turner likely out for rest of postseason with hamstring injury
LOS ANGELES — His hamstring injured and his season likely over, Justin Turner got to within 25 feet of first base and tried to stop. He throttled back, hobbling at first before slowing enough to turn the hobble to a limp. Slowly, painfully, he worked his way back to the Dodgers' dugout, wincing with every step, before Albert Pujols helped him down the stairs and through the tunnel that leads to to the clubhouse.
So now, one loss away from an inglorious end to a remarkable season, the Dodgers are faced with overcoming a 3-1 deficit in the NL Championship Series without their All-Star third baseman, who sustained a hamstring injury while hitting into a double-play in the seventh inning of the 9-2 loss against the Atlanta Braves in Game 4 on Wednesday night.
Dodgers manager Dave Roberts revealed in his postgame interview that the early indication is that Turner has a Grade 2 strain, which is defined as a partial tear of one or more hamstring muscles.
"So, I think that'll be it for him," Roberts said. The normal recovery period for a partial tear is four to eight weeks.
Turner's injury is just one more addition to the Dodgers' list of unavailable star players. Clayton Kershaw has been out since the beginning of October with a forearm/elbow injury, and first baseman Max Muncy was lost for at least through the NLCS with an elbow injury he suffered on the final day of the regular season.
Turner is one of several Dodgers' regulars who have struggled offensively during the postseason. He had just one hit in 20 at bats in the five games against the Giants in the NLDS, and he jokingly asked for the ball after that one hit, a single. In four games against the Braves, Turner has two hits, a walk and a hit by pitch in 12 plate appearances.
Roberts, who was in no mood to expound on much of anything after his team's loss on Wednesday, said he spoke to Turner and described his mood as, "obviously, very disappointed." Asked how Turner's absence might impact his team's psyche, Roberts said, "Honestly, what I'm thinking about, and what I expect our guys to think about, is only tomorrow."
The Dodgers didn't make Turner available to reporters after the game.
The injury occurred with the Dodgers trailing 5-2 and Walker Buehler, pinch-running after Pujols led off the inning with a pinch-hit single, at first base. Turner hit a ground ball to short, and Dansby Swanson — seeing Turner pull up — took the ball to second on his own and threw to first for the double play.
"I feel bad for Justin," Dodgers outfielder AJ Pollock said. "JT — he's a warrior. You could see him walking off the field. It's a hamstring. I'll let him talk to you about that, but you never want to see your teammate go down."
The Dodgers will be able to replace Turner on the roster for Game 5. Roberts said the choice will be an infielder, and he listed Zach McKinstry, Billy McKinney and Andy Burns as options.
MLB playoffs 2021 – How a word with no English equivalent helped Astros get one win from World Series
BOSTON — Sisu.
It's a Finnish word which, according to Finland's tourism website, typifies the enduring spirit of all Finns: "stoic determination, hardiness, courage, bravery, willpower, tenacity and resilience."
It's also the word Houston Astros pitching coach, Brent Strom, used to his pitchers in a meeting before Game 4 of the American League Championship Series on Tuesday. The message he delivered might be the difference maker in this series, because over the following two days, Astros pitchers held the previously red-hot Boston Red Sox offense to just three runs — and are returning to Houston with a 3-2 series lead.
"I talked to them about getting out of their comfort zone and taking it a step further," Strom told ESPN after the Astros' 9-1 win in Game 5 on Wednesday. "People laugh at me about this but 'sisu' harkens back to when the Soviets invaded Finland and [the Finnish] were outnumbered in men, 3 to 1, 400 airplanes to 32, 600 tanks to 27. And they held them to a stalemate."
Strom wanted his young pitchers to rise to the occasion, even when it seemed everything was working against them. The Astros had given up a whopping 21 runs in Games 2 and 3, and the series seemed to be slipping away.
"I've been very blessed with the [Justin] Verlanders and the [Gerrit] Coles and the [Dallas] Keuchels and all these guys that have been there, done it," Strom said. "This is a whole new group right now and I just asked them to dig a little deep.
"The bullpen was taxed. We were beat up a little. But they stepped up in a big way."
Strom got 7.2 innings of scoreless baseball from his pen in Game 4, then got the performance of the series in the form of lefty starter Framber Valdez, who went eight innings in Game 5. Valdez took "sisu" to heart after a bad start in Game 1 when he lasted just 2.2 innings.
"I had a really ugly outing," Valdez said through a translator. "I felt humiliated after that first outing and I set my mind on not letting that happen again. I did everything I could to work as hard as I possibly could to come back and have success in this outing."
Boston managed just three hits off of him. Red Sox manager Alex Cora called Valdez's sinker "unreal."
"Walks have been an issue in the past but we saw him throw a lot of strikes today," Strom said. "They had a tough time getting the ball out of the infield. When you throw ground balls, sometimes the cost of one out equals two."
In Valdez's only moment of trouble, it wasn't Strom who went to the mound to talk to him — it was Astros manager Dusty Baker. With two on and no outs in the fifth inning with a 1-0 score, this would be the key moment.
"I didn't say a whole bunch to him," Baker recalled. "It was kind of like you call a 20-second timeout in basketball and try to take the air out of the game. That was a 20-second timeout that probably took 15 seconds."
On the next pitch, Valdez threw a sinker to Hunter Renfroe to induce a 6-4-3 double play. A moment later he got Alex Verdugo to ground out. The threat — and, soon enough, the game — was over.
Strom believed it was either just the "first or second time" all season Baker went to the mound without pulling his pitcher.
"Whatever Dusty said to him was better than what I could have done," he said with a smile. "I just pray a lot."
Strom reiterated to Valdez before the game, as he had in their pitchers meeting the night before, that he needed to get ahead in the count.
Through the first four games of the ALCS, the Astros averaged 40 pitches per game in hitter's counts. On Wednesday, Valdez threw just 14.
"In the first game, even in our place, he was amped up," Strom said. "First time in a playoff game with [fans]. It was like spring training last year."
Even Cora noticed the difference — although he didn't mention "sisu."
"They made some adjustments," he said. "There's a few things they're doing that they didn't do in the first three games, and we just got to be ready."
Throwing strikes is No. 1 on that list. It was the one bit of technical advice Strom gave his pitchers after asking them to dig deep.
"This is a very good Red Sox offense which controls the strike zone very well," Strom said. "J.D Martinez is a great leader of them. We had to take the strike zone back."
Strom pointed at one pitch, well before the Renfroe double play on Wednesday, which indicated to him they were in for a different night from their starter. In the bottom of the first, Valdez threw seven pitches to Red Sox leadoff man Kiké Hernandez. That seventh, on a full count, was a beauty of a sinker on the inside portion of the plate. Hernandez was caught looking.
In the dugout, Strom sighed in relief. The Red Sox had been scoring so much, so early in this series. He knew the last thing Houston needed was a free pass to the first Red Sox batter.
"A strikeout rather than a walk," Strom said. "Maybe it's just me but sometimes you go, 'Oh s—, here we go again.' [But] that changed the narrative a little bit."
Perhaps it changed in that meeting room, at a time when the Astros pitching staff had to reset itself or start making offseason vacation plans. The feeling in Fenway after Game 3 was that the series may not go back to Houston. Instead, the Astros are one win from another World Series appearance with two home games waiting for them.
Sisu.
"It's just about determination and grit, going beyond your comfort zone," Strom said. "That's the word they used."
"It's undefinable."