From Robert Saleh to DeMeco Ryans: What will the 49ers' defense look like? – San Francisco 49ers Blog
SANTA CLARA, Calif. — In an offseason of major moves involving the San Francisco 49ers, the biggest departure wasn't a player. It was defensive coordinator Robert Saleh, who left after four seasons to become the head coach of the New York Jets.
While Saleh's loss had been expected, it was no less significant. Replacing Saleh, who led the 49ers defense to DVOA ranks of second (2019) and sixth (2020), is no easy task. How well the Niners did in replacing Saleh will go a long way in determining whether they can surge back into contention in 2021.
Although older, more established defensive coaches such as Dan Quinn, Gus Bradley and Raheem Morris were available, San Francisco coach Kyle Shanahan had his replacement choice in-house the whole time. Shanahan promoted DeMeco Ryans — the type of young, intelligent, enthusiastic coach Saleh was when he got his first chance to run a defense in 2017 — from inside linebackers coach to defensive coordinator on Jan. 18.
Since, Ryans has made it clear to his players he isn't going to try to emulate Saleh, though he's happy to apply many of the things he learned from Saleh in their four seasons working together.
"I am my own person and Saleh has taught me a lot," Ryans said. "He's probably one of the coaches who has taught me the most football that I've been around. He's been very integral to my development as a coach and I can't thank him enough for all of the things that he's instilled in me. There will be some of the similar, you know, scheme things that we've done in the past … but you will see some wrinkles. You will see some wrinkles, you will see my brand of football on it."
It's not hard to figure out what Ryans might bring to the 49ers defense even as a first-time coordinator. Asked last week what his "brand" might entail, Ryans quickly threw out words like "fast," "physical" and "aggressive," mentioning an attacking defensive line, a back seven that focuses on fundamentals and feeds off of what the front four does.
That mindset is undoubtedly an extension of Ryans' own playing career but also not much different than what the Niners did under Saleh. A former second-round pick of the Houston Texans in 2006, Ryans spent 10 seasons playing middle linebacker, earning Defensive Rookie of the Year, a first-team All-Pro nod in 2007 and two Pro Bowl appearances.
His playing résumé instantly earned Ryans plenty of credit with his players when he joined Shanahan's staff as defensive quality control coach in 2017.
"He knows what it takes as a defensive player, he knows what it takes in the league," cornerback Jason Verrett said. "He's done a hell of a job getting the guys up front going, it all starts upfront and then it ends on the back end. So, it's been fun so far being out there with a guy who has played in the league and knows a lot about the ins and outs of football so it's been very relatable for us."
The adjustment for Ryans hasn't been so much about relating to players as it has been keeping his focus on a bigger picture. Where he once spent his time only around inside linebackers, he now has to make sure he gets time with the defensive line and secondary as well.
Free safety Jimmie Ward said Ryans is also working on making things "way more simple" for the players in terms of the calls.
"He listens to what the players have to say and he adapts to it," defensive end Samson Ebukam said. "At the same time, he's got a controlling voice. Everybody respects him in the room and we know that he's looking out for our best interest. He's putting us in the best situation to be successful."
As for how Ryans compares to Saleh on game days, that remains to be seen. Ryans says he will call the plays from the sideline, same as Saleh, who became the favorite of television broadcasts for some of his antics after his players made big plays. Ryans can't promise he will have similar "Hulk" reactions but he also won't be afraid to show his enthusiasm.
And though stepping into Saleh's big shoes is no easy task, Ryans believes any pressure on him can be alleviated by the work he puts in.
"There's no pressure, but it's just, have you prepared yourself for the moment?" Ryans said. "I think for me, it's just putting in the work now in the offseason, putting in work during the season."
The comparisons to Saleh are inevitable, especially if and when there are defensive hiccups. But while Saleh's contributions won't soon be forgotten by the Niners or Ryans, all that really matters is what happens next.
"Saleh, love him, great coach, but he's on the Jets now," Ward said. "I wish him the best, but at the end of the day, I'm gold and red over here. So I'm team 'Meco. Whatever 'Meco says, I'm rolling with him."
Cleveland Browns QB Baker Mayfield says he and WR Odell Beckham Jr. are making 'huge strides' with their chemistry
BEREA, Ohio — Cleveland Browns quarterback Baker Mayfield said Thursday that he and wide receiver Odell Beckham Jr. have made "huge strides" with their chemistry going into their third season together.
"When it comes down to the chemistry stuff, it's every rep matters for us, but then, just the terminology and speaking outside the building, not just about football, that goes such a long way when it comes to chemistry that trust factor," Mayfield said. "And I know he feels the same way."
Since the 2019 trade that shipped Beckham to the Browns, Mayfield and OBJ have the worst completion rate (55.6%) of any quarterback-receiving duo, according to ESPN Stats & Information research.
Last year, Beckham suffered a season-ending knee injury in Week 7. From that point through Week 15, Mayfield took off, ranking third in the NFL in QBR, trailing only Aaron Rodgers and Patrick Mahomes.
Mayfield, however, has credited his late-season surge to a growing comfort with coach Kevin Stefanski's scheme, while pushing back on the narrative it had anything to do with Beckham's absence. Last year, Stefanski became the fourth head coach Mayfield had played for his first three seasons in the league.
Beckham, who had surgery last year and was a spectator as Cleveland made the playoffs for the first time since 2002, said over the weekend that his knee was "feeling great." Beckham flashed plenty of speed and explosiveness on the first day of training camp Wednesday.
"Normal people and normal athletes don't come back from an injury like that as quickly as he did," Mayfield said. "He obviously worked his tail off to get to where he's at right now."
Mayfield added that he can "play a whole lot better than last year." And that there's plenty of reason to believe that this will be the season he and Beckham finally take off together.
"Year 1, we were definitely just trying to get used to each other last year," Mayfield said. "Last year, didn't have a full season by any means because of the injury. This year, I think we've had our backs up against the wall, the two of us together, I think we can relate a lot on those types of things. But having success is always sweeter when it's not just handed to you. It's not the easy road when you hit adversity and you have to battle through it."
NFLPA president JC Tretter rips teams' wristband use for unvaccinated players
BEREA, Ohio — NFLPA president JC Tretter ripped the NFL teams that are forcing their unvaccinated players to wear wristbands, calling it an unnecessary move that publicly shames players.
"It's a nonsensical idea," the Cleveland Browns center said Thursday. "They say they need a differentiator between vaccinated and unvaccinated players. We already have a differentiator. The unvaccinated players need to wear masks. No other sports league uses any sort of scarlet marking or helmet decal or wristband, because they know it's not necessary and the teams know who's vaccinated, who's not vaccinated."
This week, ESPN's Adam Schefter reported that the NFL and the NFLPA remain at odds over the use of wristbands to identity unvaccinated players.
"So what it really comes down to is the NFL wanted to put a policy in place to try to shame unvaccinated players publicly about their status and make that known to everyone on the field," Tretter said. "It shouldn't be the case because it's unnecessary. We all know who's vaccinated and who's not, and it doesn't need to be a scarlet marking on people's helmets or wrists."
Although multiple teams are requiring their unvaccinated players to wear wristbands, the Browns are not among them.
"We're not dividing the team over this issue," coach Kevin Stefanski said.
Carolina Panthers linebacker Jermaine Carter is among the players who expressed frustration over the league's COVID-19 protocols. That included not being allowed to have contact with his girlfriend and their newborn daughter Thursday at practice. Carter had to stand on the opposite side of a fence about 20 feet from them. Later, he noted in a tweet that he would be allowed to practice in two weeks at Indianapolis against "one of the least vaccinated teams."
I can't see my vaccinated family but I can practice against one of the least vaccinated teams 🥴 I'll see you in a couple weeks baby girl ❤️ https://t.co/JCLu2KR6wg

— Jermaine Carter Jr. (@JERMA1NECARTER) July 29, 2021
The NFL announced Thursday that 87.9% of players have been vaccinated with at least one shot. All told, 19 teams have a player vaccination rate better than 90%, with seven of those teams above the 95% threshold.
The Colts, however, reportedly remain one of the least vaccinated teams in the league.
ESPN's David Newton and Kevin Seifert contributed to this report.
New York Jets' Zach Wilson signs rookie deal after missing first 2 days of practice, sources say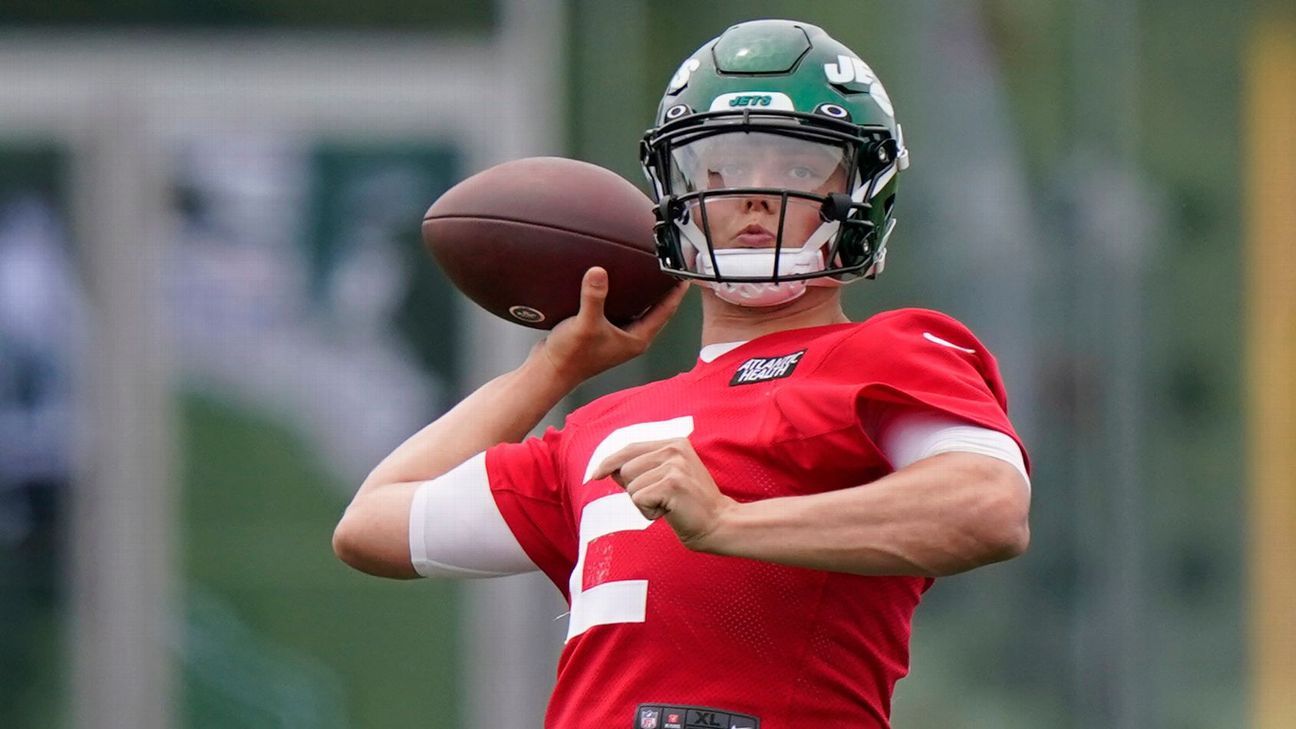 FLORHAM PARK, N.J. — It took longer than expected, but the New York Jets and quarterback Zach Wilson agreed to terms Thursday on his rookie contract, sources told ESPN.
The first-round pick and presumptive starter, who missed two days of practice as the two sides haggled over technicalities in the contract language, will sign a four-year, $35.15 million contract — a slotted deal that is fully guaranteed.
It includes a $22.9 million signing bonus and a fifth-year team option, standard for all first-round picks.
Wilson, who took a red-eye flight from Los Angeles and arrived in New Jersey on Thursday morning, was the last unsigned first-round selection from the 2021 NFL draft.
The contract includes offset language and the signing bonus will be paid within 15 days, per a source, details that imply that the sides have compromised because those were the sticking points.
At the start of camp, coach Robert Saleh said he wasn't concerned about Wilson missing camp time. "It's something he'll have to navigate through," Saleh said. "I've got a lot of faith in Zach. He's incredibly intelligent, and he's got a tremendous drive. When he does get here, I know somehow, some way he'll make up for it."
Wilson benefited from a heavy workload in the spring. With no veterans on the roster, he took all the first-team reps.
There was an increased sense of urgency to strike a deal because the Jets are counting on him to be their opening-day starter, although they haven't announced that. The only other quarterbacks on the roster are James Morgan and Mike White, neither of whom has regular-season experience. Rookie contract disputes are unusual because the deals are slotted, but teams and agents sometimes haggle over certain clauses.
The Jets include an offset in every contract that has guaranteed money, which provides financial protection if they release the player before the contract is complete. An offset allows a team to cut a player before the end of his four-year contract is completed and have the remaining money reduced by the amount of his next contract.
This isn't an unusual stance. It's believed that 30 of the 32 teams use offsets in contracts. The exceptions are the Los Angeles Rams and the Jacksonville Jaguars, with the latter having signed No. 1 pick Trevor Lawrence to a deal with no offsets.
Without an offset, a cut player collects the guarantee from his old team plus the money he receives from his new team — aka double dipping.
What complicated the Jets' negotiation was that at least two of the five quarterbacks drafted in the first round received deals without full offsets — Lawrence and Justin Fields (No. 11 by the Chicago Bears). Fields received a partial offset.
Interestingly, Cincinnati Bengals quarterback Joe Burrow, the top pick in 2020 and represented by the same agency that negotiated Wilson's contract, signed a contract that includes offset language.