Cam Akers confident about taking Rams' run game to next level – Los Angeles Rams Blog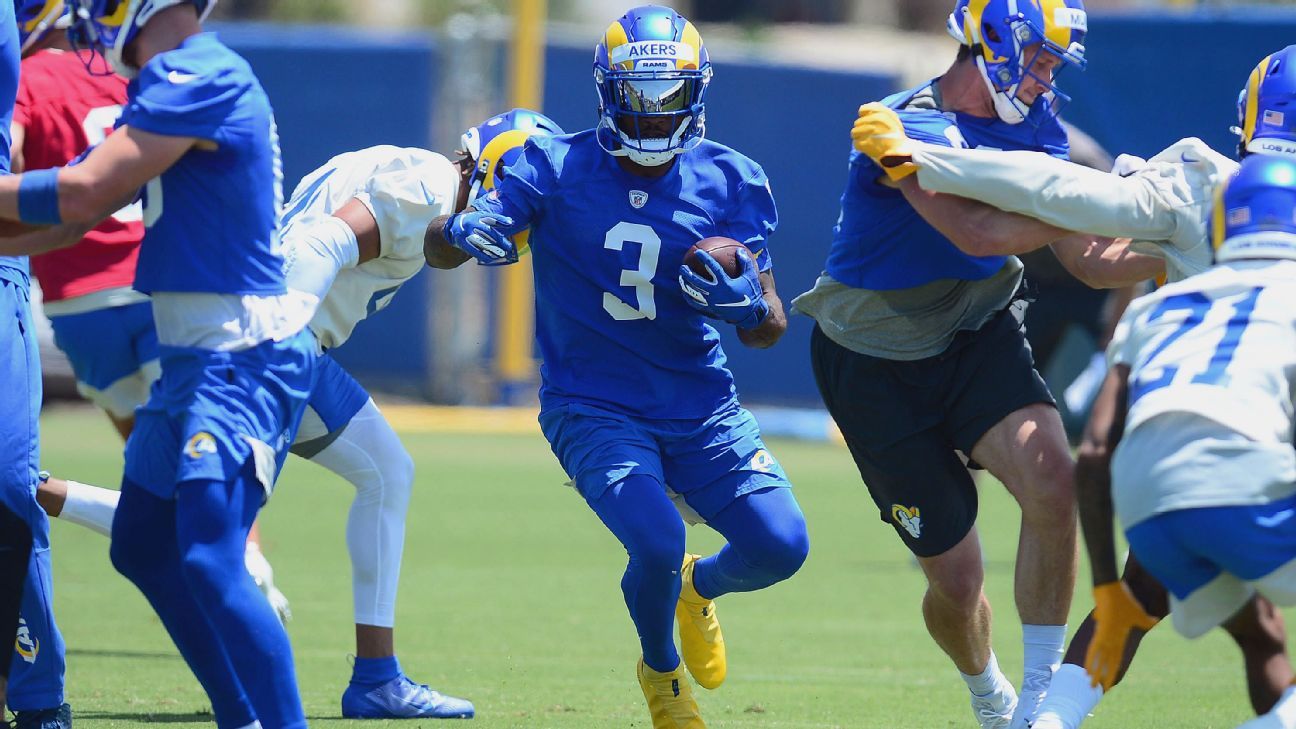 THOUSAND OAKS, Calif. — Contributing to a running back committee and slowed by a freak injury, it took Los Angeles Rams running back Cam Akers deep into his rookie season to break out.
Akers took handoff after handoff, 29 in total, as he thrashed through the New England Patriots' defense for 171 yards in front of a prime-time television audience in Week 14 last season.
It was the beginning of a standout two-month stretch that saw Akers average more than 92 yards per game and led to Rams coach Sean McVay's postseason declaration that Akers was an every-down back who could make an impact in the passing game and be featured.
Akers, who will switch jersey numbers from No. 23 to 3 this season, heard McVay's declaration but said he has not allowed the knowledge of an expanded role affect his approach during the voluntary offseason program.
"I just handle it taking it day by day; that's the only thing you can do is make sure that you're doing all you can to be at your best for the team," said Akers, who turns 22 later this month. "That's what I've been focusing on doing, whether that's being a leader or making plays, just doing what I can do to help this team. Not making it more than what it is."
Selected in the second round (No. 52 overall) of the 2020 draft from Florida State, the 5-foot-10, 217-pound Akers shared time last season with Darrell Henderson Jr. and Malcolm Brown.
Henderson returns for his third season, though he has been slowed during offseason team activities because of an undisclosed injury. Brown departed in free agency for the Miami Dolphins.
That has allowed plenty of reps for Akers as he becomes acquainted with quarterback Matthew Stafford, who is entering his 13th NFL season but his first with the Rams.
"It's been fun getting to know Matt," said Akers, who's followed on the depth chart by Henderson, Xavier Jones, Jake Funk and Raymond Calais. "Gaining chemistry, catching balls, getting handoffs from him. Feeling the way he likes to lead, just learning each other."
In 13 games last season, Akers was the Rams' leading rusher with 625 yards and two touchdowns on 145 carries. He also caught 11 passes for 123 yards and a touchdown.
Akers spent two games sidelined after suffering a rib injury in Week 2 when he awkwardly fell on the football. He also played through a high-ankle sprain later in the season.
In two playoff game appearances, Akers averaged 4.8 yards per carry and 110 yards per game.
"He's just so relaxed back there," left tackle Andrew Whitworth said during organized team activities. "That's a trait and a mentality that shows you that he's wired different and he's somebody that expects to perform well and I think guys are excited to see him do his thing and continue to grow."
This season, which has expanded from 16 to 17 regular-season games, Akers has the potential to become the first Rams player to rush for 1,000 yards since Todd Gurley, who rushed for 1,251 yards and 17 touchdowns in 2018 to lead the Rams to a Super Bowl LIII appearance.
How does McVay plan to utilize Akers?
"All the ways that you would want to be able to use a running back that doesn't have any limitations," said McVay, who's entering his fifth season as coach. "No. 1, you've got to be able to play on all three downs."
Though Akers displayed his running and pass-catching ability late last season, there remains room for improvement when it comes to the intricate details of the game, a typical leap most NFL running backs must make from Year 1 to 2 and build on as their career progresses.
Pass protection and understanding responsibilities on blitz packages remain paramount in Akers' development in order to gain the trust of McVay and Stafford on all three downs.
"It's just in the detail and what his job entails every single snap," McVay said. "The biggest thing that you would talk about, he's got great natural run instincts, he's really talented as a pass-catcher, it's the nuanced understanding of where you fit in on some of the protections when the back is involved and I think it's just continuing to become more and more complete."
Akers said he has studied the playbook so he knows it like the back of his hand. He also worked on sharpening his footwork.
Mentally, Akers said he's also made strides.
"Just everything slows down," Akers said about the speed of the game. "Everything is a lot easier for me. Understand the playbook a lot more, I understand blocking schemes, I understand who I need to block, just understanding a lot more."
Said Whitworth, who's entering his 16th season: "He's really wired the right way."
Dallas Cowboys 'pumped up' as training camp begins with 'Hard Knocks' – Dallas Cowboys Blog
FRISCO, Texas — On Tuesday, a portion of the Dallas Cowboys' team will fly to California for the start of training camp. On Wednesday, owner and general manager Jerry Jones, executive vice president Stephen Jones and coach Mike McCarthy will hold a state of the team news conference. On Thursday, the players will be on the practice field in Oxnard, California.
The wait for the 2021 NFL season is about to end.
"Pumped up," Stephen Jones said.
During their organized team activities and minicamp this offseason, the Cowboys saw quarterback Dak Prescott look like he had no ill effects from the compound fracture and dislocation of his right ankle that he suffered in the fifth game of the 2020 season. While offensive linemen Tyron Smith, Zack Martin and La'el Collins did not play a game together in 2020 and were not involved in competitive parts of spring practices, Jones said they will be ready to go.
There are some questions about how much wide receiver Amari Cooper (ankle), defensive end DeMarcus Lawrence (back) and defensive tackle Trysten Hill (knee) will do early on during training camp, but Stephen Jones does not expect extended absences for any of them or any other players who are coming off injury.
"We are going to be careful," Stephen Jones said. "We are going to ease into it with any one of them. If anybody who might need a little bit [of time], we are not going to rush into it because it's a journey. We feel everybody will be ready to roll."
The Cowboys have missed the playoffs the past two seasons, finishing a disappointing 6-10 in McCarthy's first season, but interest remains high, with Prescott's return among the biggest storylines of the NFL season.
His return will face even more scrutiny with the Cowboys being featured on HBO's "Hard Knocks."
Dallas is the first team to appear on the series for a third time, and Stephen Jones confirmed the Cowboys did not ask to be selected.
"Jerry was at the league meetings and we kind of got informed we were doing it," Stephen Jones said. "It wasn't really a lot of asking. It is great for the league."
It might not be the best of circumstances for the Cowboys to have so much attention put on them, but the organization is taking a bigger-picture view on the impact of selling the brand after a year in which fans were limited or not allowed to attend games because of the coronavirus pandemic.
Stephen A. Smith explains why he's excited that the Cowboys will be featured on HBO's "Hard Knocks" this season.
"All these things leading up to the season are huge, whether it's minicamps and OTAs, whether it's training camp, whether it's 'Hard Knocks,' whether it's preseason games, all the things that go with this, I think is a big part of our game," Stephen Jones said. "It's a natural buildup to get our fans fired up about going to our football games. Obviously our world has been through a lot with the pandemic. You can't just assume you're going to flip the switch and everything is going to be fine.
"We feel a lot of buildup, including 'Hard Knocks,' is a good thing to get people fired up about reconnecting and rolling."
The Cowboys first appeared on "Hard Knocks," in 2002 and finished 5-11 that season. Their second appearance came in 2008 and they missed the postseason with a 9-7 record with an uber-talented team that was done in partly because of locker room turmoil.
"At the end of the day, you got to go to work. You got to go execute. You have to have everything come together, have your leadership, have your culture right and go win football games," Stephen Jones said. "A little bit of that comes with the Cowboys. You are always going to be in the limelight when you are with this organization. That is part of it. At the end of the day, we believe — although obviously it hasn't played out for us in quite some time right now — it will be really good for us.
"It can add a hardness and have us ready. I have a lot of confidence in this team with Dak leading it. He's special. … You put him in place and get this offensive line group healthy. Heck, our whole group is ready to make a statement and take the next step."
NFL Hall of Famer Michael Irvin rips Dallas Cowboys for not meeting COVID-19 vaccine threshold
FRISCO, Texas — Hall of Fame wide receiver Michael Irvin is disappointed that the Dallas Cowboys are not among the teams to reach the 85% vaccine threshold that would ease COVID-19 restrictions during training camp, which begins this week.
"Yeah, and it should upset them," Irvin said of the Cowboys recently at the opening of the Dallas chapter of Merging Vets & Players, which brings together combat veterans and former pro athletes. "It should upset them. Dude, you're not thinking right. You're not thinking right. Whatever you got, I don't give a damn. … Nothing else can be more important. You're not going to get this [winning a Super Bowl] easily. Nothing else could be more important. … Jimmy [Johnson] made that abundantly clear [during Irvin's playing career]. Nothing else is more important. And not being one of the [teams] says there's other things to a great number of people on this team that are more important than winning championships, and that makes me worried."
While the Cowboys have not reached the vaccine threshold, their percentage of vaccinated players is not known. A source told ESPN's Kevin Seifert that 13 NFL teams have reached the threshold. The Cowboys will have a lab at their Oxnard, California, training camp site to test unvaccinated players on a daily basis and vaccinated players weekly.
Unvaccinated players will not be able to leave the team hotel and must wear masks and remain distanced from people inside the facility, according to protocols. Vaccinated players will not be required to wear masks, can eat meals with other vaccinated players and have no limitations in the weight room.
While Irvin's comments were directly related to the Cowboys, his stance is the same regardless of the team.
"If you're not one of them teams [at the threshold], are you really thinking about winning a championship? You see what I'm saying," he said. "OK, so now if you're not getting vaccinated and you got all these other teams that are getting vaccinated …"
As a player, Irvin said, he would do more than encourage teammates to get vaccinated.
"Somebody in that damn locker room [should say], 'Hey man, we're going to have a chance, are you vaccinated?'" Irvin said. "Let's go through this because this could be a two-week healthy dude missing games, and in this league, this ain't the NBA. In this league that could be it for you. The right person misses two weeks, that's it. Your ass is out."
Arlette Snyder, mother of Washington Football Team owner Dan Snyder, dies
The mother of Washington Football Team owner Dan Snyder died earlier this month, according to a statement released by the team. There was no cause of death listed for Arlette Snyder, who owned 6.5% of the franchise.
"Mrs. Snyder was a kind, gentle and generous woman who was loved and greatly admired by all who knew her," the statement read in part. "She will be deeply missed and forever in our hearts. The Snyder family requests that their privacy be respected as they grieve the passing of their mother and grandmother."
Dan Snyder's father, Gerry, died in 2003. Snyder's parents helped him when he was starting out by investing in Snyder Communications, which later provided the capital to buy the Washington franchise in 1999.
On July 1, the NFL fined the franchise $10 million after a nearly yearlong investigation by attorney Beth Wilkinson into the workplace culture. The team announced that Snyder would let his wife, Tanya, handle the day-to-day duties of running the franchise for at least the next few months. But he will handle the team's pursuit of a new stadium.
Earlier this year, Snyder bought out his minority partners, after another prolonged battle with them. After purchasing that 40 percent, Snyder's family owned 100 percent of the franchise for the first time since he became the majority owner. His sister, Michele, owns 12.6 percent.