Navy won't let CB Cameron Kinley delay commission to play for Tampa Bay Buccaneers, agent says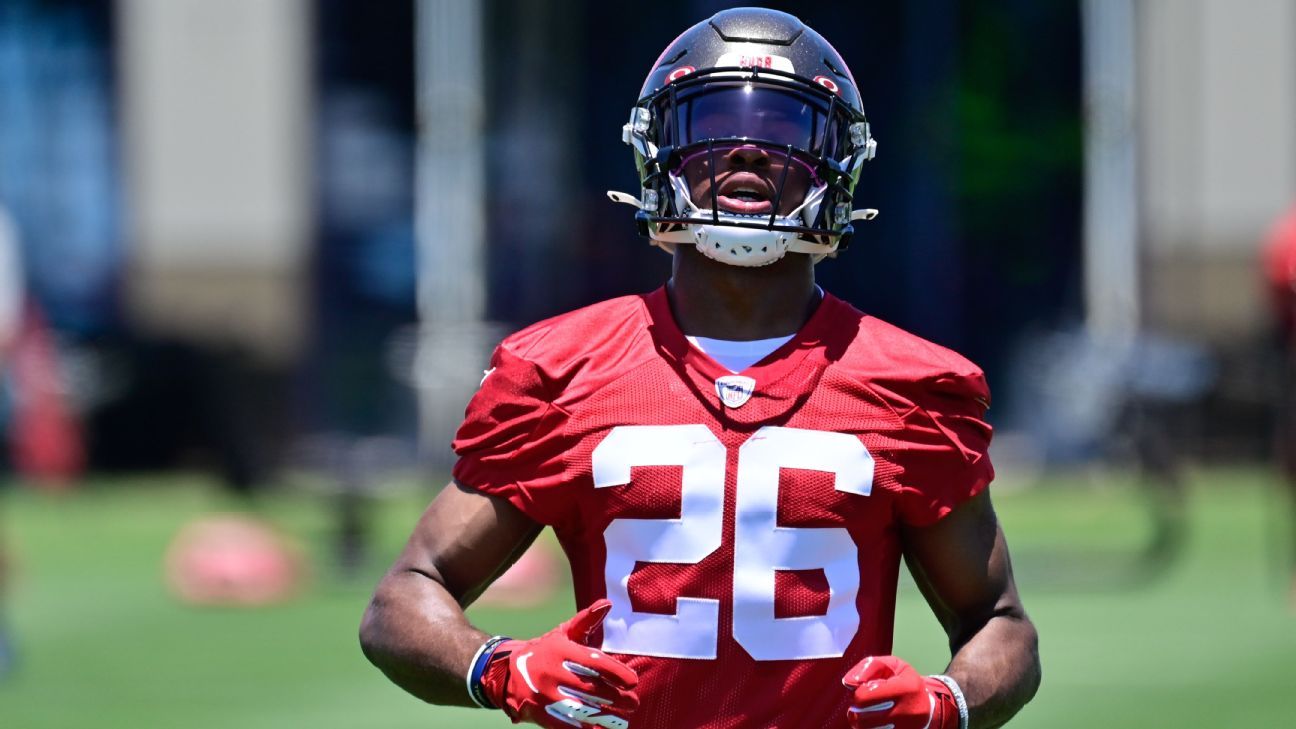 Rookie cornerback Cameron Kinley's request to delay his U.S. Navy commission to play in the NFL for the Tampa Bay Buccaneers has been denied, the agency that represents him said.
Kinley is being required by the Navy to commission as an ensign and is not permitted to appeal the decision, which was not explained, Divine Sports and Entertainment said in a statement.
Kinley, a team captain at Navy and class president, signed as an undrafted free agent with the Buccaneers and participated in the team's rookie minicamp, with the Navy's permission.
"As a Naval Academy graduate, football player, and decorated combat veteran I understand Cameron's commitment," Divine Sports and Entertainment co-founder Ryan Williams-Jenkins said in the statement. "I also understand there are ways he can fulfill his commitment while representing the Navy and playing professional sports. I played with three-time Super Bowl Champion Joe Cardona, who still serves our country as a Navy reservist. If there is a directive and precedent allowing other service academy athletes to pursue this opportunity, what makes Cameron different? It is important to note that this could have a long-term impact on his mental health going forward. He wants to fulfill both of his childhood dreams, playing in the NFL and honorably serving his country."
Divine Sports and Entertainment pointed out that players for other service academies have been allowed to forgo their commissions, naming West Point's Jon Rhattigan, who signed with the Seattle Seahawks, and Air Force's Nolan Laufenberg and George Silvanic, who signed with the Denver Broncos and Los Angeles Rams, respectively.
After the Navy's decision, Kinley, who is from Memphis, Tennessee, wrote a letter last week to Sen. Marsha Blackburn (Tennessee) for her help in approaching the Navy to change its decision.
"I am well aware and embrace the commitment that I made to serve when I arrived at the Naval Academy and am not asking to set aside that commitment. Instead, I want to represent my country and the Navy as an NFL player just as other players have been able to do. … If allowed to pursue an opportunity in the NFL, I will use that platform to promote service, respect for the armed services, and show young men that they can succeed in the most demanding professions, no matter their background," he wrote in the letter.
Kinley graduated from the Naval Academy last week and presented a gift to Vice President Kamala Harris after her speech during the graduation ceremony.
Jerry Jones confident Dallas Cowboys' vaccination percentage 'will not limit us in any way'
OXNARD, California — The Dallas Cowboys will open training camp under stricter COVID-19 protocols because they did not reach the 85% vaccination threshold, but owner and general manager Jerry Jones said he does not believe it will impact the players' preparedness for the regular season.
"My opinion is it will absolutely will not limit us in any way, the issue of vaccination, will [not] limit us in any way as to being competitive as early as when we play Pittsburgh in the first preseason game," Jones said Wednesday at the opening news conference of training camp. "When people say, 'Where do you think you stand right now with vaccine relative to your team and as it pertains — this comes to my mind — the competition,' and I think we're one of the leaders."
Jones indicated as few as five players have not made a pledge to get vaccinated at present, and a portion of players are "in the pipeline" toward becoming fully vaccinated, a number that would help the Cowboys reach the mark.
Executive vice president Stephen Jones noted the four weeks between the first shot and full vaccination for not being able to pinpoint an exact date. With 90 players on the roster, 77 need to be vaccinated to reach the current threshold that would ease COVID-19 restrictions at training camp.
"I don't know that the 85% has been totally negotiated yet," Stephen Jones said. "I think it's a work in progress, but, yes, I do think we'll hit that threshold and more."
Stephen Jones credited the players for listening to the information the team made available regarding the vaccine.
"They understand that everybody was recommending the vaccine, in and around the country, but they really did their homework," he said. "They had a lot of great questions. We provided them with lot of education, a lot about the science, and I think they were able to get their hands around it."
The Cowboys' coaching staff is fully vaccinated, according to Jerry Jones, but Mike McCarthy said he told his players he needed some convincing early on before getting the shot.
"Frankly, I shared my own personal experience where the facts that I was not particularly 100 percent on board with the vaccination, but through the relationships that we're fortunate to have in the medical community, you watch, you listen. I think that same approach was given to our players," McCarthy said. "We just wanted to make sure they had all the facts … Really, the position of where we were numbers-wise in my opinion was more about timing."
Hall of Fame wide receiver Michael Irvin was critical of the Cowboys for not reaching the threshold, questioning their commitment to winning.
"Yeah, and it should upset them," Irvin said. "It should upset them. Dude, you're not thinking right. You're not thinking right. Whatever you got, I don't give a damn. Nothing else can be more important. You're not going to get this (winning a Super Bowl) easily. Nothing else could be more important. Jimmy [Johnson] made that abundantly clear (during Irvin's playing career). Nothing else is more important. And not being one of the [teams] says there's other things to a great number of people on this team that are more important than winning championships, and that makes me worried."
Jerry Jones said he understood Irvin's comments.
"Michael Irvin is the best example that I know of how much will and how much body language and how much of heart and sacrifice mean to winning championships. He is that. So when he talks, I listen. I know that," Jerry Jones said. "And I think he has a good reputation with the current group of players because of his visibility and his activity with the network where he is as an individual. So he comes with all the credibility in the world. He's a Hall of Famer and then not only part of — because he's a talented football player — but a big part of why he got there was that total commitment going above and beyond.
"That's what he was trying to say. That it isn't normal things we want from each other as players. We want everything to go above and beyond. And so I thought it was an outstanding message."
Dallas Cowboys' Jerry Jones says he'd 'do anything' to make Super Bowl LVI
OXNARD, Calif. — Over the years, Dallas Cowboys owner and general manager Jerry Jones has not been afraid to talk about Super Bowl dreams before the start of a season. But as the franchise's championship drought pushes past 25 years, Jones stayed away from making headlines Wednesday.
Still, making it to Super Bowl LVI is at the top of Jones' mind.
"I'd do anything known to man to get to a Super Bowl," Jones said. "That's a fact."
Jones became emotional at several points of a nearly hour-long news conference, starting with when he was asked how he intends to get the Cowboys back to a time when they won three Super Bowls in a four-year span in the 1990s.
"I've always had to be pragmatic at the end of the day because if not, you'll end up on the outside looking in. You have to be real," Jones said. "But on the other hand, I've never thought that we couldn't be better or never thought that we couldn't make it happen, even when we were not on paper or we weren't as technically as good or sound. But I've never thought that, and I've got too many examples of how shorthanded people have knocked them out of the park before. A lot of them. In a lot of different areas.
"I really don't know that I have any days or have any weeks where I don't think, 'There's a pony in here somewhere.' You have a lot of days where you ask yourself, 'What are you doing in the middle of this?' That has served me well. This isn't an 'I, me,' but I've had a lot of people tell me, 'You're naive' or say, 'He's naive.' Well, it's a beautiful world. … It's a better world to be naive than to be skeptical and be negative all the time."
Jones choked up when discussing former coach Jimmy Johnson's tenure with the Cowboys now that Johnson is headed to the Pro Football Hall of Fame next month.
"Well, I just think of those great times, and Jimmy's a great coach," Jones said. "Ridiculous. My role here was, my job was to keep it together. It was my job. Should have had deference to something that was working good. Those are the things that come to my mind. We had a great run of it. He's a great coach, and I'm proud to have him as a friend, and proud to have had the times that we had. We just had a great experience."
The current Cowboys have missed the playoffs in three of the past four seasons, including a 6-10 finish in 2020 in Mike McCarthy's first season as coach. Dak Prescott played in just five games because of a compound fracture and dislocation of his right ankle, but he will be a full participant when practice opens Thursday. A number of other key players also missed significant time due to injury.
With Prescott and offensive linemen Tyron Smith, Zack Martin and La'el Collins healthy and the addition of Dan Quinn at defensive coordinator, Jones is optimistic about 2021, if not bombastic.
"I think we got a way to make it work big for this season," Jones said. "You put those two things together, and I think we got a chance to be a really good team."
Indianapolis Colts, Darius Leonard working on lucrative contract extension, sources say
Linebacker Darius Leonard is expected to make more than $19 million per year when he and the Indianapolis Colts reach a contract extension, sources told ESPN's Adam Schefter.
In the wake of the San Francisco 49ers' reported five-year, $95 million extension with All-Pro linebacker Fred Warner, Leonard is considered next in line to sign a big contract, with sources telling Schefter that the Colts' two-time Pro Bowler is expected to sign a four-year deal.
Leonard, who is set to make $3.4 million in the final season of his rookie contract in 2021, gave a shoutout to Warner on Twitter on Wednesday, writing "Congratulations my guy!!!"
Leonard, who turns 26 next Tuesday, was a first-team All-Pro for the second time in 2020, when he had three sacks, three forced fumbles and two fumble recoveries while helping the Colts return to the playoffs after a one-year absence. He was the Defensive Rookie of the Year in 2018, when he led the NFL in tackles.