San Francisco Giants' Evan Longoria out 4-6 weeks with shoulder sprain after collision with Brandon Crawford
San Francisco Giants third baseman Evan Longoria will be sidelined for an estimated four to six weeks after suffering a sprained left shoulder in a collision with shortstop Brandon Crawford on Saturday.
Longoria was placed on the 10-day injured list Sunday after being hurt in the collision, which happened in the ninth inning against the Chicago Cubs on Saturday night when he and Crawford were both going for Anthony Rizzo's grounder.
Crawford got up quickly, but Longoria — who was charged with an error on the play — remained down for several moments as a team trainer came out. Longoria then exited the game.
"It's going to be a major challenge to fill [Longoria's] shoes," Kapler told reporters Sunday after announcing the timeline for Longoria' return, according to the Bay Area News Group. "I'm not sure we're going to have anybody be able to step right in and do what he was doing. At the same time, we have to turn the page and get ready to compete, and that's what we're going to do."
Crawford was fine after the collision but was not in Sunday's starting lineup.
Kapler said Wilmer Flores and Jason Vosler will be among the players who will be counted on to play third base in Longoria's absence.
The Giants recalled infielder Thairo Estrada from Triple-A Sacramento in a corresponding move.
Longoria leads the first-place Giants with a .280 batting average and 45 hits this season. He is second on the team with 30 RBIs and also has nine home runs.
The Associated Press contributed to this report.
Cleveland Indians manager Terry Francona sent home with head cold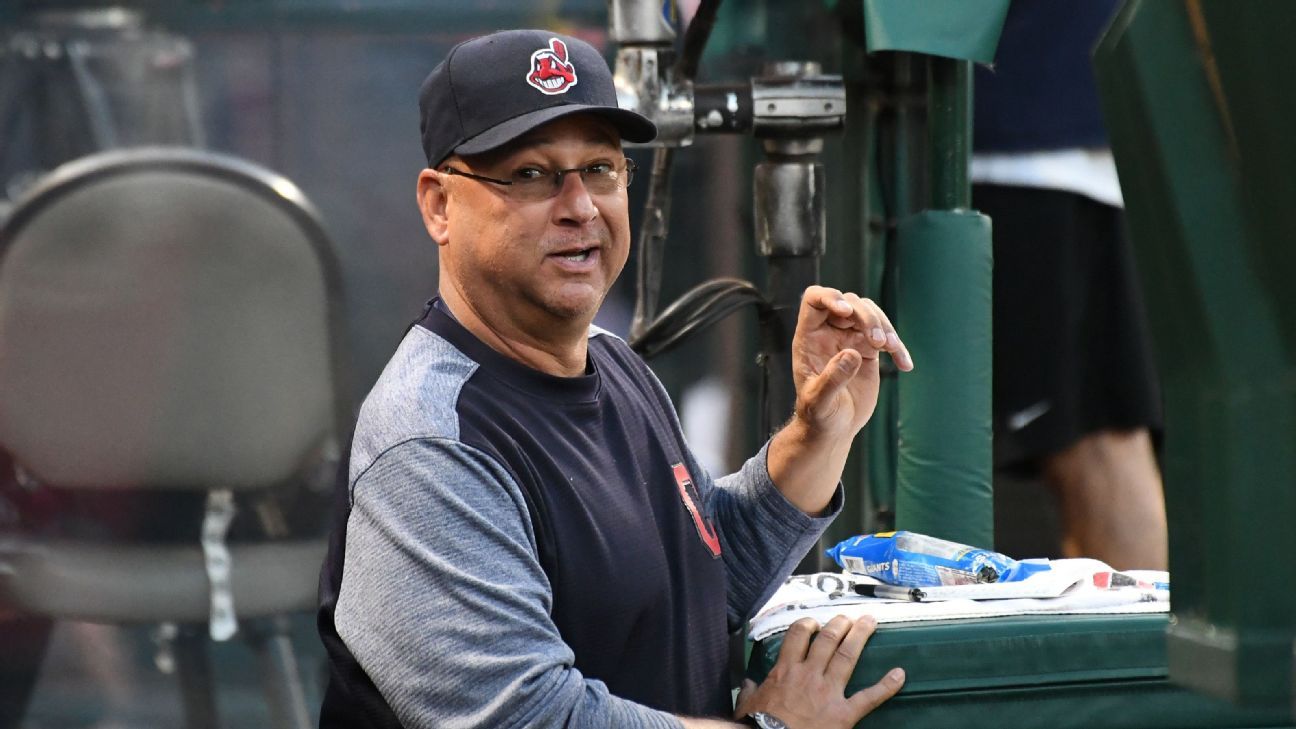 CLEVELAND — Indians manager Terry Francona wasn't in the dugout Saturday night for his club's game against Tampa Bay because of a lingering head cold.
Francona conducted his pregame press conference at Progressive Field before being sent home by the team's medical staff. Bench coach DeMarlo Hale managed the Indians in his absence.
The 62-year-old Francona is in his ninth season with Cleveland, where he has a 721-566 record and is tied with Mike Hargrove for the second-most managerial wins in franchise history.
Francona has spent 21 years managing in the big leagues, previously with Philadelphia and Boston, and has the third-most active victories with 1,749. He won World Series championships with the Red Sox in 2004 and 2007.
Pitcher Rich Hill on track to debut with New York Mets Sunday at Citi Field against Toronto Blue Jays
NEW YORK — Mets newcomer Rich Hill is expected to make his debut for the NL East leaders on Sunday when New York plays Toronto at Citi Field.
Mets manager Luis Rojas said Hill would arrive at the ballpark before Saturday night's game against the Blue Jays and throw on the side.
The Mets acquired the 41-year-old left-hander in a trade with the Tampa Bay Rays on Friday for veteran pitcher Tommy Hunter and minor league catcher Matthew Dyer.
Hill went 6-4 with a 3.87 ERA in 19 starts for the Rays this season. He faced Toronto on July 11 and gave up three runs on four hits and three walks in five innings.
Hill will be a much-needed addition to a starting rotation that has been depleted by injuries, most notably ace Jacob deGrom being on the 10-day injured list with tightness in his right forearm.
Left-hander David Peterson had been expected to return sometime in August after being sidelined with an oblique strain, but the Mets announced Saturday they were moving him to the 60-day IL after he fractured his right foot walking back to the clubhouse following Friday night's win.
Rojas also said righty Carlos Carrasco will make a rehab start with Triple-A Syracuse on Sunday.
The 34-year-old veteran, who was acquired in the offseason trade with the Cleveland Indians that also brought Francisco Lindor to New York, is expected to pitch three innings.
Carrasco hasn't pitched in the majors this year while recovering from a hamstring injury. He's started twice in the minors, allowing five runs in 3⅔ innings.
Follow live: Patrick Sandoval working on no-hitter vs. Twins