Can either of these teams win the AL East? How Red Sox, Yankees are overachieving — and underachieving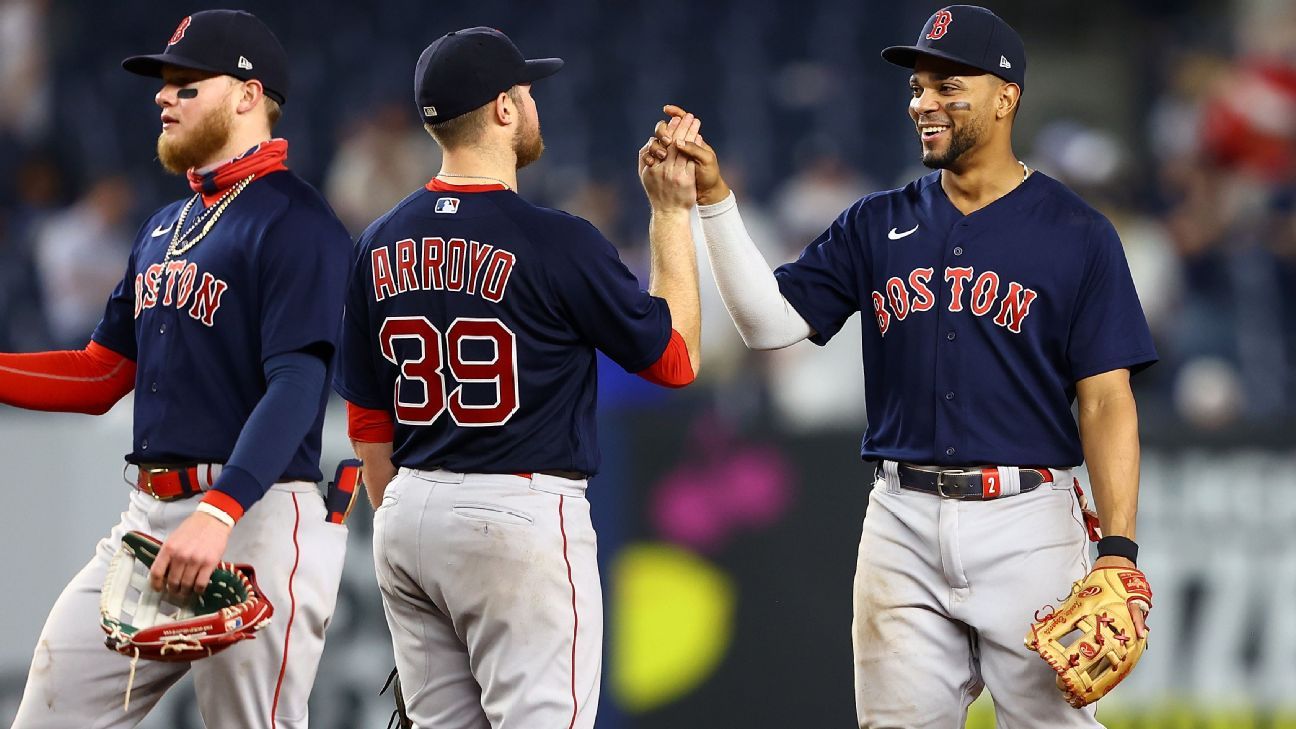 Expectations are only expectations.
Coming into the 2021 MLB season, many baseball observers considered the American League East the New York Yankees' division to lose. Fast forward two months and New York is looking up in the standings at three teams — the Toronto Blue Jays, Boston Red Sox and Tampa Bay Rays. The Yankees' lineup on paper looked to be the team's strength, with question marks surrounding their rotation.
Instead, the opposite has played out. New York ranks among the lowest-scoring teams in the majors and has had to lean heavily on its starting pitching, behind strong performances from Gerrit Cole, Domingo German, Jordan Montgomery and the now-injured Corey Kluber. The Yankees head into Sunday just three games over .500 — with a run differential of minus-3.
Meanwhile, Boston is in the heart of the race for the division, trailing the first-place Rays by just one game, something very few had predicted. Fueled by the rebound performance of J.D. Martinez and Rafael Devers in addition to the slugging of Xander Bogaerts, who is playing like the best offensive shortstop in baseball, Boston's offense ranks fourth in the majors in runs scored. The rotation has so far been anchored by its depth, with Nick Pivetta, Garrett Richards and Martin Perez currently providing consistent outings every time out.
As they wrap up their first series of 2021 with Boston eyeing a potential three-game sweep, here's how each team got here, what's real and what's not, and whether the division will continue looking like this moving forward.
---
Yankees
Record heading into Sunday Night Baseball: 31-28 (.525), fourth place in AL East
How they've overachieving so far: The Yankees' pitching staff was a wild card coming into the season, with the return of German (3.27 ERA, 1.04 WHIP in 55 innings in 2021) from a yearlong suspension for violating the league's domestic violence protocols, and the offseason acquisitions of Kluber (3.04 ERA in 53.1 innings, not to mention the franchise's first no-hitter since David Cone's perfect game in 1999) and Jameson Taillon (5.09 ERA in 53 innings), each of whom hadn't pitched a full season since 2018.
But the Yankees rank second in the American League and sixth in baseball in team ERA — trailing only the Padres, Mets, Dodgers, Giants and White Sox — with Cole (2.26 ERA, 0.87 WHIP, 104 strikeouts in 75.2 innings) remaining the unquestioned ace and one of MLB's best pitchers. Injuries — particularly the loss of Kluber for potentially two months due to a shoulder strain — puts the pitching staff on much shakier ground heading into the summer.
"Our pitching has been everything we could've hoped for at this point. I think the starters have been really solid," Yankees manager Aaron Boone said. "The bullpen has been excellent, and we've seen guys emerge and create larger roles for themselves. We look forward to getting guys like [Zack Britton] and [Justin Wilson] and [Darren O'Day] back, but in the meantime, some guys have really stepped up in the bullpen. Overall, I think the pitching has been excellent."
Closer Aroldis Chapman, who sports a 0.41 ERA with 42 strikeouts in 22 innings this season, continues to anchor a strong bullpen, one of the team's consistent strengths over the past few seasons. Even with Britton, Wilson and O'Day on the injured list, Boone has relied on Jonathan Loaisiga (2.08 ERA, 1.09 WHIP in 30.1 innings) and Chad Green (3.14 ERA, 0.87 WHIP in 28.2 innings) for strong performances.
How they're underachieving so far: Given the number of sluggers on the roster, the Yankees certainly did not expect to rank among the lowest-scoring teams in baseball. The Bronx Bombers rank fifth to last in baseball in runs scored so far this season, ahead of only the Mets, Pirates, Nationals and Tigers.
Boone said he does not expect the team's offensive struggles to last the entire season.
"The offense, after getting off to a slow start, is trending up a little bit, and then we've had our struggles again, so that's the area where we're looking to find more consistency," Boone said. "I think I feel like over the long haul, it's going to be an overwhelming strength for this team."
"You see the guys on our team? That gives me a lot of confidence," Boone said when asked what made him confident about the team's offense turning around. "Guys that are really talented, really care about what they're doing and have a track record of doing. It's been a grind so far, but that's all part of the team. It's not always going to be easy, and hitting in 2021 is probably as hard as it's ever been, but I have a lot of faith in those guys that eventually we're going to really get it rolling, and I feel like that's starting to happen now."
According to Red Sox manager Alex Cora, that sense of calm and lack of panic is what makes Boone the right personality to manage the Yankees and help course-correct the ship in a market with extreme scrutiny from the media and fans.
"Booney never panics," Cora said. "He's been very calm, and I know they've had their ups and downs. In Boston and New York, it can get very heavy, and he doesn't deviate from who he is. I think he's done an amazing job the last few years of staying the course and doing his thing, and this is the same guy, he did it on TV too. You listen to him on Sunday Night Baseball and it was very calm and very relaxed and sending the message to the audience, and that's what he's doing with the Yankees and I'm very proud of that."
Player to keep a close eye on: DJ LeMahieu set the bar high during his first two seasons with the Yankees, earning two Silver Slugger Awards and two top-four MVP finishes. That version of LeMahieu has not shown up so far for New York this season, hitting .259/.339/.329 with just three homers and six doubles in 216 at-bats. That's a steep drop-off from his 2020 performance, when he hit .364/.421/.590 with 10 homers and 27 RBIs and joined Lou Gehrig, Joe DiMaggio and Mickey Mantle as the only Yankees to lead the majors in batting average.
What needs to happen for the Yankees to win the division: Simply put, the offense needs to live up to its potential. The injury to Kluber illustrates the fragility of the rotation, and the team will struggle to find success if Aaron Judge is the only player consistently producing. The trio of LeMahieu, Giancarlo Stanton and Gleyber Torres needs to step up at the plate.
The team's frustration with the offense is starting to boil over into the public.
"It'd be nice to pitch with a lead, but that's how it's going right now," Taillon said after a recent loss to the Rays. "It's my job to go out there and put up zeroes."
---
Red Sox
Record heading into Sunday Night Baseball: 35-23 (.603), second place in AL East
How they're overachieving so far: In a rotation with Nathan Eovaldi and Eduardo Rodriguez, the Red Sox starter currently sporting the team's best ERA is — *wipes glasses* — Perez (3.09), who entered the season as the team's fifth starter.
That surprising turn of events sums up the current state of the team's pitching rotation. Boston continues to lean on the depth of its rotation: Perez, Pivetta (3.77) and Richards (3.75) all sport better ERAs than Eovaldi (3.78) and Rodriguez (5.59).
"We felt like our pitching was solid. We felt like the rotation was going to give us a chance throughout the season to be in ballgames. There were a lot of question marks coming in from outside of our world," Cora said. "Rightfully so. I get it. But if you actually break it down, our rotation, you've got Eduardo, who right now is struggling. He's done it before. Nate is solid. Richards with upside, Pivetta with upside and Martin, a solid big leaguer. We felt like coming into the season, five or six innings, we were expecting this from them."
The team also continues to get solid performance out of its bullpen, with Rule-5 pick Garrett Whitlock looking like one of the team's best acquisitions of the offseason, with a 1.63 ERA and 29 strikeouts in 27.2 innings over 15 appearances. Other bright spots include closer Matt Barnes, who has a 2.49 ERA and 0.63 WHIP in 25 games, Adam Ottavino, who has a 2.78 ERA in 26 games and Hirokazu Sawamura, who has a 2.78 ERA in 21 games this season after coming over from Nippon Professional Baseball.
How they're underachieving so far:
While Boston boasts one of baseball's best offenses so far this season, ranking fifth in runs scored behind the Dodgers, Astros, Rays and White Sox, Cora believes the team is not performing up to its full potential at the plate. Heading into the Yankees series, Boston dropped three of four to the Astros, scoring just four runs over the first three games before putting up a five-spot in the finale. Since May 21, lineup anchor Martinez has knocked in just two runs, emblematic of the team's recent inability to put itself in a position to score.
"We're expanding too much to the edges of the strike zone," Cora said. "That's a recipe for disaster at this level. In [the Astros] series, we chased 38% of pitches, and that's not good. We gotta get back to swinging at strikes and keeping the lineup moving. That's something we did earlier in the season, and we know we can do it."
Despite his current RBI drought, the bounce-back of Martinez — who is hitting .321/.389/.569 with 12 homers after a 2020 season in which he hit just .213/.291/.389 in 54 games — is a major reason why Boston has been a formidable force at the plate. Additionally, Bogaerts continues to be among the top offensive forces at the shortstop position, hitting .313/.371/.534 with 10 homers and 16 doubles in 55 games, while Devers also continues to impress, leading the team in homers with 15 while hitting .282/.351/.587.
Boone said that despite Boston's recent offensive struggles, the team's attention to detail will make it a force to be reckoned with throughout the rest of the season.
"I think [Cora has] created a culture where it's a team that pays really close attention to the details," Boone said. "He sees the game really well. He's fearless. I think he's really good at what he does. I think his players certainly reflect that and play with a confidence that he kind of sets that tone for them on a daily basis."
Player to keep a close eye on: Rookie first baseman Bobby Dalbec, who hit a tape-measure home run on Saturday night, has been a disappointment overall at the plate so far, hitting .199/.248/.384 with six homers in 46 games. Dalbec garnered hype as a potential Rookie of the Year candidate after impressing in his 23-game stint with Boston in 2020, hitting .263/.359/.600 with eight homers.
Dalbec is beginning to lose playing time to utility man Danny Santana and has been unable to find his rhythm. With top prospect Triston Casas also a first baseman, Dalbec's performance over the rest of the season could determine whether he has a role in the organization moving forward.
What needs to happen for the Red Sox to win the division: Boston needs better performances out of Eovaldi — the kind they got in Friday night's series opener — and Rodriguez, their two most established starters. With the injury history of Richards and with Pivetta and Perez outperforming their track records, the success of Eovaldi and Rodriguez would alleviate some of the pressure on the back end of the rotation to carry the Red Sox to the playoffs.
After 'a good ride,' Toronto Blue Jays close out stint in Buffalo with loss, eye return to Rogers Centre
BUFFALO, N.Y. — For the city of Buffalo, it was fun while it lasted.
After not hosting a Major League Baseball game since its days as a Federal League outpost in 1915, Buffalo made the most of its opportunity, hosting the Toronto Blue Jays over two seasons because of coronavirus concerns.
It all ended Wednesday night, as J.D. Martinez and Hunter Renfroe connected back-to-back to help the Boston Red Sox won a home run derby, beating Toronto 7-4 in the final MLB game to be played in the city for the foreseeable future.
In the middle of the third inning, Toronto players and coaches came out of the dugout to salute the fans at Sahlen Field.
In the end, there was no mistaking the finality of the Blue Jays' tenure along Lake Erie as Simon & Garfunkel's "Homeward Bound" played on the stadium's sound system just after Boston finished its on-field celebration.
The Blue Jays will return to Toronto on July 30 after the Canadian government granted them an exemption to the U.S.-Canada travel ban. The Blue Jays haven't played at Rogers Centre since 2019 because of coronavirus protocols. They began the season playing home games in their spring-training ballpark in Dunedin, Florida before shifting up to Buffalo when the more reliable summer weather rolled in.
"It's been a good ride here," Blue Jays manager Charlie Montoyo said. "We're never going to forget that this was the place where we clinched the playoffs last year. The crowds have been great. It was a great idea by our crew (to thank the fans)."
Though there were many nights, especially against the Red Sox and New York Yankees this year, where the Blue Jays may have felt like the road team in Buffalo, considering the amount of fans both of those clubs brought to the stands.
Wednesday was no different. Red Sox Nation was loud and proud in the stands, as Kike Hernandez, Rafael Devers and Michael Chavis also connected for Boston. And this was after the Red Sox went deep six times in Monday's 13-4 win over Toronto.
It was the first time the Red Sox hit at least five homers in consecutive games against one opponent since doing it to the Yankees in June 1977.
"We did an amazing job, coming here against a tough team," said Boston manager Alex Cora, whose club scored just six runs in three games in New York against the Yankees before sweeping Toronto. "We ended up 3-2 on this road trip, so it was a positive one for how bad it supposedly looked over the weekend."
Hernandez, who has nine homers in his last 25 games after being held without one in 23 previous games, can't explain the turnaround.
"I don't have a secret," Hernandez said. "I'm just trying to get good at-bats, make good decisions at the pitches that I want to swing at. And it's going well for me right now. I'm just going to try and do my job."
Vladimir Guerrero Jr. hit his 32nd homer for Toronto. George Springer added a two-run shot in the sixth and Teoscar Hernandez followed with a homer for Toronto, which finished its residency in Buffalo with a 12-11 record this season.
Including games played at the home of their Triple-A team in Florida, the Blue Jays ended with a 29-20 mark as a home team playing in the United States. Their game against Boston on Tuesday night was rained out.
Before the game, Blue Jays president Mark Shapiro presented a check for $25,000 to the Buffalo Bisons Charitable Foundation in thanks for the support provided by Toronto's top minor league affiliate.
Buffalo fans returned the favor, as crowds in excess of 10,000 turned out for six of Toronto's last eight home games, with Wednesday's attendance of 14,607 topping the ledger.
Hernandez hit a two-run shot in the third inning, and Devers and Chavis hit leadoff drives in the fourth and fifth innings. Martinez and Renfroe connected in the eighth as Boston raised its AL-leading road record to 30-19.
Garrett Richards (6-5) allowed four hits in 5 2/3 innings and won a second straight start for the first time since mid-May. He struck out four.
Garrett Whitlock pitched 1 1/3 innings and Adam Ottavino worked the eighth. Matt Barnes pitched a perfect ninth for his 20th save.
"We pitched well the whole road trip," Cora said. "The bullpen was amazing. (Richards) was pounding the strike zone, changing speeds, using both sides of the plate. We loved what we saw."
Robbie Ray (8-5) allowed the first three Boston homers and struck out four over five innings in the loss, his shortest outing since a 4 2/3-inning stint on June 18 at Baltimore.
Toronto's Danny Jansen left the game after his seventh-inning double, pulling up after rounding first with hamstring tightness. On the hit, Boston's Danny Santana stumbled in left field after trying to reach for the ball and left the game with right groin tightness.
The Associated Press contributed to this report.
Chicago White Sox's Yermin Mercedes, recently demoted to Triple-A, 'stepping aside' from baseball
Chicago White Sox rookie Yermin Mercedes wrote in an Instagram post on Wednesday night that he is "stepping aside" from baseball indefinitely while also apologizing to the team for not "accepting some of their decisions."
The post was accompanied with a picture of the words "it's over."
"I want to apologize to all those who I inadvertently offended as a consequence of my immaturity like members of the radio, television, and press," Mercedes wrote in his post. "To all the team's members where I was involved with, I'm sorry for failing as a human being and for not accepting some of their decisions. I'm stepping aside from baseball indefinitely."
It's unclear what decisions Mercedes was referencing in his post.
Earlier Wednesday, on his Instagram story, Mercedes had posted "El Retiro" — or retirement — with a thinking emoji.
Mercedes, 28, earned AL Player of the Week to open the season and hit .415 with five homers and 16 RBIs in 22 games in April, but he struggled after that. His batting average dropped to .271 before he was demoted to Triple-A Charlotte at the beginning of July.
The White Sox were seemingly caught off guard about Mercedes' intentions Wednesday night.
"The White Sox are aware of tonight's Instagram post by Yermín Mercedes, who is currently on the active roster of our Class AAA team in Charlotte, NC," the team said in a statement. "At this point in time, the White Sox have not received any official notification from Yermín concerning his future plans."
Mercedes wore his emotions on his sleeve, playing with swagger as an older rookie, but he was the subject of controversy in May when White Sox manager Tony La Russa criticized him for swinging at a 3-0 pitch late in a blowout victory over the Minnesota Twins. Mercedes responded that he wasn't going to change as he endeared himself to White Sox fans after making the team when left fielder Eloy Jimenez got injured in spring training. A local eatery even named a hamburger named after him: the "Yerminator."
Mercedes ran into other issues besides swinging at a 3-0 pitch. He was benched in an early May game for arriving to the ballpark late, and he expressed disappointment after being sent down to the minors.
Oakland Athletics continue stadium negotiations to stay in town, still considering Las Vegas option
Oakland Athletics president Dave Kaval stood somewhere near the south side of the Las Vegas Strip on Wednesday morning, with the Cosmopolitan and Planet Hollywood within eyesight. Kaval will be there alongside his architect over the next two days, he said, sitting in on a series of meetings and analyzing where a prospective new stadium could someday reside. Meanwhile, negotiations with the city of Oakland regarding a 35,000-seat waterfront ballpark at the Howard Terminal site are in what Kaval described as "the bottom of the ninth inning."
Oakland City Council officials voted Tuesday in favor of a non-binding term sheet for the ballpark and its surrounding development, a project that will cost up to $12 billion. But Kaval pushed back because the city voted in favor of a term sheet that differed from the one the A's proposed three months earlier and included amendments that the team was seeing for the first time. Major League Baseball commissioner Rob Manfred followed with a statement expressing disappointment in the outcome and promising to "immediately begin conversations with the A's to chart a path forward for the Club."
What, exactly, does that mean?
"I think we need to unpack what was passed and what it means," Kaval said in a phone interview with ESPN. "The fact that the city did not vote on our proposal — I mean it's unusual to have that positioning. We do appreciate some of the concessions that were made. I think the party had been negotiating in good faith to try to get to a mutually agreeable solution. Obviously we didn't get there before the vote. And so we have to balance that progress with some of the stark realities of, 'How do we move this project into an implementation phase?' We can't let the process be the product."
The A's made a public proposal in April stating they would privately finance the ballpark, which will cost an estimated $1 billion, while also providing $450 million in community benefits and arranging for an additional $11 billion in private investment to eventually build up the surrounding neighborhood with 3,000 residential units, up to 1.5 million square feet of commercial space, 270,000 square feet for retail, an indoor 3,500-seat performance center, 400 hotel rooms and up to 18 acres available for public parks.
The city countered with a plan that includes three key differences: a new financial structure that depends on only one infrastructure financing district, preventing the A's from creating an additional one at Jack London Square; an increase in affordable housing demands to 35% of residential units; and an additional community benefits fund that isn't solely committed to capital investments.
Oakland Mayor Libby Schaaf and other community leaders hosted a news conference near the Howard Terminal site on Wednesday morning in which they touted the city's proposal and urged the A's to continue negotiating. Schaaf said she's noticing an "openness" from the A's, adding that the city "provided the primary things that they asked for, that they have said they need to keep going on this process."
"I respect that they're trying to keep the heat on," Schaaf said, "and what better place to go than Vegas for heat."
Kaval, on the other hand, painted the Vegas trips as due diligence to cover for a project that might not materialize and provide a parallel path for a team playing in an outdated facility. Kaval said he wants more specifics about how the A's would be reimbursed for a $352 million infrastructure payment and more specificity around when environmental clearances will be given and when a final binding vote can occur, ideally by the end of the current baseball season.
Oakland city officials see their counterproposal from Friday, and the amendments that were introduced on Tuesday, as the natural evolution of a negotiation.
A's officials basically see it as a new agreement entirely.
"We need to know what was passed, how it relates to our original proposal," Kaval said. "We need to understand the timeline to get the definitive vote. And we need to work really closely with the league, because they have a strong point of view on this. They wanna make sure the A's have a home. We really are running out of time. We're under a lot of pressure because our current facility is 10 years past its useful life. Let's not forget that going sideways is really no longer an option."
The A's have spent the better part of the past two decades hoping to secure a new stadium in the Bay Area, a pursuit that took them through San Jose, Fremont and multiple sites in Oakland, most notably around Laney College. Renovations of the current Coliseum site, where the A's have played since 1968, have been deemed nonviable largely because of the team's stated desire for a downtown location.
Manfred said before last week's All-Star Game that it would be a "mistake" to refer to the Las Vegas option as a bluff, calling it "a viable alternative for a major league club." Other relocation options — including Portland, Oregon; Nashville, Tennessee; Charlotte, North Carolina; Vancouver, British Columbia; and Montreal — could materialize if the team's deal with the city falls through.
That is not necessarily the case just yet.
"We're focused on the two parallel paths — Oakland and southern Nevada," Kaval said. "That's by the direction of the league, and that will remain our focus until they give us additional direction."