Washington Football Team has big plans for 'ascending' Curtis Samuel – Washington Blog
ASHBURN, Va. — Washington Football Team coaches already knew the player, having coached wide receiver Curtis Samuel for three years with the Carolina Panthers.
They knew he was versatile, having switched him from running back to receiver. Just in case, Samuel reminded them what he could do in a December 20-13 win for the Carolina Panthers, burning the Washington defense from multiple spots. It served as a model for what Washington hopes to see from Samuel every game this season.
In that game, Samuel ran the ball seven times for 52 yards, including a 45-yard run. He caught four passes out of the slot for 84 yards and another out of the backfield for 22 more. Samuel finished with 158 total yards.
That versatility explains why Washington signed him in NFL free agency.
"When the ball is in his hands, the production is tremendous," said Washington coach Ron Rivera, who was Carolina's coach when the Panthers drafted Samuel in 2017. "The thing we got to do is make sure we have him on the field and make sure that he gets the opportunity to touch the ball. The analytics show that this is a guy that has to be a big part of your offense."
Not that Samuel is focused on what the analytics show. He goes by actions.
"I'm pretty sure if I'm getting the ball the analytics are saying something," Samuel said. "I just have to keep making things happen."
Washington wanted to add speed this offseason, which Samuel provides. Rivera's staff also wanted someone who could do a little of everything. Washington plans to use him in the slot, outside and in the backfield. Under coach Matt Rhule in 2020, Carolina expanded on Samuel's role, whether due to his own growth, a new staff or the loss of running back Christian McCaffrey to injury. The bottom line: Samuel was used all over. However, Rhule's staff liked using him more out of the slot and at running back compared to his usage under Rivera.
After catching 11 passes out of the slot on 25 targets in 2019 under Rivera, Samuel had 45 catches on 56 such targets this past season. When aligned wide, Samuel caught 41 passes (four were touchdowns) in 2019 compared to 14 and two this past season. From the backfield, he caught one pass in 2019; he grabbed eight last season. And, finally, after he carried the ball 19 times for 130 yards in 2019, those numbers jumped to 41 runs for 200 yards.
"Curtis has been, and is, an ascending player," Washington offensive coordinator Scott Turner said. "They handed him the ball a little more and that's something he can do, not just be a wide receiver, but be used as a running back. He can play all over the field, whether it's outside, inside, in the backfield, in motion. Those are going to be the things he does … which is everything."
But Turner also knows what he would like to see more of in 2021. In 2019, Turner's most recent season coaching Samuel, he was targeted 27 times on throws of 20 air yards or more compared to 12 last season, according to ESPN Stats & Information research. However, Samuel caught four such passes two years ago and nine in 2020.
"Where he can grow in his game is … down the field he can make a lot of plays," Turner said. "He'll make a lot of plays outside as well."
That, in turn, would help his former Ohio State roommate, wide receiver Terry McLaurin. Washington likes that both can run routes inside or outside. Samuel can also be used on jet sweeps, whether just going in motion or getting the ball.
Rivera said the coaches hope this versatility can confuse defenses, or at least make it harder to decipher what might happen based on personnel. Rivera said if Samuel aligned only outside, a defense could more easily account for him. But, in the slot, there's more to worry about.
"Is the nickel [cornerback] capable of covering more if he's in the slot or is that a linebacker over him," Rivera said, anticipating what a defense will be thinking. "Now he motions across the formations. Now we have to be ready for a jet sweep or be ready for some sort of pulling, trap, or helping inside because Curtis has the ability to run inside as well. There are a lot of variables that come into trying to scout a multipositional player like Curtis Samuel."
Rivera's staff converted Samuel from a running back in college to a wide receiver in 2017. His receptions have increased every season — from 15 as a rookie to 77 a year ago. Samuel said he has matured as a player; others have noticed. Washington quarterback Kyle Allen, a teammate of Samuel's for two years in Carolina, said he's a more polished receiver.
"Our first year [together], he was more of a gadget guy," Allen said. "[Now] he's more confident in route running and more confident catching the ball."
And he's not worried about how many touches he gets or where they come from.
"My mindset is every time I touch the ball, make things happen for the team," Samuel said. "The more plays you make, the more chances the coach will give you the ball."
For Ravens' Patrick Queen, full offseason means full speed ahead – Baltimore Ravens Blog
OWINGS MILLS, Md. — Baltimore Ravens inside linebacker Patrick Queen picked up the forced fumble, and he instantly hit another gear, outracing everyone 53 yards to the end zone.
Queen's score against the Cincinnati Bengals in Week 5 last season represented more than his first career touchdown. It was surprisingly the first time he felt like he was up to speed physically.
"It's insane. Last year, I didn't go into the season in shape at all," Queen said. "I came in like 240-something, couldn't catch my breath when we were running."
One of the top rookies in the league last year, Queen made this startling statement to explain the biggest difference between last year and this one. The pandemic led to the cancellation of all in-person workouts last spring and an abbreviated training camp, all of which put Queen and a lot of first-year players behind.
This year, Queen already had three weeks of workouts prior to Baltimore's mandatory minicamp. He's been taking rep after rep in the heat while wearing a hooded sweatshirt.
"It's just so hard when you're not doing any football activity outside of working out, so that last offseason was terrible," Queen said. "I came into [last] season, and I was like, 'Bro, this is going to be a long season for me to get in shape.' So, it took me like five games to get in shape, finally."
Queen's first season was filled with plenty of splash plays and some stumbles. He finished third in the NFL Defensive Rookie of the Year voting — behind Washington's Chase Young and Carolina's Jeremy Chinn — which irked him. "Top 3 my a–," Queen tweeted immediately afterward.
The 28th overall pick in the 2020 draft, Queen led the NFL's No. 7 defense with 105 tackles. To put that in perspective, that's five fewer tackles than what Hall of Fame middle linebacker Ray Lewis had as a rookie.
Queen's most memorable hit was when he met a leaping Washington running back Peyton Barber at the goal line with his right forearm, knocking Barber backwards off the pile. If that wasn't impressive enough, he became the first rookie in more than two decades to record at least 100 tackles, two sacks, one forced fumble and one defensive touchdown.
But Queen struggled at times when covering running backs and tight ends in coverage, and shedding blocks. He was briefly taken off the field after being beaten in coverage by Chiefs running back Clyde Edwards-Helaire and whiffing on him in the open field.
"For me, during the offseason, I already have thinking problems — I like to think too much about stuff," Queen said. "Stuff is always on my mind, 24/7. Once something happens, it's always on my mind. So, you think about that the whole offseason, and that's a long time. That's like four or five months before you come back and you can communicate with your teammates, so you really take that personally."
Queen likes to sit down with coaches to go over his mistakes and talk about what he could have done differently. The change this year is his position coach is now Rob Ryan (the brother of Rex), who won a couple of Super Bowls with the New England Patriots as their inside linebackers coach and spent 12 seasons as an NFL defensive coordinator.
Ryan is constantly telling stories about past players, and shows that he cares about his players like a father, Queen said.
"The inside linebackers will play better than what they have in the last two years because [Ryan is] that good of a coach, and he's going to make that big of a difference," Ravens defensive coordinator Don "Wink" Martindale said.
The Ravens certainly know how to find premier players at that position. Before Queen, the last two middle linebackers drafted by the Ravens in the first round — Ray Lewis and C.J. Mosley — combined for 16 Pro Bowls.
Could Patrick Queen follow that same path?
"I'm proud of myself. It's hard to make it to this level — let alone be in the conversation for Defensive Rookie of the Year," Queen said. "So, I'm proud of myself, and I'm still hard on myself. As I look back, pass coverage, stuff is so easy that I'm getting now, that last year I was just messing up time and time and time again. Now, it's just simplifying everything. I really can't wait for the season to start, so everybody could see how much work I've put in to be better."
New York Jets can live without Jamison Crowder in new-look receiving corps – New York Jets Blog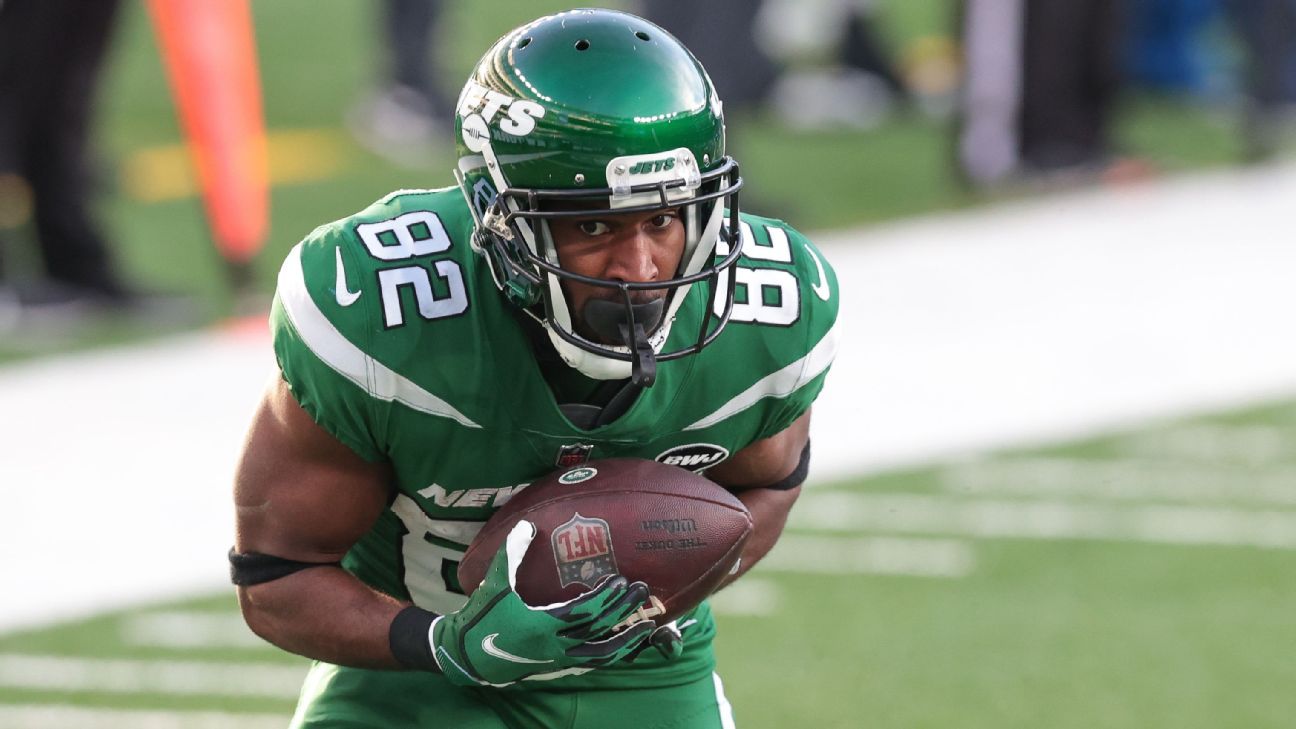 FLORHAM PARK, N.J. — A look at what's happening around the New York Jets:
1. Crowder a goner? A year ago, the Jets' wide-receiver situation was so dire that they opened the season with Chris Hogan in the starting lineup — the same Hogan who is now playing professional lacrosse. The position has improved to the point where — this might sound crazy — leading wide receiver Jamison Crowder is expendable.
The additions of Corey Davis, Keelan Cole and rookie Elijah Moore, one of the best players on the field during the three-week period of organized team activities, have given the Jets a surplus that could trigger other roster moves. They're loaded in the slot, with Crowder, Moore and Braxton Berrios, who also shined during OTAs. Cole, too, has plenty of experience in the slot.
Crowder's future is uncertain. The Jets want him back, according to coach Robert Saleh, but they're trying to get him to take at least a 50% pay cut on his $10 million salary (non-guaranteed). He skipped the voluntary OTAs because of the contract squabble. This week's minicamp is mandatory. Saleh said he expects Crowder to attend, but he didn't sound certain.
The Jets have options. They can release Crowder if he doesn't agree to the pay cut, using some of the $10 million savings to sign free agent Morgan Moses, who would be an upgrade over George Fant at right tackle. Fant could be the backup swing tackle, an important insurance policy with Mekhi Becton dealing with a foot issue (plantar fasciitis). The Jets remain interested in Moses, who visited recently.
Technically, New York has enough cap room to keep Crowder and sign Moses, but they could be looking to save some cash after doling out nearly $80 million guaranteed in free agency.
If the Jets and Crowder agree to a restructured contract, it won't preclude them from trading him. If Moore continues to impress, what's the point of keeping Crowder? Saleh called Moore, drafted 34th overall, a "dynamic young man" with excellent versatility.
Crowder, who turns 28 on Thursday, is a good player, but he's coming off a 699-yard season and has the 16th-highest cap charge ($11.4 million) among wide receivers. He's in the final year of his contract and will leave as a free agent after the season. If the Jets can get something for him, they should do it, clearing the way for Moore.
2. Easy does it: Saleh's mantra is "All gas, no brake" — except when it comes to quarterback Zach Wilson.
Perhaps trying to control the hype, Saleh tapped the brake when asked to give a progress report on the No. 2 overall pick. He said he couldn't give an accurate assessment because everything is peachy now and the "best learning comes through adversity and conflict. … Until we hit adversity will we be able to learn more about each other and how we handle things."
Back in the day, former coach Bill Parcells expressed a similar sentiment a different way: "Let's not put him in Canton yet, fellas."
Wilson, taking all the first-team reps, was solid, if not stellar in OTAs. Not once in the five practices open to the media did he look like an overwhelmed rookie — and that's encouraging. With no veteran quarterbacks on the roster, the Jets are in full "Get-Wilson-ready-to-start" mode.
Carl Lawson on Goal Setting: "The sky is the limit." pic.twitter.com/7AT52Qauz9

— New York Jets (@nyjets) June 11, 2021
3. Out of this world: Defensive end Carl Lawson, who received a big contract (three years, $45 million), has big, big expectations for himself. He wouldn't share his specific goals, except to say he wants to be "otherworldly." Yeah, he said that.
"I feel like the sky's the limit, but this is life," Lawson said. "Not every goal you set is going to happen because there are external factors, but I will do everything in my power to reach my highest level of potential and what I think I can possibly be, which is otherworldly."
Otherworldly would mean producing more than he did with the Cincinnati Bengals — 20 sacks in four years. That's a pedestrian number, but his pass rush win rate in that span (18.9%) was impressive and ranked 29th, per ESPN Stats & Information. That was a shade below Chicago Bears star Khalil Mack (19.3%). The Jets expect him to turn some of those "wins" into sacks.
4. Under the radar: A handful of non-starters stood out in the OTAs, including defensive end Bryce Huff, safety J.T. Hassell, rookie cornerback Isaiah Dunn, defensive tackle Tanzel Smart and wide receiver Manasseh Bailey. Defensive end Jabari Zuniga, whose rookie season was a washout because of injuries, flashed on occasion. With added competition on the defensive line, his roster spot isn't a gimme.
Another 2020 draft pick, safety Ashtyn Davis, didn't participate due to a significant foot injury last season. He attended meetings, but missed out on much-needed practice reps. Davis, who started six games as a rookie, probably is looking at a backup role.
5. Survivor: In a transient profession, special teams coordinator Brant Boyer is an outlier. He's in his sixth year with the Jets, which means he's working for his third head coach.
After last season's 2-14 disaster, which resulted in coach Adam Gase's ouster, Boyer went fishing for five days in Nevada. When he heard Saleh had been hired in late January, he flew back to New Jersey, figuring it would be a good idea to get some face time with the new boss and interview to keep his job.
"I'm pretty damn lucky," Boyer said of his longevity.
Lucky and good.
6. Did you know? The Jets have gone five straight years without a 1,000-yard receiving season by an individual — the longest active drought in the league. They have a few "longest active droughts." Maybe we should call them LADs.
7. Quiet, please: For two years under Gase, the loudest voice on the practice field belonged to that of defensive coordinator Gregg Williams, who wasn't shy about raising the decibel level. His successor, Jeff Ulbrich, isn't the yelling type. Truth be told, Saleh doesn't want his coaches to be yellers.
Count that as Difference No. 136 between the current and previous staffs.
Here's another one: Unlike Gase and Williams, who were joined together in an arranged marriage by the previous front office, Saleh and Ulbrich are old friends who share a similar defensive philosophy. The "secret sauce," as Ulbrich put it, is simplicity and players first. In other words, there will be player-friendly schemes that aren't difficult to master, that emphasize fundamentals and technique over smoke and mirrors.
This is a departure from the Williams way, which relied on exotic fronts to confuse opponents. He liked to brag he had more than 40 different fronts in his playbook. It worked pretty well in 2019 before everything went sideways last season.
The Saleh/Ulbrich method is good because it should allow them to integrate young players quickly into the season, and we all know the Jets have a lot of young players. The downside: Simple works if you have the horses, but the Jets still don't have enough to win on talent alone. This will be a process, and there will be growing pains.
What's important is getting the players to buy in. So far, so good, according to linebacker Jarrad Davis. Speaking of Ulbrich and the defensive assistants, Davis said their enthusiasm is "just leaking out of them, oozing off them. When we're itchy, they know what to scratch."
8. The last word: "He's a dog, man. I like Zach Wilson. He has a lot to learn and there's going to be a lot of pressure, but he's good with it and he's slinging the ball." — Jets running back Tevin Coleman.
Le'Veon Bell says he'd retire before playing for Kansas City Chiefs coach Andy Reid in social media post
KANSAS CITY, Mo. — The Kansas City Chiefs showed no interest in re-signing running back Le'Veon Bell, and the feeling seems to be mutual.
Bell, responding to a comment on Instagram about his time with the Chiefs in 2020, said, "I'd never play for Andy Reid again … I'd retire first."
Bell didn't specify his complaint with Reid, the Chiefs' coach.
The Chiefs signed Bell last year after his release from the New York Jets, but he played sparingly. Bell played in nine games, starting two, and rushed for 254 yards and two touchdowns.
By season's end, he wasn't much of a factor for the Chiefs. Despite the absence of injured starter Clyde Edwards-Helaire, Bell got the ball just twice in the Chiefs' divisional-round win over the Cleveland Browns.
He was inactive for the AFC Championship Game against the Buffalo Bills, and though he was in uniform, did not play in Super Bowl LV against the Tampa Bay Buccaneers.
Bell is a free agent but has not signed with any team.