Money wise — Falcons' Brandon Copeland showing NFL players how to cash in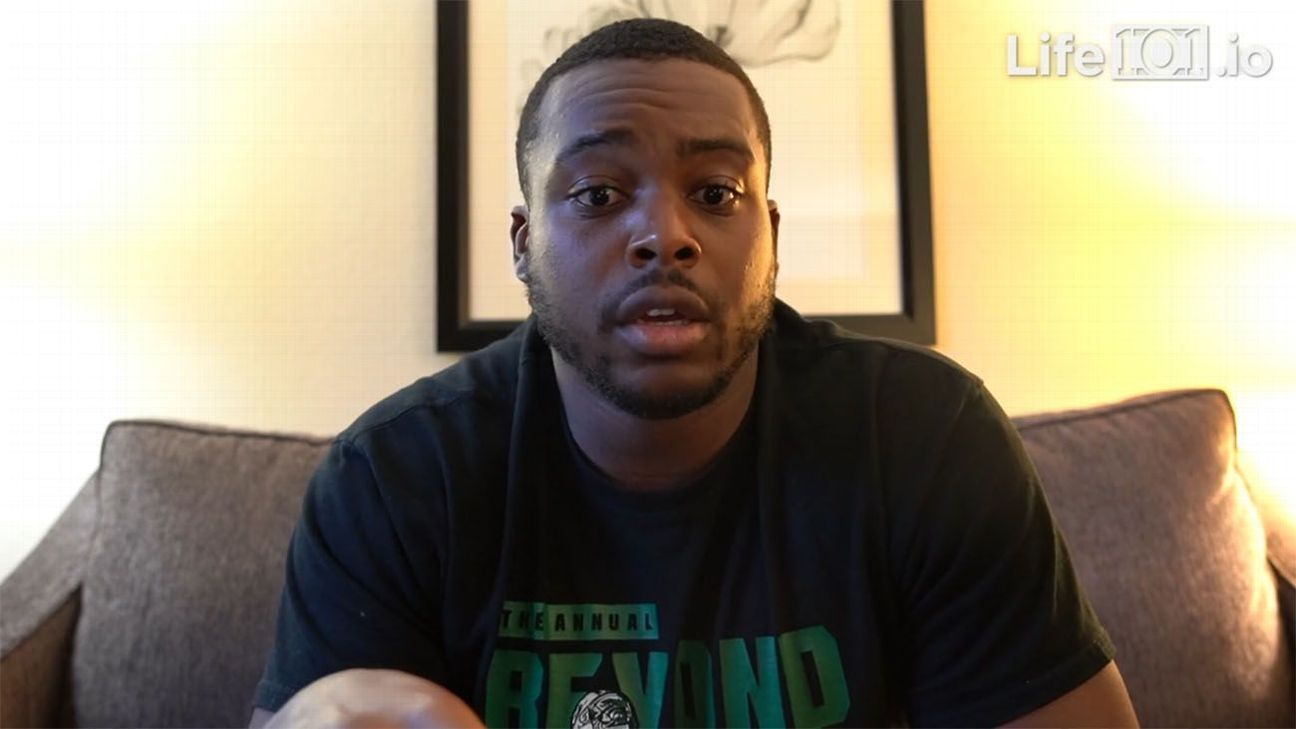 The conversation began in the Atlanta Falcons' locker room, undrafted rookie defensive backs Dwayne Johnson and JR Pace discussing finances and how to get themselves started in a league where careers can be short but the money may end up long.
A week earlier, veteran linebacker Brandon Copeland had spoken to Falcons rookies about financial literacy and money management. Johnson and Pace kept the conversation going and brought questions to Copeland, a contributing editor to Kiplinger's who teaches a class on the subject at the University of Pennsylvania during NFL offseasons.
Copeland started to answer and then decided to pivot. He would bring it to a larger group, one he started that meets virtually on Wednesday nights, with Pace and Johnson in attendance.
"So the question that we've been asking is basically how do you start a business or anything without money," Johnson told the group. "Like, how do you build a business or an idea or join a group without the financial means, as is."
It's a question most rookies and young players in the NFL — and in other sports — ask themselves. It's a question too many athletes don't learn the answer to until too late in their careers, or after their careers are over, when the opportunity for growing their money has largely passed.
Copeland paused for a second. He began these Zoom sessions for this reason. "That's the multimillion-dollar question right there."
Copeland started the virtual class-slash-hangout-slash-information sessions — called the "Professional Athlete Development Program" — last month to bring athletes together to discuss financial options to help them in the present and the future.
Spread out across the country, active players, rookies and retired players log on at 7 ET Wednesday nights with a purpose: To learn things about money they didn't know when they entered the NFL. Copeland fuels the conversation around finance, investing and economics to potentially have players work together to find deals that make sense and avert issues other athletes have faced.
"Things like that are extremely, extremely important to, I hope, preventing people from losing money," Copeland said. "But also helping people grow their net worth over time. For me, that's the most important thing."
---
Copeland's initial idea was to bring athletes to New York and have them work on resumes, interview prep and shadowing opportunities in person. Then the COVID-19 pandemic hit. Everything went online.
Sitting with the idea for another year, and after leading a "Money Talks" webinar through the NFLPA last year, he didn't want to wait anymore. Copeland began a small text message chain with other players and floated the idea of having sessions where they could collaborate and discuss their own experiences — their successes, their failures. With more people comfortable communicating virtually, this could expand his plan.
Guys could be anywhere for the 90-minute conversations. Started through word of mouth, Copeland thought there might be five or six players on the first session in May.
Almost 20 showed up, and it grown weekly. It's created bonds and connections that otherwise might not have happened, which could be helpful in multiple areas, from combining to connect on deals to warning other players about experiences with financial advisers and others who might not have the athlete's best interest in mind.
A Discord server, an ongoing complement to the Zoom sessions, has over 100 members, mostly athletes and some entertainers.
"Every week I'm hopping on a call that I wouldn't have been on and I'm learning at least one thing that I didn't know before," Miami Dolphins receiver Mack Hollins said. "No matter how informed I am on a topic, I go into a call and somebody might say something that I didn't know.
"So it's been awesome, honestly, to be a part of it and some days listen in, some days be the guy talking.
The Zoom sessions and Discord server are considered a safe space. No question is too remedial. No one is judged because of their lack of knowledge. This is all about helping build something together across teams and NFL generations to help players who want to take advantage of it.
"It is a collective thing. Everyone needs this information," said Cliff Avril, who played for Seattle and Detroit from 2008 to 2017. "Everyone needs to understand what we're trying to do and how this thing works."
---
Copeland, who graduated from Penn's Wharton School in 2013 with an economics degree, devised the sessions in the same general vein as his class at Penn and the seminars he holds on his Life 101 website.
Unlike the college students he teaches or those who have taken his e-course, these Wednesday conversations are focused on issues of high net worth because of the salaries NFL players receive. Instead of lecturing, he plays traffic cop — posing questions and keeping things flowing, monitoring whether people are engaging and staying with the session.
The plan, for now, is eight sessions discussing different areas of finance: An intro, taxes, investing, venture capital, real estate, cryptocurrency, "The Business of Me, and a final open session.
Copeland brings in experts to answer questions and expose participants to connections. In the venture capital session, he invited one of his mentors, Nick Morris, the hedge fund manager who co-founded Health Warrior; Kai Cunningham, a general partner at Miami-based venture capital fund Limited Ventures; and Jasmine Maietta, a former marketing head at Under Armour who started her own company, round21.
They were part of the chat with the athletes who held the majority of the conversation, including Copeland, Avril, former NFL linebacker Brandon Chubb and former Raiders and Seahawks tight end Zach Miller, who after playing became a private wealth advisor for AWM Capital.
They started with Johnson's question, offering different perspectives based on their own experiences. Morris broke down the different rounds in venture capital and warned if you put money in during a seed round, you might not see a return on the investment for a decade, if ever. Cunningham explained they could receive equity or different deals not just through money but through using their social media followings and status as NFL players.
"It's being able," Cunningham said, "to thoughtfully leverage your likeness."
Miller and Avril spoke about the difference in options a player may have between when they are active and retired.
"It's all about who you know," Avril told the group. "So growing your network while you're playing is huge, man. Because the doors will get closed that you have available to you right now as an active player, they will get closed.
"So build those relationships and build genuine relationships."
Relationship building, in many ways, is what the sessions are all about in the first place.
---
Early in Copeland's career, as he bounced from Baltimore to Tennessee after going undrafted in 2013, he had the same questions Johnson and Pace do now. He had the base of knowledge from Wharton and business internships, but rarely did conversations happen in the locker room.
Then, as he became more comfortable in the league and in himself, he opened up. In Detroit, he connected with Glover Quin, Haloti Ngata, Tahir Whitehead and Don Carey. He found there were players involved in almost any space he was interested in a few lockers away.
"A young guy coming into the league who wants to play linebacker but is also interested in real estate or is also dealing with their family pulling at them financially or is trying to buy their first home, trying to buy their first car," Copeland said. "There's no standard or no certain place where they can go and collaborate with others and learn from others' experiences, right.
"And so for me, I think that I wanted to, originally I wanted to start this group."
In Seattle, Avril had similar thoughts. Mornings in the Seahawks locker room, he and Michael Bennett would play financial audiobooks over the speakers — "Rich Dad, Poor Dad" was a favorite — both for their knowledge and to send a message to younger players.
Start learning. Start seeing yourself as more than a football player, but as an investor, a business, a brand. On Wednesday, Avril texted Bennett during the venture capital conversation, inviting him to the group. Bennett logged on for a little while and didn't speak, but Avril said he told him the next day they need to be talking about money management more often.
"We're tired of seeing or hearing the 30-for-30 Broke, right," Avril said. "Because that's what everybody assumes we're going to end up like and in all reality, it's not as common as they make it to be. So I just want guys and I want to change the narrative.
"That's how you change narratives, by having conversations with guys."
Cleveland Browns' Jarvis Landry says Odell Beckham Jr. looks 'amazing' after knee surgery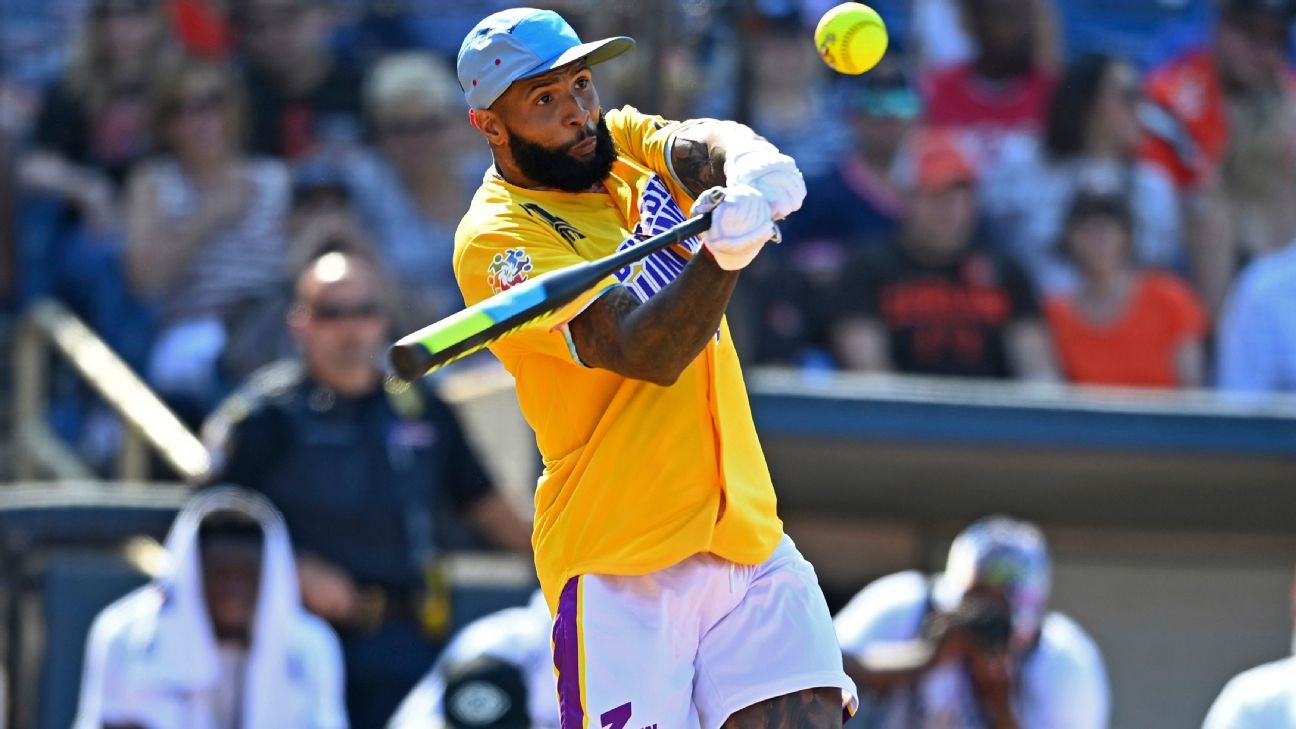 EASTLAKE, Ohio — Odell Beckham Jr.'s knee looks fine for football. His softball swing still needs work.
The Browns wide receiver, who suffered a season-ending knee injury last season, took part Saturday in teammate Jarvis Landry's charity softball event, which drew 7,000 fans and included Cleveland stars Myles Garrett and Baker Mayfield as well as Kansas City Chiefs All-Pro tight end Travis Kelce.
Beckham struggled in the home run hitting contest, popping up several pitches and completely missing a few, but Landry reported that his speedy teammate looked fully recovered when they worked out together this past week in Austin, Texas.
"Man, he looked amazing," Landry told reporters. "I can't wait for you guys to see him. I can't wait for him to get back out there. He's in fantastic shape and he's ready to go. He's only what, 6½ months [beyond surgery], and he's already doing some things that will blow your mind away."
OBJ with a couple swing and misses here pic.twitter.com/nqFcwIyBUg

— Jake Trotter (@Jake_Trotter) June 12, 2021
The Browns are counting on Beckham as they look to build off a playoff appearance and postseason win last season. Beckham missed out on the fun after suffering a torn right anterior cruciate ligament in the opening minutes of Cleveland's Oct. 25 game in Cincinnati.
Beckham underwent surgery a few weeks later and was unable to contribute as the Browns ended their long playoff drought, then beat rival Pittsburgh in the wild-card game.
He has been periodically posting social media videos of his rehab progress, and Landry isn't surprised his good friend appears to be ahead of schedule.
"I don't expect nothing less from Odell," Landry said. "That's his character and that's who he is. He's a guy who's always going to train hard and be prepared."
During the workouts in Texas, which were hosted by Mayfield, Beckham showed Landry he's where he needs to be.
"He ran a post route, sticking off the same injured leg and exploding out of it, then going up, jumping off that same leg and making a catch, doing his thing — what he does with one hand," Landry said. "You sit back and you're like, 'Wait. He's even better than he was last year.'"
Beckham is expected to be at mandatory minicamp this week with the Browns.
Kelce, a proud Clevelander, showed love to his hometown by wearing an Indians jersey and cap. He wasn't taking any chances.
"I'm at home, but it's still enemy territory," Kelce said. "It's so weird. It's a weird feeling."
He has watched the Browns upgrade their roster over the past few months. And while he's not ready to call them a rival, he's seen enough to consider them a threat.
"I would say they're definitely a contender, without a doubt," he said. "It's definitely there. Baker and the gang have upped the ante, made this team an unbelievable team and a team you have to prepare for and take serious. I think that moving forward without a doubt I can see a lot more playoff games between us.
"I think the Browns and Chiefs are definitely neck and neck for sure."
The Associated Press contributed to this report.
Stephon Gilmore's contract status in spotlight at New England Patriots camp – New England Patriots Blog
FOXBOROUGH, Mass. — Quick-hit thoughts/notes around the New England Patriots and NFL:
1. Gilmore's mindset: Linebacker Dont'a Hightower's return to the practice field Thursday after opting out of the 2020 season represented a key piece falling into place for the Patriots, and this week could provide clarity on another big one — cornerback Stephon Gilmore's mindset on playing for the team at his current salary.
Gilmore is required to report for the start of the three-day mandatory minicamp Monday or will be subject to fines that could total $93,085 — which breaks down to $15,515 for the first missed day, $31,030 for the second missed day and $46,540 for the third missed day.
For players seeking a sweetened contract, or who might be displeased with the pace of negotiations or with their situation with a team, staying away from mandatory minicamp is often a first leverage point of sorts — a way to let the team know there is an intention to dig in with negotiations.
Gilmore is entering the final year of his five-year, $65 million pact and is scheduled to earn a base salary of $7 million — well below market value for a player of his caliber.
But part of the reason for the low figure is the club previously moved $4.5 million of his 2021 base salary into 2020. That was an acknowledgment from the Patriots that Gilmore's original 2020 salary ($10.5 million) was worthy of an adjustment after he was named the NFL's Defensive Player of the Year.
Gilmore hasn't been attending voluntary organized team activities this year (he has in the past), although it's unclear how much of that is tied to the contract.
Now, will Gilmore show up to mandatory minicamp? And if he doesn't, could an excused absence be a consideration from the team?
Answers should help fill in the all-important context of how both sides view the situation.
2. Cam's return: When the Patriots return to the field Monday, it wouldn't be a surprise if Cam Newton is back under center, which reflects that his right hand injury isn't serious. Teammates welcomed Newton at Friday's voluntary OTA, and word is the QB1 threw the ball around a bit.
3. No 'Love' for 'Mac': In the Green Bay Packers' final practice of their mandatory minicamp last week, quarterback Jordan Love took 26 of the 31 total repetitions in 11-on-11 drills, according to ESPN's Rob Demovsky. Contrast that to the Patriots' practice Thursday and Mac Jones getting 8 of 34 repetitions in what might be viewed as "competitive" 7-on-7 or 11-on-11 drills.
It highlights differing philosophies of the coaching staffs, with Green Bay's Matt LaFleur saying he wants to get Love as many reps as possible in case he is needed in place of Aaron Rodgers. In New England, coach Bill Belichick has stressed the spring is a time for teaching all players, which sets them up best to compete for jobs in July's training camp.
4. Uche in the nickel: Linebacker Josh Uche seemed to be practicing at an elevated tempo from the linemen across from him in practice the past two weeks, which might be a reflection of his excitement to be on the field after a rookie season in which he usually wasn't.
The 2020 second-round draft pick from Michigan doesn't necessarily fit in the traditional box for a Patriots inside linebacker in the base 3-4 defense, nor does he carry the weight (255 to 260 pounds) that former Patriots outside linebacker Rob Ninkovich says is critical to setting the edge at that position. But after watching three spring practices, the best way to view the 6-foot-3, 245-pound Uche might be more through the lens of the nickel defense, which the Patriots play 85% (or more) of the time anyway.
Uche's knack for bending the edge as a rusher, and his athleticism to play more in space are assets to tap in a six-man box. Seems as if it has been a solid spring for Uche.
5. Where's Wino? While Uche rises, 2019 third-round pick Chase Winovich seems to be falling into a different category. Not seeing as much of him. The free-agent signings of linebackers Matt Judon and Kyle Van Noy, paired with Uche coming on and Hightower returning Thursday, have Winovich looking at a different picture than this time last year.
6. Mills' versatility: The past two practices provided a nice snapshot of why assistant coach Brian Belichick said of free-agent signee Jalen Mills: "If anyone is a pure DB, it's him, because he's played everywhere." Mills had been working at safety alongside 2020 top pick Kyle Dugger early in spring practices, but with veteran safeties Devin McCourty and Adrian Phillips returning last week, he moved to cornerback. Mills did get twisted around on one long sideline catch by wide receiver Kristian Wilkerson on Thursday.
7. Asiasi's growth: Second-year tight end Devin Asiasi looks like a different player, and he is one of several Patriots who stand out when considering the benefits of spring practices for younger players. Wide receiver Isaiah Zuber and Uche are among the others who fall into that category.
Asiasi (6-foot-3, 257 pounds) had one of the best plays of practice Thursday, hauling in a deep pass from Brian Hoyer, with Dugger in coverage. The play sparked a thought: For all the possibilities a two-tight-end set of Jonnu Smith and Hunter Henry presents, there's also intriguing potential with a three-tight-end package that includes Asiasi, the 2020 third-round pick.
8. Adams a sleeper? At one point in Thursday's practice, fifth-year defensive tackle Montravius Adams was on the field with Judon, Hightower, Van Noy and Uche, which could be an early sign he is a player to watch in the competition for a roster spot. The 6-foot-4, 304-pound player was a 2017 third-round draft pick by the Packers out of Auburn, and he has made an early impression on D-line coach DeMarcus Covington with his work ethic and by buying into the team's culture. Adams dealt with a painful toe injury last season and recently said: "Since I've been here, they've helped me with the injury. My toe is starting to get a lot better."
9. Weather helps: Bill Belichick pointed out how some "good Boston weather" helped the team in spring practices from a conditioning standpoint. He might have had practices on Monday and Tuesday of last week in mind, as they were held in uncharacteristically humid 90-degree conditions for this time of year. Over 10 sessions, the average temperature was right around 80 degrees, and practices would sometimes end with players running the hill.
10. Did You Know? In overall circumference, footballs used in college can be up to 1 1/4 inches smaller than in the NFL, which was a point highlighted by undrafted rookie Patriots kicker Quinn Nordin of Michigan when he said: "You're hitting a different ball now. I'm still learning, trying to figure out the new balls. The college balls are skinnier."
For Ravens' Patrick Queen, full offseason means full speed ahead – Baltimore Ravens Blog
OWINGS MILLS, Md. — Baltimore Ravens inside linebacker Patrick Queen picked up the forced fumble, and he instantly hit another gear, outracing everyone 53 yards to the end zone.
Queen's score against the Cincinnati Bengals in Week 5 last season represented more than his first career touchdown. It was surprisingly the first time he felt like he was up to speed physically.
"It's insane. Last year, I didn't go into the season in shape at all," Queen said. "I came in like 240-something, couldn't catch my breath when we were running."
One of the top rookies in the league last year, Queen made this startling statement to explain the biggest difference between last year and this one. The pandemic led to the cancellation of all in-person workouts last spring and an abbreviated training camp, all of which put Queen and a lot of first-year players behind.
This year, Queen already had three weeks of workouts prior to Baltimore's mandatory minicamp. He's been taking rep after rep in the heat while wearing a hooded sweatshirt.
"It's just so hard when you're not doing any football activity outside of working out, so that last offseason was terrible," Queen said. "I came into [last] season, and I was like, 'Bro, this is going to be a long season for me to get in shape.' So, it took me like five games to get in shape, finally."
Queen's first season was filled with plenty of splash plays and some stumbles. He finished third in the NFL Defensive Rookie of the Year voting — behind Washington's Chase Young and Carolina's Jeremy Chinn — which irked him. "Top 3 my a–," Queen tweeted immediately afterward.
The 28th overall pick in the 2020 draft, Queen led the NFL's No. 7 defense with 105 tackles. To put that in perspective, that's five fewer tackles than what Hall of Fame middle linebacker Ray Lewis had as a rookie.
Queen's most memorable hit was when he met a leaping Washington running back Peyton Barber at the goal line with his right forearm, knocking Barber backwards off the pile. If that wasn't impressive enough, he became the first rookie in more than two decades to record at least 100 tackles, two sacks, one forced fumble and one defensive touchdown.
But Queen struggled at times when covering running backs and tight ends in coverage, and shedding blocks. He was briefly taken off the field after being beaten in coverage by Chiefs running back Clyde Edwards-Helaire and whiffing on him in the open field.
"For me, during the offseason, I already have thinking problems — I like to think too much about stuff," Queen said. "Stuff is always on my mind, 24/7. Once something happens, it's always on my mind. So, you think about that the whole offseason, and that's a long time. That's like four or five months before you come back and you can communicate with your teammates, so you really take that personally."
Queen likes to sit down with coaches to go over his mistakes and talk about what he could have done differently. The change this year is his position coach is now Rob Ryan (the brother of Rex), who won a couple of Super Bowls with the New England Patriots as their inside linebackers coach and spent 12 seasons as an NFL defensive coordinator.
Ryan is constantly telling stories about past players, and shows that he cares about his players like a father, Queen said.
"The inside linebackers will play better than what they have in the last two years because [Ryan is] that good of a coach, and he's going to make that big of a difference," Ravens defensive coordinator Don "Wink" Martindale said.
The Ravens certainly know how to find premier players at that position. Before Queen, the last two middle linebackers drafted by the Ravens in the first round — Ray Lewis and C.J. Mosley — combined for 16 Pro Bowls.
Could Patrick Queen follow that same path?
"I'm proud of myself. It's hard to make it to this level — let alone be in the conversation for Defensive Rookie of the Year," Queen said. "So, I'm proud of myself, and I'm still hard on myself. As I look back, pass coverage, stuff is so easy that I'm getting now, that last year I was just messing up time and time and time again. Now, it's just simplifying everything. I really can't wait for the season to start, so everybody could see how much work I've put in to be better."