Christian Yelich could determine the fate of the NL Central this season
In the bottom of the third inning of the Milwaukee Brewers' 7-4 win over the Arizona Diamondbacks on Thursday, Christian Yelich hit a three-run home run.
It wasn't really all that special of a home run, struck at 107.9 mph with a launch angle of 20 degrees. The pitch from Diamondbacks right-hander Jon Duplantier was an 84 mph changeup in the middle of the plate, about as bad a pitch as you can make. With a lot of topspin, the ball barely cleared the right-field fence.
But don't underestimate what this home run meant in Brewers land: It was very big indeed. It was vintage Yelich of 2018 and 2019 — if we can refer to the recent past as vintage — and that's the Yelich the Brewers have desperately been looking for the past two seasons. It was just his second home run of 2021, his first at home, and while he has missed a lot of time with his back problems, he has just two home runs and and four extra-base hits in 75 at-bats. This from a slugger who averaged a home run every 13.3 at-bats over those two monster seasons and an extra-base hit every 6.9 at-bats.
Given Yelich's struggles in 2020 when he hit .205 with a strikeout rate that skyrocketed from 20.3% to 30.8% and his health issues and lack of power in 2021, it's reasonable to ask: Will we see MVP-caliber Yelich the rest of the season?
Maybe Yelich just needs to stick to the blond bat he used on Thursday instead of his usual black bat. Yelich said it had nothing to do with needing to turn things around.
"We just had them," Yelich said. "They've been here a week or two. I've been messing around with them, broke one the other night and [Travis] Shaw talked me into using them today. I'm not really superstitious about what bat I use — just chugged that one up there and it paid off."
He'd be the first baseball player who isn't at least a little superstitious. We'll find out if we see that blond bat again on Friday.
The Brewers can win the National League Central, but they need Yelich to hit. With the big three of Brandon Woodruff, Corbin Burnes and a breakout Freddy Peralta, the Brewers have one of the best rotations going, ranking sixth in the majors with a 3.24 ERA and beginning the day fourth in FanGraphs WAR. The bullpen is solid, with one of the best closers in the game in Josh Hader, who locked down his 13th on Thursday. The defense up the middle ranks among the game's best after the acquisition of shortstop Willy Adames from the Rays, giving the Brewers the slick double-play combo of Adames and Gold Glover Kolten Wong, with either Jackie Bradley Jr. or Lorenzo Cain manning center field.
What the Brewers need if they're going to make their fourth straight postseason is offense and that's where they need Yelich. That makes him perhaps the most important player in the sport over the final two-thirds of the season, as the NL Central looks like a three-team fight with the better-than-expected Cubs and the always-tough Cardinals.
The Brewers offense' has been slipping. In 2018, when they won the division with 96 wins, Yelich took home MVP honors when he hit .326/.402/.598 with 36 home runs. Jesus Aguilar and Travis Shaw also combined for 67 home runs and the Brewers finished seventh in the NL in runs. In 2019, Yelich was MVP runner-up after hitting .329/.429/.671 with 44 home runs, but Aguilar and Shaw struggled, and despite the additions of Mike Moustakas and Yasmani Grandal, the Brewers dropped to ninth in runs. The Brewers fell to 12th in runs in 2020, and they currently sit 11th at 3.88 runs per game, which would be their lowest total since 2002, the worst season in Brewers history.
Despite the home run Thursday, there remain concerns about Yelich. His strikeout rate is even higher than 2020 at 33.7%. He's hitting .253 thanks to a .405 BABIP — much higher than his .373 mark in 2018 or 2019's .355. The positive is he has remained effective against fastballs (although with a higher strikeout rate):
2018: .997 OPS
2019: 1.107 OPS
2020: .999 OPS
2021: .945 OPS
He absolutely destroyed them in 2019, but his 2020 and 2021 fastball numbers remain in line with what he did in 2018, so his issues have been against off-speed pitches. The weird thing is that Yelich's chase rates the past two seasons have actually been much better than those in 2018-19: 24.7%, 27.4%, 17.0%, 16.4%. Usually, that's a good sign. But he's certainly not hitting the ball as hard so far in 2021, and his average launch angle is exactly minus-0.5. That explains the lack of extra-base hits, as he has been pounding the ball into the ground. What we don't know yet is if this is all just a timing or mechanical issue or all tied to the health of his back.
He was asked about his timing after Thursday's game and gave a one-word answer that starts with "horse." He certainly isn't using health as an excuse.
For now, Yelich is just hoping everything will start going his way.
"Just keeping grinding and maybe it will turn one day," he said after the game. "That's kind of how baseball is. You can suck for a while and you never know when you're going to turn, so you just have to keep plugging."
That's what the Brewers will continue to do as well, at least until general manager David Stearns can find a way to improve the offense at the trade deadline. He has made deadline moves before — Moustakas and Jonathan Schoop at the trade deadline in 2018, pitcher Drew Pomeranz in 2019. The obvious upgrade area for 2021 would be first base, where Daniel Vogelbach and Keston Hiura have struggled, although perhaps it's too early to give up on what could still end up as a decent platoon. Bradley at least provides good defense, but he's hitting just .160 after going 2-for-3 with his fifth home run on Thursday. Maybe they look at third base, currently shared by Shaw and Luis Urias, But in a year when a lot of teams might be looking to add a bat, there may not be many available — especially if the Cubs hold on to the hot-hitting Kris Bryant (which seems likely) or the Rockies keep Trevor Story (a possibility).
So that turns it back to Yelich and a reminder that back in 2018, he exploded in the second half, hitting .367 with 25 home runs after the All-Star break.
Inside Chicago Cubs rookie Patrick Wisdom's improbable stretch of home run history
CHICAGO — He's the backup to the backup, but Chicago Cubs third baseman Patrick Wisdom sure isn't playing like it. As the 29-year-old rookie preps for Sunday Night Baseball — against the team that drafted him — Wisdom has already accomplished more than most.
In his first 10 starts as a Cub, Wisdom hit eight home runs, tying Aristides Aquino for the most by any player in his first 10 games with a team since 1900.
He has lit the league — and opposing pitchers — on fire.
"The guy has seven pumps already and he hasn't been here that long," teammate Ian Happ said before Wisdom hit home run No. 8. "Some of us are looking at the board thinking, 'Shoot, he's been here for a minute — we don't have that many.'
"If we can get it to Wisdom with guys on base, we'll be all right."
Wisdom has become that valuable for a team beset with injuries, which is why the 52nd pick of the 2012 draft by the St. Louis Cardinals is getting a chance in the first place. Former Rookie of the Year runner-up Matt Duffy was manning third base while former MVP at third Kris Bryant was roaming the outfield. But then Duffy went down with a back injury, opening the door for Wisdom.
Wisdom has been asked many times over the past couple of weeks to explain his success, after years of hanging around the edges of the majors. "Playing for a long time at the Triple-A level, and getting spurts at the major league level, it's definitely helped me ease my mind, not letting it [feel] bigger than the moment," Wisdom said. "There's another deck on the stadium and more cameras, but it's the same game."
Wisdom's journey began with the Cardinals, but after just 50 at-bats in 2018, they gave up on him. He hit .260 with four home runs, but it wasn't enough to keep him in the organization.
"From the Cardinals' perspective, it was the classic running out of time to provide that opportunity," Cardinals president John Mozeliak told ESPN on Friday. "With the way the rules are set up, you don't control the player forever."
So the Cardinals' loss became the Cubs' gain, but not before stops in Texas and Seattle, where, according to Wisdom, things didn't work out because of "performance-based" issues. In other words, he just didn't hit enough, at the right times, to warrant being kept around.
"Couldn't get it going," Wisdom said. "It was kind of a blessing in disguise."
That's when the Cubs came calling, three days after Wisdom was released from the Mariners in August 2019. They couldn't promise him a major league deal, so he flew under the radar in 2020. The coronavirus pandemic allowed for that.
"He was really good at the alternate site last year," Cubs president Jed Hoyer said. "In some ways, it was under-reported how many homers he hit there. He had an incredible hot streak last summer of hitting a lot of home runs."
But that wasn't against the San Diego Padres or San Francisco Giants, two opponents he crushed recently. He hit .364 with a .417 on-base percentage against both teams while hitting seven of his eight home runs. It helped the Cubs to a 5-1 season series win over San Diego.
"It's a combo of ingredients," Wisdom said. "It's the team. It's the staff. It's my maturity level. My family. I could go on and on about what's contributed to my success."
The Cubs get the credit for taking a flier on him, but even their part of the story isn't without a blemish. The Cubs released him near the end of last season but brought him back in January on a minor league deal. Wisdom was close to signing overseas but gave the Cubs another chance.
"[Cubs director of pro scouting] Andrew Bassett told us, 'If he plays in the States, it's going to be for us,'" Wisdom's agent, Adam Karon, said.
That was enough to keep Wisdom in a Cubs uniform, but Hoyer can't dismiss the notion that anyone could have had him between September and January.
"Every team takes pride in signing undervalued guys like Duffy or Wisdom," Hoyer said. "There's good fortune with those things. You have to have some humility to realize if someone had offered them more, they would have had them.
"But we were higher on those guys than the rest of the league. Those are the decisions that are fun for us."
Wisdom and Duffy are a big part of the 2021 narrative surrounding the Cubs. Like many teams, they've had an inordinate amount of injuries, but many of their backups have thrived, keeping the team at the top of the National League Central.
The Cardinals might truly come to regret losing Wisdom.
"Anytime you see a player you had high hopes for and was unable to do it for you, you wonder what went wrong with the process," Mozeliak said. "Could we have been more patient? Could we have given him more tries? To truly answer those types of questions, you have to give it time."
Wisdom's success has been in the small-sample-size category. But it came when the Cubs needed it most, as stars such as Javy Baez and Anthony Rizzo also missed time because of injuries. He was a lifesaver.
"He's been carrying us," Cubs manager David Ross said. "He's been the real offensive force for us right now. Every time he gets in the box, he does something to help the team. He has real power."
Pitcher Kyle Hendricks added: "He is so hot right now. What a huge lift. Every time he goes out there. It's amazing to watch. We're just enjoying it right now."
So is Wisdom, who has become popular with media and fans alike. But interviews and attention aren't likely to keep him from his job, as he asked reporters to wait before Friday's game so he could take ground balls. The grind has been real for Wisdom and he's not about to let the dream end.
"It's been truly special," he said.
Los Angeles Dodgers' Max Muncy heads to injured list with right oblique strain
LOS ANGELES — First baseman Max Muncy is going on the Los Angeles Dodgers' injured list with a right oblique muscle strain.
The Dodgers recalled outfielder Luke Raley on Saturday night to take the roster spot of Muncy, who left Friday's game in the second inning with the defending World Series champions' latest significant injury woe.
Muncy hit his 14th homer of the season in the first inning of the series opener against the Texas Rangers but was replaced by Albert Pujols shortly afterward.
Muncy is batting .264 with 33 RBIs in 60 games this season for Los Angeles. Before his oblique injury, he had been struggling with an injured right ankle since getting hurt June 4 in Atlanta.
Outfielder Cody Bellinger also left Friday's game with left hamstring tightness, and he wasn't in the Dodgers' starting lineup Saturday. Manager Dave Roberts is cautiously confident Bellinger's injury isn't serious.
The Dodgers' latest round of injury problems has left the champs shuffling their roster. Earlier Saturday, the Dodgers selected infielder Andy Burns from Triple-A Oklahoma City, optioned right-hander Mitch White and designated right-hander Dennis Santana for assignment.
The 30-year-old Burns hasn't played in the majors since 2016, when he got his only 10 games of big league experience for Toronto without getting a hit. He is batting .330 with five homers and 20 RBIs in Oklahoma City.
Backup first baseman Yoshi Tsutsugo (calf) is expected to begin a rehab assignment in Oklahoma City on Sunday. World Series MVP Corey Seager, whose hand was broken by a pitch May 15, is still about two weeks away from starting a rehab assignment.
Bellinger, Seager, infielder Gavin Lux, outfielder AJ Pollock and rookie Zach McKinstry have all missed long stretches of this season with injuries. Starting pitcher Dustin May (right elbow) and infielder Edwin Ríos (right shoulder) are already out for the season, while key reliever Corey Knebel (right lat strain) is unlikely to return until late in the season, if at all.
New York Yankees' Luis Severino leaves rehab start with apparent leg injury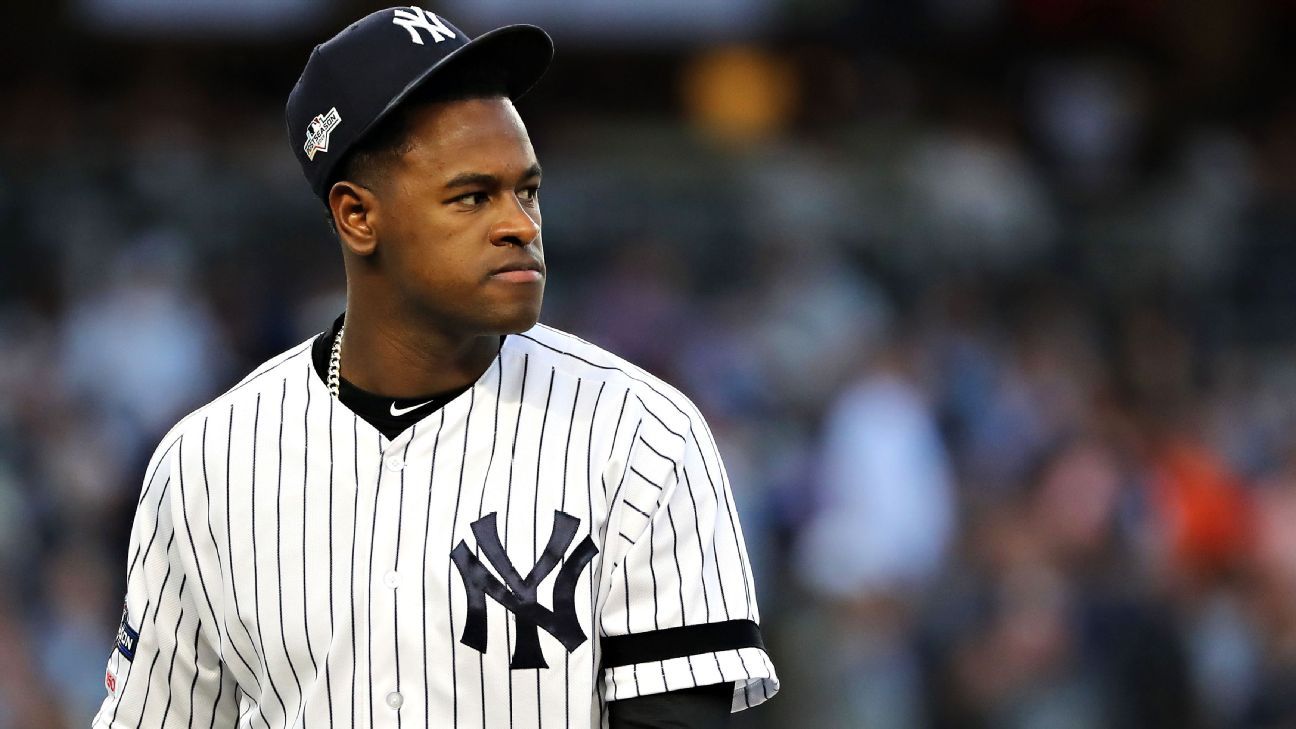 NEW YORK — Yankees right-hander Luis Severino was removed from a minor league rehab start Saturday with what appeared to be a painful injury to his right leg.
Severino was making his second rehab start following Tommy John surgery in February 2020, pitching for High Class A Hudson Valley against Brooklyn. The 27-year-old began to hobble quickly after throwing a pitch in the second inning. He limped behind the mound, struggling to put weight on his right leg. Coaches and a trainer had to help him off the field.
The Yankees did not provide an immediate update.
Severino looked sharp in his first rehab appearance, reaching 98 mph with his fastball. He pitched 1 2/3 innings Saturday, allowing a run, a hit and a walk while striking out three.
New York had hoped Severino could return this season to solidify a rotation led by Gerrit Cole. A two-time All-Star, Severino won 19 games in 2018 and signed a four-year, $40 million deal prior to 2019, but he has thrown just 12 big league innings since due to shoulder and elbow injuries.