Chicago Cubs, Chicago White Sox approved for 100% fan capacity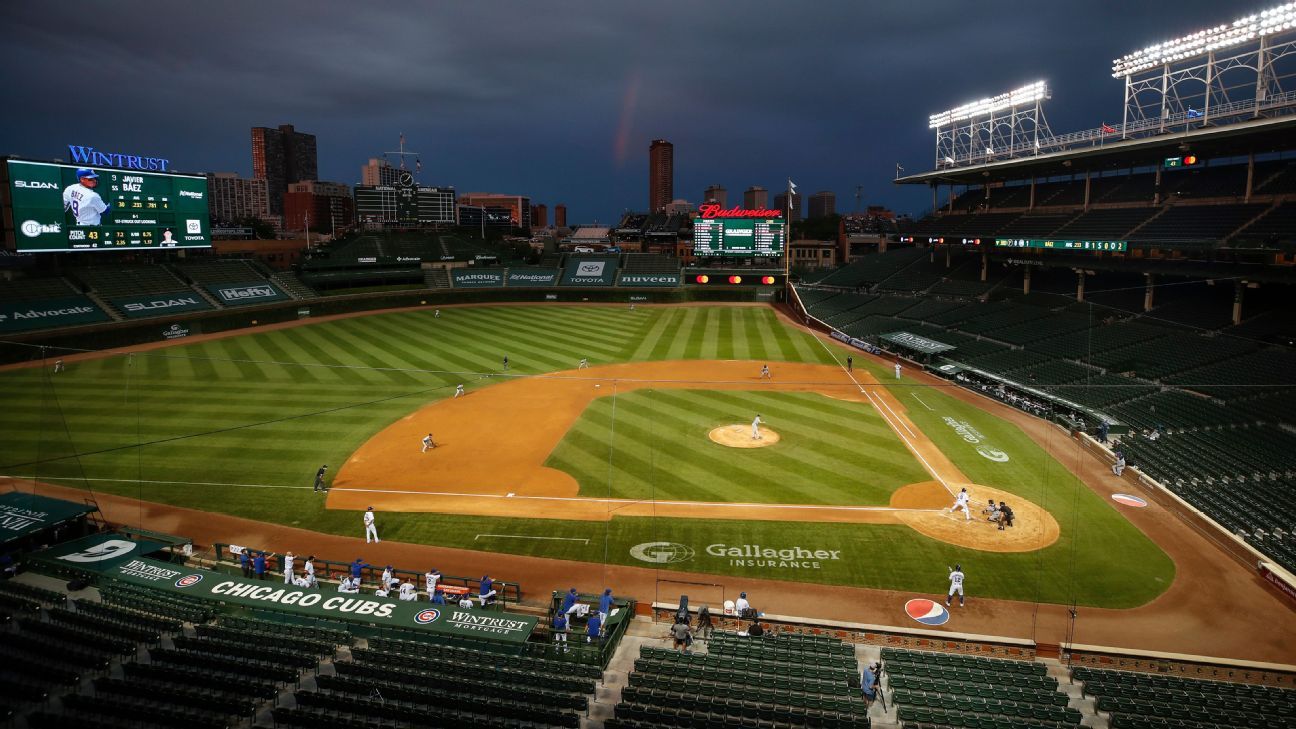 After weeks of frustration within the teams, the Cubs and White Sox have been approved for 100% capacity in the stands, with the Cubs announcing they'll start selling tickets to the entire stadium on Saturday.
The White Sox are expected to follow suit soon.
Both teams banded together in lobbying the city of Chicago to allow for 100% capacity. But as other cities were opening up, Chicago didn't budge. Once the state of Illinois announced a move to a final Phase 5 of reopening on June 11, the city finally announced the same a few days later.
The Cubs host the St. Louis Cardinals in a huge rivalry series the weekend of June 11 and were hoping they would get the go-ahead for full capacity so they could send season-ticket holders back to their normal seats and fill up Wrigley Field.
Both teams need to hire a large number of game-day employees to accommodate the increase from 60% capacity to 100%, so they needed as much advance notice as possible — hence the nervous frustration with the city.
The White Sox are expected to be ready for 100% capacity by the time a homestand begins on June 25.
New York Yankees' Luis Severino leaves rehab start with apparent leg injury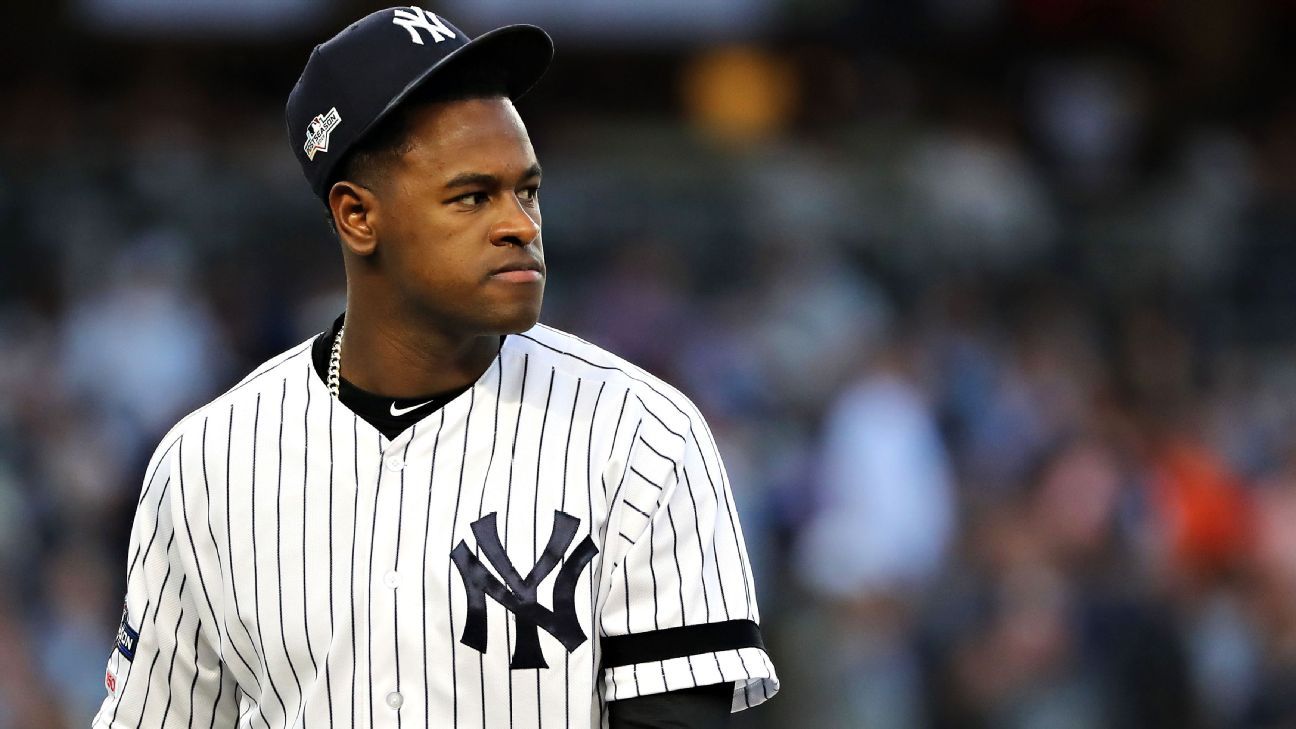 NEW YORK — Yankees right-hander Luis Severino was removed from a minor league rehab start Saturday with what appeared to be a painful injury to his right leg.
Severino was making his second rehab start following Tommy John surgery in February 2020, pitching for High Class A Hudson Valley against Brooklyn. The 27-year-old began to hobble quickly after throwing a pitch in the second inning. He limped behind the mound, struggling to put weight on his right leg. Coaches and a trainer had to help him off the field.
The Yankees did not provide an immediate update.
Severino looked sharp in his first rehab appearance, reaching 98 mph with his fastball. He pitched 1 2/3 innings Saturday, allowing a run, a hit and a walk while striking out three.
New York had hoped Severino could return this season to solidify a rotation led by Gerrit Cole. A two-time All-Star, Severino won 19 games in 2018 and signed a four-year, $40 million deal prior to 2019, but he has thrown just 12 big league innings since due to shoulder and elbow injuries.
Jim 'Mudcat' Grant, AL's first Black 20-game winner, dies at 85
MINNEAPOLIS — Jim "Mudcat" Grant, the first Black 20-game winner in the American League and a key part of the Minnesota Twins' first World Series team in 1965, has died. He was 85.
The Twins announced Grant's death Saturday. No cause was given. Grant's personal assistant, on behalf of the former right-hander's family, informed the Twins of the death.
The entire Minnesota Twins organization is saddened by the death of former pitcher Jim "Mudcat" Grant, who passed away at the age of 85. RIP Mudcat. pic.twitter.com/C5I9Bap9Yo

— Minnesota Twins (@Twins) June 12, 2021
Grant spent less than four full seasons of his 14-year major league career with the Twins, but they were by far his best.
After being acquired in a trade with Cleveland on June 15, 1964, for George Banks and Lee Stange, Grant led the American League with 21 wins in 1965. Don Newcombe of the Brooklyn Dodgers was the first Black 20-game winner in the majors in 1951.
Grant's big season helped the Twins post a 102-60 record for a spot in the World Series. He also led the league with six shutouts that year.
He started three times in that World Series against the Los Angeles Dodgers and won twice, including a 5-1, complete-game victory in Game 6, during which he also hit a three-run homer. Sandy Koufax and the Dodgers won Game 7.
Grant went 50-35 with a 3.35 ERA in 129 appearances, including 111 starts, with the Twins. He was traded to the Dodgers after the 1967 season and also pitched for Montreal, St. Louis, Oakland and Pittsburgh.
He was long known by his unique nickname, though there are varying stories on how it originated.
"Will never forget his smile, his voice or the way he could light up a room," Twins president Dave St. Peter tweeted.
Sources — MLB finalizing memo on rule against use of foreign substances by pitchers
Major League Baseball is putting the final touches on a memo that will detail the sport's rule against foreign substances, with the expectation among some sources that the document will be forwarded to teams sometime in the next few days and presented to coaching staffs and players, sources said.
The actual order to umpires to enforce the rule might occur a week later, in the range of June 21, according to sources. But the elongated rollout and source-driven discussion of the foreign substance crackdown has been by design, to some degree. MLB's hope is that pitchers who use foreign substances like Spider Tack and homemade super glues will be scared straight by the public conversation and stop using them, sources said.
The sport's powers, said one source, "do not want to find any violators of the foreign substance."
Another league source said: "I'm glad you're writing about this. I glad this is getting a lot of attention. It'd be great if we could get it cleaned up before they actually start enforcing the rule.
"The enforcement has not started yet because all parties involved want to give pitchers time to adjust."
Said a third source: "Nobody wants to see suspensions. But it's going to happen if somebody is found with something."
According to sources, the foreign substance checks will be designed to work like a DUI checkpoint — with randomness built in to reduce any pitcher's possible comfort level with the idea of violating the rule or applying substances after being checked during a game. There could be something in the range of eight to 10 checks per game, with each starting pitcher being stopped by umpires perhaps a couple of times a game. Position players will also be monitored for substances that might be ferried along to the pitcher on the mound for use — perhaps by rubbing a baseball against a pant leg or belt.
MLB recognizes that the foreign substance checks might slow down the game, so the umpires may be advised to conduct a lot of this new business as pitchers leave the mound after an inning or outing — during commercial breaks, essentially.
The current foreign substance rule has been on the book for decades, but baseball has effectively operated with an unspoken agreement between managers, players and teams to not ask the umpires to check pitchers because the use of substances was widespread and accepted as standard operating procedure. More benign substances like sunscreen and pine tar have been used by thousands of pitchers in professional baseball, with pitchers dabbing at shiny substances in their glove or on the forearm of their gloved hand out in the open. Some hitters spoke through the years of preferring opposing pitchers to have better control, to reduce the possibility of hit batsmen.
But as pitchers have learned to increase the spin rate on their pitches in recent years — some presumably through the use of more acute substances, such as Spider Tack — pitching has been increasingly dominant within the game. And this year, batters are being hit at a record rate.
When umpires begin enforcement, players will face possible suspension if found with anything from sunscreen to pine tar to some of the newer substances. The only substance currently legal is rosin, on the pitcher's hand.
Position players have been driving a lot of the midseason push for change, which is unusual within Major League Baseball. Josh Donaldson has been among the most outspoken about the competitive advantage that foreign substances can give a pitcher, but Giancarlo Stanton and others have chimed in — and even some pitchers, like the Angels' Alex Cobb, have privately or publicly supported change.
"It's just like the steroid era," Cobb told reporters. "Everybody else was using, and if you're not, you're living ethically but you're not going to be around this game very long. I'm glad that guys won't have to be put in that position."
The working relationship between the players' association and Major League Baseball has been tense in these last months before the expiration of the current collective bargaining agreement in December, the inherent distrust reflected in the recent comments by Pete Alonso, who said it is a "fact" that MLB changes the composition of the baseball in order to affect free-agent markets.
Weeks ago, Major League Baseball and the union leadership talked through a presentation about the growing issue of pitchers effectively weaponizing foreign substances. But recently, sources say, there has been little direct contact between MLB and the Players Association; in fact, the communication has been through the umpires' union, much like estranged spouses speaking through a mutual friend.