Jacksonville Jaguars propose $441M project for stand-alone football facility
JACKSONVILLE, Fla. — The Jacksonville Jaguars and owner Shad Khan are proposing a plan for a development project around TIAA Bank Field that would include the stand-alone football facility desired by coach Urban Meyer.
The cost for the two-phase project would be more than $441 million, with Khan paying for half of the $120 million football facility. The Jaguars hope the project is the first step in what they are calling the Stadium of the Future for Jaguars fans, meaning eventual significant renovations — or possibly even a brand new one — within the next decade.
"Shad is making a big bet on our future," Jaguars president Mark Lamping said in a statement. "So, this is a big plan. Working together, we can make this happen."
A transformational moment for the City of Jacksonville and the @Jaguars. #OwnIt pic.twitter.com/v3nql0EHK5

— Urban Meyer (@CoachUrbanMeyer) June 3, 2021
While the team hopes construction could begin by the end of the year, the proposal still must gain approval from multiple city committees as well as the city council. Khan had been the driving force of a previous $450 million project proposal similar to the new proposal (sans practice facility) in another area adjacent to the stadium but the city council failed to reach a majority vote last January and the project was shelved.
Meyer has been vocal about his desire for a new football facility because he believes the team's current setup — in which everything is contained in the bowels of TIAA Bank Field — is inadequate.
The proposed 125,000-square-foot facility would be constructed outside the north end of the stadium and would include locker rooms, meeting rooms, training and recovery areas, medical support facilities, a weight room, dining areas, offices. It would also include public viewing stands, restrooms, concession areas, a retail store and a public meeting space.
In addition, there would be two full-size grass practice fields and a full-size indoor practice field. The Jaguars currently have an indoor practice field on the south end of the stadium, but the new plan would give it to the city's parks and recreation department for 300-plus days a year.
The proposal said the team will sign a long-term lease of the facility and it — and not the city — would be responsible for ongoing maintenance and operational costs.
The team and its affiliated real estate development company hope construction could begin by the end of the year and completed in 2023.
Having a separate facility outside the stadium would allow the team to continue its normal operations while work is done on the city-owned stadium, the team said in its release. The team has been laying the groundwork for significant work to the city-owned stadium but did not release a proposal for potential renovations or construction to the stadium or whether Khan would be willing to contribute any money to that project.
Khan, however, has previously contributed $76 million to help pay for previous renovations: $11 million on locker room and weight-room renovations, $20 million to help erect the NFL's largest scoreboards and construct two pools, and $45 million to help fund an indoor practice facility, outdoor amphitheater and renovate the club seats.
Among the other items in Phase 1 of the proposal would be a Four Seasons hotel and residences, office space and renovations to the city-owned marina. The team said total cost for Phase 1 would be $441 million.
Phase 2 includes an orthopedic sports medicine complex, retail space and a parking structure. No cost was listed for Phase 2.
"My goal is for downtown Jacksonville to be the envy of cities here in the U.S. and elsewhere, and I see no reason why we can't achieve that goal," Khan said in a statement. "I am confident we have the local leadership, spirit and commitment to revitalize downtown Jacksonville in a manner that will make the world take notice while also serving the needs of the community and the people who make Jacksonville their home."
Kansas City Chiefs hope Kyle Long back by start of regular season after leg injury in practice
KANSAS CITY, Mo. — The Chiefs are hopeful guard Kyle Long can return for the start of the regular season after he injured his leg Wednesday, sources told ESPN.
Long was signed by the Chiefs in the offseason after he ended his retirement after one year. He wrote about the injury on Thursday on his Twitter account.
"I did everything I could to get back for football," Long said. "Zero regrets. … Focusing on controlling the things I can control. Yesterday was not one of those things!"
I did everything I could to prepare to get back for football. Zero regrets. I've been getting better everyday and having so much fun with my new team. Focusing on controlling the things I can control. Yesterday was not one of those things! Thanks for the well wishes.

— Kyle (@Ky1eLong) June 10, 2021
Long, 32, was working as the starting right guard at offseason practice. Other candidates to start include Laurent Duvernay-Tardif and rookie Trey Smith.
Drafted 20th overall by the Chicago Bears in 2013, Long missed just one game over his first three seasons, in which he was selected to three consecutive Pro Bowls, but appeared in just 30 regular-season contests over his last four years with the team because of a variety of injuries. He announced his retirement in January of last year.
NFL Network first reported that Long had suffered a leg injury.
Fantasy Football cheat sheets – Updated 2021 player rankings, PPR, non-PPR, depth charts, dynasty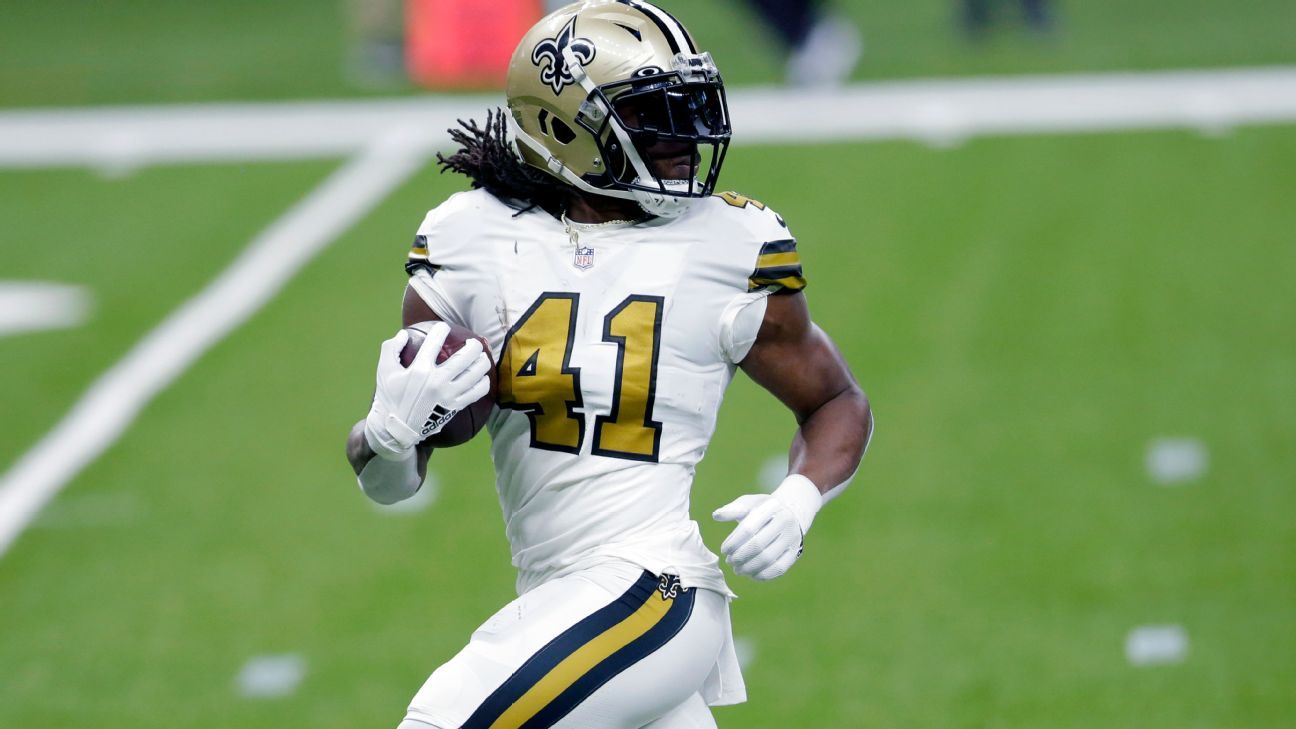 If you're seeking a one-stop shop for updated 2021 fantasy football rankings and cheat sheets throughout the summer, you've come to the right place. Below, you will find them for PPR and non-PPR formats, as well as dynasty leagues.
PPR positional cheat sheet
One sheet with players broken down by position, including overall rank, salary-cap value and bye weeks for leagues that award one point for each catch. Download »
PPR top-300 cheat sheet
This sheet features 300 players in order of overall draft value, with positional rank, salary-cap value and bye-week information for leagues that reward each catch with a point. Download »
Non-PPR positional cheat sheet
For leagues using the scoring format that doesn't award an extra point for each reception. One sheet with players broken down by position, including overall rank, salary-cap value and bye weeks. Download »
Non-PPR top-300 cheat sheet
This sheet features 300 players in order of overall draft value, with positional rank, salary-cap value and bye-week information. Download »
Mike Clay's team-by-team projection guide
If you want the full breakdown for all 32 teams, you've come to the right place. Download »
NFL team depth chart cheat sheet
Fantasy depth charts for each NFL team: top two QBs, three running backs, four wide receivers, two tight ends and a kicker. Prioritized by fantasy value in PPR leagues rather than role defined on a traditional NFL depth chart, includes players' positional ranks. Download »
Dynasty cheat sheet
Features the top 240 players and 60 best rookies to make all of your keeper and dynasty league decisions. Includes the age of players at the start of the 2021 season. Download »
*All cheat sheets are in PDF format. Your device must be equipped with a PDF reader for you to access and print the cheat sheet.
From Liberia to the Ravens: How Gus Edwards' journey came full circle – Baltimore Ravens Blog
OWINGS MILLS, Md. — Baltimore Ravens running back Gus Edwards was about sign his two-year $10 million extension on Monday when he thought to pick up his phone and share the moment with his father.
"What's crazy is that my father is actually in Liberia right now," Edwards said. "He was like, 'I'm at the house right now.'"
Edwards lived in Liberia until he was five years old, when he immigrated to the United States with his mother. Edwards' aunt was fortunate to go to America after winning a lottery as part of the Diversity Visa program, and the family decided Edwards' father and sister would be the two members who would accompany her. A few years later, Edwards joined them, escaping the country during the Second Liberian Civil War.
Edwards, 26, doesn't remember much about his time in Liberia, outside of taking his farewell pictures on his last day there. On Monday, he posted a picture on Instagram of his father standing in front of his childhood home, which showed the crumbling concrete steps and the deteriorating cinder block walls. Edwards then signed his new deal with Baltimore, which gave him a $3.75 million signing bonus as well as a sense of his journey coming full circle.
"It was just fantastic — just seeing everything come together," Edwards said. "It's been a blessing."
A journey 🙏💜 @GodsGiftGus13 pic.twitter.com/7DpW98z93a

— Baltimore Ravens (@Ravens) June 7, 2021
Edwards is a punishing downhill runner in the only NFL offense to ever total more than 3,000 yards rushing in consecutive seasons. He's often been overlooked, maintaining a low-key personality while playing behind the likes of Mark Ingram II and J.K. Dobbins.
But few players have been as efficient as Edwards. Of the 31 players who have run the ball at least 400 times over the past three seasons, only two have averaged more yards per carry than Edwards (5.20): former NFL MVP Lamar Jackson (6.0) and two-time Pro Bowl running back Nick Chubb (5.23).
"He deserves a lot more credit than he gets," tight end Mark Andrews said at the end of last season. "He's the heart and the soul of our team with everything he does, the way he runs the ball. He breaks tackles left and right. He's a beast."
Just like he fights for every yard, Edwards had to battle for his spot in Baltimore after being the team's No. 5 running back three years ago. Undrafted out of Rutgers in 2018, Edwards was cut before the regular season, as the Ravens kept Alex Collins, Buck Allen and Kenneth Dixon at running back.
Edwards was signed to the Ravens' practice squad, but he had to bide his time. When Dixon went on injured reserve with a knee injury after the season opener, Baltimore promoted De'Lance Turner instead of Edwards to replace Dixon.
It wasn't until Turner hurt his hamstring in early October that Edwards was placed on the 53-man roster. And it wasn't until Jackson took over as the starting quarterback midway through the season that Edwards got a shot to start.
Meshing instantly in Baltimore's new read-pass option attack, Edwards produced 654 yards rushing in the final seven games of 2018, which ranked behind only Saquon Barkley and Derrick Henry over that span.
"He's a guy who we all root for," Ravens coach John Harbaugh said. "I think he's a really good fit in our offense, and he understands that. He's just a really good fit, also, in our personality as a football team. We appreciate him and the way he plays, and the way he carries himself. He's just really the most deserving guy."
In each of the past two years, the Ravens have added to the backfield, signing Ingram in free agency in 2019 and drafting Dobbins in the second round in 2020. But Edwards has kept plowing ahead, gaining a first down on an NFL-best 30.9% of his carries since 2018.
"That's one person, for sure, when you're in the hole with [him], you've got to brace yourself and get ready, because Gus is 'Gus the Bus' for a reason," Ravens linebacker Patrick Queen said. "He earned that money."
A restricted free agent, Edwards could have tested the market after the season. Instead, he struck a deal with Baltimore that places him among the top 20 highest-paid backs in the league in average per year.
Staying at a place that feels like home, especially with the path Edwards has taken, means a lot to him.
"I feel like I have unfinished business here," Edwards said. "I'm comfortable here, I'm happy here and it works for me. In one way or another, I was hoping to stay. I'm just blessed."