San Francisco Giants to recognize Pride Month on jerseys, caps on Saturday
The San Francisco Giants will celebrate Pride Month by displaying Pride colors on the right sleeve of their home jerseys and on the "SF" logo of their caps for Saturday's game against the Chicago Cubs, an unprecedented move in Major League Baseball's ongoing inclusion efforts.
Pride Month — a tribute to the Stonewall Uprising of 1969, a major event in the advancement of LGBTQ+ rights in the United States — is celebrated every June. The new Pride logo incorporates 11 colors, including the original six Pride colors to signify inclusion and progression (red, orange, yellow, green, blue and purple), plus black and brown to recognize LGBTQ+ people of color, and light blue, pink and white to recognize people who are transgender.
Billy Beane, MLB's first ambassador for inclusion, will take part in Saturday's events at Oracle Park, where the palm trees in Willie Mays Plaza will be wrapped in the 11 colors of the Pride flag. The Oracle Park scoreboard will also display Pride colors throughout June.
#PRIDE pic.twitter.com/O1PN5x7y6I

— Oracle Park (@OracleParkSF) June 1, 2021
"We are extremely proud to stand with the LGBTQ+ community as we kick off one of the best annual celebrations in San Francisco by paying honor to the countless achievements and contributions of all those who identify as LGBTQ+ and are allies of the LGBTQ+ community," Giants president and CEO Larry Baer wrote in a statement as part of the team's announcement on Tuesday.
Giants manager Gabe Kapler said he is "very proud that the San Francisco Giants are taking this step, very proud to be a part of it, and looking forward to the impact and the support that we can provide for the LGBTQ+ community."
New York Mets' Pete Alonso posits that MLB 'manipulates the baseball' based on free-agent class
NEW YORK — Mets first baseman Pete Alonso said Wednesday that he disagrees with MLB's crackdown on pitcher-friendly foreign substances, and that the larger issue facing the sport is the league's manipulation of baseballs depending on free-agent class — a theory he presented as "fact."
"The biggest concern is MLB manipulates the baseball year in and year out depending on free-agency class, or guys being in an advanced part of their arbitration," Alonso said during a videoconference with reporters.
Asked in a follow-up question if the idea of MLB manipulating baseballs based on free-agent class is something players "talk about and believe in," Alonso replied, "Oh no, that's a fact."
He continued: "In 2019, there was a huge class of free-agent pitchers and then that's quote-unquote 'the juiced balls,' and then 2020 was a strange year with the COVID season. But now that we're back to playing in a regular season with a ton of shortstops or position players that are going to be paid a lot of money like high-caliber players — I mean, yeah, that's not a coincidence. It's definitely something that they do."
The 2021-22 free agency is highlighted by shortstops Trevor Story, Corey Seager, Javier Baez and Carlos Correa. MLB set a leaguewide record for home runs in 2019, just two years after the previous record was broken. Pitchers around the league speculated that the baseballs were juiced in favor of the hitters.
The theory from Alonso, which he presented as fact despite providing no concrete evidence, underscores the growing distrust between the players and the league ahead of the expiration of the current collective bargaining agreement in December.
Alonso also said he didn't think MLB was doing the right thing by cracking down on pitchers using sticky stuff while on the mound.
"For me, whether they are using pine tar, rosin, sunscreen or bullfrog or whatever they want to use to control the ball, let them use it because for me I go into the box and see guys throwing harder every day," Alonso said. "And I don't want 99 mph slipping out of someone's hand because they didn't have enough feel for it."
The recent incident featuring Mets outfielder Kevin Pillar getting hit in the face by a pitch came top of mind for Alonso.
"We all saw what happened to Kevin Pillar," Alonso said. "And that's scary. We are lucky he only had a broken nose. It could be a lot worse depending on where it hits the guy."
Alonso said that while hitting, he uses his batting gloves, a grip and pine tar to grip the baseball bat.
"Maybe if the league didn't change the baseballs," Alonso said, "guys wouldn't have to use as much sticky stuff."
Ex-Boston Red Sox slugger David Ortiz has surgery for stomach hernias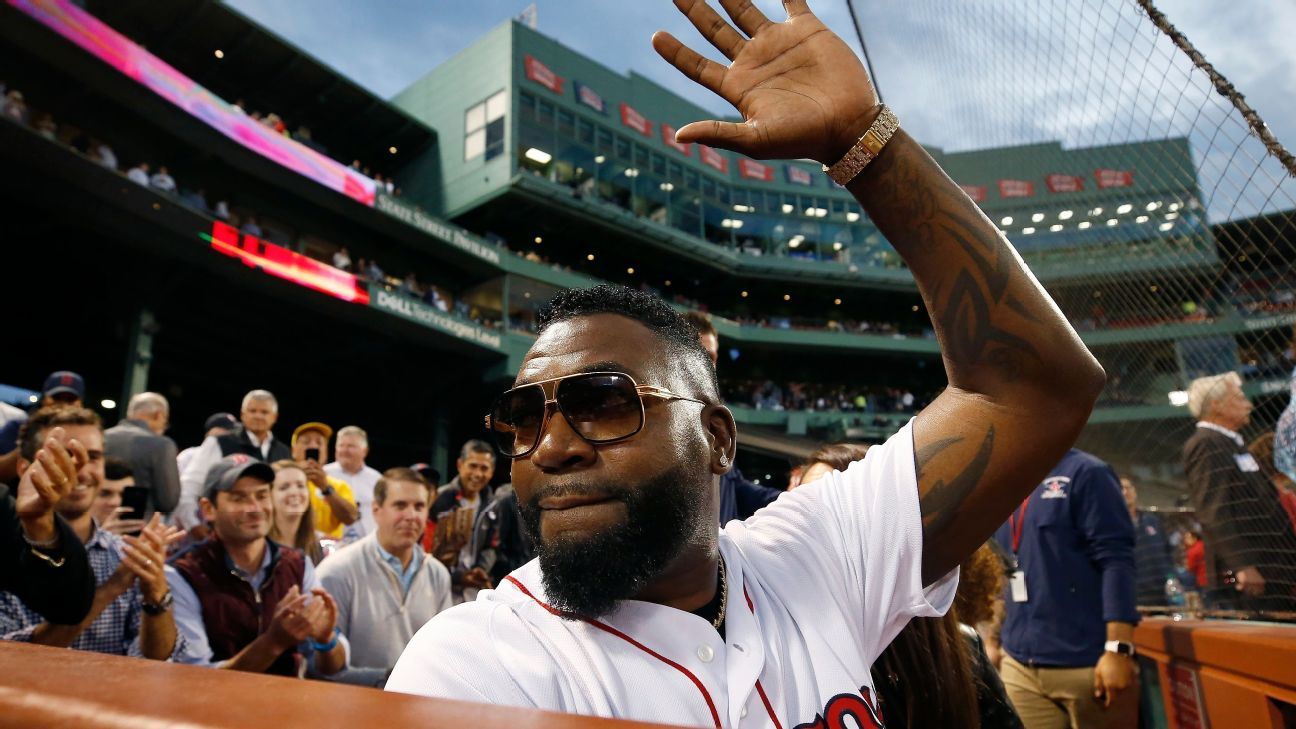 Former Boston Red Sox slugger David Ortiz underwent surgery Wednesday for two stomach hernias, which were the product of his injuries from the attack he suffered exactly two years ago in Santo Domingo, Dominican Republic.
The procedure, which was performed at Massachusetts General Hospital in Boston, had been scheduled since February and is considered low-risk, although Ortiz will be under observation for several days, a source told ESPN Deportes.
Ortiz posted a photo Wednesday on WhatsApp where he appears dressed in hospital clothing. Last week, he attended the game played between the Dominican Republic and United States during the WBSC Baseball Americas Qualifier in West Palm Beach, Florida.
Ortiz was shot in the back at an entertainment center in the Dominican Republic capital on June 9, 2019. He had to undergo emergency surgery in Santo Domingo and Boston. The bullet, which entered through his back and left through his abdomen, affected several organs.
Thirteen people were arrested and are still awaiting the formal start of a trial. Last week, the Second Investigative Court of the Santo Domingo province rescheduled the preliminary trial to July 9.
Baseball Hall of Fame induction ceremony moved to Sept. 8
The Class of 2020 — Derek Jeter, Marvin Miller, Ted Simmons and Larry Walker — will have to wait a little bit longer to be inducted into the National Baseball Hall of Fame this summer, it was announced Wednesday.
The induction ceremony, which had been scheduled for July 25 in Cooperstown, New York, instead will be held at 1:30 p.m. ET on Wednesday, Sept. 8. It will take place outdoors in front of limited crowds as coronavirus restrictions ease.
"On behalf of our Board of Directors and our Staff, we are thrilled to be able to welcome our Hall of Famers — the living legends — and fans back to Cooperstown to celebrate the Induction of the Class of 2020," Hall of Fame chairman Jane Forbes Clark said in a statement. "Returning the Induction Ceremony to an outdoor event will provide the baseball community with the opportunity to visit Cooperstown and celebrate the Induction of four of the game's Greats."
No players were elected for induction in the Class of 2021.
An estimated 55,000 fans attended the 2019 induction ceremony. Last year's event was postponed due to the coronavirus pandemic — the first time since 1960 without an induction ceremony.
The ceremony will take place outdoors on the Hall's lawn as a ticketed event, the Hall said Wednesday. Tickets will be available starting July 12.
The Hall's award presentations will remain on July 24 as an indoor, television-only event. The presentations include the Baseball Writers' Association of America Career Excellence Awards for 2020 to the late Nick Cafardo and for 2021 to Dick Kaegel, of the Ford C. Frick Awards for broadcasting excellence for 2020 to Ken Harrelson and for 2021 to Al Michaels, and of the 2020 Buck O'Neil Lifetime Achievement Award winner, David Montgomery.
The Associated Press contributed to this report.