New York Mets' Marcus Stroman irked by 'racist undertones' after crack from analyst Bob Brenly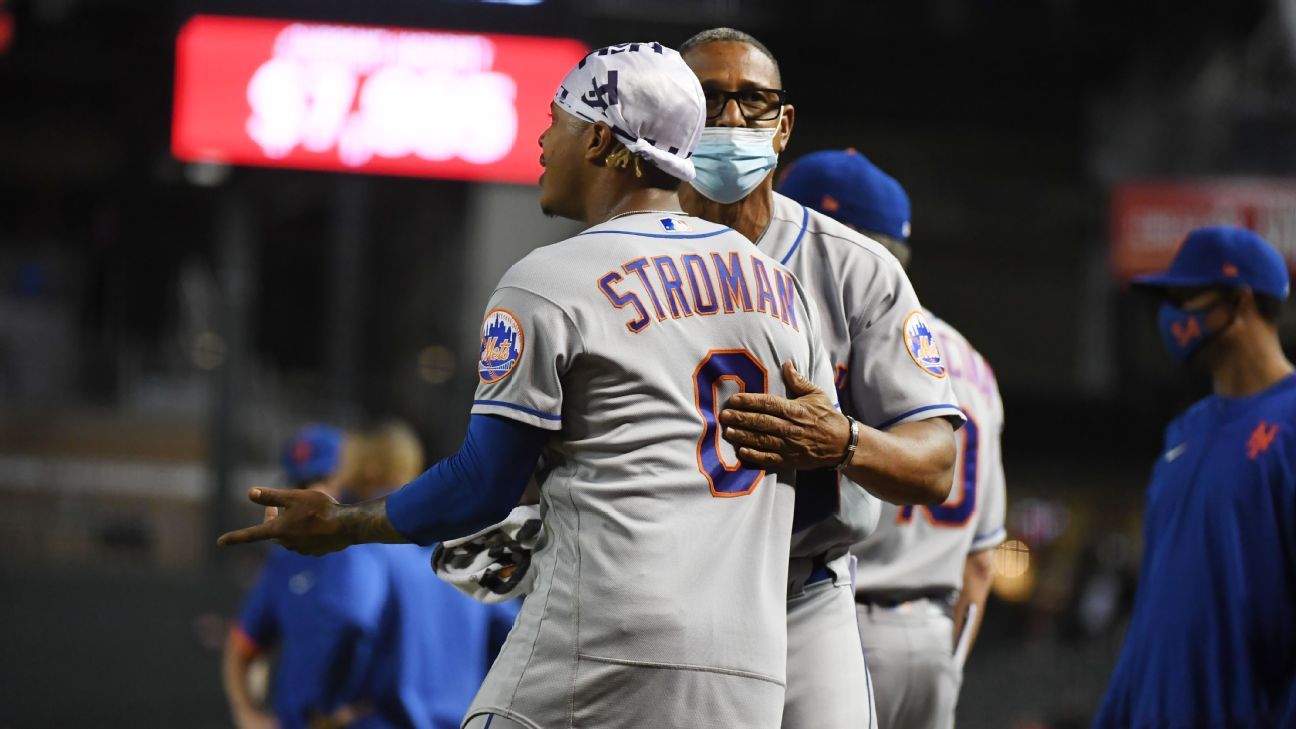 Mets pitcher Marcus Stroman referred to "racist undertones" in a tweet late Tuesday night after television analyst Bob Brenly made comments about the right-hander's head covering during New York's game against the Diamondbacks.
Brenly, the former World Series-winning manager who now calls Diamondbacks games for Bally Sports Arizona, made a crack about Stroman's attire during the fourth inning Tuesday.
"Pretty sure that's the same durag that Tom Seaver used to wear when he pitched for the Mets," Brenly said during the telecast.
After the game, Stroman tweeted, "Onward and upward…through all adversity and racist undertones. The climb continues through all!"
Onward and upward…through all adversity and racist undertones. The climb continues through all! 🗣

— Marcus Stroman (@STR0) June 2, 2021
Stroman, who is Black and has been outspoken on issues concerning race and social justice, also retweeted several tweets from Twitter users who called out Brenly for "racism." Stroman replied to one tweet, saying the "media will turn this against me somehow" if he publicly criticizes Brenly, who is white.
Stroman started in the Mets' 6-5, 10-inning loss to the Diamondbacks. He allowed seven hits and three runs in six innings, striking out six.
Stroman also was involved in a verbal spat on the field with Josh Rojas, which led to the benches emptying, but no punches thrown.
The Associated Press contributed to this report.
Chicago White Sox place 2B Nick Madrigal on 60-day IL with hamstring tear
The Chicago White Sox have placed second baseman Nick Madrigal on the 60-day injured list with what the team said is a proximal tear of his right hamstring.
Madrigal was hurt trying to beat out a grounder to end the seventh inning in Wednesday night's loss to the Blue Jays.
Additional tests Thursday revealed the tear.
In the corresponding roster move, the White Sox purchased the contract of outfielder Brian Goodwin from Triple-A Charlotte.
Judge rejects effort to return MLB All-Star Game to Georgia
NEW YORK — A Manhattan judge on Thursday rejected an attempt to force Major League Baseball to return next month's All-Star Game to Atlanta.
U.S. District Judge Valerie E. Carponi ruled against a not-for-profit organization representing small businesses, saying a lawsuit had failed to provide proof that its members have suffered any injuries by the decision to move the game.
The lawsuit filed May 31 alleged that Major League Baseball acted unconstitutionally when it moved the game from the Atlanta Braves' stadium to Denver after Georgia Republicans enacted a restrictive new voting law.
According to the lawsuit, businesses in the Atlanta metro region would lose $100 million because the All-Star Game would not be there.
The rewrite of Georgia's election rules followed former President Donald Trump's repeated unproven claims of fraud after his presidential loss to President Joe Biden.
Biden has declared the Georgia law "un-American" and "Jim Crow in the 21st century."
MLB commissioner Rob Manfred has said he decided to move the All-Star events after discussions with individual players and the Players Alliance, an organization of Black players formed after the death of George Floyd last year.
Before ruling, Caproni verbally sparred for over an hour with attorney Howard Kleinhendler, making it clear that she thought there were no grounds for the lawsuit's claims and that his organization did not have standing to sue. After taking a brief break, Caproni made those findings from the bench.
The lawsuit had sought $100 million in compensatory damages and $1 billion in punitive damages. The lawyer said he represented the Washington-based Job Creators Network, described in the lawsuit as a nonpartisan organization supporting over 30 million businesses nationwide, including over 10,000 Georgia businesses.
He said his client supports the new Georgia election law.
At one point, Caproni said: "This case is not about whether the Georgia law is a good law or a bad law."
After Caproni made it clear through her questioning of Kleinhendler that she would rule against the lawsuit, attorneys for Major League Baseball and the MLB Players Association kept their arguments brief.
In ruling, Caproni said she had doubts whether Atlanta businesses could have suffered anything close to $100 million in damages. She said the plaintiff further undermined its case when it suggested that Major League Baseball could remedy the harm by setting up a $100 million relief fund for harmed businesses.
Such a fund, she noted, would make it hard to argue any harm would be irreparable.
Last-place Arizona Diamondbacks fire hitting coach Darnell Coles, assistant Eric Hinske
The struggling Arizona Diamondbacks fired hitting coach Darnell Coles and assistant hitting coach Eric Hinske on Thursday.
Triple-A hitting coach Rick Short and run production coordinator Drew Hedman were promoted to co-hitting coaches.
Arizona, currently in last place in the National League West with a 20-43 record, have lost seven straight games and 19 in a row on the road. Their road slide is the longest such streak in Major League Baseball since 1985.
The Diamondbacks are currently third-to-last in the National League with a .231 batting average and fourth-to-last in OPS at .685.
The Associated Press contributed to this report.