The Chicago Cubs keep getting injured — and keep winning
CHICAGO — Thompson, Stewart, Wisdom & Nance.
They sound like a law firm, but they were the driving force for the Chicago Cubs in edging out the San Diego Padres for the best record in the National League in the month of May.
The Cubs' 7-2 win at Wrigley Field over San Diego on Memorial Day gave them a 19-8 month — great in and of itself, but even better considering they currently have the most players (nine) on the 10-day injured list of any team in the majors.
That's why Chicago's depth performers such as Monday's starter Kohl Stewart have been huge. Stewart was making his seventh career start and first since 2019 with the Minnesota Twins because righty Trevor Williams underwent an emergency appendectomy over the weekend. Stewart held the Padres to one unearned run over five innings.
He was aided by Patrick Wisdom's two home runs and a stolen base. Who's that, you ask? Wisdom is 29 and playing on his third major league team.
Meanwhile, rookie Keegan Thompson threw 2⅓ innings on Monday and finally gave up a run — a long ball to MVP candidate Fernando Tatis Jr. Thompson's ERA is 0.52.
Tommy Nance pitched the final inning to a raucous Wrigley Field crowd at 60% capacity. It's a far cry from his likely quieter independent ball days, as Nance is yet another come-out-of-nowhere story for Chicago.
Starting to get the picture? The Cubs are getting injured, calling up players and still winning.
"They're not rookies," Chicago manager David Ross said after the latest win. "These guys have been preparing for this moment. Last year has a lot to do with it. These guys worked with big leaguers or Triple-A players, no matter what their experience was."
Most of that experience was at the Cubs' alternate site, which prepared players to be ready when called upon. But no one thought they'd have this much success this quickly.
"That's something in our game that doesn't get enough [attention], is just the ability to be around other big leaguers that have had experiences that can talk about the big leagues and what it's like to compete at that level and help guys out," Ross said. That's something we have going for us right now."
And their manager has been at the center of it all, meeting with the team's trainers and doctors about as much as he is with the players.
Jason Heyward, Jake Marisnick, Nico Hoerner, Matt Duffy, David Bote, Alec Mills and Justin Steele are just a few of the walking wounded. And that doesn't even include Anthony Rizzo, who isn't on the injured list but has missed the past week with a bad back. He and the others have turned into cheerleaders.
"They're rooting for these guys, and it's encouraging as the manager of the team that guys are handling things," Ross said.
Providing an atmosphere for young or new players to succeed right away is a key element to the 2021 season. The mounting number of injuries are forcing teams to rely on their depth like never before. The squads that can bring out the best in their new or young players might be the ones standing at the end of the season.
"It was a good month," Ross said. "We cleaned up a lot of areas. Everyone is pulling on the same side of the rope."
And that includes the pending free agents for the Cubs. Throw a dart at their roster and you're likely to hit someone who will be testing the market this fall. It's why a good start to their season was essential — to keep the distractions of the trade deadline or upcoming free agency at bay. Ross and his team have done a great job of it so far.
Take Javier Baez. He was getting close to possibly signing a long-term deal with the team just days before the pandemic hit. Now, he's still waiting for his payday while having to put up numbers in case he gets to free agency in November.
After two home runs on Monday, including a 455-foot center-field blast, Baez can continue to hold off on his 2022 plans for another day. This is about the team right now.
"We're going to have the ups and downs during the season," Baez said. "The way we are together during those ups and downs is going to be even longer when we do good."
In other words, Baez believes if his Cubs team sticks together, and keeps the noise away, it will be even better on the field as the season progresses.
Having said all that, Baez did take notice of a highly-paid Padres infield, perhaps wondering what the Cubs will do with their own set of infield stars. Baez will be a free agent along with Kris Bryant and Rizzo — unless any or all sign up to stay. So far, that hasn't happened.
"We were talking about it in our dugout," Baez stated. "If you look around their infield, it's a great infield, it's an expensive infield."
On Monday, with two of the Cubs' starting infielders down, it still wasn't better than the home team. In fact, the game produced a feat only accomplished one other time in franchise history.
Wisdom and Baez are the second pair of Cubs to hit two home runs as the starting left side of the infield. Bryant — who also homered — was at first base for the ailing Rizzo while Wisdom was at third in place of Duffy.
Keeping track of the Cubs' injury merry-go-round hasn't been easy.
Yet they keep winning.
"A lot of people are getting hurt because we're not used to a full season," Baez said. "We'll see how these young guys adjust to the team and showing what they can do."
Two separate west coast trips in June, combined with rivalry series with Milwaukee and St. Louis, will tell a lot about the Cubs as they enter trading season in July. For now, they can savor their May. It was a winning one and a complete organizational effort.
"We knew we had a good team to start the season and when you get to prove your beliefs and have a really good month like we just had, it's really encouraging," Ross said.
Ex-Boston Red Sox slugger David Ortiz has surgery for stomach hernias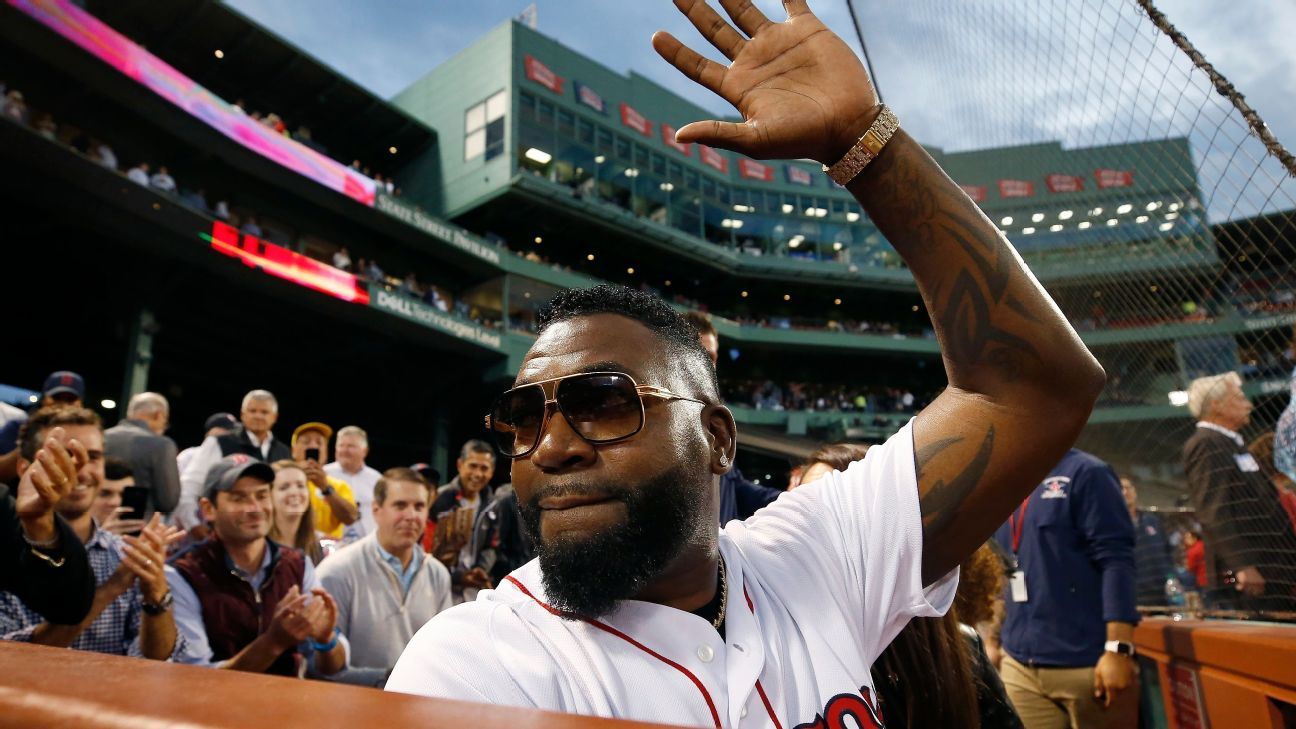 Former Boston Red Sox slugger David Ortiz underwent surgery Wednesday for two stomach hernias, which were the product of his injuries from the attack he suffered exactly two years ago in Santo Domingo, Dominican Republic.
The procedure, which was performed at Massachusetts General Hospital in Boston, had been scheduled since February and is considered low-risk, although Ortiz will be under observation for several days, a source told ESPN Deportes.
Ortiz posted a photo Wednesday on WhatsApp where he appears dressed in hospital clothing. Last week, he attended the game played between the Dominican Republic and United States during the WBSC Baseball Americas Qualifier in West Palm Beach, Florida.
Ortiz was shot in the back at an entertainment center in the Dominican Republic capital on June 9, 2019. He had to undergo emergency surgery in Santo Domingo and Boston. The bullet, which entered through his back and left through his abdomen, affected several organs.
Thirteen people were arrested and are still awaiting the formal start of a trial. Last week, the Second Investigative Court of the Santo Domingo province rescheduled the preliminary trial to July 9.
Baseball Hall of Fame induction ceremony moved to Sept. 8
The Class of 2020 — Derek Jeter, Marvin Miller, Ted Simmons and Larry Walker — will have to wait a little bit longer to be inducted into the National Baseball Hall of Fame this summer, it was announced Wednesday.
The induction ceremony, which had been scheduled for July 25 in Cooperstown, New York, instead will be held at 1:30 p.m. ET on Wednesday, Sept. 8. It will take place outdoors in front of limited crowds as coronavirus restrictions ease.
"On behalf of our Board of Directors and our Staff, we are thrilled to be able to welcome our Hall of Famers — the living legends — and fans back to Cooperstown to celebrate the Induction of the Class of 2020," Hall of Fame chairman Jane Forbes Clark said in a statement. "Returning the Induction Ceremony to an outdoor event will provide the baseball community with the opportunity to visit Cooperstown and celebrate the Induction of four of the game's Greats."
No players were elected for induction in the Class of 2021.
An estimated 55,000 fans attended the 2019 induction ceremony. Last year's event was postponed due to the coronavirus pandemic — the first time since 1960 without an induction ceremony.
The ceremony will take place outdoors on the Hall's lawn as a ticketed event, the Hall said Wednesday. Tickets will be available starting July 12.
The Hall's award presentations will remain on July 24 as an indoor, television-only event. The presentations include the Baseball Writers' Association of America Career Excellence Awards for 2020 to the late Nick Cafardo and for 2021 to Dick Kaegel, of the Ford C. Frick Awards for broadcasting excellence for 2020 to Ken Harrelson and for 2021 to Al Michaels, and of the 2020 Buck O'Neil Lifetime Achievement Award winner, David Montgomery.
The Associated Press contributed to this report.
Pittsburgh Pirates rookie Ke'Bryan Hayes loses home run after missing first base
PITTSBURGH — Ke'Bryan Hayes forgot to touch 'em all.
The Pittsburgh Pirates rookie third baseman missed first base while running out a home run Tuesday night against the Los Angeles Dodgers and was called out after a replay review.
Hayes stung an opposite-field line drive in the first inning against the Dodgers' Walker Buehler that narrowly cleared the right-field wall, just inside the foul pole. Running hard and with his eyes on the ball, Hayes missed touching first base with his left foot by two or three inches and kept on going.
Dodgers manager Dave Roberts challenged, and umpires overturned the call after a short video review.
"Obviously, Ke' got caught watching the ball," Pittsburgh manager Derek Shelton said. "It's one of those things that Ke' thought he caught the back corner of [the bag], and he didn't. If he even thinks he misses it, he has to go back and touch it."
The Pirates did not make Hayes available to reporters following the game.
Hayes was also thrown out at second base trying to tag up from first on a flyout to left field to end the third inning.
The 24-year-old Hayes — the son of former 14-year big leaguer Charlie Hayes — hit .376 with five homers in 24 games last season and entered 2021 as a heavy favorite to win NL Rookie of the Year. He sprained his left wrist in Pittsburgh's second game and missed two months, finally returning to action last week.
Hayes wasn't the only top prospect with a homer trot miscue Tuesday. Kansas City Royals minor leaguer Bobby Witt Jr., the club's top prospect, was called out after an umpire ruled he missed home plate finishing out a homer for Double-A Northwest Arkansas. It would have been Witt's second homer of the game.
Earlier this season, the Pirates' Will Craig made an egregious fielding mistake when all he had to do was tag Chicago Cubs baserunner Javier Baez or touch first for the final out of an inning. Craig has since been designated for assignment by Pittsburgh.
The Associated Press contributed to this report.