Jacob deGrom's gem lowers ERA to 0.71, lowest through May since 1964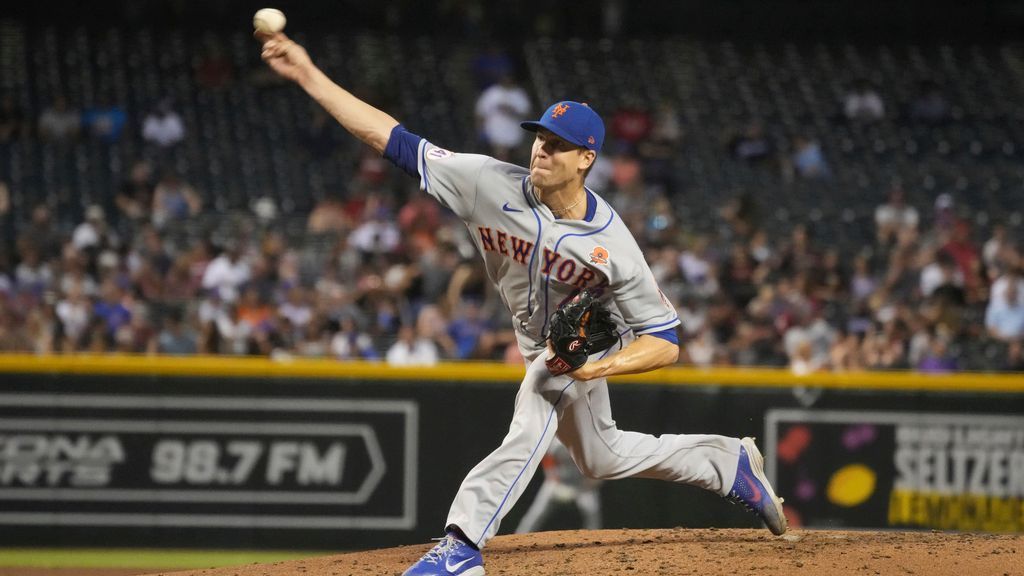 Jacob deGrom continues to make history with his otherworldly start to his 2021 season.
In his second start since returning from the injured list, deGrom tossed six scoreless innings in the Mets' 6-2 victory over the Diamondbacks, lowering his ERA to 0.71, the lowest for a qualified starter through the end of May since Chris Short had a 0.64 ERA for the Phillies in 1964.
The Mets' ace improved to 4-2 with just four earned runs in 51 innings. In his eight starts, he's allowed no runs three times, one run four times and three unearned runs in a game at Coors Field in April. With eight strikeouts in his six innings on Monday night, he's now up to 82 with just seven walks.
Before deGrom, the last pitcher with a sub-1.00 ERA through May was Ubaldo Jimenez of the Rockies in 2010 with a 0.78.
DeGrom didn't allow a hit until the fifth inning on an Arizona night when his fastball was absolutely blistering. Working with an extra day of rest after Sunday night's game in which he was scheduled to pitch was rained out, four of his pitches in the first inning clocked 101 mph, a velocity he had reached on just three previous pitches all season.
He finished with a ridiculous 27 pitches of 100-plus mph, the third-most in a single game since 2008.
DeGrom admitted the thoughts of a no-hitter entered his head after retiring the first 13 batters. The bid ended with Diamondbacks catcher Carson Kelly's single to center in the bottom of the fifth.
"I'd be lying if I said it didn't, but we had discussed six innings or 85 pitches, so I think if I would have a perfect game or no-hitter still going, I would have wanted to stay out there," deGrom said. "I guess when I gave up the hit it made the decision a little easier."
DeGrom's eight-game run isn't impressive just for the start of a season. Since earned runs became official in 1913, the only other pitcher with at least 80 strikeouts and an ERA as low as deGrom's over an eight-game span was Chris Sale, who had 90 strikeouts with a 0.53 ERA in 51 innings over one eight-start stretch from June to August in 2018.
DeGrom even went 1-for-3 with an RBI at the plate, raising his season average to .450. Opponents are hitting .129 off him.
In case you wondering: Bob Gibson had a 1.53 ERA at the end of May in 1968, when he finished with a 1.12 ERA. After allowing three runs in his first start of June, he then went on a run of epic nature, allowing just three runs (all earned) over his next 11 starts and 99 innings (all complete games), a 0.27 ERA that lowered his season mark to 0.96 at the end of July.
With a 5-0 lead entering the bottom of the seventh, manager Luis Rojas played it conservative and removed deGrom after 70 pitches. For the Mets, it was their fifth straight win on a night of good news. Pete Alonso returned from a two-week stint on the injured list and drove in four runs with a two-run single and a two-run, 442-foot home run in the seventh inning.
Kevin Pillar also returned from multiple facial fractures after getting hit by a pitch on May 17. Wearing a plastic shield to cover his nose, Pillar entered as a defensive replacement in center field and made an excellent running catch at the base of the wall, also going 1-for-1 at the plate.
Reliever Seth Lugo was also activated for the first time all season, although he didn't pitch.
San Diego Padres' Yu Darvish honors former Chicago Cubs teammate Anthony Rizzo with walk-up song
Yu Darvish's name was announced at Petco Park to begin the bottom of the third inning on Wednesday afternoon, and "Intoxicated," a popular house song by Martin Solveig and GTA, blared over the speakers.
Chicago Cubs first baseman Anthony Rizzo, who famously uses that song as his walk-up music, threw his arms up in the air in mock disgust. Darvish, the former Cubs starter in his first season with the San Diego Padres, cracked a big smile as he approached the batter's box.
Darvish, making his first start against the Cubs since an offseason trade, wasn't trolling Rizzo.
He was paying homage.
"I used that song because it was Rizzo who kind of took care of me when things weren't really working my way in Chicago," Darvish said through his interpreter after the Padres' 3-1 loss. "It was, in a way, to say 'thank you' to him. And obviously I have a good relationship with him."
Darvish continued his remarkable season in the rematch against his former team, allowing only two runs over seven innings to put his ERA at 2.28 through his first 13 starts with his new team. But the Padres, collectively struggling offensively in recent weeks, lost for the 10th time in their last 17 games.
Darvish, 34, finished second in National League Cy Young Award voting last year and has been among the game's best pitchers since the start of the 2020 season, going 14-5 with a 2.15 ERA, 185 strikeouts and only 33 walks in 155 innings.
Darvish's time with the Cubs got off to a rough start. He joined them on a six-year, $126 million contract in February of 2018 and was limited to only eight starts that season. But he turned it around in 2019, posting a 3.98 ERA in 178 2/3 innings, then reached another level in the pandemic-shortened season.
"Looking back, I had some ups and downs in Chicago," Darvish said. "Good times and bad times, looking in retrospect. But what I find is that the fans, the organization, and even the media members there — I had tremendous amount of support to get through my years there. So there's a sense of, I guess, gratefulness there."
Gerrit Cole not the only pitcher with a dropping spin rate
Josh Donaldson spoke with reporters for about 30 minutes on the field before Wednesday's game between the Twins and Yankees at Target Field, and the Minnesota third baseman said he wasn't calling out New York ace Gerrit Cole last week when he referenced Cole's diminished spin rate in his previous start.
"When I say something, it's been thought through before. It's not just something on a whim," Donaldson said. "I would say this: With Gerrit Cole, he was the first guy to pitch since the [minor league] suspensions had happened and he was the first guy you could see spin rates going down. Since Gerrit did that — we're going off an interview that was done four or five days ago — there have been 12 or more guys already whose spin rates have magically dropped in the last week. So it's not just Gerrit Cole; I want to get that out. With that being said, we'll see how it plays out."
Cole's average spin rate in his previous start against the Tampa Bay Rays — in which he allowed five runs in five innings — was his lowest in a start since 2018. His average spin rate in 2021 entering that outing was 2,520 rotations per minute and fell to 2,429 against the Rays. His fastball rpm fell from 2,561 to 2,436 and his curveball from 2,840 to 2,763.
"Is it a coincidence Gerrit Cole's spin rate went down yesterday after four minor leaguers get suspended for 10 games?" Donaldson had said last week. "Is that possible? I don't know. Maybe."
With MLB indicating it soon will start cracking down on illegal substances applied to the baseball, other pitchers also have seen their rpms fall. Los Angeles Dodgers starter Trevor Bauer, who had seen his average spin rate increase dramatically the past two seasons, also had his lowest average spin rate of 2021 in his last start, averaging 2,780 rpms after averaging 2,888 rpms heading into that game.
Asked Tuesday about Donaldson's comments, Cole said, "I kind of felt it was a bit of low-hanging fruit, but he's entitled to voice his opinion. I just have other things that I need to keep my focus on, so respectfully I can't worry about that type of stuff. I would say as a member of the executive council and the union, part of my role there is to facilitate communication about all things involving the game and I'm open to doing that."
Donaldson responded Wednesday to Cole's non-answer about whether he had ever used a substance called Spider Tack by saying, "I saw the response. That's him and his camp. I can't control his response, right? I think at the end of the day, time is going to tell what happens. And I'm not in his position so I don't have to wear that when I sleep at night."
With some speculation that Cole might throw at Donaldson on Wednesday, he instead went right after him in the bottom of the first inning, striking out Donaldson on a 1-2 big-breaking curveball that measured 2,901 rpms — a higher spin rate than all but one curveball he threw against the Rays. Cole stared in at home plate as Donaldson walked away to the dugout. In the third inning, Cole fanned Donaldson for a second time, on a 2-2 slider that was up and in, and once again gave him a little extra look.
Donaldson, the 2015 American League MVP with the Toronto Blue Jays, has always been an outspoken player and said he decided to speak out on the foreign substance issue because "Nobody's speaking up for the hitters. So it's probably not going to be as serious as if it's a rookie or somebody else that doesn't have the time in the big leagues. So I felt like, for myself, it was almost a responsibility for me to say something because that's how serious I think [the problem of grip substances] is."
Last week, Donaldson said, "Hitters never cared about sunscreen, rosin or pine tar. We haven't cared about that because it's not a performance enhancement. What these guys are doing now is performance enhancing."
Donaldson reinforced that stance on Wednesday.
"Just think about how many pitches I've seen in my career, think about Nelson Cruz, a lot of these guys who have seen a lot of pitches," he said. "We know when stuff's up. It's hard to probably find the ingredient to what's causing that. But now that there's been some enlightenment to that, that's why you're seeing guys take a stance on it."
ESPN's Marly Rivera contributed to this report.
Tampa Bay Rays prospect Tyler Zombro discharged from hospital
Tampa Bay Rays pitching prospect Tyler Zombro was discharged from Duke University Hospital on Wednesday afternoon, six days after he was struck in the head by a line drive during a game in Durham, North Carolina.
The Rays said Zombro and his family will remain in Durham and continue outpatient and occupational therapy.
"The Rays extend their gratitude to the doctors, nurses and staff caring for Tyler, and continue to be overwhelmed by the support for his recovery," the Rays said.
Zombro, a 26-year-old reliever for the Rays' Triple-A affiliate, the Durham Bulls, had been in stable condition since June 3, when the incident occurred in the eighth inning of a game against the Norfolk Tides.
Zombro was struck in the face by a line drive off the bat of Brett Cumberland and immediately fell to the ground. His feet appeared to be shaking as an athletic trainer rushed to him. Zombro was taken off the field on a stretcher as teammates looked on.
Zombro has been in the Rays' organization since 2017, when he signed as an undrafted free agent out of George Mason. He has a 3.18 ERA this season and a 2.79 career ERA in the minors.