Bruce Arians unsure how much Tom Brady will do in Tampa Bay Buccaneers' minicamp
TAMPA, Fla. — Tampa Bay Buccaneers coach Bruce Arians said Tuesday he's unsure how much quarterback Tom Brady will do in next week's mandatory minicamp because of his recovery from offseason knee surgery.
Brady has been throwing in private workouts with teammates instead of OTAs, but Arians said he might err on the side of caution.
"I don't know how much I'll let him do … with guys chasing him around," Arians said. "We'll see. We'll see what the doctors say. He may be doing a lot of coaching."
Arians was not present last week when Brady took him up on his offer to throw to teammates at the team facility outside of OTAs on Friday, with no coaches present. That was after Brady and teammates practiced last Monday at the Yankees' practice facility in Tampa. Arians wanted Brady and his teammates to be protected, should a player suffer an injury.
"Evidently it was a real good workout," Arians said. "I wasn't here but from everything I heard, it was a real good workout. He's not in town right now, but I would hope some of those guys that have been with him would come in here tomorrow. We'll see."
Arians reiterated his support for players practicing on their own, and indicated that he understood their reasons for wanting to do so, to gain more rapport with Brady.
But it also puts a young guy like second-year wide receiver Tyler Johnson in a pickle, as he was buried on the depth chart last season and had to fight for his opportunities.
"I wish he'd be over here," Arians said of Johnson. "He's not the dumbass — Tom's throwing him the ball over there, so I might be with Tom too."
Running back Ke'Shawn Vaughn, who was present for last week's OTAs, was absent this week, and is in a similar predicament.
"Ke'Shawn decided to work out with those guys. It's their choice, but hopefully he'll make a better decision tomorrow."
Arians also said rookie outside linebacker Joe Tryon, the Bucs' 32nd-overall draft pick, is "real close" to passing his physical and believes he will be cleared to participate in minicamp.
Nine things to watch at NFL minicamps
Nine NFL teams open their mandatory three-day minicamps this week, with the rest of the teams to follow next week (except for the Philadelphia Eagles, who have elected not to have a minicamp this offseason). Most of the practices will be Tuesday through Thursday, though the Super Bowl champion Tampa Bay Buccaneers will begin theirs Monday.
Teams have already been going through organized team activities, but for some, this is the first time that veterans will take the field since the end of the 2020 season. Of course, the biggest stories in some places will be which veterans don't take the field, aka Aaron Rodgers watch in Green Bay, as the Packers are among the teams participating in mandatory camps this week. The Dallas Cowboys and Atlanta Falcons — who just traded away star receiver Julio Jones — also are having their camps.
We asked our NFL Nation reporters to preview this week's minicamps and tell us the biggest thing they are watching from all nine camps. Come back next week for a primer on the rest of the minicamps.
Jump to a team:
ATL | DAL | DET | GB
LAR | NO | NYG | TB | WSH


What will the Falcons' offense look like without Julio Jones?
Jones is off to Tennessee, and the first practice without him will be at minicamp, where theoretically all of Atlanta's offensive options — including Calvin Ridley, Russell Gage and Kyle Pitts — will be in attendance. Seeing how these players work together with Matt Ryan, along with who might be taking an early lead as a No. 3 receiver, is going to be the primary thing to pay attention to throughout the week. — Michael Rothstein
---

Can the revamped Dallas defense continue its positive momentum?
The obvious storyline is Dak Prescott and his return from a serious right ankle injury, but the quarterback has looked good in the two OTAs open to the media. There is more up in the air about the defense, although there have been encouraging signs this spring in the changes Dan Quinn is bringing. The biggest change is the level of communication that has gone on throughout the group.
After virtual meetings leading up to camp a year ago, players were unsure of the new scheme and it was noticeable by how quiet practices were on the defensive end. With on-field work this spring, plus virtual meetings, there is a lot more talking between groups and an understanding as to what is expected. The Cowboys' hope is that level of understanding leads to players going faster and making more plays when things get real. — Todd Archer
---
Who are the wide receivers?
Detroit's receiving corps doesn't look strong on paper, and it will be interesting to see who steps up as a primary target in Jared Goff's first season. Some guys to watch out for are Tyrell Williams, Breshad Perriman and Quintez Cephus. Fourth-round draft pick Amon-Ra St. Brown is also looking to take someone's spot. — Eric Woodyard
---
How will Jordan Love look with his full complement of receivers?
Now that it appears certain that Aaron Rodgers will skip the mandatory minicamp, Love should finally get to work with the top receivers. The 2020 first-round pick hasn't had many experienced targets to work with during OTAs because the top-four returning receivers (Davante Adams, Marquez Valdes-Scantling, Allen Lazard and Equanimeous St. Brown) along with 2020 opt-out Devin Funchess have all stayed away. They're expected to attend this week's camp. Love has favored check-down passes during the practices that have been open to reporters, but now he shouldn't have any reason not to take some more shots down the field.
---
Quarterback Matthew Stafford's integration into the offense.
Stafford is entering his 13th NFL season, but his first in L.A. His arrival from Detroit immediately put the Rams in the Super Bowl conversation, but there is plenty of work to be done as Stafford continues to learn the offense and the tendencies of his new playmakers. — Lindsey Thiry
---
Jameis Winston and Taysom Hill?
The Saints aren't having a traditional minicamp with full practice sessions. So we'll have to wait until late July to see how they divvy up first-string snaps between Winston and Hill at quarterback. But the competition is already well underway as the Saints install a playbook without Drew Brees as the conductor for the first time in 16 years. — Mike Triplett
---

Daniel Jones working with all of his new weapons.
There is Kenny Golladay, first-round pick Kadarius Toney, speedster John Ross, running back Devontae Booker. How will they all fit in this offense? And what is Saquon Barkley doing as he rehabs the torn ACL? — Jordan Raanan
---
How much will Tom Brady do on his surgically repaired knee?
He has been throwing for three weeks now in private workouts with teammates, but coach Bruce Arians said he may have Brady do more coaching on the sidelines and not take any chances. They'll have Blaine Gabbert, Ryan Griffin and Kyle Trask if Brady can't go. — Jenna Laine
---
Chase Young's return.
He was the only player not to attend at least some of the six voluntary workout sessions. Young is a workout maven and was doing his work elsewhere and was in communication with the coaches (who would always prefer everyone attends). But this will be the first time to see Young since the season ended and to see how he'll start building on a strong rookie season. There's been a good energy at Washington's practices; having Young back could lead to more. — John Keim
New England Patriots owner Robert Kraft gifted new Bentley from celebrity friends for 80th birthday
FOXBOROUGH, Mass. — New England Patriots owner Robert Kraft celebrated his 80th birthday on Sunday, with some of his celebrity friends surprising him with an unexpected gift — a sparkling new Bentley.
Rapper Meek Mill posted a video on his Instagram account of a stunned Kraft receiving the car. Philadelphia 76ers co-owner Michael Rubin, the chairman of Fanatics, contributed to the gift, as did Jay-Z, among others.
All have worked together in creating the Reform Alliance, which since its inception in 2019 aims to transform probation and parole in the United States.
In the video posted on Instagram, Kraft put both hands on his head after first seeing the car, and said "Oh my God!" He had apparently been hoping to buy a Bentley, but seemingly wasn't able to find the car he was looking for, which led to his surprise.
"How did you get it?" Kraft asked Rubin.
Kraft was then told the car had been delivered on a flatbed from Florida.
Kraft's connection to Meek Mill is well documented. He met him through Rubin, and visited the rapper in prison in 2018, then spoke publicly on Mill's behalf that his sentence was unfair and reflective of a broken criminal justice system.
"It makes it clear to me that we have to do something with criminal justice reform," Kraft said at the time. "His kind of case, in a situation like this, it's really bad. I know some of our players in the NFL have talked about this and I see it firsthand; it's just wrong. We have to find a way to correct it."
After the Patriots won Super Bowl LIII over the Los Angeles Rams, Kraft wore a thick gold chain at the victory parade that was gifted to him by Meek Mill.
Cameron Kinley is not the only player to have his debut delayed by military service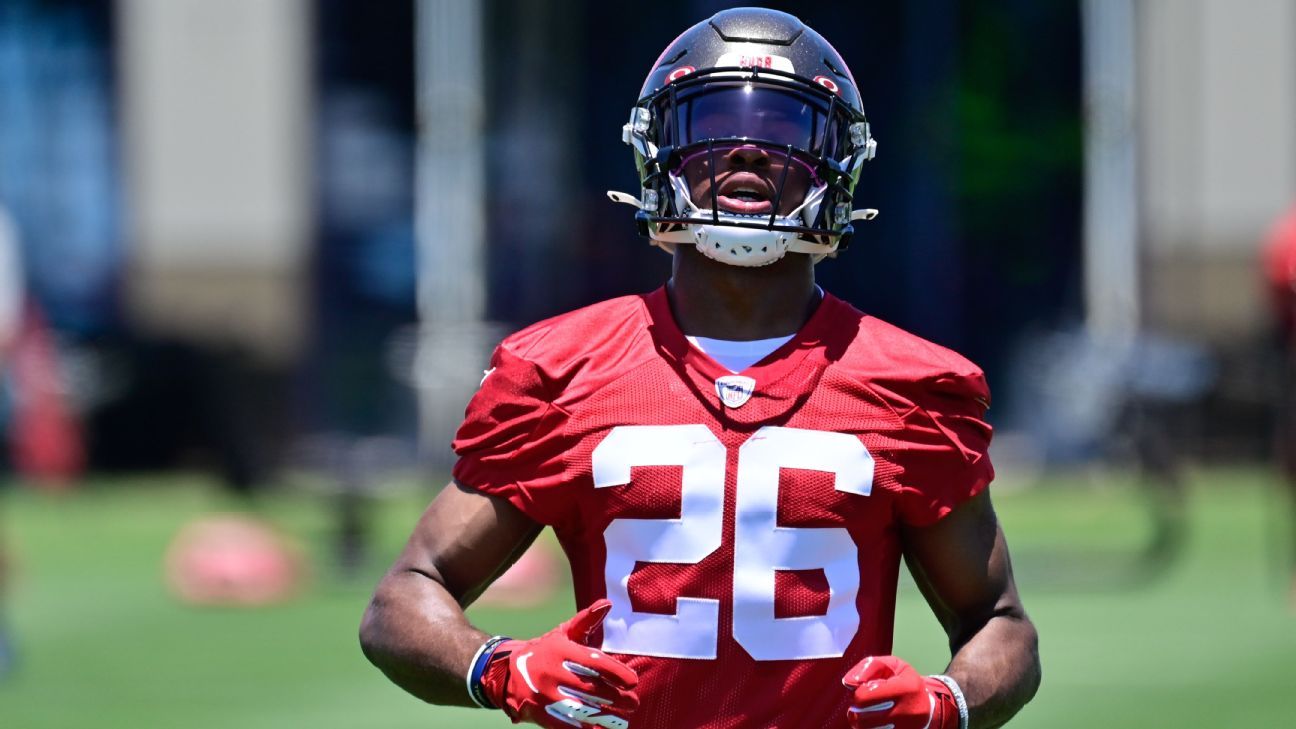 Cameron Kinley will have to wait a little while longer to make his NFL debut.
The rookie cornerback, who signed with the Tampa Bay Buccaneers as an undrafted free agent this year, was a team captain and class president at Navy. He requested to delay his commission in order to begin his NFL career, but that request has been denied, and he's being required to commission as an ensign, with no chance to appeal.
Kinley can take some solace in knowing he's not the only player who's had to complete his military service before beginning his pro sports dream. ESPN Stats and Information Group came up with a list of some notable others.
Roger Staubach
The future Hall of Famer and 1963 Heisman Trophy winner was a 10th-round future selection by the Dallas Cowboys in 1964, but due to his Naval commission did not join the Cowboys until 1969. Staubach spent a year in South Vietnam during his service. He won two Super Bowls with the Cowboys and made the Hall of Fame in 1985.
Phil McConkey
The wide receiver started his NFL career at 27 after spending five years in the Navy as an officer. McConkey signed with the New York Giants and had a 25-yard punt return, a 44-yard reception on a flea flicker, and a touchdown catch in Super Bowl XXI. He'd play in the league from 1984-1989.
Napoleon McCallum
McCallum actually was able to play his rookie season for the Los Angeles Raiders due to being stationed in Southern California in 1986. He was then assigned to the USS California in 1987, which was sailing the Indian Ocean at the time, temporarily halting his career. McCallum returned to the Raiders after his service was done in 1990 and played until 1994.
Nicknamed "The Admiral," Lieutenant David Robinson was drafted by the San Antonio Spurs No. 1 overall in 1987. He served two years with the Navy before returning to the Spurs in 1989, due to working out a deal with Secretary of Navy John Lehman to only serve two years instead of the required four. Robinson joined the Spurs in 1989, won two titles and an MVP award, was a member of the "Dream Team" and made the Hall of Fame after he retired.
Villanueva went undrafted in 2010 and went into service in the U.S. Army. After completing his service, he attempted to make the NFL again and signed with the Eagles after an open tryout in 2014. Though he was cut before playing with Philadelphia, he ended up signing with the Pittsburgh Steelers, playing with them until 2020. He signed with the Baltimore Ravens for the 2021 season.