Vols assistant Cutcliffe offered Duke job
KNOXVILLE, Tenn. —
Duke has offered the university's head coaching job to Tennessee offensive coordinator David Cutcliffe, a Knoxville newspaper reported.
The report, appearing on the Knoxville News Sentinel's Web site Friday, quotes sources in the Vols football program as saying he is expected to accept the post.
Cutcliffe and Tennessee coach Phillip Fulmer did not return numerous calls from the News Sentinel seeking comment.
Tennessee athletic director Mike Hamilton declined comment, citing a professional policy not to address coaching searches.
The paper said Cutcliffe returned to Tennessee on Thursday after interviewing Wednesday in Durham, N.C.
A spokeswoman in the Tennessee athletic department told The Associated Press late Thursday night that she had not heard anything about Cutcliffe receiving an offer.
Duke fired Ted Roof following a 1-11 record.
Cutcliffe has been Tennessee offensive coordinator for two seasons. He was head coach at Ole Miss from 1999-2004.
While there, he compiled a 44-29 record with the Rebels and coached Ole Miss to four bowl victories against one loss. He was the only Rebels coach in history to win at least seven games in each of his first five seasons.
The Blue Devils have won just 22 games in 13 years, including three losing streaks of 15 games or more.
Two coaches that Duke had interviewed withdrew their names from consideration. Ex-Navy coach Paul Johnson chose Georgia Tech and Bobby Johnson pulled his name out to remain at Vanderbilt.
It is unknown whether Cutcliffe will continue to coach the Vols through bowl practice. Tennessee will play Wisconsin in the Outback Bowl in Tampa, Fla., on Jan. 1. Bowl practice resumes on Friday, following a four-day break for final exams.
Information from The Associated Press was used in this report.
Joey Votto back with Cincinnati Reds after more than month on IL with fractured thumb
The Cincinnati Reds activated first baseman Joey Votto from the injured list Tuesday after he had missed more than a month with a fractured left thumb.
He is batting cleanup and playing first base in Tuesday night's game at Great American Ball Park against the Milwaukee Brewers.
Votto last played for the Reds on May 5 against the Chicago White Sox, when he suffered the thumb injury after he was hit by a Dallas Keuchel changeup.
He just completed a rehabilitation assignment at Triple-A Louisville, and the team said he was able to catch throws at first base with minimal soreness.
Votto, a former National League MVP and six-time All-Star, is hitting .226 with five home runs and 17 RBIs in 29 games this season.
The Reds placed right-hander Michael Feliz (elbow) on the 10-day injured list in a corresponding move, which was made retroactive to Monday.
The Associated Press contributed to this report.
Washington Nationals' Austin Voth put on injured list with fractured nose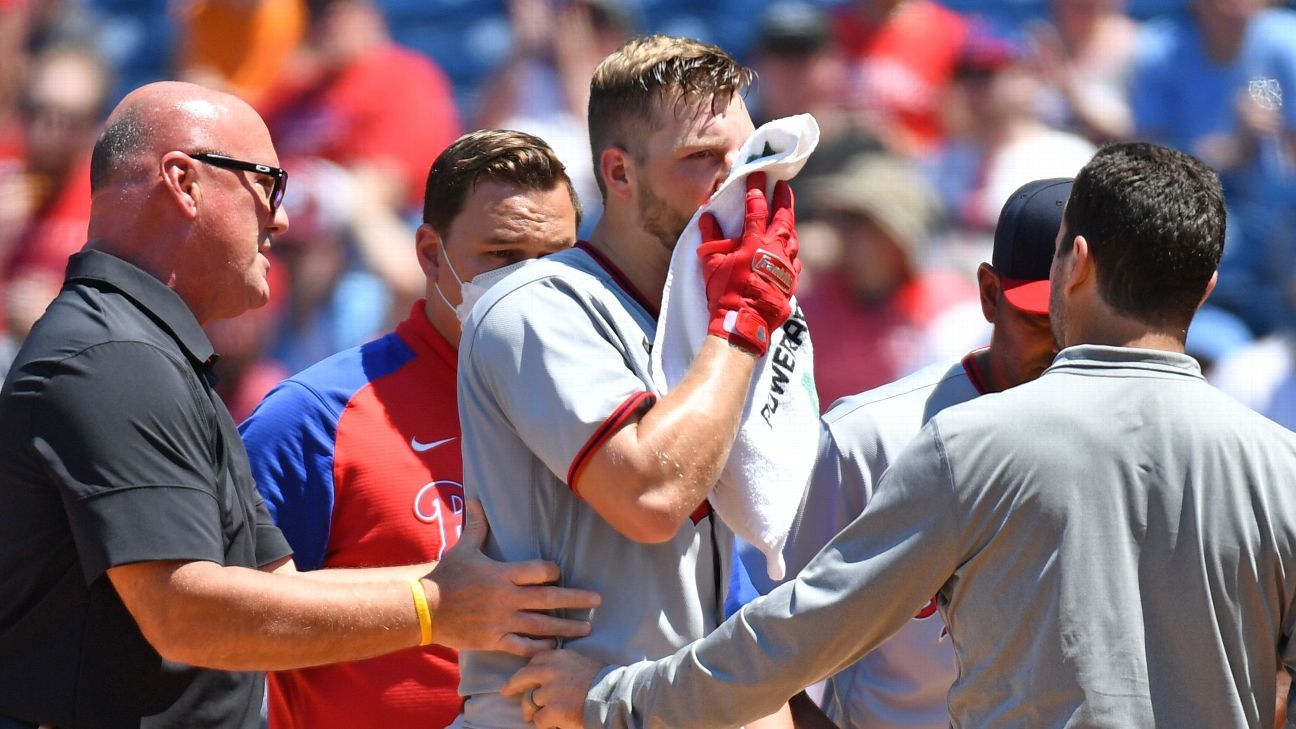 ST. PETERSBURG, Fla. — The Washington Nationals put pitcher Austin Voth on the 10-day injured list with a fractured nose on Tuesday.
Voth was sent to a Philadelphia hospital Sunday to get his nose reset after it was broken when he was hit by a pitch while squaring around to bunt against Philadelphia's Vince Velasquez. He exited with a towel covering a gash across his nose after the ball deflected off the bill of his batting helmet.
Washington manager Dave Martinez said Voth's nose was broken in a few places and his left eye is pretty much swollen shut.
"Now it's just about getting him healed up," Martinez said. "He said he feels fine. We've got to the swelling down. He's going to be out for some time until we get the eye back open and we'll go from there. He wanted to thank everybody for their concerns."
Martinez said Phillies manager Joe Girardi called Tuesday to check on Voth, who is 2-0 with a 2.73 ERA in 19 games, including one start.
"I felt that was pretty awesome," Martinez said.
Right-hander Ryne Harper was recalled from Triple-A Rochester as the Nationals started a two-game series at Tampa Bay. He is making his third stint with Washington this season, making two relief appearances.
New York Mets' Jeff McNeil expected to start rehab assignment by Sunday
BALTIMORE — – New York Mets manager Luis Rojas said Tuesday that he expects infielder Jeff McNeil to begin a rehab assignment by the end of the weekend.
McNeil hasn't played since May 16 because of a strained left hamstring. He's hitting .242 with three home runs and eight RBIs on the season, but he batted over .300 each of his first three years in the big leagues, and the injury-plagued Mets could certainly use him back.
Rojas also said outfielder Michael Conforto (right hamstring strain) is probably a couple weeks from starting his rehab assignment, but he's been able to hit and do defensive work. Outfielder Albert Almora (bruised left shoulder) was set to begin a rehab assignment Tuesday night, and infielder Luis Guillorme (right oblique strain) could be activated for the weekend.
McNeil was expected to be out until late June, but Rojas said he's responded well to treatment and has been able to take grounders, run and swing the bat.
Despite their injuries, the Mets entered Tuesday night's game at Baltimore with a 3 1/2-game lead in the NL East.