May MLB Quirkjians – A month of May, May and Mays, plus Anderson, Anderson and Anderson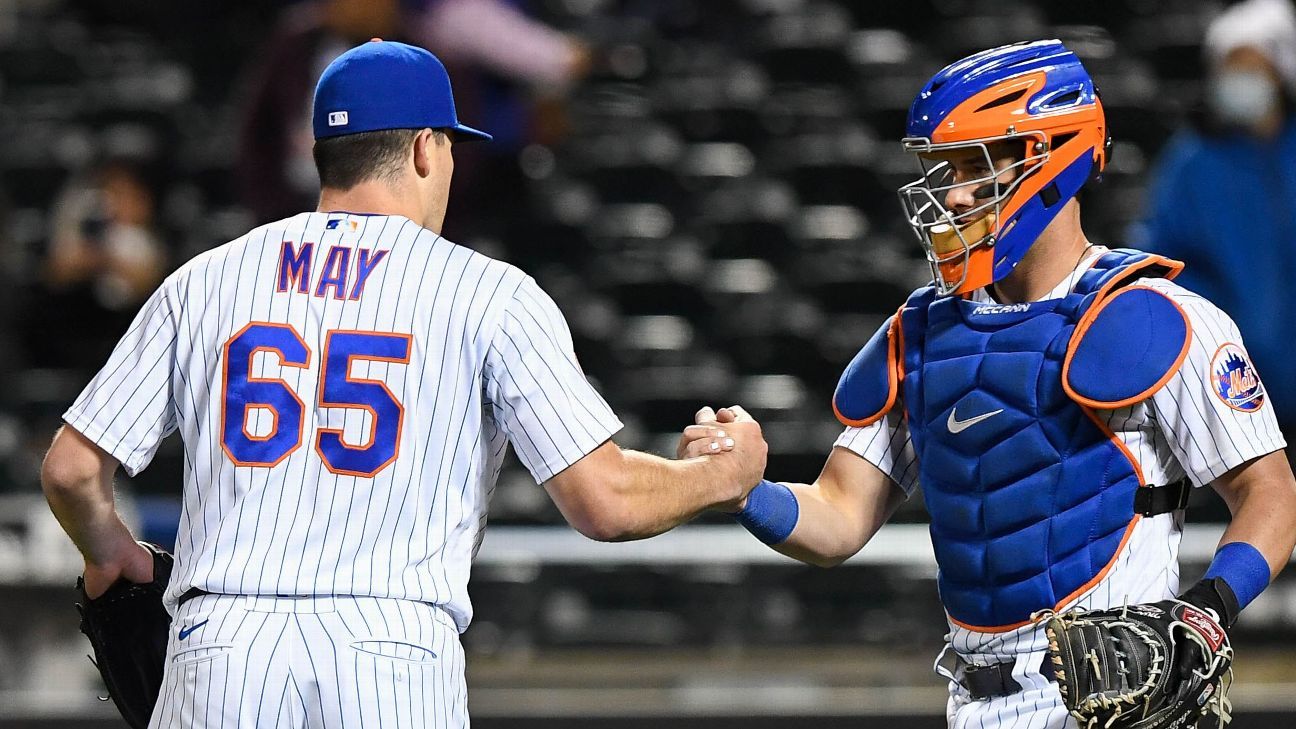 May began with two Mays pitching. The month also included the 90th birthday for Willie Mays. And that is just the beginning — because there was plenty of wild, weird and wacky. Here are The Quirkjians for May.
May 1
Dodgers pitcher Justin May made his first appearance ever in a game in the month of May (he hurt his arm, and went on the IL). Mets reliever Trevor May got a victory. They are two of 16 players with the last name May who have appeared in a big league game. The only other player with a last name the same as a month is former Brewers pitcher Don August. He was 5-3 in August in his career.
The White Sox's Tim Anderson hit a grand slam, ending a streak of 15 home runs with no one on base. It was the longest streak of only solo home runs since Cameron Maybin, in 2018-20, had 16 straight.
May 2
The Brewers' Alec Bettinger became the first pitcher to give up a grand slam in each of the first two innings of his major league debut. Jim Palmer threw 3,948 innings in his career and never gave up a grand slam. Neither did Gary Peters (2,081 IP) or Joaquin Andujar (2,153), but they each hit one.
Indians outfielder Daniel Johnson went 0-for-5 with five strikeouts. It was the third time that a player has had five strikeouts in a game this year. It happened twice last season. The last season in which there were three individual five-strikeout games through May 2 was 2018, when there were four, two by Giancarlo Stanton.
May 3
The Cardinals hit a three-run homer (this one by Nolan Arenado) for the fifth straight game. In the expansion era, the only two teams to hit a three-run home run (or a grand slam) in six straight games are the 1996 Tigers and the 1981 Orioles. Earl Weaver managed that Orioles team. He used to say teams win with "pitching, defense and three-run homers."
May 4
Braves pitcher Huascar Ynoa hit a grand slam, the second start in a row in which he had homered. The record for consecutive starts by a pitcher with a home run is four by Ken Brett in 1973. The same day, in his first at-bats in pro ball, White Sox pitcher Dylan Cease went 3-for-3, meaning he had a three-hit game this season before Mookie Betts or D.J. LeMahieu, among others. The last time a pitcher hit a grand slam and another pitcher had three hits on the same day (and the pitcher had to pitch that day, not pinch hit) was in 1950, when Erv Palica hit a grand slam and Ned Garver had three hits.
May 5
Nationals reliever Kyle Finnegan recorded the first immaculate inning of the year: nine pitches, three strikeouts. The Indians' Zach Plesac was the only pitcher to accomplish the feat last year.
May 7
The Phillies' Rhys Hoskins went 0-for-4 with four strikeouts, but scored two runs. His final batting line was 4-2-0-0 with four strikeouts. The only player since 1900 to have a 4-2-0-0 line with four strikeouts was Frank Baumholtz in 1947.
May 8
And for fans of "The Office," the pitchers of record in the Nationals-Yankees game were Tanner Rainey and Justin Wilson, or Rainey Wilson. But that's not as good as when Chuck Rainey and Mark Clear — Rainey and Clear — pitched in the same bullpen for the Red Sox in the 1980s.
May 9
Nationals reliever Sam Clay faced the Yankees' Clint Frazier for a Clay vs. Frazier at-bat (even though there was no such boxing match). It didn't end in a TKO. It ended with a GIDP.
May 10
The Mets' Patrick Mazeika won the game with a walk-off infield fielder's choice, making him the first player in at least 100 years to have two walk-off plate appearances (the other was also a fielder's choice) before he got his first major league hit. For comparison, Norm Cash, Rich Gedman, Ron Kittle and Jackie Bradley Jr. had combined for 3,975 hits and no walk-off RBIs of any kind.
The Angels' Shohei Ohtani joined Sam McDowell (1970) and Harvey Haddix (1952) as the only players in history to have 10 strikeouts in a game in which they played a position other than pitcher. McDowell moved to second base (he is left-handed) with two outs in the bottom of the eighth so he didn't have to face the Senators' Frank Howard, who hit him well. McDowell actually got a putout at second base on a fielder's choice to end the eighth, returned to the mound in the ninth and struck out the side for the victory.
May 13
The Rockies' Connor Joe recorded the first RBI of his career. In his honor, here is the All-Common-First-Name-Used-As-Last-Name Team: C: Josh Paul. 1B: Connor Joe. 2B: Pete Rose. 3B: George Brett. SS: Gene Michael. OF: Hank Aaron. OF: Babe Ruth. OF: Luis Robert. Utility: Ka'ai Tom. DH: Frank Thomas. RHP: Nolan Ryan. LHP: Tommy John. Manager: Billy Martin.
May 14
The Rockies' Daulton Varsho played center field, right field and catcher in a 17-2 loss to the Nationals. He became the first player to catch and play center field in the same game since Andrew Romine on Sept. 30, 2017. But Romine played all positions that day as a stunt, a tribute to his versatility. The last player before then to catch and play center field in the same game was Brandon Inge in 2008.
May 15
Diamondbacks outfielder David Peralta joined Brian Dozier, Jose Reyes and Brian Bogusevic as the only players in the past 15 years to hit a home run in the game after one in which they gave up a home run. Somewhat related, and even more impressive, on July 26, 2015, Cubs catcher David Ross pitched a 1-2-3 ninth inning against the Phillies, then hit a home run in the bottom of the ninth.
In Milwaukee, the Braves' Ian Anderson beat the Brewers' Brett Anderson, with the TV call by Brewers broadcaster Brian Anderson.
May 16
The Reds beat the Rockies 7-6, coming from a run down in the top of the ninth, winning on a run-scoring wild pitch and a run-scoring passed ball. The last time a team, trailing by a run in the ninth, scored two runs in the inning to win on a wild pitch or a passed ball (or two wild pitches) was July 14, 1973, when the Angels' Dave Sells wild-pitched home Ike Brown and Eddie Brinkman to give the Tigers a 2-1 win.
Padres pitchers were hitless in their past 40 at-bats when pitcher Ryan Weathers ended that with his first major league hit. Later in the game, infielder Ivan Castillo, also hitting out of the No. 9 spot, recorded his first major league hit.
May 17
A reminder that former White Sox outfielder Carlos May was born on this date in 1948. He wore No. 17 for most of his career. So, on the back of his uniform was his birthday: May 17.
The White Sox's Yasmani Grandal walked four times, and wound up with this batting line: 0-3-0-1. The last player to have that batting line, with four walks, was the Angels' Brian Downing against the White Sox in 1988.
May 18
Tigers rookie catcher Eric Haase, in his 26th game behind the plate in his major league career, caught Spencer Turnbull's no-hitter. Tony Pena holds the record for most games caught in major league history (1,950) without catching a no-hitter.
Mets pitcher Tommy Hunter recorded his first major league hit. It came in his 14th season. The only pitchers ever to go at least 14 years into a career before getting their first hit were Frank Tanana (21st season in 1993) and Chuck Finley (17th season in 2002). Hunter said, "That was the coolest thing that's happened in my career, I got a knock in The Show." When he got to first base, he was congratulated by Braves first baseman Freddie Freeman. Hunter said he was so excited, "I don't even know what I said."
May 19
The Rangers' Corey Kluber pitched the sixth no-hitter of the season, meaning there have been more no-hitters through seven weeks of the season than there were during the 1982-85 seasons combined (five).
Mets outfielder Khalil Lee struck out in his first eight plate appearances in the major leagues, the first position player ever to do that. Different era, different game. In Hall of Famer Joe Sewell's final two seasons, he had 1,182 plate appearances — and struck out seven times.
May 20
The Reds' Jesse Winker hit three home runs, the fifth player this year to hit three homers in a game. The record for most individual three-homer games in a season is 22, set in 2001 and 2019.
The Braves beat the Pirates 20-1. So, in Atlanta's Ian Anderson's last two starts, the winning and losing pitcher in each game was named Anderson, first Brett, and then Tyler, and both times Ian.
Albert Pujols hit his first home run as a Dodger. The Diamondbacks' Merrill Kelly became the 433rd pitcher to yield a home run to Pujols. We looked at the last names of all 433, and here are 10 connective names: Fisher-Price, Nova-Cain, King-George, Benjamin-Franklin, Lincoln-Kennedy, Carroll-Burnett, Dull-Gray, Lilly-Meadows, Diamond-Sale, Henn-Gobble.
May 23
The White Sox's Grandal took the AL lead in walks with Nos. 36 and 37. He finished the game against the Yankees with a .141 average. The only player ever to finish a full season with at least 35 walks and a batting average under .150 was Henry Easterday in 1890. No player has ever walked 100 times with an average under .200. The closest was Adam Dunn, who hit .204 and walked 105 times for the White Sox in 2012.
May 24
In a 14-5 victory over the Blue Jays, the Rays became the first team in history to score five runs in the first inning of a game, then nine runs in extra innings. In fact, no team has ever scored five runs in the first inning of a game and five runs in extra innings.
May 25
The Angels' Justin Upton's 316th home run was his first career leadoff home run. Eddie Mathews holds the major league record for most home runs (435) before his first leadoff homer. Upton's brother, B.J., hit 11 leadoff homers.
May 26
The day after Justin Upton hit his first career leadoff homer, he hit his second. The last Angel to hit a leadoff homer in back-to-back games was Mike Trout in 2012.
May 27
Padres shortstop Fernando Tatis Jr. made his 13th and 14th errors of the season. He has 13 homers. He became the first player since Troy Glaus in 2000 to have a dozen homers (16) and a dozen errors (13) before Memorial Day. The complete list, homers first: Dean Palmer (13-13 in 1998), Mike Schmidt (12-14 in 1984), Tony Perez (18-14 in 1970), Harmon Killebrew (18-12 in 1959) and Rogers Hornsby (12-13 in 1925).
May 29
Orioles first baseman Tyler Nevin made his major-league debut. It was his birthday. He hit a double. The Elias Sports Bureau confirmed that a player has made his major-league debut on his birthday "many, many times," which came as a surprise. Shane Bieber did so in 2018. Foster Griffin did so last year.
A whole month's worth of oddities
There were four no-hitters during a 14-game stretch in May. There were five no-hitters from 1982 to 1985 combined.
The Yankees went until May 17 before they hit their first triple of the year. It was hit by Brett Gardner. It came in their 40th game. The only teams in history that have gone longer into a season without a triple were the 1982 Giants (41 games), the 2019 Marlins (52) and the 2019 Indians (54).
Cardinals second baseman Tommy Edman played every inning of every game in May. He played every inning in April, too. Through May 27, he had played all 451 innings that the Cardinals have played this year. Cal Ripken Jr. is the record holder with 8,264 consecutive innings played.
Brewers pitchers hit two homers in May. The catchers for the Orioles and Angels hit zero homers in May. The second basemen for the Cubs and Diamondbacks hit zero home runs in May. The A's do not have a home run from a shortstop all season. The Rays do not have a home run from a first baseman all season.
The Diamondbacks' Tim Locastro was hit by a pitch three times in May, a relatively painless month for him. But it gave him 33 in his career in 447 plate appearances. Hank Aaron was hit 32 times in his career in 13,941 plate appearances.
There were seven games in May in which a starting pitcher had allowed no runs, had no walks and struck out 10. There were eight such starts all last season. On May 21, the Yankees' Jordan Montgomery and the White Sox's Carlos Rodon had a 10-0-0 start in the same game, the first time in major league history that that has happened.
There were 11 home runs in May that traveled at least 460 feet. There were 18 all last season.
White Sox manager Tony La Russa's team won 18 games in May, running his career total to 2,757, six short of John McGraw for second on the all-time list for victories. In May, La Russa managed his first game ever against the Cardinals. Think about that: He managed his first game on Aug. 3, 1979. Tim McCarver, who will turn 80 this year, was an active player in 1979. In La Russa's first game as a manager, the Blue Jays' second baseman was Danny Ainge.
The Cubs are actually good! So what should they do at the trade deadline?
The Chicago Cubs have exceeded preseason expectations so far in 2021. Entering Monday's series opener against the San Diego Padres (10 p.m. ET on ESPN), the Cubs are now seven games over .500 at 33-26 and in a tight battle with the Milwaukee Brewers and St. Louis Cardinals for the National League Central lead.
Chicago also has several upcoming free agents on their current 26-man roster with stars including Kris Bryant, Javier Baez, Anthony Rizzo and Craig Kimbrel set to hit the market after the season. This is the same team that traded Yu Darvish in the offseason of what general manager Jed Hoyer labeled a transition phase for the franchise.
So what should the Cubs do as the trade market starts to take shape before next month's deadline? Is this a team that can win enough to make a championship push? Or would it be better off looking to retool? And are the Cubs good enough to keep winning if they stand pat? We asked ESPN MLB experts Jeff Passan, Jesse Rogers and David Schoenfield to weigh in on the crucial next few months on the North Side of Chicago.
The Cubs are seven games over .500 and in first place, so what should they do at the trade deadline if they keep this up?
Rogers: There won't be any choice but to add. Wrigley Field is about to be packed for the next 3½ months, and you don't trade away talent when you're in first place. In reality, being near the top of the standings is no shock, only how they've gotten there, because even after trading Yu Darvish, the Cubs had plenty of talent. It helps to reside in a mediocre division. So yes, augmenting the roster would be in order. The only question is how far will Jed Hoyer go? Will he empty the farm for a couple of rentals? Doubtful. So it could be additions around the edges. And the bigger question is what if the Cubs are three to five games out of first place come late July? Then the decision becomes much tougher. Focusing on the future would be more likely.
Passan: Be judicious. Because here's the reality: As well as the Cubs have played, as much as they've exceeded expectations, they also are run by pragmatists. And anyone who is looking at this roster and comparing it to the Los Angeles Dodgers' and the San Diego Padres' — and to a lesser extent, the San Francisco Giants', the New York Mets', the Atlanta Braves' and even the Milwaukee Brewers' — understands that a World Series run remains a long shot regardless of how well the Cubs have played.
That's the calculus this time of year. The Cubs were willing to give up a prospect of Gleyber Torres' caliber to acquire Aroldis Chapman because they were the best team in baseball in 2016 and had one glaring weakness. Not only does this Cubs team have far more weaknesses — its outfield hasn't hit (aside from Ian Happ in May), and its starters' ERA of 4.62 is 21st in baseball — perhaps its greatest strength thus far this season, its bullpen, is due for regression.
So, yes, if they're in contention to win the NL Central, they should add talent. But it might be smarter to hunt for bargains.
Schoenfield: I think back to when Jed Hoyer took over from Theo Epstein as president of baseball operations in late November and in Hoyer's initial Zoom call with reporters said, "In this job, you always have one eye on the present and one eye on the future. I think that eye might be a little bit more focused towards the future than usual, but that doesn't take away from the goal. The goal is always to make the playoffs and give this organization a chance to go deep in October."
A month later, the Cubs traded Yu Darvish, and while the Cubs did eventually make some late signings on the free-agent market, the Darvish trade was a clear signal: The Cubs are not all-in on 2021. Of course, that dynamic can't help but change if the Cubs remain in first place in late July, but that mostly means not trading Kris Bryant, who might be the second most desirable player on the trade market after Max Scherzer if he were available, given his great start. Now, what they should do is go after Scherzer to bolster the team's biggest hole, but even if the Cubs wanted to do that, it seems unlikely they would be able to put together the best prospect package anyway. So, the likely scenario is a couple of fringe moves around the edges — a second-tier starter, maybe an outfielder depending on how the Cubs feel about Ian Happ and Jason Heyward.
Is it possible to compete this year and retool for the future at the same time?
Rogers: Absolutely. The best way to do that would be to trade closer Craig Kimbrel. That's one guy out of 26 who impacts games every few days. It would be a loss, but righty Ryan Tepera was just named reliever of the month in May; perhaps he could step up for a two-month run as closer. Either way, Kimbrel could bring back a few good prospects while the Cubs continue on their winning ways. Competing doesn't necessarily mean winning it all. The Cubs could definitely do both — even if they trade more than just Kimbrel.
Passan: Of course. That's exactly what they've done, in fact. It's easy for Cubs fans right now to lament the deal that sent Yu Darvish to the Padres, but the team's farm system was an absolute mess, and adding four prospects under 21 years old — including Reggie Preciado and Owen Caissie, two very talented bats — was the sort of deal that teams balancing today with tomorrow make. Tampa Bay and Oakland are two teams that have mastered the look-at-the-future-but-still-win-now needle-threading, and while it's difficult, it's certainly possible.
Schoenfield: I like Jesse's idea of trading Kimbrel, who suddenly looks like vintage Kimbrel from a few years after two miserable seasons during his first two years with the Cubs. His $16 million option for 2022 doesn't even look that bad right now, and it comes with a $1 million buyout, so he's attractive to any team in need of a closer; the Braves, Phillies, A's and Astros are possible destinations. Is there a scenario where the Cubs trade Bryant for a couple of cost-controlled major leaguers? I suppose it's possible, but how many teams are willing to trade young, major league talent for a two-month rental? Seems unlikely, although — just thinking out loud here — maybe a team like the Mets would be willing to trade Dominic Smith, who could replace Anthony Rizzo at first base next season (and play left field the rest of 2021, with Joc Pederson sliding over to right).
Will the Cubs make the playoffs this year?
Rogers: It's going to be close, but I'll say no. Milwaukee hasn't found its stride yet even though it is neck and neck with the Cubs right now. The Brewers are likely to pass them in the standings in June — a hectic and tough month for Chicago. And here's a factor no one is considering: Some of the Cubs' best pitchers are young and hardly played in 2020. They're either going to hit a wall or the team is going to back off them — something the Cubs already stated is a possibility. Standout starter Adbert Alzolay is at the top of that list. The Brewers aren't backing off Brandon Woodruff or Corbin Burnes or Freddy Peralta or Josh Hader. If the Cubs had last year's pitching staff with this year's offense, they'd be set, but there are too many variables in 2021. The wild card does remain a possibility, though it's looking more and more like three teams from the NL West could make the postseason. It's still way early to really know though.
Passan: I went with the Brewers to win the division before the season. I want to stick with them. I also look at their .211/.297/.371 team triple-slash and wonder in what universe a team that cannot hit wins a division. And the answer, I believe, is one where sportwide the line is .236/.312/.396. As long as they can keep Brandon Woodruff, Corbin Burnes and Freddy Peralta healthy, the Central is the Brewers' to lose, though the Cubs are good enough to remain competitive and have a healthy shot at stealing the division. As for the wild card: Atlanta has surged to the point where seeing the East potentially steal a slot isn't entirely far-fetched, but the two are the West's to lose.
Schoenfield: The Brewers were my preseason pick, as well, and certainly the performance of that trio at the top of the rotation is only further reason to lean in there. But they can't hit, especially if Christian Yelich continues to have issues powering the ball over the fence. I do believe Kyle Hendricks and Zach Davies will be better moving forward, although tempered by some bullpen regression, and if the Giants fade in the NL West, the second wild card could come from the NL Central. Bottom line: I'll stick with the Brewers to win the division, and since the Giants' pitching looks pretty legit, they win a wild card alongside the Dodgers or Padres.
If the Cubs do make the playoffs, can they compete with teams like the Dodgers and Padres or is their success a product of a weak NL Central?
Rogers: Despite dominating those teams so far in the regular season — all at home — the Cubs don't have the rotation to compete for a World Series run. The fact that this is even a question is a testament to manager David Ross and the job the whole organization has done to this point. This was supposed to be a transition year. Jed Hoyer said those exact words in spring training. So, there's no shame in saying they are maxing out right now, but it's hard to see them navigating through the top teams in the NL in October. They would need two top starters to change my mind. Again, this discussion wasn't even on the table in March, so kudos to them for making us talk about it!
Passan: Yes. Yes, they can compete. Yes, their success is a product of a weak NL Central. The biggest advantages teams like the Dodgers and Padres hold over the Cubs is with starting pitching. But remember: The postseason has evolved into a bullpen-centric month, and here are the Cubs relievers' ranks in baseball: ERA (2nd, 2.72); K/9 (first, 11.18); HR/9 (fourth, 0.75); strand rate (third, 80.5%); groundball rate (2nd, 49.4%). Get a starter through the lineup twice — or perhaps even fewer times — and let David Ross maneuver with the pen. It's been a winning formula thus far, and with the stuff some of the Cubs' relievers have, they certainly could replicate it in October.
Schoenfield: It's not like the Dodgers or Padres look unbeatable right now, and I'd almost rather face them in a best-of-five series than Jacob deGrom and the Mets. Any chance for the Cubs would have to rely on some heavy bullpen work, but that's a tough way to get through an entire postseason. Scherzer would help their odds, but I'm not sure there's another difference-making starting pitcher out there who would lead one to think the Cubs could beat the Dodgers or Padres.
If they decide to go for it in acquiring talent, what should the Cubs target at the deadline?
Rogers: Starting pitching. Max Scherzer would fit nicely. Or Dylan Bundy. Or maybe the Cubs determine one of the Rockies' starters would flourish outside of Coors Field. The Cubs don't have to be too picky if they're going for it. Top and/or middle-of-the-rotation guys are essential for an October run. Standing pat would be a disaster, so it's either unload in some capacity or go for it. But it's hard to see the Cubs giving up a top prospect in any deal since going down that road in recent years helped deplete their farm system in the first place.
Passan: Jesse's got that Prada taste, and while the Cubs do have the money to go out and get a Scherzer, doing so would cost Brennen Davis and more, and for an organization that understands the folly in going all-in today at the expense of tomorrow, the likelihood of that happening is slim. They would be better served to look at Kyle Gibson (back from the injured list and sporting a 2.06 ERA), Dylan Bundy, Andrew Heaney and perhaps Michael Pineda. No, those names aren't sexy. Neither is the Central, and the goal right now is simply to win it. One bat worth keeping an eye on: Trey Mancini, who isn't a free agent until after the 2022 season, wouldn't cost a significant amount in prospect capital and can play right field and leave in the late innings with Jason Heyward taking over.
Schoenfield: Scherzer is the big guy. It doesn't hurt to ask the Rockies about German Marquez, but he would be expensive, since he is signed through 2024 and the Cubs aren't emptying an already thin system. Marquez's teammate Jon Gray is an option. Other free-agent pitchers on likely noncontenders include Alex Cobb, Andrew Heaney, Mike Minor, Danny Duffy, maybe J.A. Happ and Michael Pineda if the Twins don't bounce back and Robbie Ray and Steven Matz on the Blue Jays.
How many of these players will still be Cubs on Aug. 1: Kris Bryant, Anthony Rizzo, Javier Baez and Craig Kimbrel?
Rogers: Three. Kimbrel will be gone, but the three position players will still be here. This scenario would keep them competitive in 2021 but still net them a good prospect or two.
Passan: Four. The Central is weak enough — and the Cubs just good enough — to warrant making a run. Though let's not forget, Jed Hoyer was part of the Boston front office that dealt Nomar Garciaparra in 2004, so it's not like he is above dealing a core player — especially one who's about to hit free agency — with an eye on winning in the present and winning more in the future.
Schoenfield: I'll say the Cubs are close enough that all four remain on the team with them ultimately deciding to keep Kimbrel and see if they can ride the bullpen into the postseason.
Patrick Wisdom hits two more homers, continues to be 'a real offensive force' for Chicago Cubs
Chicago Cubs infielder Patrick Wisdom reached a milestone on Sunday accomplished by only two other players in history.
Wisdom, 29, hit two home runs in the Cubs' 4-3 win over the San Francisco Giants, giving him seven long balls in his first eight starts with his new team. According to the Elias Sports Bureau, only Cincinnati Reds outfielder Aristides Aquino and Colorado Rockies shortstop Trevor Story have hit that many in their first eight games with a team.
"He's been carrying us," Cubs manager David Ross said after the game. "He's a real offensive force for us right now. It seems like every time he gets up he's going to do something really good to help the team. Real damage. What is that, seven home runs? Real power since he's been up."
Wisdom was a 2020 addition to the Cubs after stops in St. Louis and Texas, but he played in only two major league games last season. And before about a week ago, he had four career home runs. Cubs center fielder Ian Happ summed up the team's strategy right now.
"If we can just get it to Wisdom with guys on base, we'll be all right," he said with a smile.
Wisdom has taken the success in stride while praising the Cubs' welcoming environment after being called up from Triple-A Iowa.
"It's the same game," he said. "There's another deck on the stadium and more cameras. There's bigger things but it's the same game. The more at-bats you get, the more pitches you see, the better you get. I'm thankful for my time in the minor leagues."
Wisdom says he's letting the game slow down as he tries not to do too much at the plate. Both his home runs on Sunday came off Giants veteran Johnny Cueto, who hadn't given up a home run in his previous four starts.
Wisdom was asked if he's adhering to any superstitions during his hot streak.
"Sometimes it's chewing gum," he said. "If I'm chewing gum and I get a hit I'll try to keep it in for the next at-bat."
Wisdom is hitting .412 with 10 runs driven in, in just 34 at-bats. He was drafted No. 52 overall by the Cardinals back in 2012.
Boston Red Sox's sweep highlights flaws of New York Yankees
In the first series of the 2021 season between the Boston Red Sox and New York Yankees, the Red Sox went into Yankee Stadium and swept the Yankees in the Bronx for the first time since 2011, including a wild 6-5, 10-inning victory on Sunday.
Some takeaways from the series …
• If you think this rivalry lacks some of the off-the-chart intensity it used to have, consider what longtime Yankees outfielder Brett Gardner said at the outset of the series — the teams' first meeting since manager Alex Cora returned to the Red Sox after serving a suspension in 2020 for his involvement in the Houston Astros' sign-stealing scandal.
"Having him in the dugout obviously makes me want to beat them," Gardner said. "We don't like those guys, they don't like us. It will be interesting for them to come to town."
OK, Gardner apparently said this with a smile and later said he was "half-joking" about Cora, but the Red Sox noticed his comments.
Note what Xander Bogaerts told SportsCenter's Steve Levy after completing the sweep: "Obviously, Gardner said a couple of words before the series started. It kind of got us fueled up a little more."
The Red Sox had lost 11 straight games at Yankee Stadium and the Yankees went 9-1 against them in 2020, so it's understandable why Bogaerts would call Sunday's win "the most fun game in a long time."
Bogaerts delivered the go-ahead run in the eighth with a sacrifice fly and the winning runs with a two-run single off Luis Cessa in the 10th inning and is now hitting .318/.376/.536 with 36 RBIs. He's kind of flown under the radar — as always seems to be the case — but he should be headed to his third All-Star Game.
• In a sense, the series offered confirmation of what we've seen so far this season: The Red Sox are better than expected and the Yankees are nowhere near as good as expected. Nothing in these three games changed that view. It was a big week for the Yankees with seven games against the Tampa Bay Rays and the Red Sox and they laid an egg, going 2-5.
What's especially disappointing is they won two of the first three against the Rays and had Gerrit Cole starting the fourth game of that series. But Cole allowed five runs in five innings in a 9-2 loss, and then the Red Sox cleaned up.
"An awful week for us," Yankees manager Aaron Boone said. "We've got to get right, we've got to get better. … We've got to find a way to start scratching out some W's."
The Yankees just haven't scored runs, which is maybe the biggest team-wide development of the season. The Yankees are 27th in the majors in runs per game — ahead of only the New York Mets, Detroit Tigers and Pittsburgh Pirates, which sounds almost impossible for a team that ranked fourth in 2020, first in 2019, second in 2018 and second in 2017.
It's not just because of injuries, as Aaron Judge and Giancarlo Stanton have actually been pretty healthy, with Judge playing in 57 of 60 games and Stanton in 41. More worrisome, it doesn't feel like a scary lineup that is just waiting to kick into gear, not with DJ LeMahieu and Gleyber Torres basically turning into singles hitters, Gardner looking over the hill at 37, Clint Frazier and Rougned Odor hitting under .200, and somebody named Chris Gittens hitting sixth on Sunday. It's not as simple as just getting Luke Voit healthy. There are real problems here. The Yankees have hit .215 and averaged 2.6 runs per game over a 3-10 stretch.
"No, I'm not concerned at all," Gary Sanchez said after Sunday's loss. "We're a really good team and I believe in my teammates, I believe in the talent that we have. … I'm confident that we're definitely going get over this hump here and will start playing the baseball we want."
• Alex Rodriguez made a good point about the New York lineup during the Sunday Night Baseball broadcast, pointing out that the Yankees have been synonymous with left-handed power hitters for decades — really, going all the way back to Babe Ruth and Lou Gehrig. The three versions of Yankee Stadium have all featured the short porch in right field, so it has been a longstanding organizational philosophy to load up on left-handed hitters. The lineup Sunday night, however, featured eight right-handed batters and the struggling Gardner hitting ninth against Boston righty starter Garrett Richards.
Entering Sunday, the Yankees hit with the platoon advantage 44.6% of the time, the second-lowest percentage in the majors, with only the Toronto Blue Jays below them. This wasn't an issue in 2019, when the Yankees hit with the platoon advantage just 42.9% of the time, yet hit 306 home runs and led the majors in runs scored. But looking back at some Yankees teams of the past, we see the 2009 World Series champions had the platoon advantage 70.3% of the time, best in the majors. The great 1998 team had the advantage in 56.4% of their plate appearances. That 2019 team struggled to score runs in the AL Championship Series against the Houston Astros — in part because the Astros were loaded up with right-handed pitching. The lack of lefty power feels like part of New York's problem.
• One thing that stood out in the series was the performance of the bullpens in the three games. The Yankees are third in the majors in bullpen ERA, so overall the group has been effective, but Marwin Gonzalez twice burned Lucas Luetge, with a two-run double on Friday and then a game-tying two-run home run on Sunday. Luetge has been outstanding, but he's a 34-year-old lefty who hadn't pitched in the majors since 2015 and has a .785 career OPS allowed against right-handed batters. Aaron Boone went with the hot hand, but it didn't work.
Chad Green lost Saturday's game when he allowed four runs in the eighth inning as the Red Sox broke open a 3-3 game. All four runs came with two outs on doubles from Enrique Hernandez and Christian Vazquez and then a Bobby Dalbec home run. Green has a 3.14 ERA, but he's now 0-4.
Then, after Boone used Aroldis Chapman down 4-3 in the ninth on Sunday — I didn't have a problem with that, as you want to keep the game close and Chapman hadn't pitched in the first two games — he had to use Luis Cessa in the 10th and that didn't work either. Again, Cessa has been decent enough, but he's mostly a low-leverage guy. I think this weekend showed how much the Yankees miss Zack Britton.
• Meanwhile, Matt Barnes got saves on Friday and Saturday, striking all four batters he faced. He's been crushing it as Red Sox closer, with 47 strikeouts and just seven walks in 26⅓ innings, allowing a .136 average. Only Chapman has a higher strikeout percentage among pitchers with at least 20 innings. The key for Barnes has been throwing more strikes, which has led to more pitcher's counts (47.2% of his pitches, compared to just 12.9% in a hitter's count, much better than his career rates of 38.1% and 22.0% entering 2021).
Barnes faced just one batter on Saturday, but it still was a mild surprise when Cora brought Barnes on for a third straight game to try to close out a 4-3 lead on Sunday. Managers just don't use relievers three days in a row if they can avoid it, but if there was ever a game to do it, it's with a one-run lead against a division rival. Plus, Barnes hadn't pitched in five days before throwing 17 pitches on Friday, so this usage was defensible, even if Barnes has historically pitched worse when going with no days of rest (5.37 career ERA versus an overall ERA of 3.97).
Sure enough, Aaron Judge walked with one out and Gleyber Torres doubled him home with a line drive into the left-field corner, Alex Verdugo's bobble making it easy to send Judge home with the tying run. Barnes got a gift to escape the inning when umpire Gabe Morales rung up Odor on a 3-2 curveball that was outside — a call that led to Yankees coaches Phil Nevin and Carlos Mendoza getting ejected.
Yankees third-base coach Phil Nevin gets ejected from the game for arguing a strike call vs. the Red Sox.
Some of the postgame chatter centered on why Boone wasn't ejected alongside his coaches. You can feel Yankees fans starting to turn a little bit on their manager (although Boone was just ejected from a game a few days ago, so it's not like he won't get fired up or defend his players).
Anyway, Boston's no-name bullpen includes Hirokazu Sawamura, Josh Taylor and Phillips Valdez (who got the save on Sunday). Two other key members are two ex-Yankees: Adam Ottavino, who has a 2.78 ERA and two saves, and rookie Garrett Whitlock. Whitlock was a good prospect as a starter coming through the Yankees system, but had Tommy John surgery in 2019. The Yankees left him unprotected in the Rule 5 draft, but the gambit failed as the Red Sox took a flyer on Whitlock. He has a 1.63 ERA in 27⅔ innings, often pitching multiple innings, including getting five outs on Saturday.
• Alex Verdugo is doing his best to make the Mookie Betts trade look a lot less controversial than it did when it occurred. Verdugo's first-inning home run off Domingo German was his eighth and he's hitting .288/.348/.463. Betts is hitting .258/.372/.438 with five home runs for the Los Angeles Dodgers.
OK, there is a lot of baseball to be played before we declare Verdugo in the same universe as Betts, but Verdugo is going to be a solid contributor in front of Bogaerts, J.D. Martinez and Rafael Devers in the Boston lineup. He's one of the better contact hitters in the league (10th-lowest strikeout rate), has started at least nine games at all three outfield positions and has hit well in high-leverage situations. Remember, this is a player with fewer than 1,000 plate appearances in the majors, so there is still possible improvement to come, especially if he learns to lift the ball a little more.
• Much has been made of the Yankees' baserunning woes and it's warranted. They entered the day leading the majors with 28 outs on the bases, including 12 at home plate. You might chalk this up to them being extra aggressive — nope. They also rank last in the majors in percentage of extra bases taken, such as going first to third or second to home on a single. They're next to last in stolen bases. They also lead the majors in double plays grounded into, including three more on Sunday.
This is about as bad a team on the bases as you will ever see, with little team speed and a slew of boneheaded plays tossed in. That's one reason the Yankees are last in the majors in percentage of runners who get on base who come around to score. The Yankees are 14th in the majors in on-base percentage, but 27th in runs per game.